Here you can inquire your individual shop login.
Please login to see your individual prices and our avaliability.
Compressor, compressed air system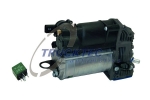 TRUCKTEC part number: 02.30.921
Amount per packaging unit: 1
Date added: 2023-06-06 20:28:08 | Date last modified: 2023-06-06 20:28:08
Please register or login to see prices and availability.
Comparison numbers:
OE-No.
BILSTEIN
10-255650

MERCEDES-BENZ
166 320 0104
166 320 0204
166 320 0404

model
product line
fuel
body
cubic capacity
year
power
cylinders
axle
passenger cars - MERCEDES-BENZ
GL-CLASS (X166)
GL 350 CDI / BlueTec 4-matic (166.823, 166.824)
Diesel
SUV
2987
2012.07-2015.10
190 (258)
6
-
GL-CLASS (X166)
GL 350 CDI / BlueTEC 4-matic (166.824)
Diesel
SUV
2987
2012.07-2015.10
183 (249)
6
-
GL-CLASS (X166)
GL 350 CDI / BlueTEC 4-matic (166.824)
Diesel
SUV
2987
2012.07-2015.10
179 (243)
6
-
GL-CLASS (X166)
GL 400 4-matic (166.856)
Petrol Engine
SUV
2996
2013.08-2015.10
245 (333)
6
-
GL-CLASS (X166)
GL 450 4-matic
Petrol Engine
SUV
2996
2014.09-2015.10
270 (367)
6
-
GL-CLASS (X166)
GL 500 4-matic (166.873)
Petrol Engine
SUV
4663
2012.07-2015.10
320 (435)
8
-
GL-CLASS (X166)
GL 500 4-matic (166.873)
Petrol Engine
SUV
4663
2014.07-2015.10
300 (408)
8
-
GL-CLASS (X166)
GL 63 AMG 4-matic (166.874)
Petrol Engine
SUV
5461
2012.07-2015.10
410 (558)
8
-
GL-CLASS (X166)
GL 63 AMG 4-matic (166.874)
Petrol Engine
SUV
5461
2012.07-2015.10
400 (544)
8
-
GLE (W166)
250 d (166.006)
Diesel
SUV
2143
2015.04-2018.10
150 (204)
4
-
GLE (W166)
250 d 4-matic (166.004)
Diesel
SUV
2143
2015.04-2018.10
150 (204)
4
-
GLE (W166)
320 4-matic (166.062)
Petrol Engine
SUV
2996
2015.10-2018.10
200 (272)
6
-
GLE (W166)
350 d 4-matic (166.024)
Diesel
SUV
2987
2015.04-2018.10
183 (249)
6
-
GLE (W166)
350 d 4-matic (166.024)
Diesel
SUV
2987
2015.04-2018.10
190 (258)
6
-
GLE (W166)
400 4-matic (166.056)
Petrol Engine
SUV
2996
2015.04-2018.10
245 (333)
6
-
GLE (W166)
450 AMG 4-matic (166.064)
Petrol Engine
SUV
2996
2015.10-2018.10
270 (367)
6
-
GLE (W166)
500 4-matic (166.073)
Petrol Engine
SUV
4663
2015.10-2018.10
335 (456)
8
-
GLE (W166)
500 4-matic (166.073)
Petrol Engine
SUV
4663
2015.04-2018.10
320 (435)
8
-
GLE (W166)
500 e 4-matic (166.063)
Plug-In Hybrid
SUV
2996
2015.04-2018.10
325 (442)
6
-
GLE (W166)
AMG 43 4-matic (166.064)
Petrol Engine
SUV
2996
2016.05-2018.10
270 (367)
6
-
GLE (W166)
AMG 43 4-matic (166.064)
Petrol Engine
SUV
2996
2017.06-2018.10
287 (390)
6
-
GLE (W166)
AMG 63 4-matic (166.074)
Petrol Engine
SUV
5461
2015.04-2017.05
386 (525)
8
-
GLE (W166)
AMG 63 4-matic (166.074)
Petrol Engine
SUV
5461
2015.04-2018.10
410 (557)
8
-
GLE (W166)
AMG 63 S 4-matic (166.075)
Petrol Engine
SUV
5461
2015.04-2018.10
430 (585)
8
-
GLE Coupe (C292)
350 d 4-matic (292.323, 292.324)
Diesel
SUV
2987
2015.03-2019.10
190 (258)
6
-
GLE Coupe (C292)
350 d 4-matic (292.324)
Diesel
SUV
2987
2017.01-2019.10
183 (249)
6
-
GLE Coupe (C292)
400 4-matic (292.356)
Petrol Engine
SUV
2996
2015.03-2019.10
245 (333)
6
-
GLE Coupe (C292)
450 AMG 4-matic (292.364)
Petrol Engine
SUV
2996
2015.03-2019.10
270 (367)
6
-
GLE Coupe (C292)
500 4-matic (292.373)
Petrol Engine
SUV
4663
2015.10-2019.10
335 (456)
8
-
GLE Coupe (C292)
AMG 43 4-matic (292.364)
Petrol Engine
SUV
2996
2017.06-2019.10
287 (390)
6
-
GLE Coupe (C292)
AMG 43 4-matic (292.364)
Petrol Engine
SUV
2996
2016.05-2019.10
270 (367)
6
-
GLE Coupe (C292)
AMG 63 4-matic (292.374)
Petrol Engine
SUV
5461
2015.03-2019.10
410 (557)
8
-
GLE Coupe (C292)
AMG 63 S 4-matic (292.375)
Petrol Engine
SUV
5461
2015.03-2019.10
430 (585)
8
-
GLS (X166)
350 d 4-matic (166.824)
Diesel
SUV
2987
2015.11-2019.04
190 (258)
6
-
GLS (X166)
350 d 4-matic (166.824)
Diesel
SUV
2987
2017.01-2019.04
183 (249)
6
-
GLS (X166)
400 4-matic (166.856)
Petrol Engine
SUV
2996
2015.11-2019.04
245 (333)
6
-
GLS (X166)
500 4-matic (166.873)
Petrol Engine
SUV
4663
2015.11-2019.04
335 (456)
8
-
GLS (X166)
AMG 63 4-matic (166.875)
Petrol Engine
SUV
5461
2015.11-2019.04
430 (585)
8
-
M-CLASS (W166)
ML 250 CDI / BlueTEC 4-matic (166.004, 166.003)
Diesel
SUV
2143
2011.06-2015.12
150 (204)
4
-
M-CLASS (W166)
ML 300 4-matic (166.055)
Petrol Engine
SUV
3498
2012.08-2015.02
185 (252)
6
-
M-CLASS (W166)
ML 300 4-matic (166.055)
Petrol Engine
SUV
3498
2012.08-2015.02
183 (249)
6
-
M-CLASS (W166)
ML 320 4-matic (166.062)
Petrol Engine
SUV
2996
2013.11-2015.02
200 (272)
6
-
M-CLASS (W166)
ML 350 (166.058)
Petrol Engine
SUV
3498
2011.09-2015.02
225 (306)
6
-
M-CLASS (W166)
ML 350 4-matic (166.057)
Petrol Engine
SUV
3498
2011.06-2015.12
225 (306)
6
-
M-CLASS (W166)
ML 350 BlueTEC 4-matic (166.024, 166.023)
Diesel
SUV
2987
2011.06-2015.02
190 (258)
6
-
M-CLASS (W166)
ML 400 4-matic (166.056)
Petrol Engine
SUV
2996
2013.08-2015.02
245 (333)
6
-
M-CLASS (W166)
ML 500 4-matic (166.073)
Petrol Engine
SUV
4663
2012.02-2015.02
300 (408)
8
-
M-CLASS (W166)
ML 63 AMG 4-matic (166.074)
Petrol Engine
SUV
5461
2011.11-2015.02
410 (558)
8
-
M-CLASS (W166)
ML 63 AMG 4-matic (166.074)
Petrol Engine
SUV
5461
2011.11-2015.02
386 (525)
8
-
SL (R231)
400 (231.465)
Petrol Engine
Convertible
2996
2014.04-.
245 (333)
6
-
SL (R231)
400 (231.466)
Petrol Engine
Convertible
2996
2016.01-.
270 (367)
6
-
motor code
fuel
cubic capacity
year
power
cylinders
MERCEDES-BENZ...
M 157.982
Petrol Engine
5461
.-.
386-430 (525-585)
8
M 276.821
Petrol Engine
2996
.-.
200-325 (272-442)
6
M 276.825
Petrol Engine
2996
.-.
245-270 (333-367)
6
M 276.955
Petrol Engine
3498
.-.
183-225 (249-306)
6
M 278.928
Petrol Engine
4663
.-.
270-335 (367-456)
8
OM 642.826
Diesel
2987
.-.
179-190 (243-258)
6
OM 651.960
Diesel
2143
.-.
150-152 (204-207)
4
customers who bought this product also bought: