Here you can inquire your individual shop login.
Please login to see your individual prices and our avaliability.
Oil Separator, crankcase ventilation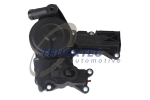 TRUCKTEC part number: 07.10.075
Amount per packaging unit: 1
Date added: 2023-12-05 21:28:04 | Date last modified: 2023-12-05 21:28:04
Please register or login to see prices and availability.
Comparison numbers:
OE-No.
AUDI
06H 103 495 A
06H 103 495 AC
06H 103 495 AH
06H 103 495 B
06H 103 495 C
06H 103 495 E

model
product line
fuel
body
cubic capacity
year
power
cylinders
axle
passenger cars - AUDI
A3 (8P1)
1.8 TFSI
Petrol Engine
Hatchback
1798
2006.11-2012.08
118 (160)
4
-
A3 (8P1)
1.8 TFSI quattro
Petrol Engine
Hatchback
1798
2008.07-2012.08
118 (160)
4
-
A3 (8P1)
2.0 TFSI
Petrol Engine
Hatchback
1984
2004.09-2012.08
147 (200)
4
-
A3 (8P1)
2.0 TFSI quattro
Petrol Engine
Hatchback
1984
2004.09-2012.08
147 (200)
4
-
A3 Convertible (8P7)
1.8 TFSI
Petrol Engine
Convertible
1798
2008.04-2013.05
118 (160)
4
-
A3 Convertible (8P7)
2.0 TFSI
Petrol Engine
Convertible
1984
2008.04-2013.05
147 (200)
4
-
A3 Sportback (8PA)
1.8 TFSI
Petrol Engine
Hatchback
1798
2006.11-2013.03
118 (160)
4
-
A3 Sportback (8PA)
1.8 TFSI quattro
Petrol Engine
Hatchback
1798
2008.07-2013.03
118 (160)
4
-
A3 Sportback (8PA)
2.0 TFSI
Petrol Engine
Hatchback
1984
2004.09-2013.03
147 (200)
4
-
A3 Sportback (8PA)
2.0 TFSI quattro
Petrol Engine
Hatchback
1984
2004.09-2013.03
147 (200)
4
-
A4 Allroad B8 (8KH)
2.0 TFSI quattro
Petrol Engine
Estate
1984
2009.04-2016.05
155 (211)
4
-
A4 B8 (8K2)
1.8 TFSI
Petrol Engine
Saloon
1798
2011.11-2015.12
125 (170)
4
-
A4 B8 (8K2)
1.8 TFSI
Petrol Engine
Saloon
1798
2007.11-2012.03
118 (160)
4
-
A4 B8 (8K2)
1.8 TFSI quattro
Petrol Engine
Saloon
1798
2008.09-2012.03
118 (160)
4
-
A4 B8 (8K2)
1.8 TFSI quattro
Petrol Engine
Saloon
1798
2011.11-2015.12
125 (170)
4
-
A4 B8 (8K2)
2.0 TFSI
Petrol Engine
Saloon
1984
2008.06-2015.12
132 (180)
4
-
A4 B8 (8K2)
2.0 TFSI
Petrol Engine
Saloon
1984
2008.06-2013.05
155 (211)
4
-
A4 B8 (8K2)
2.0 TFSI flexible fuel
Petrol Engine
Saloon
1984
2009.11-2015.12
132 (180)
4
-
A4 B8 (8K2)
2.0 TFSI flexible fuel quattro
Petrol Engine
Saloon
1984
2009.11-2015.12
132 (180)
4
-
A4 B8 (8K2)
2.0 TFSI quattro
Petrol Engine
Saloon
1984
2008.06-2015.12
155 (211)
4
-
A4 B8 (8K2)
2.0 TFSI quattro
Petrol Engine
Saloon
1984
2009.11-2012.03
132 (180)
4
-
A4 B8 Avant (8K5)
1.8 TFSI
Petrol Engine
Estate
1798
2011.11-2015.12
125 (170)
4
-
A4 B8 Avant (8K5)
1.8 TFSI
Petrol Engine
Estate
1798
2007.11-2012.03
118 (160)
4
-
A4 B8 Avant (8K5)
1.8 TFSI quattro
Petrol Engine
Estate
1798
2011.11-2015.12
125 (170)
4
-
A4 B8 Avant (8K5)
1.8 TFSI quattro
Petrol Engine
Estate
1798
2008.09-2012.03
118 (160)
4
-
A4 B8 Avant (8K5)
2.0 TFSI
Petrol Engine
Estate
1984
2008.06-2013.05
155 (211)
4
-
A4 B8 Avant (8K5)
2.0 TFSI
Petrol Engine
Estate
1984
2008.06-2015.12
132 (180)
4
-
A4 B8 Avant (8K5)
2.0 TFSI flexible fuel
Petrol Engine
Estate
1984
2009.11-2015.12
132 (180)
4
-
A4 B8 Avant (8K5)
2.0 TFSI flexible fuel quattro
Petrol Engine
Estate
1984
2009.11-2015.12
132 (180)
4
-
A4 B8 Avant (8K5)
2.0 TFSI quattro
Petrol Engine
Estate
1984
2008.06-2015.12
155 (211)
4
-
A5 (8T3)
1.8 TFSI
Petrol Engine
Coupe
1798
2009.05-2011.09
118 (160)
4
-
A5 (8T3)
1.8 TFSI
Petrol Engine
Coupe
1798
2007.10-2017.01
125 (170)
4
-
A5 (8T3)
2.0 TFSI
Petrol Engine
Coupe
1984
2008.06-2013.11
155 (211)
4
-
A5 (8T3)
2.0 TFSI
Petrol Engine
Coupe
1984
2008.11-2012.03
132 (180)
4
-
A5 (8T3)
2.0 TFSI quattro
Petrol Engine
Coupe
1984
2008.06-2017.01
155 (211)
4
-
A5 Convertible (8F7)
1.8 TFSI
Petrol Engine
Convertible
1798
2011.09-2016.03
125 (170)
4
-
A5 Convertible (8F7)
1.8 TFSI
Petrol Engine
Convertible
1798
2009.09-2012.03
118 (160)
4
-
A5 Convertible (8F7)
2.0 TFSI
Petrol Engine
Convertible
1984
2009.03-2014.06
155 (211)
4
-
A5 Convertible (8F7)
2.0 TFSI
Petrol Engine
Convertible
1984
2009.03-2012.03
132 (180)
4
-
A5 Convertible (8F7)
2.0 TFSI quattro
Petrol Engine
Convertible
1984
2009.03-2017.01
155 (211)
4
-
A5 Sportback (8TA)
1.8 TFSI
Petrol Engine
Hatchback
1798
2009.11-2011.09
118 (160)
4
-
A5 Sportback (8TA)
1.8 TFSI
Petrol Engine
Hatchback
1798
2011.08-2017.01
125 (170)
4
-
A5 Sportback (8TA)
2.0 TFSI
Petrol Engine
Hatchback
1984
2009.09-2013.11
155 (211)
4
-
A5 Sportback (8TA)
2.0 TFSI
Petrol Engine
Hatchback
1984
2009.09-2014.06
132 (180)
4
-
A5 Sportback (8TA)
2.0 TFSI quattro
Petrol Engine
Hatchback
1984
2009.09-2017.01
155 (211)
4
-
A6 C7 (4G2, 4GC)
2.0 TFSI
Petrol Engine
Saloon
1984
2011.05-2018.09
132 (180)
4
-
A6 C7 (4G2, 4GC)
2.0 TFSI
Petrol Engine
Saloon
1984
2011.03-2013.05
155 (211)
4
-
A6 C7 (4G2, 4GC)
2.0 TFSI quattro
Petrol Engine
Saloon
1984
2012.05-2015.04
155 (211)
4
-
A6 C7 Avant (4G5, 4GD)
2.0 TFSI
Petrol Engine
Estate
1984
2011.06-2018.09
132 (180)
4
-
Q3 (8UB, 8UG)
2.0 TFSI quattro
Petrol Engine
SUV
1984
2014.09-2018.10
147 (200)
4
-
Q5 (8RB)
2.0 TFSI quattro
Petrol Engine
SUV
1984
2008.11-2012.09
155 (211)
4
-
Q5 (8RB)
2.0 TFSI quattro
Petrol Engine
SUV
1984
2009.08-2017.05
132 (180)
4
-
Q5 Van (8RB)
2.0 TFSI quattro
Petrol Engine
SUV Van
1984
2008.11-2012.09
155 (211)
4
-
TT (8J3)
1.8 TFSI
Petrol Engine
Coupe
1798
2008.06-2014.06
118 (160)
4
-
TT (8J3)
2.0 TFSI
Petrol Engine
Coupe
1984
2010.05-2014.06
155 (211)
4
-
TT (8J3)
2.0 TFSI
Petrol Engine
Coupe
1984
2006.08-2010.06
147 (200)
4
-
TT (8J3)
2.0 TFSI quattro
Petrol Engine
Coupe
1984
2008.06-2010.06
147 (200)
4
-
TT (8J3)
2.0 TFSI quattro
Petrol Engine
Coupe
1984
2010.05-2014.06
155 (211)
4
-
TT Roadster (8J9)
1.8 TFSI
Petrol Engine
Convertible
1798
2008.06-2014.06
118 (160)
4
-
TT Roadster (8J9)
2.0 TFSI
Petrol Engine
Convertible
1984
2007.03-2010.06
147 (200)
4
-
TT Roadster (8J9)
2.0 TFSI
Petrol Engine
Convertible
1984
2010.05-2014.06
155 (211)
4
-
TT Roadster (8J9)
2.0 TFSI quattro
Petrol Engine
Convertible
1984
2010.05-2014.06
155 (211)
4
-
TT Roadster (8J9)
2.0 TFSI quattro
Petrol Engine
Convertible
1984
2008.06-2010.06
147 (200)
4
-
passenger cars - SEAT
ALHAMBRA (710, 711)
1.8 TSI
Petrol Engine
MPV
1798
2012.11-2015.04
118 (160)
4
-
ALTEA (5P1)
1.8 TFSI
Petrol Engine
MPV
1798
2007.01-.
118 (160)
4
-
ALTEA XL (5P5, 5P8)
1.8 TFSI
Petrol Engine
MPV
1798
2007.01-.
118 (160)
4
-
ALTEA XL (5P5, 5P8)
2.0 TFSI
Petrol Engine
MPV
1984
2009.05-.
155 (211)
4
-
ALTEA XL (5P5, 5P8)
2.0 TFSI 4x4
Petrol Engine
MPV
1984
2009.05-.
155 (211)
4
-
EXEO (3R2)
1.8 TSI
Petrol Engine
Saloon
1798
2010.09-2013.05
88 (120)
4
-
EXEO (3R2)
1.8 TSI
Petrol Engine
Saloon
1798
2010.05-2013.05
118 (160)
4
-
EXEO (3R2)
2.0 TFSI
Petrol Engine
Saloon
1984
2010.05-2013.05
155 (211)
4
-
EXEO ST (3R5)
1.8 TSI
Petrol Engine
Estate
1798
2010.09-2013.05
88 (120)
4
-
EXEO ST (3R5)
1.8 TSI
Petrol Engine
Estate
1798
2010.05-2013.05
118 (160)
4
-
EXEO ST (3R5)
2.0 TFSI
Petrol Engine
Estate
1984
2010.05-2013.05
155 (211)
4
-
LEON (1P1)
1.8 TSI
Petrol Engine
Hatchback
1798
2007.06-2012.12
118 (160)
4
-
LEON (1P1)
2.0 TFSI
Petrol Engine
Hatchback
1984
2009.06-2012.12
155 (211)
4
-
TOLEDO III (5P2)
1.8 TFSI
Petrol Engine
MPV
1798
2007.01-2009.05
118 (160)
4
-
passenger cars - SKODA
OCTAVIA II (1Z3)
1.8 TSI
Petrol Engine
Hatchback
1798
2009.03-2013.06
112 (152)
4
-
OCTAVIA II (1Z3)
1.8 TSI
Petrol Engine
Hatchback
1798
2007.06-2013.04
118 (160)
4
-
OCTAVIA II (1Z3)
2.0 TFSI
Petrol Engine
Hatchback
1984
2005.10-2013.02
147 (200)
4
-
OCTAVIA II Combi (1Z5)
1.8 TSI
Petrol Engine
Estate
1798
2007.06-2013.04
118 (160)
4
-
OCTAVIA II Combi (1Z5)
1.8 TSI
Petrol Engine
Estate
1798
2009.03-2013.06
112 (152)
4
-
OCTAVIA II Combi (1Z5)
1.8 TSI 4x4
Petrol Engine
Estate
1798
2008.11-2013.02
118 (160)
4
-
OCTAVIA II Combi (1Z5)
1.8 TSI 4x4
Petrol Engine
Estate
1798
2009.03-2013.02
112 (152)
4
-
OCTAVIA II Combi (1Z5)
2.0 TFSI
Petrol Engine
Estate
1984
2005.10-2013.02
147 (200)
4
-
SUPERB II (3T4)
1.8 TSI
Petrol Engine
Hatchback
1798
2009.03-2015.05
112 (152)
4
-
SUPERB II (3T4)
1.8 TSI
Petrol Engine
Hatchback
1798
2008.03-2015.05
118 (160)
4
-
SUPERB II (3T4)
1.8 TSI 4x4
Petrol Engine
Hatchback
1798
2009.03-2015.05
112 (152)
4
-
SUPERB II (3T4)
1.8 TSI 4x4
Petrol Engine
Hatchback
1798
2008.11-2015.05
118 (160)
4
-
SUPERB II (3T4)
2.0 TFSI
Petrol Engine
Hatchback
1984
2010.05-2015.05
147 (200)
4
-
SUPERB II Estate (3T5)
1.8 TSI
Petrol Engine
Estate
1798
2009.10-2015.05
118 (160)
4
-
SUPERB II Estate (3T5)
1.8 TSI
Petrol Engine
Estate
1798
2009.10-2015.05
112 (152)
4
-
SUPERB II Estate (3T5)
1.8 TSI 4x4
Petrol Engine
Estate
1798
2009.10-2015.05
112 (152)
4
-
SUPERB II Estate (3T5)
1.8 TSI 4x4
Petrol Engine
Estate
1798
2009.10-2015.05
118 (160)
4
-
SUPERB II Estate (3T5)
2.0 TFSI
Petrol Engine
Estate
1984
2010.05-2015.05
147 (200)
4
-
YETI (5L)
1.8 TSI 4x4
Petrol Engine
SUV
1798
2009.11-2017.12
112 (152)
4
-
YETI (5L)
1.8 TSI 4x4
Petrol Engine
SUV
1798
2009.05-2017.12
118 (160)
4
-
passenger cars - VW
AMAROK (2HA, 2HB, S1B, S6B, S7A, S7B)
2.0 TSI
Petrol Engine
Pickup
1984
2010.12-2016.10
118 (160)
4
-
BEETLE (5C1, 5C2)
2.0 TFSI
Petrol Engine
Hatchback
1984
2011.04-2016.07
147 (200)
4
-
BEETLE Convertible (5C7, 5C8)
2.0 TFSI
Petrol Engine
Convertible
1984
2011.12-2016.07
147 (200)
4
-
CC B7 (358)
1.8 TSI
Petrol Engine
Coupe
1798
2011.11-2016.12
118 (160)
4
-
CC B7 (358)
1.8 TSI
Petrol Engine
Coupe
1798
2011.11-2016.12
112 (152)
4
-
CC B7 (358)
2.0 TFSI
Petrol Engine
Coupe
1984
2011.11-2016.12
147 (200)
4
-
CC B7 (358)
2.0 TSI
Petrol Engine
Coupe
1984
2011.11-2016.12
155 (210)
4
-
EOS (1F7, 1F8)
2.0 TFSI
Petrol Engine
Convertible
1984
2006.03-2015.08
147 (200)
4
-
EOS (1F7, 1F8)
2.0 TSI
Petrol Engine
Convertible
1984
2009.11-2015.08
155 (210)
4
-
GOLF V (1K1)
2.0 GTI
Petrol Engine
Hatchback
1984
2004.10-2009.02
147 (200)
4
-
GOLF V Variant (1K5)
2.0 TFSI
Petrol Engine
Estate
1984
2007.06-2009.07
147 (200)
4
-
GOLF VI (5K1)
1.8 TSI
Petrol Engine
Hatchback
1798
2009.06-2011.01
118 (160)
4
-
GOLF VI (5K1)
2.0 GTi
Petrol Engine
Hatchback
1984
2009.04-2012.11
155 (210)
4
-
GOLF VI (5K1)
2.0 GTi
Petrol Engine
Hatchback
1984
2009.06-2013.11
147 (200)
4
-
GOLF VI Convertible (517)
2.0 GTI
Petrol Engine
Convertible
1984
2012.05-2016.05
155 (211)
4
-
GOLF VI Van (5K1_)
2.0 GTi
Petrol Engine
Hatchback Van
1984
2009.02-2012.11
155 (211)
4
-
GOLF VI Variant (AJ5)
2.0 TFSI
Petrol Engine
Estate
1984
2009.07-2013.07
147 (200)
4
-
JETTA III (1K2)
2.0 TFSI
Petrol Engine
Saloon
1984
2005.10-2010.10
147 (200)
4
-
JETTA IV (162, 163, AV3, AV2)
2.0 TFSI
Petrol Engine
Saloon
1984
2010.12-.
147 (200)
4
-
PASSAT ALLTRACK B7 (365)
1.8 TSI
Petrol Engine
Estate
1798
2012.01-2014.12
118 (160)
4
-
PASSAT ALLTRACK B7 (365)
1.8 TSI
Petrol Engine
Estate
1798
2012.01-2014.12
112 (152)
4
-
PASSAT ALLTRACK B7 (365)
2.0 TSI 4motion
Petrol Engine
Estate
1984
2012.01-2014.12
155 (210)
4
-
PASSAT B6 (3C2)
1.8 TSI
Petrol Engine
Saloon
1798
2009.11-2010.07
112 (152)
4
-
PASSAT B6 (3C2)
1.8 TSI
Petrol Engine
Saloon
1798
2007.05-2010.07
118 (160)
4
-
PASSAT B6 (3C2)
2.0 FSI
Petrol Engine
Saloon
1984
2007.08-2010.07
125 (170)
4
-
PASSAT B6 (3C2)
2.0 TFSI
Petrol Engine
Saloon
1984
2005.07-2010.07
147 (200)
4
-
PASSAT B6 Variant (3C5)
1.8 TSI
Petrol Engine
Estate
1798
2009.11-2010.11
112 (152)
4
-
PASSAT B6 Variant (3C5)
1.8 TSI
Petrol Engine
Estate
1798
2007.05-2011.10
118 (160)
4
-
PASSAT B6 Variant (3C5)
2.0 TFSI
Petrol Engine
Estate
1984
2005.08-2010.11
147 (200)
4
-
PASSAT B7 (362)
1.8 TSI
Petrol Engine
Saloon
1798
2011.02-2014.12
112 (152)
4
-
PASSAT B7 (362)
1.8 TSI
Petrol Engine
Saloon
1798
2010.08-2014.12
118 (160)
4
-
PASSAT B7 (362)
2.0 TSI
Petrol Engine
Saloon
1984
2010.11-2014.12
155 (210)
4
-
PASSAT B7 Estate Van (365)
1.8 TFSi
Petrol Engine
Estate Van
1798
2010.08-2014.12
118 (160)
4
-
PASSAT B7 Estate Van (365)
2.0 TFSI
Petrol Engine
Estate Van
1984
2010.11-2014.12
155 (211)
4
-
PASSAT B7 Variant (365)
1.8 TSI
Petrol Engine
Estate
1798
2011.02-2014.12
112 (152)
4
-
PASSAT B7 Variant (365)
1.8 TSI
Petrol Engine
Estate
1798
2010.08-2014.12
118 (160)
4
-
PASSAT B7 Variant (365)
2.0 TSI
Petrol Engine
Estate
1984
2010.11-2015.12
155 (210)
4
-
PASSAT CC B6 (357)
1.8 TSI
Petrol Engine
Coupe
1798
2008.11-2010.05
112 (152)
4
-
PASSAT CC B6 (357)
1.8 TSI
Petrol Engine
Coupe
1798
2008.06-2012.01
118 (160)
4
-
PASSAT CC B6 (357)
2.0 TFSI
Petrol Engine
Coupe
1984
2008.06-2012.01
147 (200)
4
-
PASSAT CC B6 (357)
2.0 TSI
Petrol Engine
Coupe
1984
2010.11-2012.01
155 (211)
4
-
SCIROCCO III (137, 138)
2.0 TFSI
Petrol Engine
Coupe
1984
2008.05-2009.11
147 (200)
4
-
SCIROCCO III (137, 138)
2.0 TSI
Petrol Engine
Coupe
1984
2009.11-2017.11
155 (210)
4
-
SCIROCCO Van (137)
2.0 TFSi
Petrol Engine
Hatchback Van
1984
2009.11-2014.05
155 (211)
4
-
SHARAN (7N1, 7N2)
2.0 TFSI
Petrol Engine
MPV
1984
2010.12-2015.11
147 (200)
4
-
SHARAN VAN (7N1, 7N2)
2.0 TSI
Petrol Engine
Box Body/MPV
1984
2010.12-2015.11
147 (200)
4
-
TIGUAN (5N_)
2.0 TFSI
Petrol Engine
SUV
1984
2007.11-2018.07
147 (200)
4
-
TIGUAN (5N_)
2.0 TFSI 4motion
Petrol Engine
SUV
1984
2007.09-2018.07
147 (200)
4
-
TIGUAN (5N_)
2.0 TFSI 4motion
Petrol Engine
SUV
1984
2007.09-2018.07
125 (170)
4
-
TIGUAN (5N_)
2.0 TSI 4motion
Petrol Engine
SUV
1984
2011.05-2018.07
155 (211)
4
-
TIGUAN VAN (5N_)
2.0 TSI 4motion (5N1)
Petrol Engine
SUV Van
1984
2009.11-2011.05
125 (170)
4
-
TIGUAN VAN (5N_)
2.0 TSI 4motion (5N1)
Petrol Engine
SUV Van
1984
2009.11-2011.05
147 (200)
4
-
TIGUAN VAN (5N_)
2.0 TSI 4motion (5N2)
Petrol Engine
SUV Van
1984
2011.05-2018.07
155 (211)
4
-
motor code
fuel
cubic capacity
year
power
cylinders
AUDI...
AXX
Petrol Engine
1984
.-.
147 (200)
4
BPY
Petrol Engine
1984
.-.
147 (200)
4
BWA
Petrol Engine
1984
.-.
147 (200)
4
BYT
Petrol Engine
1798
.-.
118 (160)
4
BZB
Petrol Engine
1798
.-.
118 (160)
4
CABB
Petrol Engine
1798
.-.
118 (160)
4
CABD
Petrol Engine
1798
.-.
125 (170)
4
CAEA
Petrol Engine
1984
.-.
132 (180)
4
CAEB
Petrol Engine
1984
.-.
155-164 (211-223)
4
CAWB
Petrol Engine
1984
.-.
147 (200)
4
CBFA
Petrol Engine
1984
.-.
147 (200)
4
CCTA
Petrol Engine
1984
.-.
147-149 (200-203)
4
CCZA
Petrol Engine
1984
.-.
147 (200)
4
CDAA
Petrol Engine
1798
.-.
118 (160)
4
CDHB
Petrol Engine
1798
.-.
118 (160)
4
CDNB
Petrol Engine
1984
.-.
132 (180)
4
CDNC
Petrol Engine
1984
.-.
155 (211)
4
CESA
Petrol Engine
1984
.-.
155 (211)
4
CETA
Petrol Engine
1984
.-.
155 (211)
4
CFKA
Petrol Engine
1984
.-.
132 (180)
4
CJEB
Petrol Engine
1798
.-.
125 (170)
4
CNCB
Petrol Engine
1984
.-.
132 (180)
4
CPMA
Petrol Engine
1984
.-.
155 (211)
4
SEAT...
BYT
Petrol Engine
1798
.-.
118 (160)
4
BZB
Petrol Engine
1798
.-.
118 (160)
4
CCZB
Petrol Engine
1984
.-.
155 (211)
4
CDAA
Petrol Engine
1798
.-.
118 (160)
4
CDHA
Petrol Engine
1798
.-.
88 (120)
4
CDHB
Petrol Engine
1798
.-.
118 (160)
4
CDND
Petrol Engine
1984
.-.
155 (211)
4
SKODA...
BWA
Petrol Engine
1984
.-.
147 (200)
4
BZB
Petrol Engine
1798
.-.
118 (160)
4
CCZA
Petrol Engine
1984
.-.
147 (200)
4
CDAA
Petrol Engine
1798
.-.
118 (160)
4
CDAB
Petrol Engine
1798
.-.
112 (152)
4
VW...
AXX
Petrol Engine
1984
.-.
147 (200)
4
BPY
Petrol Engine
1984
.-.
147 (200)
4
BWA
Petrol Engine
1984
.-.
147 (200)
4
BZB
Petrol Engine
1798
.-.
118 (160)
4
CAWA
Petrol Engine
1984
.-.
125 (170)
4
CAWB
Petrol Engine
1984
.-.
147 (200)
4
CBFA
Petrol Engine
1984
.-.
147-157 (200-213)
4
CCTA
Petrol Engine
1984
.-.
147-157 (200-213)
4
CCTB
Petrol Engine
1984
.-.
125 (170)
4
CCZA
Petrol Engine
1984
.-.
147 (200)
4
CCZB
Petrol Engine
1984
.-.
155 (211)
4
CCZC
Petrol Engine
1984
.-.
125 (170)
4
CDAA
Petrol Engine
1798
.-.
118 (160)
4
CDAB
Petrol Engine
1798
.-.
112 (152)
4
CFPA
Petrol Engine
1984
.-.
118 (160)
4
CGYA
Petrol Engine
1798
.-.
112 (152)
4
customers who bought this product also bought: