Here you can inquire your individual shop login.
Please login to see your individual prices and our avaliability.
Vacuum Pump, braking system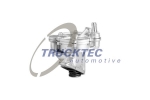 TRUCKTEC part number: 07.36.003
Amount per packaging unit: 1
Date added: 2023-02-06 02:28:16 | Date last modified: 2023-02-06 02:28:16
Please register or login to see prices and availability.
Comparison numbers:
OE-No.
PIERBURG
7.22300.68.0

VAG
074 145 101 A
076 145 100

VOLVO
9155884

| | |
| --- | --- |
| Operating Mode | Mechanical |
model
product line
fuel
body
cubic capacity
year
power
cylinders
AUDI
100 C4 Avant (4A5)
2.4 D
Diesel
Estate
2370
1990.12-1994.07
60 (82)
5
100 C4 Avant (4A5)
2.5 TDI
Diesel
Estate
2461
1990.12-1994.07
85 (115)
5
100 C4 Saloon (4A2)
2.4 D
Diesel
Saloon
2370
1990.12-1994.07
60 (82)
5
100 C4 Saloon (4A2)
2.5 TDI
Diesel
Saloon
2461
1990.12-1994.07
85 (115)
5
A6 C4 (4A2)
2.5 TDI
Diesel
Saloon
2461
1994.08-1997.10
103 (140)
5
A6 C4 (4A2)
2.5 TDI
Diesel
Saloon
2461
1994.06-1997.10
85 (116)
5
A6 C4 (4A2)
2.5 TDI quattro
Diesel
Saloon
2461
1995.10-1997.10
103 (140)
5
A6 C4 Avant (4A5)
2.5 TDI
Diesel
Estate
2461
1994.06-1997.12
85 (116)
5
A6 C4 Avant (4A5)
2.5 TDI
Diesel
Estate
2461
1994.08-1997.12
103 (140)
5
A6 C4 Avant (4A5)
2.5 TDI quattro
Diesel
Estate
2461
1995.07-1997.12
103 (140)
5
A6 C5 (4B2)
2.5 TDI
Diesel
Saloon
2496
2001.08-2005.01
114 (155)
6
A6 C5 (4B2)
2.5 TDI
Diesel
Saloon
2496
2000.02-2005.01
132 (180)
6
A6 C5 (4B2)
2.5 TDI
Diesel
Saloon
2496
1997.07-2005.01
110 (150)
6
A6 C5 (4B2)
2.5 TDI
Diesel
Saloon
2496
2002.07-2005.01
120 (163)
6
A6 C5 (4B2)
2.5 TDI quattro
Diesel
Saloon
2496
2000.02-2005.01
132 (180)
6
A6 C5 (4B2)
2.5 TDI quattro
Diesel
Saloon
2496
1997.07-2005.01
110 (150)
6
A6 C5 Avant (4B5)
2.5 TDI
Diesel
Estate
2496
1997.12-2005.01
110 (150)
6
A6 C5 Avant (4B5)
2.5 TDI
Diesel
Estate
2496
2000.02-2005.01
132 (180)
6
A6 C5 Avant (4B5)
2.5 TDI
Diesel
Estate
2496
2002.07-2005.01
120 (163)
6
A6 C5 Avant (4B5)
2.5 TDI
Diesel
Estate
2496
2001.08-2005.01
114 (155)
6
A6 C5 Avant (4B5)
2.5 TDI quattro
Diesel
Estate
2496
1997.12-2005.01
110 (150)
6
A6 C5 Avant (4B5)
2.5 TDI quattro
Diesel
Estate
2496
2000.02-2005.01
132 (180)
6
VOLVO
740 (744)
2.4 TD
Diesel
Saloon
2383
1986.08-1988.10
90 (122)
6
740 Kombi (745)
2.4 TD Interc.
Diesel
Estate
2383
1986.08-1988.07
90 (122)
6
760 (704, 764)
2.4 TD Interc.
Diesel
Saloon
2383
1987.08-1992.07
85 (115)
6
760 Kombi (704, 765)
2.4 TD Interc. (765)
Diesel
Estate
2383
1987.08-1992.07
85 (116)
6
850 (854)
2.5 TDI
Diesel
Saloon
2460
1995.08-1996.12
103 (140)
5
850 Estate (855)
2.5 TDI
Diesel
Estate
2460
1995.08-1996.12
103 (140)
5
940 (944)
2.4 TD Intercooler
Diesel
Saloon
2383
1990.08-1994.12
90 (122)
6
940 II (944)
2.4 TD Interc.
Diesel
Saloon
2383
1994.08-1998.10
90 (122)
6
940 II Estate (945)
2.4 TD Interc.
Diesel
Estate
2383
1994.08-1998.10
90 (122)
6
940 Kombi (945)
2.4 TD Intercooler
Diesel
Estate
2383
1990.08-1994.08
90 (122)
6
960 (964)
2.4 TD Interc.
Diesel
Saloon
2383
1991.09-1994.07
85 (115)
6
960 Kombi (965)
2.4 TD Interc.
Diesel
Estate
2383
1991.09-1994.07
85 (115)
6
S70 (874)
2.5 TDI
Diesel
Saloon
2460
1997.01-2000.11
103 (140)
5
S70 (874)
2.5 TDi AWD
Diesel
Saloon
2460
1999.10-2000.09
103 (140)
5
S80 I (184)
2.5 TDI
Diesel
Saloon
2460
1999.01-2006.07
103 (140)
5
V70 I (875, 876)
2.5 TDI
Diesel
Estate
2460
1995.12-2000.12
103 (140)
5
V70 I (875, 876)
2.5 TDi AWD
Diesel
Estate
2460
1996.11-2000.02
103 (140)
5
V70 II (285)
2.5 TDI
Diesel
Estate
2460
1999.11-2007.08
103 (140)
5
VW
LT 28-35 I Bus (281-363)
2.4 D
Diesel
Bus
2383
1989.08-1996.06
51 (70)
6
LT 28-35 I Bus (281-363)
2.4 D
Diesel
Bus
2383
1979.01-1992.07
55 (75)
6
LT 28-35 I Bus (281-363)
2.4 TD
Diesel
Bus
2384
1992.09-1996.06
70 (95)
6
LT 28-35 I Bus (281-363)
2.4 TD
Diesel
Bus
2384
1989.08-1992.08
68 (92)
6
LT 28-35 I Bus (281-363)
2.4 TD
Diesel
Bus
2384
1982.12-1989.07
75 (102)
6
LT 28-35 I Platform/Chassis (281-363)
2.4 D
Diesel
Platform/Chassis
2383
1990.08-1996.06
51 (69)
6
LT 28-35 I Platform/Chassis (281-363)
2.4 D
Diesel
Platform/Chassis
2383
1978.12-1991.02
55 (75)
6
LT 28-35 I Platform/Chassis (281-363)
2.4 TD
Diesel
Platform/Chassis
2384
1992.08-1996.06
70 (95)
6
LT 28-35 I Platform/Chassis (281-363)
2.4 TD
Diesel
Platform/Chassis
2384
1990.08-1992.08
68 (92)
6
LT 28-35 I Platform/Chassis (281-363)
2.4 TD
Diesel
Platform/Chassis
2384
1982.12-1993.09
75 (102)
6
LT 28-35 I Van (281-363)
2.4 D
Diesel
Van
2383
1979.01-1992.07
55 (75)
6
LT 28-35 I Van (281-363)
2.4 D
Diesel
Van
2383
1990.07-1996.05
51 (69)
6
LT 28-35 I Van (281-363)
2.4 TD
Diesel
Van
2384
1988.08-1992.08
68 (92)
6
LT 28-35 I Van (281-363)
2.4 TD
Diesel
Van
2384
1992.06-1996.05
70 (95)
6
LT 28-35 I Van (281-363)
2.4 TD
Diesel
Van
2384
1986.02-1992.08
75 (102)
6
LT 28-35 II Bus (2DB, 2DE, 2DK)
2.5 SDI
Diesel
Bus
2461
1996.07-2006.07
55 (75)
5
LT 28-46 II Platform/Chassis (2DC, 2DF, 2DG, 2DL, 2DM)
2.5 SDI
Diesel
Platform/Chassis
2461
1996.09-2006.07
55 (75)
5
LT 28-46 II Van (2DA, 2DD, 2DH)
2.5 SDI
Diesel
Van
2461
1996.09-2006.07
55 (75)
5
LT 40-55 I Platform/Chassis (293-909)
2.4 D
Diesel
Platform/Chassis
2383
1990.08-1996.06
51 (69)
6
LT 40-55 I Platform/Chassis (293-909)
2.4 TD
Diesel
Platform/Chassis
2384
1992.08-1996.06
70 (95)
6
LT 40-55 I Platform/Chassis (293-909)
2.4 TD
Diesel
Platform/Chassis
2384
1982.12-1993.09
75 (102)
6
LT 40-55 I Van (291-512)
2.4 D
Diesel
Van
2383
1979.01-1992.07
55 (75)
6
LT 40-55 I Van (291-512)
2.4 D
Diesel
Van
2383
1990.07-1996.05
51 (69)
6
LT 40-55 I Van (291-512)
2.4 D 4WD
Diesel
Van
2383
1979.01-1986.03
55 (75)
6
LT 40-55 I Van (291-512)
2.4 TD
Diesel
Van
2384
1986.02-1992.08
75 (102)
6
LT 40-55 I Van (291-512)
2.4 TD
Diesel
Van
2384
1988.08-1992.08
68 (92)
6
LT 40-55 I Van (291-512)
2.4 TD
Diesel
Van
2384
1992.06-1996.05
70 (95)
6
LT 40-55 I Van (291-512)
2.4 TD 4WD
Diesel
Van
2384
1978.08-1992.07
75 (102)
6
PASSAT B5.5 (3B3)
2.5 TDI
Diesel
Saloon
2496
2000.11-2005.05
110 (150)
6
PASSAT B5.5 (3B3)
2.5 TDI 4motion
Diesel
Saloon
2496
2000.11-2005.05
110 (150)
6
PASSAT B5.5 Variant (3B6)
2.5 TDI
Diesel
Estate
2496
2000.11-2005.05
110 (150)
6
PASSAT B5.5 Variant (3B6)
2.5 TDI 4motion
Diesel
Estate
2496
2000.11-2005.05
110 (150)
6
TRANSPORTER IV Bus (70B, 70C, 7DB, 7DK, 70J, 70K, 7DC, 7DJ)
2.4 D
Diesel
Bus
2370
1990.09-1998.04
57 (78)
5
TRANSPORTER IV Bus (70B, 70C, 7DB, 7DK, 70J, 70K, 7DC, 7DJ)
2.4 D Syncro
Diesel
Bus
2370
1992.10-1998.09
57 (78)
5
TRANSPORTER IV Van (70A, 70H, 7DA, 7DH)
2.4 D
Diesel
Van
2370
1990.07-1998.04
57 (78)
5
TRANSPORTER IV Van (70A, 70H, 7DA, 7DH)
2.4 D Syncro
Diesel
Van
2370
1992.10-1998.09
57 (78)
5
customers who bought this product also bought:
Vacuum Pump, braking system
OE-No.
PIERBURG:
7.22300.68.0
VAG:
074 145 101 A
076 145 100
VOLVO:
9155884

TRUCKTEC part number: 07.36.003