Here you can inquire your individual shop login.
Please login to see your individual prices and our avaliability.
Brake Shoe Set, parking brake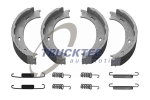 TRUCKTEC part number: 02.35.051
Amount per packaging unit: 1
Date added: 2021-11-27 15:28:04 | Date last modified: 2021-11-27 15:28:04
Please register or login to see prices and availability.
Comparison numbers:
OE-No.
ATE
03.0137-0397.2
03.0137-4001.2

BENDIX
362421B

BOSCH
0 986 487 610
0 986 BB3 547

BOSCH DIAGNOSTICS
0 986 487 610

CHRYSLER
05103792AA
5103792AA

HELLA
8DA 355 050-291

MERCEDES-BENZ
002 420 5820
003 420 1420
003 420 3420
901 420 0120
901 420 0320
901 420 0520

VAG
2D0 609 525
2D0 609 538
2D0 698 525
2D0 698 525 B

VALEO
128901

| | |
| --- | --- |
| Fitting Position | Rear Axle |
| Drum Diameter | 160 |
model
product line
fuel
body
cubic capacity
year
power
cylinders
MERCEDES-BENZ
G-CLASS (W461)
G 270 CDI
Diesel
Closed Off-Road Vehicle
2685
2003.01-.
115 (156)
5
G-CLASS (W461)
G 280 CDI (461.304, 461.346, 461.370, 461.334, 461.339,...
Diesel
Closed Off-Road Vehicle
2987
2009.04-.
135 (184)
6
G-CLASS (W463)
200 GE (463.220)
Petrol Engine
Closed Off-Road Vehicle
1996
1990.01-1993.07
85 (116)
4
G-CLASS (W463)
230 GE (463.224, 463.225)
Petrol Engine
Closed Off-Road Vehicle
2298
1990.06-1993.06
93 (126)
4
G-CLASS (W463)
250 GD (463.324, 463.325)
Diesel
Closed Off-Road Vehicle
2497
1990.06-1992.10
69 (94)
5
G-CLASS (W463)
300 GD / G 300 (463.327, 463.328)
Diesel
Closed Off-Road Vehicle
2996
1989.09-1993.06
83 (113)
6
G-CLASS (W463)
300 GE (463.227, 463.228)
Petrol Engine
Closed Off-Road Vehicle
2960
1989.09-1993.08
125 (170)
6
G-CLASS (W463)
300 GE (463.227, 463.228)
Petrol Engine
Closed Off-Road Vehicle
2960
1990.06-1997.08
128 (174)
6
G-CLASS (W463)
350 Turbo GD (463.320, 463.321)
Diesel
Closed Off-Road Vehicle
3449
1991.09-1996.08
100 (136)
6
G-CLASS (W463)
500 GE (463.228)
Petrol Engine
Closed Off-Road Vehicle
4973
1993.09-1994.12
177 (241)
8
G-CLASS (W463)
G 270 CDI (463.322, 463.323)
Diesel
Closed Off-Road Vehicle
2685
2001.10-.
115 (156)
5
G-CLASS (W463)
G 300 TD (463.330, 463.331)
Diesel
Closed Off-Road Vehicle
2996
1996.08-2000.07
130 (177)
6
G-CLASS (W463)
G 320 (463.230, 463.231)
Petrol Engine
Closed Off-Road Vehicle
3199
1994.09-1997.12
155 (211)
6
G-CLASS (W463)
G 320 (463.232, 463.233, 463.244, 463.245)
Petrol Engine
Closed Off-Road Vehicle
3199
1997.07-.
158 (215)
6
G-CLASS (W463)
G 320 CDI (463.340, 463.341, 463.343)
Diesel
Closed Off-Road Vehicle
2987
2006.09-.
165 (224)
6
G-CLASS (W463)
G 350 CDI
Diesel
Closed Off-Road Vehicle
2987
2011.07-.
155 (211)
6
G-CLASS (W463)
G 36 AMG (463.230)
Petrol Engine
Closed Off-Road Vehicle
3606
1995.01-1998.07
200 (272)
6
G-CLASS (W463)
G 400 CDI (463.332, 463.333)
Diesel
Closed Off-Road Vehicle
3996
2000.12-.
184 (250)
8
G-CLASS (W463)
G 500 (463.222, 463.236, 463.237, 463.242)
Petrol Engine
Closed Off-Road Vehicle
5461
2008.05-.
285 (388)
8
G-CLASS (W463)
G 500 (463.247, 463.248, 463.249, 463.240, 463.241)
Petrol Engine
Closed Off-Road Vehicle
4966
1998.04-.
218 (296)
8
G-CLASS (W463)
G 55 AMG (463.243, 463.246)
Petrol Engine
Closed Off-Road Vehicle
5439
1999.04-.
260 (354)
8
G-CLASS (W463)
G 55 AMG (463.270, 463.271)
Petrol Engine
Closed Off-Road Vehicle
5439
2004.06-.
350 (476)
8
G-CLASS (W463)
G 55 AMG (463.270, 463.271)
Petrol Engine
Closed Off-Road Vehicle
5439
2006.08-.
368 (500)
8
G-CLASS (W463)
G 55 AMG (463.270, 463.271)
Petrol Engine
Closed Off-Road Vehicle
5439
2008.08-.
373 (507)
8
G-CLASS (W463)
G 63 AMG (463.273)
Petrol Engine
Closed Off-Road Vehicle
5461
2012.05-.
400 (544)
8
G-CLASS (W463)
G 65 AMG
Petrol Engine
Closed Off-Road Vehicle
5980
2012.05-.
450 (612)
12
G-CLASS Cabrio (W463)
200 GE (463.200)
Petrol Engine
Open Off-Road Vehicle
1996
1990.01-1993.07
80 (109)
4
G-CLASS Cabrio (W463)
200 GE (463.200)
Petrol Engine
Open Off-Road Vehicle
1996
1990.01-1993.07
85 (116)
4
G-CLASS Cabrio (W463)
230 GE (463.204)
Petrol Engine
Open Off-Road Vehicle
2298
1990.06-1993.02
93 (126)
4
G-CLASS Cabrio (W463)
300 GD / G 300 (463.307)
Diesel
Open Off-Road Vehicle
2996
1990.12-1997.09
83 (113)
6
G-CLASS Cabrio (W463)
300 GE (463.207)
Petrol Engine
Open Off-Road Vehicle
2960
1989.09-1997.09
125 (170)
6
G-CLASS Cabrio (W463)
320 GE (463.208)
Petrol Engine
Open Off-Road Vehicle
3199
1994.09-1997.11
155 (211)
6
G-CLASS Cabrio (W463)
350 G Turbo-D (463.300)
Diesel
Open Off-Road Vehicle
3449
1991.09-1997.09
100 (136)
6
G-CLASS Cabrio (W463)
G 300 TD (463.308)
Diesel
Open Off-Road Vehicle
2996
1996.09-2000.07
130 (177)
6
G-CLASS Cabrio (W463)
G 320 (463.209)
Petrol Engine
Open Off-Road Vehicle
3199
1997.11-.
158 (215)
6
G-CLASS Cabrio (W463)
G 320 CDI (463.303)
Diesel
Open Off-Road Vehicle
2987
2006.09-.
165 (224)
6
G-CLASS Cabrio (W463)
G 350 CDI
Diesel
Open Off-Road Vehicle
2987
2011.07-.
155 (211)
6
G-CLASS Cabrio (W463)
G 400 CDI (463.309)
Diesel
Open Off-Road Vehicle
3996
2000.12-.
184 (250)
8
G-CLASS Cabrio (W463)
G 500 (463)
Petrol Engine
Open Off-Road Vehicle
4966
1998.04-.
218 (296)
8
G-CLASS Cabrio (W463)
G 500 (463.202)
Petrol Engine
Open Off-Road Vehicle
5461
2009.12-.
285 (388)
8
SPRINTER 2-t Box (901, 902)
208 CDI
Diesel
Box
2148
2000.04-2006.05
60 (82)
4
SPRINTER 2-t Box (901, 902)
208 D
Diesel
Box
2299
1995.02-2000.04
58 (79)
4
SPRINTER 2-t Box (901, 902)
208 D
Diesel
Box
2299
1996.10-2000.04
60 (82)
4
SPRINTER 2-t Box (901, 902)
210 D
Diesel
Box
2874
1997.01-2000.04
75 (102)
5
SPRINTER 2-t Box (901, 902)
211 CDI
Diesel
Box
2148
2000.04-2006.05
80 (109)
4
SPRINTER 2-t Box (901, 902)
212 D
Diesel
Box
2874
1995.02-2000.04
90 (122)
5
SPRINTER 2-t Box (901, 902)
213 CDI
Diesel
Box
2148
2000.04-2006.05
95 (129)
4
SPRINTER 2-t Box (901, 902)
214
Petrol Engine
Box
2295
1995.02-2006.05
105 (143)
4
SPRINTER 2-t Box (901, 902)
214 NGT
Petrol Engine
Box
2295
1995.02-2006.05
95 (129)
4
SPRINTER 2-t Box (901, 902)
216 CDI
Diesel
Box
2685
2000.04-2006.05
115 (156)
5
SPRINTER 2-t Bus (901, 902)
208 CDI
Diesel
Bus
2148
2000.04-2006.05
60 (82)
4
SPRINTER 2-t Bus (901, 902)
208 D
Diesel
Bus
2299
1995.02-2000.04
58 (79)
4
SPRINTER 2-t Bus (901, 902)
210 D
Diesel
Bus
2874
1997.03-2000.04
75 (102)
5
SPRINTER 2-t Bus (901, 902)
211 CDI
Diesel
Bus
2148
2000.04-2006.05
80 (109)
4
SPRINTER 2-t Bus (901, 902)
212 D
Diesel
Bus
2874
1995.02-2000.04
90 (122)
5
SPRINTER 2-t Bus (901, 902)
213 CDI
Diesel
Bus
2148
2000.04-2006.05
95 (129)
4
SPRINTER 2-t Bus (901, 902)
214 (902.071, 902.072, 902.671, 902.672)
Petrol Engine
Bus
2295
1995.02-2006.05
105 (143)
4
SPRINTER 2-t Bus (901, 902)
214 NGT
Petrol Engine
Bus
2295
1995.02-2006.05
95 (129)
4
SPRINTER 2-t Bus (901, 902)
216 CDI
Diesel
Bus
2685
2000.04-2006.05
115 (156)
5
SPRINTER 2-t Platform/Chassis (901, 902)
208 CDI
Diesel
Platform/Chassis
2148
2000.04-2006.05
60 (82)
4
SPRINTER 2-t Platform/Chassis (901, 902)
208 D
Diesel
Platform/Chassis
2299
1995.01-2000.04
58 (79)
4
SPRINTER 2-t Platform/Chassis (901, 902)
208 D
Diesel
Platform/Chassis
2299
1996.09-2000.04
60 (82)
4
SPRINTER 2-t Platform/Chassis (901, 902)
210 D
Diesel
Platform/Chassis
2874
1997.01-2000.04
75 (102)
5
SPRINTER 2-t Platform/Chassis (901, 902)
211 CDI
Diesel
Platform/Chassis
2148
2000.04-2006.05
80 (109)
4
SPRINTER 2-t Platform/Chassis (901, 902)
212 D
Diesel
Platform/Chassis
2874
1995.02-2000.04
90 (122)
5
SPRINTER 2-t Platform/Chassis (901, 902)
213 CDI
Diesel
Platform/Chassis
2148
2000.04-2006.05
95 (129)
4
SPRINTER 2-t Platform/Chassis (901, 902)
214 (902.011, 902.012, 902.611, 902.612)
Petrol Engine
Platform/Chassis
2295
1995.02-2006.05
105 (143)
4
SPRINTER 2-t Platform/Chassis (901, 902)
214 NGT
Petrol Engine
Platform/Chassis
2295
1995.02-2006.05
95 (129)
4
SPRINTER 2-t Platform/Chassis (901, 902)
216 CDI
Diesel
Platform/Chassis
2685
2000.04-2006.05
115 (156)
5
SPRINTER 3-t Box (903)
308 CDI
Diesel
Box
2148
2000.04-2006.05
60 (82)
4
SPRINTER 3-t Box (903)
308 D 2.3
Diesel
Box
2299
1995.02-2000.04
58 (79)
4
SPRINTER 3-t Box (903)
308 D 2.3
Diesel
Box
2299
1995.02-2000.04
60 (82)
4
SPRINTER 3-t Box (903)
310 D 2.9
Diesel
Box
2874
1995.02-2000.04
75 (102)
5
SPRINTER 3-t Box (903)
311 CDI
Diesel
Box
2148
2000.04-2006.05
80 (109)
4
SPRINTER 3-t Box (903)
311 CDI 4x4
Diesel
Box
2148
2002.08-2006.05
80 (109)
4
SPRINTER 3-t Box (903)
312 D 2.9
Diesel
Box
2874
1995.02-2000.04
90 (122)
5
SPRINTER 3-t Box (903)
312 D 2.9 4x4
Diesel
Box
2874
1997.05-2002.08
90 (122)
5
SPRINTER 3-t Box (903)
313 CDI
Diesel
Box
2148
2000.04-2006.05
95 (129)
4
SPRINTER 3-t Box (903)
313 CDI 4x4
Diesel
Box
2148
2002.08-2006.05
95 (129)
4
SPRINTER 3-t Box (903)
314
Petrol Engine
Box
2295
1995.02-2006.05
105 (143)
4
SPRINTER 3-t Box (903)
314 4x4
Petrol Engine
Box
2295
2002.08-2006.05
105 (143)
4
SPRINTER 3-t Box (903)
314 NGT (903.661)
Petrol Engine
Box
2295
1995.02-2006.05
95 (129)
4
SPRINTER 3-t Box (903)
316 CDI
Diesel
Box
2685
2000.04-2006.05
115 (156)
5
SPRINTER 3-t Box (903)
316 CDI 4x4
Diesel
Box
2685
2002.08-2006.05
115 (156)
5
SPRINTER 3-t Bus (903)
308 CDI
Diesel
Bus
2148
2000.04-2006.05
60 (82)
4
SPRINTER 3-t Bus (903)
308 D
Diesel
Bus
2299
1995.02-2000.04
58 (79)
4
SPRINTER 3-t Bus (903)
308 D (903.371, 903.372, 903.373)
Diesel
Bus
2299
1997.03-2000.04
60 (82)
4
SPRINTER 3-t Bus (903)
308 E (903.372)
Electric Motor
Bus
0
1996.01-2006.05
40 (54)
0
SPRINTER 3-t Bus (903)
310 D (903.371, 903.372, 903.373)
Diesel
Bus
2874
1997.01-1999.12
75 (102)
5
SPRINTER 3-t Bus (903)
310 D 4x4
Diesel
Bus
2874
1997.05-2002.08
75 (102)
5
SPRINTER 3-t Bus (903)
311 CDI
Diesel
Bus
2148
2000.04-2006.05
80 (109)
4
SPRINTER 3-t Bus (903)
311 CDI 4x4
Diesel
Bus
2148
2002.08-2006.05
80 (109)
4
SPRINTER 3-t Bus (903)
312 D 2.9
Diesel
Bus
2874
1995.02-2000.04
90 (122)
5
SPRINTER 3-t Bus (903)
312 D 2.9 4x4
Diesel
Bus
2874
1997.05-2002.08
90 (122)
5
SPRINTER 3-t Bus (903)
313 CDI
Diesel
Bus
2148
2000.04-2006.05
95 (129)
4
SPRINTER 3-t Bus (903)
313 CDI 4x4
Diesel
Bus
2148
2002.08-2006.05
95 (129)
4
SPRINTER 3-t Bus (903)
314 (903.071, 903.072, 903.073, 903.671, 903.672,...
Petrol Engine
Bus
2295
1995.02-2006.05
105 (143)
4
SPRINTER 3-t Bus (903)
314 4x4
Petrol Engine
Bus
2295
2002.08-2006.05
105 (143)
4
SPRINTER 3-t Bus (903)
314 NGT
Petrol Engine
Bus
2295
1995.02-2006.05
95 (129)
4
SPRINTER 3-t Bus (903)
316 CDI
Diesel
Bus
2685
2000.04-2006.05
115 (156)
5
SPRINTER 3-t Bus (903)
316 CDI 4x4
Diesel
Bus
2685
2002.08-2006.05
115 (156)
5
SPRINTER 3-t Platform/Chassis (903)
308 CDI
Diesel
Platform/Chassis
2148
2000.04-2006.05
60 (82)
4
SPRINTER 3-t Platform/Chassis (903)
308 D 2.3
Diesel
Platform/Chassis
2299
1995.02-2000.04
58 (79)
4
SPRINTER 3-t Platform/Chassis (903)
308 D 2.3
Diesel
Platform/Chassis
2299
1996.11-2000.04
60 (82)
4
SPRINTER 3-t Platform/Chassis (903)
310 D 2.9
Diesel
Platform/Chassis
2874
1997.01-2000.04
75 (102)
5
SPRINTER 3-t Platform/Chassis (903)
311 CDI
Diesel
Platform/Chassis
2148
2000.04-2006.05
80 (109)
4
SPRINTER 3-t Platform/Chassis (903)
311 CDI 4x4
Diesel
Platform/Chassis
2148
2002.08-2006.05
80 (109)
4
SPRINTER 3-t Platform/Chassis (903)
312 D 2.9
Diesel
Platform/Chassis
2874
1995.02-2000.04
90 (122)
5
SPRINTER 3-t Platform/Chassis (903)
312 D 2.9 (903.411, 903.412, 903.413, 903.421, 903.422,...
Diesel
Platform/Chassis
2874
1998.12-2001.09
85 (116)
5
SPRINTER 3-t Platform/Chassis (903)
313 CDI
Diesel
Platform/Chassis
2148
2000.04-2006.05
95 (129)
4
SPRINTER 3-t Platform/Chassis (903)
313 CDI 4x4
Diesel
Platform/Chassis
2148
2002.08-2006.05
95 (129)
4
SPRINTER 3-t Platform/Chassis (903)
314 (903.011, 903.012, 903.013, 903.022, 903.611,...
Petrol Engine
Platform/Chassis
2295
1995.02-2006.05
105 (143)
4
SPRINTER 3-t Platform/Chassis (903)
314 4x4
Petrol Engine
Platform/Chassis
2295
2002.08-2006.05
105 (143)
4
SPRINTER 3-t Platform/Chassis (903)
314 NGT (903.611, 903.612)
Petrol Engine
Platform/Chassis
2295
1995.02-2006.05
95 (129)
4
SPRINTER 3-t Platform/Chassis (903)
316 CDI
Diesel
Platform/Chassis
2685
2000.04-2006.05
115 (156)
5
SPRINTER 3-t Platform/Chassis (903)
316 CDI 4x4
Diesel
Platform/Chassis
2685
2002.08-2006.05
115 (156)
5
VARIO Box Body / Estate
512 D (667.351, 667.352, 667.353)
Diesel
Box Body / Estate
2874
1996.09-2010.12
90 (122)
5
VARIO Box Body / Estate
612 D (668.351, 668.352, 668.353)
Diesel
Box Body / Estate
2874
1996.09-2010.12
90 (122)
5
VARIO Box Body / Estate
613 D, 614 D (668.351, 668.352, 668.353)
Diesel
Box Body / Estate
4250
1996.09-2013.12
95 (129)
4
VARIO Box Body / Estate
613 D, 614 D (668.351, 668.352, 668.353)
Diesel
Box Body / Estate
4250
1996.09-2011.12
100 (136)
4
VARIO Box Body / Estate
615 D, 616 D (668.351, 668.352, 668.353)
Diesel
Box Body / Estate
4250
1998.09-.
112 (152)
4
VARIO Box Body / Estate
615 D, 616 D (668.351, 668.352, 668.353)
Diesel
Box Body / Estate
4250
1998.09-.
115 (156)
4
VARIO Box Body / Estate
618 D
Diesel
Box Body / Estate
4249
2006.09-.
130 (177)
4
VARIO Box Body / Estate
812 D (670.351, 670.352, 670.353)
Diesel
Box Body / Estate
2874
1996.09-2010.12
90 (122)
5
VARIO Box Body / Estate
813 D, 814 D (670.351, 670.352, 670.353)
Diesel
Box Body / Estate
4250
1996.09-2013.12
95 (129)
4
VARIO Box Body / Estate
813 D, 814 D (670.351, 670.352, 670.353)
Diesel
Box Body / Estate
4250
1996.09-2013.12
100 (136)
4
VARIO Box Body / Estate
813 DA, 814 DA 4x4 (669.599, 670.451, 670.452, 670.453)
Diesel
Box Body / Estate
4250
1996.09-2013.12
95 (129)
4
VARIO Box Body / Estate
813 DA, 814 DA 4x4 (669.599, 670.451, 670.452, 670.453)
Diesel
Box Body / Estate
4250
1996.09-.
100 (136)
4
VARIO Box Body / Estate
815 D, 816 D (670.351, 670.352, 670.353)
Diesel
Box Body / Estate
4250
1996.09-2010.12
112 (152)
4
VARIO Box Body / Estate
815 D, 816 D (670.351, 670.352, 670.353)
Diesel
Box Body / Estate
4250
1996.09-2013.12
115 (156)
4
VARIO Box Body / Estate
815 DA, 816 DA 4x4 (669.599, 670.451, 670.452, 670.453)
Diesel
Box Body / Estate
4250
1996.09-2010.12
112 (152)
4
VARIO Box Body / Estate
815 DA, 816 DA 4x4 (669.599, 670.451, 670.452, 670.453)
Diesel
Box Body / Estate
4250
1996.09-2013.12
115 (156)
4
VARIO Box Body / Estate
818 D (670.351, 670.352, 670.353)
Diesel
Box Body / Estate
4249
2006.09-.
130 (177)
4
VARIO Bus
O 810 (670.373, 670.374)
Diesel
Bus
4250
1996.09-2010.12
75 (102)
4
VARIO Bus
O 812 (670.373, 670.674)
Diesel
Bus
2874
1996.09-2010.12
90 (122)
5
VARIO Bus
O 813 (670.373, 670.374)
Diesel
Bus
4250
2006.01-.
95 (129)
4
VARIO Bus
O 814 (670.373, 670.374)
Diesel
Bus
4250
1996.09-2010.12
100 (136)
4
VARIO Bus
O 815 (670.373, 670.374)
Diesel
Bus
4250
1996.09-2010.12
112 (152)
4
VARIO Bus
O 816 D (670.373, 670.374)
Diesel
Bus
4250
2006.01-.
115 (156)
4
VARIO Bus
O 818 D (670.373, 670.374)
Diesel
Bus
4249
2006.09-.
130 (177)
4
VARIO Cab with engine
613 D, 614 D (669.599, 669.899)
Diesel
Cab with engine
4250
2006.01-.
95 (129)
4
VARIO Cab with engine
615 D, 616 D (669.599, 669.899)
Diesel
Cab with engine
4250
2006.01-.
115 (156)
4
VARIO Cab with engine
618 D (669.599, 669.899)
Diesel
Cab with engine
4249
2006.09-.
130 (177)
4
VARIO Cab with engine
810 DT (670.398)
Diesel
Cab with engine
4250
1996.09-2010.12
75 (102)
4
VARIO Cab with engine
812 DT
Diesel
Cab with engine
4250
1996.09-2010.12
90 (122)
4
VARIO Cab with engine
814 DT (670.398)
Diesel
Cab with engine
4250
1996.09-.
100 (136)
4
VARIO Cab with engine
816 DT (670.398)
Diesel
Cab with engine
4250
1996.09-.
112 (152)
4
VARIO Dumptruck
612 D (668.331, 668.332)
Diesel
Dumptruck
2874
1996.09-2010.12
90 (122)
5
VARIO Dumptruck
613 D, 614 D (668.331, 668.332)
Diesel
Dumptruck
4250
1996.09-2013.12
95 (129)
4
VARIO Dumptruck
613 D, 614 D (668.331, 668.332)
Diesel
Dumptruck
4250
1996.09-2012.11
100 (136)
4
VARIO Dumptruck
615 D, 616 D (668.331, 668.332)
Diesel
Dumptruck
4250
1998.09-.
115 (156)
4
VARIO Dumptruck
615 D, 616 D (668.331, 668.332)
Diesel
Dumptruck
4250
1998.09-.
112 (152)
4
VARIO Dumptruck
618 D
Diesel
Dumptruck
4249
2006.09-.
130 (177)
4
VARIO Dumptruck
812 D (670.331, 670.332)
Diesel
Dumptruck
2874
1996.09-2010.12
90 (122)
5
VARIO Dumptruck
813 D, 814 D (670.331, 670.332)
Diesel
Dumptruck
4250
1996.09-2013.12
95 (129)
4
VARIO Dumptruck
813 D, 814 D (670.331, 670.332)
Diesel
Dumptruck
4250
1996.09-2013.12
100 (136)
4
VARIO Dumptruck
813 DA, 814 DA 4x4 (670.431, 670.432)
Diesel
Dumptruck
4250
1996.09-2013.12
95 (129)
4
VARIO Dumptruck
813 DA, 814 DA 4x4 (670.431, 670.432)
Diesel
Dumptruck
4250
1996.09-2013.12
100 (136)
4
VARIO Dumptruck
815 D, 816 D (670.331, 670.332)
Diesel
Dumptruck
4250
1996.09-.
112 (152)
4
VARIO Dumptruck
815 D, 816 D (670.331, 670.332)
Diesel
Dumptruck
4250
1996.09-2013.12
115 (156)
4
VARIO Dumptruck
815 DA, 816 DA 4x4 (670.431, 670.432)
Diesel
Dumptruck
4250
1996.09-2010.12
112 (152)
4
VARIO Dumptruck
815 DA, 816 DA 4x4 (670.431, 670.432)
Diesel
Dumptruck
4250
1996.09-2013.12
115 (156)
4
VARIO Dumptruck
818 D (670.321, 670.322)
Diesel
Dumptruck
4249
2006.09-.
130 (177)
4
VARIO Dumptruck
818 DA 4x4
Diesel
Dumptruck
4249
2006.09-.
130 (177)
4
VARIO Platform/Chassis
512 D (667.321, 667.322, 667.323)
Diesel
Platform/Chassis
2874
1996.09-2010.12
90 (122)
5
VARIO Platform/Chassis
612 D (668.321, 668.322, 668.323)
Diesel
Platform/Chassis
2874
1996.09-2010.12
90 (122)
5
VARIO Platform/Chassis
613 D, 614 D (668.321, 668.322, 668.323)
Diesel
Platform/Chassis
4250
1996.09-.
95 (129)
4
VARIO Platform/Chassis
613 D, 614 D (668.321, 668.322, 668.323)
Diesel
Platform/Chassis
4250
1996.09-2011.12
100 (136)
4
VARIO Platform/Chassis
615 D, 616 D (668.321, 668.322, 668.323)
Diesel
Platform/Chassis
4250
1998.09-.
112 (152)
4
VARIO Platform/Chassis
615 D, 616 D (668.321, 668.322, 668.323)
Diesel
Platform/Chassis
4250
1998.09-.
115 (156)
4
VARIO Platform/Chassis
618 D (668.321, 668.322, 668.323)
Diesel
Platform/Chassis
4249
2006.09-.
130 (177)
4
VARIO Platform/Chassis
812 D (670.321, 670.322, 670.323, 670.324)
Diesel
Platform/Chassis
2874
1996.09-2010.12
90 (122)
5
VARIO Platform/Chassis
813 D, 814 D (670.321, 670.322, 670.323, 670.324)
Diesel
Platform/Chassis
4250
1996.09-2013.12
95 (129)
4
VARIO Platform/Chassis
813 D, 814 D (670.321, 670.322, 670.323, 670.324)
Diesel
Platform/Chassis
4250
1996.09-2013.12
100 (136)
4
VARIO Platform/Chassis
813 DA, 814 DA 4x4 (670.421, 670.422, 670.423)
Diesel
Platform/Chassis
4250
1996.09-2013.12
95 (129)
4
VARIO Platform/Chassis
813 DA, 814 DA 4x4 (670.421, 670.422, 670.423)
Diesel
Platform/Chassis
4250
1996.09-2013.12
100 (136)
4
VARIO Platform/Chassis
815 D, 816 D (670.321, 670.322, 670.323, 670.324)
Diesel
Platform/Chassis
4250
1996.09-2010.12
112 (152)
4
VARIO Platform/Chassis
815 D, 816 D (670.321, 670.322, 670.323, 670.324)
Diesel
Platform/Chassis
4250
1996.09-2013.12
115 (156)
4
VARIO Platform/Chassis
815 DA, 816 DA 4x4 (670.421, 670.422, 670.423)
Diesel
Platform/Chassis
4250
1996.09-2010.12
112 (152)
4
VARIO Platform/Chassis
815 DA, 816 DA 4x4 (670.421, 670.422, 670.423)
Diesel
Platform/Chassis
4250
1996.09-2013.12
115 (156)
4
VARIO Platform/Chassis
818 D (670.321, 670.322, 670.323, 670.324)
Diesel
Platform/Chassis
4249
2006.09-.
130 (177)
4
VARIO Platform/Chassis
818 DA 4x4
Diesel
Platform/Chassis
4249
2006.09-.
130 (177)
4
PUCH
G-MODELL (W463)
230 GE (463.224, 463.225)
Petrol Engine
Closed Off-Road Vehicle
2299
1989.07-1993.08
93 (126)
4
G-MODELL (W463)
300 GD (463.327, 463.328)
Diesel
Closed Off-Road Vehicle
2996
1989.06-1993.08
83 (113)
6
G-MODELL (W463)
300 GE (463.227, 463.228)
Petrol Engine
Closed Off-Road Vehicle
2960
1989.06-1993.08
125 (170)
6
G-MODELL (W463)
350 GD Turbo (463.320, 463.321)
Diesel
Closed Off-Road Vehicle
3449
1991.08-1993.08
100 (136)
6
G-MODELL (W463)
G 300 Turbodiesel (463.330, 463.331)
Diesel
Closed Off-Road Vehicle
2996
1996.01-2000.11
130 (177)
6
G-MODELL (W463)
G 320 (463.230, 463.231)
Petrol Engine
Closed Off-Road Vehicle
3199
1994.02-1997.12
155 (211)
6
VW
LT 28-35 II Bus (2DB, 2DE, 2DK)
2.3
Petrol Engine
Bus
2295
1996.05-2006.07
105 (143)
4
LT 28-35 II Bus (2DB, 2DE, 2DK)
2.5 SDI
Diesel
Bus
2461
1996.07-2006.07
55 (75)
5
LT 28-35 II Bus (2DB, 2DE, 2DK)
2.5 TDI
Diesel
Bus
2461
1996.05-1999.08
75 (102)
5
LT 28-35 II Bus (2DB, 2DE, 2DK)
2.5 TDI
Diesel
Bus
2461
1999.05-2006.07
66 (90)
5
LT 28-35 II Bus (2DB, 2DE, 2DK)
2.5 TDI
Diesel
Bus
2461
2001.05-2006.07
61 (83)
5
LT 28-35 II Bus (2DB, 2DE, 2DK)
2.5 TDI
Diesel
Bus
2461
1999.05-2006.07
80 (109)
5
LT 28-35 II Bus (2DB, 2DE, 2DK)
2.5 TDI
Diesel
Bus
2461
2001.05-2006.07
70 (95)
5
LT 28-35 II Bus (2DB, 2DE, 2DK)
2.8 TDI
Diesel
Bus
2798
1999.01-2002.01
96 (131)
4
LT 28-35 II Bus (2DB, 2DE, 2DK)
2.8 TDI
Diesel
Bus
2799
2001.05-2006.06
116 (158)
4
LT 28-35 II Bus (2DB, 2DE, 2DK)
2.8 TDI
Diesel
Bus
2798
1997.07-2003.05
92 (125)
4
LT 28-46 II Box (2DA, 2DD, 2DH)
2.3
Petrol Engine
Box
2295
1996.05-2006.07
105 (143)
4
LT 28-46 II Box (2DA, 2DD, 2DH)
2.5 SDI
Diesel
Box
2461
1996.09-2006.07
55 (75)
5
LT 28-46 II Box (2DA, 2DD, 2DH)
2.5 TDI
Diesel
Box
2461
2001.05-2006.07
61 (83)
5
LT 28-46 II Box (2DA, 2DD, 2DH)
2.5 TDI
Diesel
Box
2461
1999.05-2006.07
80 (109)
5
LT 28-46 II Box (2DA, 2DD, 2DH)
2.5 TDI
Diesel
Box
2461
2001.05-2006.07
70 (95)
5
LT 28-46 II Box (2DA, 2DD, 2DH)
2.5 TDI
Diesel
Box
2461
1996.05-1999.08
75 (102)
5
LT 28-46 II Box (2DA, 2DD, 2DH)
2.5 TDI
Diesel
Box
2461
1999.05-2006.07
66 (90)
5
LT 28-46 II Box (2DA, 2DD, 2DH)
2.8 TDI
Diesel
Box
2799
1997.07-2002.01
92 (125)
4
LT 28-46 II Box (2DA, 2DD, 2DH)
2.8 TDI
Diesel
Box
2799
1999.01-2006.07
96 (130)
4
LT 28-46 II Box (2DA, 2DD, 2DH)
2.8 TDI
Diesel
Box
2799
2002.04-2006.07
116 (158)
4
LT 28-46 II Platform/Chassis (2DC, 2DF, 2DG, 2DL, 2DM)
2.3
Petrol Engine
Platform/Chassis
2295
1996.06-2006.07
105 (143)
4
LT 28-46 II Platform/Chassis (2DC, 2DF, 2DG, 2DL, 2DM)
2.5 SDI
Diesel
Platform/Chassis
2461
1996.09-2006.07
55 (75)
5
LT 28-46 II Platform/Chassis (2DC, 2DF, 2DG, 2DL, 2DM)
2.5 TDI
Diesel
Platform/Chassis
2461
1999.05-2006.07
80 (109)
5
LT 28-46 II Platform/Chassis (2DC, 2DF, 2DG, 2DL, 2DM)
2.5 TDI
Diesel
Platform/Chassis
2461
1996.06-1999.08
75 (102)
5
LT 28-46 II Platform/Chassis (2DC, 2DF, 2DG, 2DL, 2DM)
2.5 TDI
Diesel
Platform/Chassis
2461
2001.05-2006.07
61 (83)
5
LT 28-46 II Platform/Chassis (2DC, 2DF, 2DG, 2DL, 2DM)
2.5 TDI
Diesel
Platform/Chassis
2461
1999.05-2006.07
66 (90)
5
LT 28-46 II Platform/Chassis (2DC, 2DF, 2DG, 2DL, 2DM)
2.5 TDI
Diesel
Platform/Chassis
2461
2001.05-2006.07
70 (95)
5
LT 28-46 II Platform/Chassis (2DC, 2DF, 2DG, 2DL, 2DM)
2.8 TDI
Diesel
Platform/Chassis
2799
1999.01-2006.07
96 (130)
4
LT 28-46 II Platform/Chassis (2DC, 2DF, 2DG, 2DL, 2DM)
2.8 TDI
Diesel
Platform/Chassis
2799
1997.07-2002.01
92 (125)
4
LT 28-46 II Platform/Chassis (2DC, 2DF, 2DG, 2DL, 2DM)
2.8 TDI
Diesel
Platform/Chassis
2799
2002.04-2006.07
116 (158)
4
customers who bought this product also bought:
Brake Shoe Set, parking brake
OE-No.
ATE:
03.0137-0397.2
03.0137-4001.2
BENDIX:
362421B
BOSCH:
0 986 487 610
0 986 BB3 547
BOSCH DIAGNOSTICS:
0 986 487 610
CHRYSLER:
05103792AA
5103792AA
HELLA:
8DA 355 050-291
MERCEDES-BENZ:
002 420 5820
003 420 1420
003 420 3420
901 420 0120
901 420 0320
901 420 0520
VAG:
2D0 609 525
2D0 609 538
2D0 698 525
2D0 698 525 B
VALEO:
128901

TRUCKTEC part number: 02.35.051
V-Ribbed Belts
OE-No.
BMW:
11 28 7 589 365
BOSCH:
1 987 947 052
CONTINENTAL CTAM:
8PK1478
8PK1479
8PK1480
8PK1481
8PK1482
CUMMINS:
3034945
3081862
3288845
3288856
3357863
3925953
FIAT:
8784 0341
GATES:
8PK1480ES
MERCEDES-BENZ:
906 997 0792
SCANIA:
1389016
1530987
1800543

TRUCKTEC part number: 01.19.154
Flange, central injection
OE-No.
MERCEDES-BENZ:
601 234 0244

TRUCKTEC part number: 02.13.070
V-Ribbed Belts
OE-No.
BOSCH DIAGNOSTICS:
1 987 947 987
CHRYSLER:
04593823AA
CONTINENTAL CTAM:
6PK2020
6PK2025
GATES:
6PK2020
MERCEDES-BENZ:
008 997 6392
013 997 4092
603 997 0092
OPEL:
09 118 620
1340649
1854728
6340 638
90 528 761
90528791
91126388
9118620
9128951
9129851
9225512
93181720
SAAB:
4552648
47 52 861
48 99 555
SKF:
VKMV 6PK2020
TOYOTA:
9091602335

TRUCKTEC part number: 02.19.169
Shock Absorber
OE-No.
BILSTEIN:
22-184245
CHRYSLER:
68013697AA
68039932AA
MERCEDES-BENZ:
906 320 0433
906 320 0633
906 320 0933
906 320 1033
906 320 4630
906 320 4730
906 320 5730
906 320 6430
906 320 7030
906 320 7130
906 320 7230
906 320 7430
906 320 7530
906 320 8130
906 320 8330
SACHS:
314 422
VAG:
2E0 413 023 AJ
2E0 413 023 AP
2E0 413 023 AQ
2E0 413 023 AS
2E0 413 023 AT
2E0 413 023 BA
2E3 413 023 A

TRUCKTEC part number: 02.30.096
Brake Shoe Set, parking brake
OE-No.
ATE:
03.0137-4003.2
BOSCH DIAGNOSTICS:
0986 487 720
CHRYSLER:
68019140AA
MERCEDES-BENZ:
906 420 0320
906 420 0320 28
910 420 2600
VW:
2E0 609 537
2E0 698 525

TRUCKTEC part number: 02.35.205
Steering Column Switch
OE-No.
CHRYSLER:
68010456AA
68026806AA
DODGE:
68010456AA
MERCEDES-BENZ:
906 545 0110
906 545 0310
VAG:
2E0 953 513 A
2E0 953 513 C
VALEO:
251746

TRUCKTEC part number: 02.42.099

TRUCKTEC part number:
Shock Absorber
OE-No.
BILSTEIN:
BNE-6451
MERCEDES-BENZ:
601 320 0030
601 320 0130
601 320 0230
601 320 0330
601 320 0430
601 320 0730
SACHS:
101 496
101 597
VAG:
211 513 031 R

TRUCKTEC part number: 01.30.058
Valve, fuel filter
OE-No.
CHRYSLER:
05080460AA
MERCEDES-BENZ:
611 078 0249
668 078 0149

TRUCKTEC part number: 02.13.074