Here you can inquire your individual shop login.
Please login to see your individual prices and our avaliability.
Water Pump, engine cooling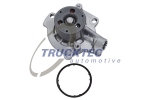 TRUCKTEC part number: 07.19.261
Amount per packaging unit: 1
Date added: 2023-02-06 02:28:25 | Date last modified: 2023-02-06 02:28:25
Please register or login to see prices and availability.
Comparison numbers:
OE-No.
GATES
WP0153

MAHLE
CP 623 000P

VAG
04L 121 011
04L 121 011 E
04L 121 011 EX
04L 121 011 H
04L 121 011 HX
04L 121 011 L
04L 121 011 M
04L 121 011 N
04L 121 011 V
04L 121 011 X

| | |
| --- | --- |
| Supplementary Article/Supplementary Info | without integrated regulator |
| Supplementary Article/Info 2 | without integrated disabling contact |
| Operating Mode | Mechanical |
model
product line
fuel
body
cubic capacity
year
power
cylinders
axle
passenger cars - AUDI
A1 (8X1, 8XK)
1.6 TDI
Diesel
Hatchback
1598
2014.11-2018.10
85 (115)
4
-
A1 Sportback (8XA, 8XF)
1.6 TDI
Diesel
Hatchback
1598
2014.11-2018.10
85 (115)
4
-
A3 (8P1)
2.0 TDI
Diesel
Hatchback
1968
2003.05-2012.08
100 (136)
4
-
A3 (8P1)
2.0 TDI 16V
Diesel
Hatchback
1968
2003.05-2012.08
103 (140)
4
-
A3 (8V1, 8VK)
1.6 TDI
Diesel
Hatchback
1598
2012.10-2015.05
77 (105)
4
-
A3 (8V1, 8VK)
1.6 TDI
Diesel
Hatchback
1598
2017.02-2020.10
85 (115)
4
-
A3 (8V1, 8VK)
1.6 TDI
Diesel
Hatchback
1598
2013.09-2017.12
81 (110)
4
-
A3 (8V1, 8VK)
2.0 TDI
Diesel
Hatchback
1968
2012.04-2017.12
110 (150)
4
-
A3 (8V1, 8VK)
2.0 TDI
Diesel
Hatchback
1968
2013.05-2017.12
135 (184)
4
-
A3 (8V1, 8VK)
2.0 TDI
Diesel
Hatchback
1968
2013.01-2016.08
81 (110)
4
-
A3 (8V1, 8VK)
2.0 TDI
Diesel
Hatchback
1968
2012.09-2020.10
105 (143)
4
-
A3 (8V1, 8VK)
2.0 TDI
Diesel
Hatchback
1968
2013.05-2016.08
100 (136)
4
-
A3 (8V1, 8VK)
2.0 TDI quattro
Diesel
Hatchback
1968
2012.12-2017.12
135 (184)
4
-
A3 (8V1, 8VK)
2.0 TDI quattro
Diesel
Hatchback
1968
2012.10-2017.12
110 (150)
4
-
A3 Convertible (8P7)
2.0 TDI
Diesel
Convertible
1968
2008.04-2013.05
100 (136)
4
-
A3 Convertible (8V7, 8VE)
1.6 TDI
Diesel
Convertible
1598
2014.02-2020.10
81 (110)
4
-
A3 Convertible (8V7, 8VE)
1.6 TDI
Diesel
Convertible
1598
2017.04-2020.10
85 (115)
4
-
A3 Convertible (8V7, 8VE)
2.0 TDI
Diesel
Convertible
1968
2013.10-2020.10
110 (150)
4
-
A3 Convertible (8V7, 8VE)
2.0 TDI
Diesel
Convertible
1968
2014.05-.
135 (184)
4
-
A3 Convertible (8V7, 8VE)
2.0 TDI
Diesel
Convertible
1968
2013.10-.
100 (136)
4
-
A3 Convertible (8V7, 8VE)
2.0 TDI quattro
Diesel
Convertible
1968
2014.05-2020.10
135 (184)
4
-
A3 Convertible (8V7, 8VE)
2.0 TDI quattro
Diesel
Convertible
1968
2014.03-2020.10
110 (150)
4
-
A3 Limousine (8VS, 8VM)
1.6 TDI
Diesel
Saloon
1598
2014.05-2020.10
81 (110)
4
-
A3 Limousine (8VS, 8VM)
1.6 TDI
Diesel
Saloon
1598
2013.09-.
77 (105)
4
-
A3 Limousine (8VS, 8VM)
1.6 TDI
Diesel
Saloon
1598
2017.03-2020.10
85 (115)
4
-
A3 Limousine (8VS, 8VM)
1.6 TDI quattro
Diesel
Saloon
1598
2015.05-.
81 (110)
4
-
A3 Limousine (8VS, 8VM)
2.0 TDI
Diesel
Saloon
1968
2013.05-2020.10
81 (110)
4
-
A3 Limousine (8VS, 8VM)
2.0 TDI
Diesel
Saloon
1968
2014.05-2018.07
135 (184)
4
-
A3 Limousine (8VS, 8VM)
2.0 TDI
Diesel
Saloon
1968
2013.09-.
100 (136)
4
-
A3 Limousine (8VS, 8VM)
2.0 TDI
Diesel
Saloon
1968
2013.05-2020.10
110 (150)
4
-
A3 Limousine (8VS, 8VM)
2.0 TDI
Diesel
Saloon
1968
2013.10-2020.10
105 (143)
4
-
A3 Limousine (8VS, 8VM)
2.0 TDI quattro
Diesel
Saloon
1968
2013.10-2020.10
110 (150)
4
-
A3 Limousine (8VS, 8VM)
2.0 TDI quattro
Diesel
Saloon
1968
2014.05-2018.07
135 (184)
4
-
A3 Limousine (8VS, 8VM)
30 TDI
Diesel
Saloon
1598
2018.07-2020.10
85 (115)
4
-
A3 Limousine (8VS, 8VM)
35 TDI
Diesel
Saloon
1968
2018.07-2020.10
110 (150)
4
-
A3 Limousine (8VS, 8VM)
40 TDI quattro
Diesel
Saloon
1968
2018.07-2019.07
135 (184)
4
-
A3 Sportback (8PA)
2.0 TDI
Diesel
Hatchback
1968
2004.09-2013.03
100 (136)
4
-
A3 Sportback (8PA)
2.0 TDI 16V
Diesel
Hatchback
1968
2004.09-2013.03
103 (140)
4
-
A3 Sportback (8VA, 8VF)
1.6 TDI
Diesel
Hatchback
1598
2012.10-.
77 (105)
4
-
A3 Sportback (8VA, 8VF)
1.6 TDI
Diesel
Hatchback
1598
2017.02-2020.10
85 (115)
4
-
A3 Sportback (8VA, 8VF)
1.6 TDI
Diesel
Hatchback
1598
2013.09-2020.10
81 (110)
4
-
A3 Sportback (8VA, 8VF)
1.6 TDI quattro
Diesel
Hatchback
1598
2015.05-2016.08
81 (110)
4
-
A3 Sportback (8VA, 8VF)
2.0 TDI
Diesel
Hatchback
1968
2013.05-2020.10
81 (110)
4
-
A3 Sportback (8VA, 8VF)
2.0 TDI
Diesel
Hatchback
1968
2013.03-2020.10
105 (143)
4
-
A3 Sportback (8VA, 8VF)
2.0 TDI
Diesel
Hatchback
1968
2013.05-2016.08
100 (136)
4
-
A3 Sportback (8VA, 8VF)
2.0 TDI
Diesel
Hatchback
1968
2013.05-2018.07
135 (184)
4
-
A3 Sportback (8VA, 8VF)
2.0 TDI
Diesel
Hatchback
1968
2012.09-2020.10
110 (150)
4
-
A3 Sportback (8VA, 8VF)
2.0 TDI quattro
Diesel
Hatchback
1968
2013.05-2018.07
135 (184)
4
-
A3 Sportback (8VA, 8VF)
2.0 TDI quattro
Diesel
Hatchback
1968
2013.02-2020.10
110 (150)
4
-
A3 Sportback (8VA, 8VF)
30 TDI
Diesel
Hatchback
1598
2018.07-2020.10
85 (115)
4
-
A3 Sportback (8VA, 8VF)
35 TDI
Diesel
Hatchback
1968
2018.07-2020.10
110 (150)
4
-
A3 Sportback (8VA, 8VF)
40 TDI quattro
Diesel
Hatchback
1968
2018.07-2020.10
135 (184)
4
-
A4 Allroad B8 (8KH)
2.0 TDI quattro
Diesel
Estate
1968
2009.09-2016.05
105 (143)
4
-
A4 Allroad B8 (8KH)
2.0 TDI quattro
Diesel
Estate
1968
2011.11-2016.05
130 (177)
4
-
A4 Allroad B8 (8KH)
2.0 TDI quattro
Diesel
Estate
1968
2013.05-2016.05
110 (150)
4
-
A4 Allroad B8 (8KH)
2.0 TDI quattro
Diesel
Estate
1968
2009.09-2016.05
100 (136)
4
-
A4 Allroad B8 (8KH)
2.0 TDI quattro
Diesel
Estate
1968
2013.09-2016.05
140 (190)
4
-
A4 Allroad B8 (8KH)
2.0 TDI quattro
Diesel
Estate
1968
2009.04-2016.05
120 (163)
4
-
A4 Allroad B9 (8WH, 8WJ)
2.0 TDI quattro
Diesel
Estate
1968
2016.11-2018.07
100 (136)
4
-
A4 Allroad B9 (8WH, 8WJ)
2.0 TDI quattro
Diesel
Estate
1968
2016.05-2019.10
120 (163)
4
-
A4 Allroad B9 (8WH, 8WJ)
2.0 TDI quattro
Diesel
Estate
1968
2016.11-2019.10
110 (150)
4
-
A4 Allroad B9 (8WH, 8WJ)
2.0 TDI quattro
Diesel
Estate
1968
2016.01-.
140 (190)
4
-
A4 Allroad B9 (8WH, 8WJ)
40 TDI quattro
Diesel
Estate
1968
2020.01-.
140 (190)
4
-
A4 B8 (8K2)
2.0 TDI
Diesel
Saloon
1968
2007.11-2015.12
100 (136)
4
-
A4 B8 (8K2)
2.0 TDI
Diesel
Saloon
1968
2008.08-2015.12
120 (163)
4
-
A4 B8 (8K2)
2.0 TDI
Diesel
Saloon
1968
2011.11-2015.12
130 (177)
4
-
A4 B8 (8K2)
2.0 TDI
Diesel
Saloon
1968
2013.09-2015.12
140 (190)
4
-
A4 B8 (8K2)
2.0 TDI
Diesel
Saloon
1968
2013.05-2015.12
110 (150)
4
-
A4 B8 (8K2)
2.0 TDI
Diesel
Saloon
1968
2007.11-2015.12
105 (143)
4
-
A4 B8 (8K2)
2.0 TDI quattro
Diesel
Saloon
1968
2013.05-2015.12
110 (150)
4
-
A4 B8 (8K2)
2.0 TDI quattro
Diesel
Saloon
1968
2008.11-2015.12
105 (143)
4
-
A4 B8 (8K2)
2.0 TDI quattro
Diesel
Saloon
1968
2011.11-2015.12
130 (177)
4
-
A4 B8 (8K2)
2.0 TDI quattro
Diesel
Saloon
1968
2013.09-2015.12
140 (190)
4
-
A4 B8 Avant (8K5)
2.0 TDI
Diesel
Estate
1968
2011.11-2015.12
130 (177)
4
-
A4 B8 Avant (8K5)
2.0 TDI
Diesel
Estate
1968
2013.05-2015.12
110 (150)
4
-
A4 B8 Avant (8K5)
2.0 TDI
Diesel
Estate
1968
2008.04-2015.12
105 (143)
4
-
A4 B8 Avant (8K5)
2.0 TDI
Diesel
Estate
1968
2013.09-2015.12
140 (190)
4
-
A4 B8 Avant (8K5)
2.0 TDI
Diesel
Estate
1968
2008.04-2015.12
100 (136)
4
-
A4 B8 Avant (8K5)
2.0 TDI
Diesel
Estate
1968
2008.08-2015.12
120 (163)
4
-
A4 B8 Avant (8K5)
2.0 TDI quattro
Diesel
Estate
1968
2011.11-2015.12
130 (177)
4
-
A4 B8 Avant (8K5)
2.0 TDI quattro
Diesel
Estate
1968
2013.05-2015.12
110 (150)
4
-
A4 B8 Avant (8K5)
2.0 TDI quattro
Diesel
Estate
1968
2008.04-2015.12
105 (143)
4
-
A4 B8 Avant (8K5)
2.0 TDI quattro
Diesel
Estate
1968
2013.09-2015.12
140 (190)
4
-
A4 B9 (8W2, 8WC)
2.0 TDI
Diesel
Saloon
1968
2015.05-2019.11
100 (136)
4
-
A4 B9 (8W2, 8WC)
2.0 TDI
Diesel
Saloon
1968
2015.05-.
140 (190)
4
-
A4 B9 (8W2, 8WC)
2.0 TDI
Diesel
Saloon
1968
2016.05-2019.11
90 (122)
4
-
A4 B9 (8W2, 8WC)
2.0 TDI
Diesel
Saloon
1968
2015.05-2019.11
110 (150)
4
-
A4 B9 (8W2, 8WC)
2.0 TDI quattro
Diesel
Saloon
1968
2016.09-2019.11
110 (150)
4
-
A4 B9 (8W2, 8WC)
2.0 TDI quattro
Diesel
Saloon
1968
2016.09-2019.11
120 (163)
4
-
A4 B9 (8W2, 8WC)
2.0 TDI quattro
Diesel
Saloon
1968
2015.09-2019.11
140 (190)
4
-
A4 B9 (8W2, 8WC)
30 TDI
Diesel
Saloon
1968
2016.05-2019.11
90 (122)
4
-
A4 B9 (8W2, 8WC)
35 TDI
Diesel
Saloon
1968
2015.08-.
110 (150)
4
-
A4 B9 (8W2, 8WC)
40 TDI
Diesel
Saloon
1968
2015.05-2019.11
140 (190)
4
-
A4 B9 (8W2, 8WC)
40 TDI quattro
Diesel
Saloon
1968
2015.09-2019.11
140 (190)
4
-
A4 B9 Avant (8W5, 8WD)
2.0 TDI
Diesel
Estate
1968
2016.04-2018.09
90 (122)
4
-
A4 B9 Avant (8W5, 8WD)
2.0 TDI
Diesel
Estate
1968
2015.08-2018.09
140 (190)
4
-
A4 B9 Avant (8W5, 8WD)
2.0 TDI
Diesel
Estate
1968
2015.08-2019.10
100 (136)
4
-
A4 B9 Avant (8W5, 8WD)
2.0 TDI
Diesel
Estate
1968
2015.08-2018.09
110 (150)
4
-
A4 B9 Avant (8W5, 8WD)
2.0 TDI quattro
Diesel
Estate
1968
2015.10-2018.09
140 (190)
4
-
A4 B9 Avant (8W5, 8WD)
2.0 TDI quattro
Diesel
Estate
1968
2016.09-2019.10
110 (150)
4
-
A4 B9 Avant (8W5, 8WD)
2.0 TDI quattro
Diesel
Estate
1968
2016.09-2018.09
120 (163)
4
-
A4 B9 Avant (8W5, 8WD)
30 TDI
Diesel
Estate
1968
2018.10-2019.10
90 (122)
4
-
A4 B9 Avant (8W5, 8WD)
35 TDI
Diesel
Estate
1968
2018.10-2019.10
110 (150)
4
-
A4 B9 Avant (8W5, 8WD)
40 TDI
Diesel
Estate
1968
2018.10-2019.05
140 (190)
4
-
A4 B9 Avant (8W5, 8WD)
40 TDI quattro
Diesel
Estate
1968
2018.10-2020.09
140 (190)
4
-
A5 (8T3)
2.0 TDI
Diesel
Coupe
1968
2008.08-2017.01
120 (163)
4
-
A5 (8T3)
2.0 TDI
Diesel
Coupe
1968
2013.09-2017.01
140 (190)
4
-
A5 (8T3)
2.0 TDI
Diesel
Coupe
1968
2011.10-2017.01
130 (177)
4
-
A5 (8T3)
2.0 TDI quattro
Diesel
Coupe
1968
2011.12-2017.01
130 (177)
4
-
A5 (8T3)
2.0 TDI quattro
Diesel
Coupe
1968
2013.09-2017.01
140 (190)
4
-
A5 (F53, F5P)
2.0 TDI
Diesel
Coupe
1968
2017.05-2020.02
110 (150)
4
-
A5 (F53, F5P)
2.0 TDI
Diesel
Coupe
1968
2016.07-.
140 (190)
4
-
A5 (F53, F5P)
2.0 TDI quattro
Diesel
Coupe
1968
2016.10-.
140 (190)
4
-
A5 (F53, F5P)
35 TDI
Diesel
Coupe
1968
2017.05-2020.02
110 (150)
4
-
A5 (F53, F5P)
40 TDI
Diesel
Coupe
1968
2016.06-2020.02
140 (190)
4
-
A5 (F53, F5P)
40 TDI quattro
Diesel
Coupe
1968
2016.10-2020.02
140 (190)
4
-
A5 Convertible (8F7)
2.0 TDI
Diesel
Convertible
1968
2011.10-2015.05
105 (143)
4
-
A5 Convertible (8F7)
2.0 TDI
Diesel
Convertible
1968
2009.05-2014.06
120 (163)
4
-
A5 Convertible (8F7)
2.0 TDI
Diesel
Convertible
1968
2011.10-2017.01
130 (177)
4
-
A5 Convertible (8F7)
2.0 TDI
Diesel
Convertible
1968
2013.05-2017.01
110 (150)
4
-
A5 Convertible (8F7)
2.0 TDI
Diesel
Convertible
1968
2013.09-2017.01
140 (190)
4
-
A5 Convertible (8F7)
2.0 TDI quattro
Diesel
Convertible
1968
2013.09-2017.01
140 (190)
4
-
A5 Convertible (8F7)
2.0 TDI quattro
Diesel
Convertible
1968
2012.01-2015.05
130 (177)
4
-
A5 Convertible (F57, F5E)
2.0 TDI
Diesel
Convertible
1968
2017.08-2019.12
110 (150)
4
-
A5 Convertible (F57, F5E)
2.0 TDI
Diesel
Convertible
1968
2016.11-2019.12
140 (190)
4
-
A5 Convertible (F57, F5E)
2.0 TDI quattro
Diesel
Convertible
1968
2017.03-.
140 (190)
4
-
A5 Convertible (F57, F5E)
40 TDI
Diesel
Convertible
1968
2016.11-2019.12
140 (190)
4
-
A5 Convertible (F57, F5E)
40 TDI quattro
Diesel
Convertible
1968
2017.03-2019.12
140 (190)
4
-
A5 Sportback (8TA)
2.0 TDI
Diesel
Hatchback
1968
2009.09-2017.01
100 (136)
4
-
A5 Sportback (8TA)
2.0 TDI
Diesel
Hatchback
1968
2013.05-2017.01
110 (150)
4
-
A5 Sportback (8TA)
2.0 TDI
Diesel
Hatchback
1968
2011.10-2017.01
130 (177)
4
-
A5 Sportback (8TA)
2.0 TDI
Diesel
Hatchback
1968
2009.09-2017.01
105 (143)
4
-
A5 Sportback (8TA)
2.0 TDI
Diesel
Hatchback
1968
2009.09-2017.01
120 (163)
4
-
A5 Sportback (8TA)
2.0 TDI
Diesel
Hatchback
1968
2013.09-2017.01
140 (190)
4
-
A5 Sportback (8TA)
2.0 TDI quattro
Diesel
Hatchback
1968
2013.09-2017.01
140 (190)
4
-
A5 Sportback (8TA)
2.0 TDI quattro
Diesel
Hatchback
1968
2011.12-2017.01
130 (177)
4
-
A5 Sportback (F5A, F5F)
2.0 TDI
Diesel
Hatchback
1968
2017.01-2020.02
110 (150)
4
-
A5 Sportback (F5A, F5F)
2.0 TDI
Diesel
Hatchback
1968
2016.09-.
140 (190)
4
-
A5 Sportback (F5A, F5F)
2.0 TDI
Diesel
Hatchback
1968
2017.05-2018.08
100 (136)
4
-
A5 Sportback (F5A, F5F)
2.0 TDI quattro
Diesel
Hatchback
1968
2017.05-2020.02
110 (150)
4
-
A5 Sportback (F5A, F5F)
2.0 TDI quattro
Diesel
Hatchback
1968
2016.10-.
140 (190)
4
-
A5 Sportback (F5A, F5F)
35 TDI
Diesel
Hatchback
1968
2017.01-2020.02
110 (150)
4
-
A5 Sportback (F5A, F5F)
40 TDI
Diesel
Hatchback
1968
2016.09-2020.02
140 (190)
4
-
A5 Sportback (F5A, F5F)
40 TDI quattro
Diesel
Hatchback
1968
2016.08-2020.02
140 (190)
4
-
A6 C6 (4F2)
2.0 TDI
Diesel
Saloon
1968
2009.04-2011.03
120 (163)
4
-
A6 C6 (4F2)
2.0 TDI
Diesel
Saloon
1968
2004.07-2011.03
100 (136)
4
-
A6 C6 Avant (4F5)
2.0 TDI
Diesel
Estate
1968
2009.04-2011.08
120 (163)
4
-
A6 C6 Avant (4F5)
2.0 TDI
Diesel
Estate
1968
2005.06-2011.08
100 (136)
4
-
A6 C7 (4G2, 4GC)
2.0 TDI
Diesel
Saloon
1968
2014.09-2018.09
110 (150)
4
-
A6 C7 (4G2, 4GC)
2.0 TDI
Diesel
Saloon
1968
2011.03-2018.09
120 (163)
4
-
A6 C7 (4G2, 4GC)
2.0 TDI
Diesel
Saloon
1968
2013.11-2018.09
140 (190)
4
-
A6 C7 (4G2, 4GC)
2.0 TDI
Diesel
Saloon
1968
2011.03-2018.09
130 (177)
4
-
A6 C7 (4G2, 4GC)
2.0 TDI
Diesel
Saloon
1968
2012.01-2018.09
100 (136)
4
-
A6 C7 (4G2, 4GC)
2.0 TDI quattro
Diesel
Saloon
1968
2015.04-2018.09
140 (190)
4
-
A6 C7 Avant (4G5, 4GD)
2.0 TDI
Diesel
Estate
1968
2013.11-2018.09
140 (190)
4
-
A6 C7 Avant (4G5, 4GD)
2.0 TDI
Diesel
Estate
1968
2012.01-2018.09
100 (136)
4
-
A6 C7 Avant (4G5, 4GD)
2.0 TDI
Diesel
Estate
1968
2011.05-2018.09
120 (163)
4
-
A6 C7 Avant (4G5, 4GD)
2.0 TDI
Diesel
Estate
1968
2014.09-2018.09
110 (150)
4
-
A6 C7 Avant (4G5, 4GD)
2.0 TDI
Diesel
Estate
1968
2011.05-2018.09
130 (177)
4
-
A6 C7 Avant (4G5, 4GD)
2.0 TDI quattro
Diesel
Estate
1968
2015.04-2018.09
140 (190)
4
-
A6 C8 (4A2)
40 TDI
Diesel
Saloon
1968
2019.02-.
140 (190)
4
-
Q2 (GAB, GAG)
1.6 TDI
Diesel
SUV
1598
2016.06-2018.10
85 (115)
4
-
Q2 (GAB, GAG)
2.0 TDI
Diesel
SUV
1968
2016.09-.
110 (150)
4
-
Q2 (GAB, GAG)
2.0 TDI quattro
Diesel
SUV
1968
2016.09-.
110 (150)
4
-
Q2 (GAB, GAG)
2.0 TDI quattro
Diesel
SUV
1968
2016.07-2018.08
140 (190)
4
-
Q2 (GAB, GAG)
30 TDI
Diesel
SUV
1598
2018.07-.
85 (115)
4
-
Q2 (GAB, GAG)
35 TDI
Diesel
SUV
1968
2016.09-.
110 (150)
4
-
Q2 (GAB, GAG)
35 TDI quattro
Diesel
SUV
1968
2018.09-.
110 (150)
4
-
Q3 (8UB, 8UG)
2.0 TDI
Diesel
SUV
1968
2015.03-2018.10
88 (120)
4
-
Q3 (8UB, 8UG)
2.0 TDI
Diesel
SUV
1968
2014.11-2018.10
110 (150)
4
-
Q3 (8UB, 8UG)
2.0 TDI
Diesel
SUV
1968
2011.09-2018.10
103 (140)
4
-
Q3 (8UB, 8UG)
2.0 TDI
Diesel
SUV
1968
2015.05-2018.10
135 (184)
4
-
Q3 (8UB, 8UG)
2.0 TDI
Diesel
SUV
1968
2011.09-2018.10
100 (136)
4
-
Q3 (8UB, 8UG)
2.0 TDI quattro
Diesel
SUV
1968
2014.11-2018.10
135 (184)
4
-
Q3 (8UB, 8UG)
2.0 TDI quattro
Diesel
SUV
1968
2011.06-2018.10
130 (177)
4
-
Q3 (8UB, 8UG)
2.0 TDI quattro
Diesel
SUV
1968
2014.11-2018.10
110 (150)
4
-
Q3 (F3B)
35 TDI
Diesel
SUV
1968
2018.09-.
110 (150)
4
-
Q3 (F3B)
35 TDI quattro
Diesel
SUV
1968
2018.09-.
110 (150)
4
-
Q3 (F3B)
40 TDI quattro
Diesel
SUV
1968
2018.10-.
140 (190)
4
-
Q3 Sportback (F3N)
35 TDI
Diesel
SUV
1968
2019.11-.
110 (150)
4
-
Q3 Sportback (F3N)
35 TDI quattro
Diesel
SUV
1968
2019.09-.
110 (150)
4
-
Q3 Sportback (F3N)
40 TDI quattro
Diesel
SUV
1968
2019.07-.
140 (190)
4
-
Q5 (8RB)
2.0 TDI
Diesel
SUV
1968
2010.11-2017.05
100 (136)
4
-
Q5 (8RB)
2.0 TDI
Diesel
SUV
1968
2010.11-2013.05
105 (143)
4
-
Q5 (8RB)
2.0 TDI
Diesel
SUV
1968
2015.09-2017.05
140 (190)
4
-
Q5 (8RB)
2.0 TDI
Diesel
SUV
1968
2013.05-2017.05
110 (150)
4
-
Q5 (8RB)
2.0 TDI quattro
Diesel
SUV
1968
2013.05-2017.05
110 (150)
4
-
Q5 (8RB)
2.0 TDI quattro
Diesel
SUV
1968
2009.08-2017.05
100 (136)
4
-
Q5 (8RB)
2.0 TDI quattro
Diesel
SUV
1968
2009.08-2013.05
105 (143)
4
-
Q5 (8RB)
2.0 TDI quattro
Diesel
SUV
1968
2012.06-2017.05
130 (177)
4
-
Q5 (8RB)
2.0 TDI quattro
Diesel
SUV
1968
2008.11-2017.05
120 (163)
4
-
Q5 (8RB)
2.0 TDI quattro
Diesel
SUV
1968
2013.11-2017.05
140 (190)
4
-
Q5 (FYB, FYG)
2.0 TDI
Diesel
SUV
1968
2017.01-2020.11
100 (136)
4
-
Q5 (FYB, FYG)
2.0 TDI
Diesel
SUV
1968
2017.01-2020.11
110 (150)
4
-
Q5 (FYB, FYG)
2.0 TDI quattro
Diesel
SUV
1968
2016.06-2018.08
140 (190)
4
-
Q5 (FYB, FYG)
2.0 TDI quattro
Diesel
SUV
1968
2016.06-2018.08
120 (163)
4
-
Q5 (FYB, FYG)
35 TDI quattro
Diesel
SUV
1968
2018.08-2020.11
120 (163)
4
-
Q5 (FYB, FYG)
40 TDI quattro
Diesel
SUV
1968
2018.10-.
140 (190)
4
-
Q5 Van (8RB)
2.0 TDI
Diesel
SUV Van
1968
2012.06-2017.05
110 (150)
4
-
Q5 Van (8RB)
2.0 TDI
Diesel
SUV Van
1968
2015.05-2017.05
140 (190)
4
-
Q5 Van (8RB)
2.0 TDI
Diesel
SUV Van
1968
2011.11-2013.05
105 (143)
4
-
Q5 Van (8RB)
2.0 TDI
Diesel
SUV Van
1968
2014.05-2017.05
100 (136)
4
-
Q5 Van (8RB)
2.0 TDI quattro
Diesel
SUV Van
1968
2012.07-2014.06
130 (177)
4
-
TT (FV3, FVP)
2.0 TDI
Diesel
Coupe
1968
2014.07-.
135 (184)
4
-
TT (FV3, FVP)
2.0 TDI quattro
Diesel
Coupe
1968
2017.01-.
135 (184)
4
-
TT Roadster (FV9, FVR)
2.0 TDI
Diesel
Convertible
1968
2014.11-.
135 (184)
4
-
TT Roadster (FV9, FVR)
2.0 TDI quattro
Diesel
Convertible
1968
2017.01-.
135 (184)
4
-
passenger cars - SEAT
ALHAMBRA (710, 711)
2.0 TDI
Diesel
MPV
1968
2015.05-.
110 (150)
4
-
ALHAMBRA (710, 711)
2.0 TDI
Diesel
MPV
1968
2012.11-.
130 (177)
4
-
ALHAMBRA (710, 711)
2.0 TDI
Diesel
MPV
1968
2011.05-.
85 (115)
4
-
ALHAMBRA (710, 711)
2.0 TDI
Diesel
MPV
1968
2015.05-.
135 (184)
4
-
ALHAMBRA (710, 711)
2.0 TDI 4Drive
Diesel
MPV
1968
2016.05-.
135 (184)
4
-
ALHAMBRA (710, 711)
2.0 TDi 4Drive
Diesel
MPV
1968
2018.11-.
130 (177)
4
-
ALHAMBRA (710, 711)
2.0 TDI 4Drive
Diesel
MPV
1968
2015.05-.
110 (150)
4
-
ALHAMBRA VAN (711)
TDI
Diesel
Box Body/MPV
1968
2015.05-.
110 (150)
4
-
ALHAMBRA VAN (711)
TDI
Diesel
Box Body/MPV
1968
2015.05-.
135 (184)
4
-
ALHAMBRA VAN (711)
TDI 4Drive
Diesel
Box Body/MPV
1968
2015.05-.
110 (150)
4
-
ARONA (KJ7, KJP)
1.6 TDI
Diesel
SUV
1598
2017.11-.
70 (95)
4
-
ARONA (KJ7, KJP)
1.6 TDI
Diesel
SUV
1598
2017.07-.
85 (115)
4
-
ATECA (KH7, KHP)
1.6 TDI
Diesel
SUV
1598
2016.04-.
85 (115)
4
-
ATECA (KH7, KHP)
2.0 TDI
Diesel
SUV
1968
2016.04-.
110 (150)
4
-
ATECA (KH7, KHP)
2.0 TDI
Diesel
SUV
1968
2016.10-.
81 (110)
4
-
ATECA (KH7, KHP)
2.0 TDI
Diesel
SUV
1968
2016.10-.
105 (143)
4
-
ATECA (KH7, KHP)
2.0 TDI 4Drive
Diesel
SUV
1968
2016.04-.
110 (150)
4
-
ATECA (KH7, KHP)
2.0 TDI 4Drive
Diesel
SUV
1968
2016.06-.
140 (190)
4
-
IBIZA V (KJ1, KJG)
1.6 TDI
Diesel
Hatchback
1598
2017.11-.
59 (80)
4
-
IBIZA V (KJ1, KJG)
1.6 TDI
Diesel
Hatchback
1598
2017.12-.
85 (115)
4
-
IBIZA V (KJ1, KJG)
1.6 TDI
Diesel
Hatchback
1598
2017.09-.
70 (95)
4
-
LEON (5F1)
1.6 TDI
Diesel
Hatchback
1598
2016.11-2020.08
85 (115)
4
-
LEON (5F1)
1.6 TDI
Diesel
Hatchback
1598
2012.09-2020.08
77 (105)
4
-
LEON (5F1)
1.6 TDI
Diesel
Hatchback
1598
2012.11-2018.08
66 (90)
4
-
LEON (5F1)
1.6 TDI
Diesel
Hatchback
1598
2013.09-2020.08
81 (110)
4
-
LEON (5F1)
2.0 TDI
Diesel
Hatchback
1968
2012.10-2020.08
110 (150)
4
-
LEON (5F1)
2.0 TDI
Diesel
Hatchback
1968
2013.05-2020.08
105 (143)
4
-
LEON (5F1)
2.0 TDI
Diesel
Hatchback
1968
2012.09-2020.08
135 (184)
4
-
LEON (5F1)
2.0 TDI
Diesel
Hatchback
1968
2013.05-2020.08
81 (110)
4
-
LEON (KL1)
2.0 TDI
Diesel
Hatchback
1968
2019.11-.
110 (150)
4
-
LEON Hatchback Van (5F1)
1.6 TDI
Diesel
Hatchback Van
1598
2013.09-2016.10
81 (110)
4
-
LEON Hatchback Van (5F1)
1.6 TDI
Diesel
Hatchback Van
1598
2016.11-2020.08
85 (115)
4
-
LEON Hatchback Van (5F1)
1.6 TDI
Diesel
Hatchback Van
1598
2012.11-2016.10
66 (90)
4
-
LEON Hatchback Van (5F1)
1.6 TDI
Diesel
Hatchback Van
1598
2012.09-2016.10
77 (105)
4
-
LEON Hatchback Van (5F1)
2.0 TDI
Diesel
Hatchback Van
1968
2012.10-2018.08
110 (150)
4
-
LEON Hatchback Van (5F1)
2.0 TDI
Diesel
Hatchback Van
1968
2013.02-2018.08
135 (184)
4
-
LEON SC (5F5)
1.6 TDI
Diesel
Coupe
1598
2013.09-2016.11
81 (110)
4
-
LEON SC (5F5)
1.6 TDI
Diesel
Coupe
1598
2013.02-2018.08
66 (90)
4
-
LEON SC (5F5)
1.6 TDI
Diesel
Coupe
1598
2016.11-2018.08
85 (115)
4
-
LEON SC (5F5)
1.6 TDI
Diesel
Coupe
1598
2013.02-2018.08
77 (105)
4
-
LEON SC (5F5)
2.0 TDI
Diesel
Coupe
1968
2013.02-2018.08
81 (110)
4
-
LEON SC (5F5)
2.0 TDI
Diesel
Coupe
1968
2013.05-2018.08
105 (143)
4
-
LEON SC (5F5)
2.0 TDI
Diesel
Coupe
1968
2013.02-2018.08
110 (150)
4
-
LEON SC (5F5)
2.0 TDI
Diesel
Coupe
1968
2013.03-2018.08
135 (184)
4
-
LEON Sportstourer (KL8)
2.0 TDI
Diesel
Estate
1968
2020.04-.
110 (150)
4
-
LEON Sportstourer (KL8)
2.0 TDI 4Drive
Diesel
Estate
1968
2020.11-.
110 (150)
4
-
LEON ST (5F8)
1.6 TDI
Diesel
Estate
1598
2013.09-2020.08
81 (110)
4
-
LEON ST (5F8)
1.6 TDI
Diesel
Estate
1598
2013.11-2018.08
66 (90)
4
-
LEON ST (5F8)
1.6 TDI
Diesel
Estate
1598
2016.11-2020.08
85 (115)
4
-
LEON ST (5F8)
1.6 TDI
Diesel
Estate
1598
2013.10-2020.08
77 (105)
4
-
LEON ST (5F8)
1.6 TDI 4Drive
Diesel
Estate
1598
2018.07-2020.08
85 (115)
4
-
LEON ST (5F8)
1.6 TDI 4Drive
Diesel
Estate
1598
2014.11-2020.08
81 (110)
4
-
LEON ST (5F8)
1.6 TDI 4Drive
Diesel
Estate
1598
2014.04-2020.08
77 (105)
4
-
LEON ST (5F8)
2.0 TDI
Diesel
Estate
1968
2013.02-2016.12
81 (110)
4
-
LEON ST (5F8)
2.0 TDI
Diesel
Estate
1968
2013.08-2020.08
135 (184)
4
-
LEON ST (5F8)
2.0 TDI
Diesel
Estate
1968
2013.10-2018.08
110 (150)
4
-
LEON ST (5F8)
2.0 TDI
Diesel
Estate
1968
2013.10-2018.08
105 (143)
4
-
LEON ST (5F8)
2.0 TDI 4Drive
Diesel
Estate
1968
2014.11-2018.08
135 (184)
4
-
LEON ST (5F8)
2.0 TDI 4Drive
Diesel
Estate
1968
2014.04-2018.08
110 (150)
4
-
LEON ST Estate Van (5F8)
1.6 TDI
Diesel
Estate Van
1598
2013.09-2020.08
81 (110)
4
-
LEON ST Estate Van (5F8)
1.6 TDI
Diesel
Estate Van
1598
2016.11-2020.08
85 (115)
4
-
LEON ST Estate Van (5F8)
2.0 TDI
Diesel
Estate Van
1968
2013.08-2018.08
135 (184)
4
-
LEON ST Estate Van (5F8)
2.0 TDI
Diesel
Estate Van
1968
2013.04-2018.08
110 (150)
4
-
LEON ST Estate Van (5F8)
2.0 TDI 4Drive
Diesel
Estate Van
1968
2014.09-2018.08
110 (150)
4
-
LEON ST Estate Van (5F8)
2.0 TDI 4Drive
Diesel
Estate Van
1968
2014.10-2018.08
135 (184)
4
-
TARRACO (KN2)
2.0 TDI
Diesel
SUV
1968
2018.09-.
110 (150)
4
-
TARRACO (KN2)
2.0 TDI 4Drive
Diesel
SUV
1968
2018.09-.
110 (150)
4
-
TARRACO (KN2)
2.0 TDI 4Drive
Diesel
SUV
1968
2018.09-.
140 (190)
4
-
TOLEDO IV (KG3)
1.6 TDI
Diesel
Hatchback
1598
2015.05-2019.04
85 (115)
4
-
passenger cars - SKODA
FABIA II (542)
1.6 TDI
Diesel
Hatchback
1598
2010.03-2014.12
66 (90)
4
-
FABIA II (542)
1.6 TDI
Diesel
Hatchback
1598
2010.03-2014.12
77 (105)
4
-
FABIA II Combi (545)
1.6 TDI
Diesel
Estate
1598
2010.03-2014.12
66 (90)
4
-
FABIA II Combi (545)
1.6 TDI
Diesel
Estate
1598
2010.03-2014.12
77 (105)
4
-
KAMIQ (NW4)
1.6 TDI
Diesel
SUV
1598
2019.07-.
85 (115)
4
-
KAROQ (NU7, ND7)
1.6 TDI
Diesel
SUV
1598
2017.07-.
85 (115)
4
-
KAROQ (NU7, ND7)
2.0 TDI
Diesel
SUV
1968
2017.07-.
110 (150)
4
-
KAROQ (NU7, ND7)
2.0 TDI 4x4
Diesel
SUV
1968
2017.07-.
140 (190)
4
-
KAROQ (NU7, ND7)
2.0 TDI 4x4
Diesel
SUV
1968
2017.07-.
110 (150)
4
-
KODIAQ (NS7, NV7, NS6)
2.0 RS Bi-TDI 4x4
Diesel
SUV
1968
2018.11-.
176 (239)
4
-
KODIAQ (NS7, NV7, NS6)
2.0 TDI
Diesel
SUV
1968
2016.10-.
110 (150)
4
-
KODIAQ (NS7, NV7, NS6)
2.0 TDI 4x4
Diesel
SUV
1968
2016.10-.
110 (150)
4
-
KODIAQ (NS7, NV7, NS6)
2.0 TDI 4x4
Diesel
SUV
1968
2016.10-.
140 (190)
4
-
OCTAVIA II (1Z3)
1.6 TDI
Diesel
Hatchback
1598
2009.06-2013.04
77 (105)
4
-
OCTAVIA II (1Z3)
2.0 TDI
Diesel
Hatchback
1968
2010.03-2013.06
81 (110)
4
-
OCTAVIA II Combi (1Z5)
1.6 TDI
Diesel
Estate
1598
2009.06-2013.04
77 (105)
4
-
OCTAVIA II Combi (1Z5)
1.6 TDI 4x4
Diesel
Estate
1598
2009.06-2013.02
77 (105)
4
-
OCTAVIA II Combi (1Z5)
2.0 TDI
Diesel
Estate
1968
2010.03-2013.06
81 (110)
4
-
OCTAVIA II Combi (1Z5)
2.0 TDI 4x4
Diesel
Estate
1968
2011.05-2013.02
81 (110)
4
-
OCTAVIA III (5E3, NL3, NR3)
1.6 TDI
Diesel
Hatchback
1598
2012.11-2020.10
66 (90)
4
-
OCTAVIA III (5E3, NL3, NR3)
1.6 TDI
Diesel
Hatchback
1598
2012.11-2015.05
77 (105)
4
-
OCTAVIA III (5E3, NL3, NR3)
1.6 TDI
Diesel
Hatchback
1598
2017.02-2020.10
85 (115)
4
-
OCTAVIA III (5E3, NL3, NR3)
1.6 TDI
Diesel
Hatchback
1598
2013.05-2017.02
81 (110)
4
-
OCTAVIA III (5E3, NL3, NR3)
1.6 TDI 4x4
Diesel
Hatchback
1598
2015.05-2017.02
81 (110)
4
-
OCTAVIA III (5E3, NL3, NR3)
1.6 TDI 4x4
Diesel
Hatchback
1598
2013.05-2015.05
77 (105)
4
-
OCTAVIA III (5E3, NL3, NR3)
1.6 TDI 4x4
Diesel
Hatchback
1598
2017.02-2020.10
85 (115)
4
-
OCTAVIA III (5E3, NL3, NR3)
2.0 TDI
Diesel
Hatchback
1968
2012.11-2020.10
110 (150)
4
-
OCTAVIA III (5E3, NL3, NR3)
2.0 TDI
Diesel
Hatchback
1968
2012.11-2017.02
105 (143)
4
-
OCTAVIA III (5E3, NL3, NR3)
2.0 TDI / TDI RS 4x4
Diesel
Hatchback
1968
2013.05-2020.10
135 (184)
4
-
OCTAVIA III (5E3, NL3, NR3)
2.0 TDI 4x4
Diesel
Hatchback
1968
2013.05-2020.10
110 (150)
4
-
OCTAVIA III (5E3, NL3, NR3)
2.0 TDI RS
Diesel
Hatchback
1968
2013.05-2020.10
135 (184)
4
-
OCTAVIA III Combi (5E5, 5E6)
1.6 TDI
Diesel
Estate
1598
2017.02-2020.10
85 (115)
4
-
OCTAVIA III Combi (5E5, 5E6)
1.6 TDI
Diesel
Estate
1598
2013.05-2017.02
81 (110)
4
-
OCTAVIA III Combi (5E5, 5E6)
1.6 TDI
Diesel
Estate
1598
2012.11-2020.10
66 (90)
4
-
OCTAVIA III Combi (5E5, 5E6)
1.6 TDI
Diesel
Estate
1598
2012.11-2015.05
77 (105)
4
-
OCTAVIA III Combi (5E5, 5E6)
1.6 TDI 4x4
Diesel
Estate
1598
2012.11-2015.05
77 (105)
4
-
OCTAVIA III Combi (5E5, 5E6)
1.6 TDI 4x4
Diesel
Estate
1598
2015.05-2017.02
81 (110)
4
-
OCTAVIA III Combi (5E5, 5E6)
1.6 TDI 4x4
Diesel
Estate
1598
2017.02-2020.10
85 (115)
4
-
OCTAVIA III Combi (5E5, 5E6)
2.0 TDI
Diesel
Estate
1968
2012.11-2017.02
105 (143)
4
-
OCTAVIA III Combi (5E5, 5E6)
2.0 TDI
Diesel
Estate
1968
2012.11-2020.10
110 (150)
4
-
OCTAVIA III Combi (5E5, 5E6)
2.0 TDI / TDI RS 4x4
Diesel
Estate
1968
2013.05-2020.10
135 (184)
4
-
OCTAVIA III Combi (5E5, 5E6)
2.0 TDI 4x4
Diesel
Estate
1968
2012.11-2020.10
110 (150)
4
-
OCTAVIA III Combi (5E5, 5E6)
2.0 TDI RS
Diesel
Estate
1968
2013.05-2020.10
135 (184)
4
-
OCTAVIA IV (NX3, NN3)
2.0 TDI
Diesel
Hatchback
1968
2020.06-.
105 (143)
4
-
OCTAVIA IV Combi (NX5)
2.0 TDI
Diesel
Estate
1968
2020.06-.
105 (143)
4
-
RAPID (NA2)
1.6 TDI
Diesel
Saloon
1598
2011.10-2013.12
77 (105)
4
-
RAPID (NH3, NK3, NK6)
1.6 TDI
Diesel
Hatchback
1598
2012.07-2019.12
77 (105)
4
-
RAPID (NH3, NK3, NK6)
1.6 TDI
Diesel
Hatchback
1598
2015.05-2019.12
85 (115)
4
-
RAPID (NH3, NK3, NK6)
1.6 TDI
Diesel
Hatchback
1598
2013.08-2015.05
66 (90)
4
-
RAPID Spaceback (NH1)
1.6 TDI
Diesel
Hatchback
1598
2012.07-2019.12
77 (105)
4
-
RAPID Spaceback (NH1)
1.6 TDI
Diesel
Hatchback
1598
2013.08-2015.05
66 (90)
4
-
RAPID Spaceback (NH1)
1.6 TDI
Diesel
Hatchback
1598
2015.05-2019.12
85 (115)
4
-
ROOMSTER (5J7)
1.6 TDI
Diesel
MPV
1598
2010.03-2015.05
66 (90)
4
-
ROOMSTER (5J7)
1.6 TDI
Diesel
MPV
1598
2010.03-2015.05
77 (105)
4
-
ROOMSTER Praktik (5J)
1.6 TDI
Diesel
Estate Van
1598
2010.03-2015.05
66 (90)
4
-
SCALA (NW1)
1.6 TDI
Diesel
Hatchback
1598
2019.02-.
85 (116)
4
-
SUPERB II (3T4)
1.6 TDI
Diesel
Hatchback
1598
2010.09-2015.05
77 (105)
4
-
SUPERB II Estate (3T5)
1.6 TDI
Diesel
Estate
1598
2010.09-2015.05
77 (105)
4
-
SUPERB III (3V3)
1.6 TDI
Diesel
Hatchback
1598
2015.03-.
88 (120)
4
-
SUPERB III (3V3)
2.0 TDI
Diesel
Hatchback
1968
2015.03-.
140 (190)
4
-
SUPERB III (3V3)
2.0 TDI
Diesel
Hatchback
1968
2015.03-.
130 (177)
4
-
SUPERB III (3V3)
2.0 TDI
Diesel
Hatchback
1968
2015.03-.
110 (150)
4
-
SUPERB III (3V3)
2.0 TDI 4x4
Diesel
Hatchback
1968
2015.03-.
110 (150)
4
-
SUPERB III (3V3)
2.0 TDI 4x4
Diesel
Hatchback
1968
2015.03-.
140 (190)
4
-
SUPERB III Estate (3V5)
1.6 TDI
Diesel
Estate
1598
2015.03-.
88 (120)
4
-
SUPERB III Estate (3V5)
2.0 TDI
Diesel
Estate
1968
2015.03-.
130 (177)
4
-
SUPERB III Estate (3V5)
2.0 TDI
Diesel
Estate
1968
2015.03-.
110 (150)
4
-
SUPERB III Estate (3V5)
2.0 TDI
Diesel
Estate
1968
2015.03-.
140 (190)
4
-
SUPERB III Estate (3V5)
2.0 TDI 4x4
Diesel
Estate
1968
2015.03-.
140 (190)
4
-
SUPERB III Estate (3V5)
2.0 TDI 4x4
Diesel
Estate
1968
2015.03-.
110 (150)
4
-
YETI (5L)
1.6 TDI
Diesel
SUV
1598
2010.11-2015.05
77 (105)
4
-
YETI (5L)
2.0 TDI
Diesel
SUV
1968
2015.05-2017.12
110 (150)
4
-
YETI (5L)
2.0 TDI
Diesel
SUV
1968
2009.11-2017.12
81 (110)
4
-
YETI (5L)
2.0 TDI 4x4
Diesel
SUV
1968
2009.11-2017.12
81 (110)
4
-
YETI (5L)
2.0 TDI 4x4
Diesel
SUV
1968
2015.05-2017.12
110 (150)
4
-
passenger cars - VW
ARTEON (3H7, 3H8)
2.0 TDI
Diesel
Hatchback
1968
2017.03-.
110 (150)
4
-
ARTEON (3H7, 3H8)
2.0 TDI
Diesel
Hatchback
1968
2017.05-2020.06
140 (190)
4
-
ARTEON (3H7, 3H8)
2.0 TDI 4motion
Diesel
Hatchback
1968
2017.05-2020.06
140 (190)
4
-
ARTEON (3H7, 3H8)
2.0 TDI 4motion
Diesel
Hatchback
1968
2017.03-2020.07
176 (240)
4
-
ARTEON SHOOTING BRAKE (3H9)
2.0 TDI
Diesel
Estate
1968
2020.09-.
140 (190)
4
-
ARTEON SHOOTING BRAKE (3H9)
2.0 TDI
Diesel
Estate
1968
2020.09-.
110 (150)
4
-
ARTEON SHOOTING BRAKE (3H9)
2.0 TDI 4motion
Diesel
Estate
1968
2020.09-.
140 (190)
4
-
BEETLE (5C1, 5C2)
2.0 TDI
Diesel
Hatchback
1968
2011.04-2016.07
103 (140)
4
-
BEETLE (5C1, 5C2)
2.0 TDI
Diesel
Hatchback
1968
2014.06-2018.09
81 (110)
4
-
BEETLE (5C1, 5C2)
2.0 TDI
Diesel
Hatchback
1968
2014.07-2018.09
110 (150)
4
-
BEETLE Convertible (5C7, 5C8)
2.0 TDI
Diesel
Convertible
1968
2014.09-2018.09
110 (150)
4
-
BEETLE Convertible (5C7, 5C8)
2.0 TDI
Diesel
Convertible
1968
2012.04-2016.07
103 (140)
4
-
BEETLE Convertible (5C7, 5C8)
2.0 TDI
Diesel
Convertible
1968
2014.06-2018.09
81 (110)
4
-
CADDY ALLTRACK Box Body/MPV (SAA)
2.0 TDI
Diesel
Box Body/MPV
1968
2015.05-.
55 (75)
4
-
CADDY ALLTRACK Box Body/MPV (SAA)
2.0 TDI
Diesel
Box Body/MPV
1968
2015.05-.
75 (102)
4
-
CADDY ALLTRACK Box Body/MPV (SAA)
2.0 TDI
Diesel
Box Body/MPV
1968
2015.05-.
110 (150)
4
-
CADDY ALLTRACK Box Body/MPV (SAA)
2.0 TDI
Diesel
Box Body/MPV
1968
2015.05-.
103 (140)
4
-
CADDY ALLTRACK Box Body/MPV (SAA)
2.0 TDI 4motion
Diesel
Box Body/MPV
1968
2015.11-.
110 (150)
4
-
CADDY ALLTRACK Box Body/MPV (SAA)
2.0 TDI 4motion
Diesel
Box Body/MPV
1968
2015.05-.
103 (140)
4
-
CADDY ALLTRACK Box Body/MPV (SAA)
2.0 TDI 4motion
Diesel
Box Body/MPV
1968
2015.05-.
90 (122)
4
-
CADDY ALLTRACK Box Body/MPV (SAA)
2.0 TDI 4motion
Diesel
Box Body/MPV
1968
2015.05-2016.05
81 (110)
4
-
CADDY ALLTRACK MPV (SAB)
2.0 TDI
Diesel
MPV
1968
2015.05-.
110 (150)
4
-
CADDY ALLTRACK MPV (SAB)
2.0 TDI
Diesel
MPV
1968
2015.05-.
55 (75)
4
-
CADDY ALLTRACK MPV (SAB)
2.0 TDI
Diesel
MPV
1968
2015.05-.
103 (140)
4
-
CADDY ALLTRACK MPV (SAB)
2.0 TDI
Diesel
MPV
1968
2015.05-.
75 (102)
4
-
CADDY ALLTRACK MPV (SAB)
2.0 TDI 4motion
Diesel
MPV
1968
2015.05-.
90 (122)
4
-
CADDY ALLTRACK MPV (SAB)
2.0 TDI 4motion
Diesel
MPV
1968
2015.05-2016.05
81 (110)
4
-
CADDY ALLTRACK MPV (SAB)
2.0 TDI 4motion
Diesel
MPV
1968
2015.05-.
103 (140)
4
-
CADDY ALLTRACK MPV (SAB)
2.0 TDI 4motion
Diesel
MPV
1968
2015.11-.
110 (150)
4
-
CADDY III Box Body/MPV (2KA, 2KH, 2CA, 2CH)
2.0 TDI
Diesel
Box Body/MPV
1968
2010.08-2015.05
81 (110)
4
-
CADDY III Box Body/MPV (2KA, 2KH, 2CA, 2CH)
2.0 TDI 16V
Diesel
Box Body/MPV
1968
2010.11-2015.05
103 (140)
4
-
CADDY III Box Body/MPV (2KA, 2KH, 2CA, 2CH)
2.0 TDI 16V 4motion
Diesel
Box Body/MPV
1968
2010.11-2015.05
103 (140)
4
-
CADDY III Box Body/MPV (2KA, 2KH, 2CA, 2CH)
2.0 TDI 4motion
Diesel
Box Body/MPV
1968
2010.08-2015.05
81 (110)
4
-
CADDY III MPV (2KB, 2KJ, 2CB, 2CJ)
2.0 TDI
Diesel
MPV
1968
2010.08-2015.05
81 (110)
4
-
CADDY III MPV (2KB, 2KJ, 2CB, 2CJ)
2.0 TDI 16V
Diesel
MPV
1968
2010.11-2015.05
103 (140)
4
-
CADDY III MPV (2KB, 2KJ, 2CB, 2CJ)
2.0 TDI 16V 4motion
Diesel
MPV
1968
2010.11-2015.05
103 (140)
4
-
CADDY III MPV (2KB, 2KJ, 2CB, 2CJ)
2.0 TDI 4motion
Diesel
MPV
1968
2010.08-2015.05
81 (110)
4
-
CADDY IV Box Body/MPV (SAA, SAH)
2.0 TDI
Diesel
Box Body/MPV
1968
2015.05-2020.09
103 (140)
4
-
CADDY IV Box Body/MPV (SAA, SAH)
2.0 TDI
Diesel
Box Body/MPV
1968
2015.05-2020.09
75 (102)
4
-
CADDY IV Box Body/MPV (SAA, SAH)
2.0 TDI
Diesel
Box Body/MPV
1968
2015.05-2020.09
110 (150)
4
-
CADDY IV Box Body/MPV (SAA, SAH)
2.0 TDI
Diesel
Box Body/MPV
1968
2015.05-2020.09
55 (75)
4
-
CADDY IV Box Body/MPV (SAA, SAH)
2.0 TDI 4motion
Diesel
Box Body/MPV
1968
2015.11-2019.07
55 (75)
4
-
CADDY IV Box Body/MPV (SAA, SAH)
2.0 TDI 4motion
Diesel
Box Body/MPV
1968
2015.05-2020.09
103 (140)
4
-
CADDY IV Box Body/MPV (SAA, SAH)
2.0 TDI 4motion
Diesel
Box Body/MPV
1968
2015.11-2020.09
110 (150)
4
-
CADDY IV Box Body/MPV (SAA, SAH)
2.0 TDI 4motion
Diesel
Box Body/MPV
1968
2015.05-2020.09
81 (110)
4
-
CADDY IV Box Body/MPV (SAA, SAH)
2.0 TDI 4motion
Diesel
Box Body/MPV
1968
2015.05-2020.09
90 (122)
4
-
CADDY IV MPV (SAB, SAJ)
2.0 TDI
Diesel
MPV
1968
2015.05-2020.09
75 (102)
4
-
CADDY IV MPV (SAB, SAJ)
2.0 TDI
Diesel
MPV
1968
2015.05-2020.09
103 (140)
4
-
CADDY IV MPV (SAB, SAJ)
2.0 TDI
Diesel
MPV
1968
2015.05-2020.09
55 (75)
4
-
CADDY IV MPV (SAB, SAJ)
2.0 TDI
Diesel
MPV
1968
2015.05-2020.09
110 (150)
4
-
CADDY IV MPV (SAB, SAJ)
2.0 TDI 4motion
Diesel
MPV
1968
2015.05-2020.09
90 (122)
4
-
CADDY IV MPV (SAB, SAJ)
2.0 TDI 4motion
Diesel
MPV
1968
2015.05-2020.09
103 (140)
4
-
CADDY IV MPV (SAB, SAJ)
2.0 TDI 4motion
Diesel
MPV
1968
2015.11-2020.09
110 (150)
4
-
CADDY IV MPV (SAB, SAJ)
2.0 TDI 4motion
Diesel
MPV
1968
2015.05-2020.09
81 (110)
4
-
CALIFORNIA T5 Camper (7EC, 7EF, 7EG, 7HF)
2.0 TDI
Diesel
Bus
1968
2009.09-2015.08
75 (102)
4
-
CALIFORNIA T5 Camper (7EC, 7EF, 7EG, 7HF)
2.0 TDI
Diesel
Bus
1968
2009.09-2015.08
62 (84)
4
-
CALIFORNIA T6 Camper (SGC, SGG, SHC)
2.0 TDI
Diesel
Bus
1968
2015.06-.
150 (204)
4
-
CALIFORNIA T6 Camper (SGC, SGG, SHC)
2.0 TDI
Diesel
Bus
1968
2015.04-2019.07
62 (84)
4
-
CALIFORNIA T6 Camper (SGC, SGG, SHC)
2.0 TDI
Diesel
Bus
1968
2015.04-.
110 (150)
4
-
CALIFORNIA T6 Camper (SGC, SGG, SHC)
2.0 TDI
Diesel
Bus
1968
2016.05-2019.08
84 (114)
4
-
CALIFORNIA T6 Camper (SGC, SGG, SHC)
2.0 TDI
Diesel
Bus
1968
2015.04-2019.12
75 (102)
4
-
CALIFORNIA T6 Camper (SGC, SGG, SHC)
2.0 TDI
Diesel
Bus
1968
2018.08-.
146 (199)
4
-
CALIFORNIA T6 Camper (SGC, SGG, SHC)
2.0 TDI 4motion
Diesel
Bus
1968
2018.08-.
146 (199)
4
-
CALIFORNIA T6 Camper (SGC, SGG, SHC)
2.0 TDI 4motion
Diesel
Bus
1968
2015.06-.
150 (204)
4
-
CALIFORNIA T6 Camper (SGC, SGG, SHC)
2.0 TDI 4motion
Diesel
Bus
1968
2015.08-.
110 (150)
4
-
CC B7 (358)
2.0 TDI
Diesel
Coupe
1968
2015.05-2016.12
135 (184)
4
-
CC B7 (358)
2.0 TDI
Diesel
Coupe
1968
2011.11-2016.12
100 (136)
4
-
CC B7 (358)
2.0 TDI
Diesel
Coupe
1968
2012.12-2016.12
130 (177)
4
-
CC B7 (358)
2.0 TDI
Diesel
Coupe
1968
2011.11-2016.12
125 (170)
4
-
CC B7 (358)
2.0 TDI
Diesel
Coupe
1968
2015.05-2016.12
110 (150)
4
-
CC B7 (358)
2.0 TDI
Diesel
Coupe
1968
2011.11-2016.12
103 (140)
4
-
CC B7 (358)
2.0 TDI 4motion
Diesel
Coupe
1968
2011.11-2016.12
103 (140)
4
-
CC B7 (358)
2.0 TDI 4motion
Diesel
Coupe
1968
2012.12-2016.12
130 (177)
4
-
CC B7 (358)
2.0 TDI 4motion
Diesel
Coupe
1968
2011.11-2013.01
125 (170)
4
-
CRAFTER Bus (SYI, SYJ)
2.0 TDI
Diesel
Bus
1968
2016.09-.
103 (140)
4
-
CRAFTER Bus (SYI, SYJ)
2.0 TDI
Diesel
Bus
1968
2016.09-.
130 (177)
4
-
CRAFTER Bus (SYI, SYJ)
2.0 TDI
Diesel
Bus
1968
2016.10-.
75 (102)
4
-
CRAFTER Bus (SYI, SYJ)
2.0 TDI 4motion
Diesel
Bus
1968
2017.04-.
103 (140)
4
-
CRAFTER Bus (SYI, SYJ)
2.0 TDI 4motion
Diesel
Bus
1968
2017.03-.
130 (177)
4
-
CRAFTER Platform/Chassis (SZ_)
2.0 TDI
Diesel
Platform/Chassis
1968
2016.11-.
103 (140)
4
-
CRAFTER Platform/Chassis (SZ_)
2.0 TDI
Diesel
Platform/Chassis
1968
2016.11-.
130 (177)
4
-
CRAFTER Platform/Chassis (SZ_)
2.0 TDI
Diesel
Platform/Chassis
1968
2016.11-.
75 (102)
4
-
CRAFTER Platform/Chassis (SZ_)
2.0 TDI 4motion
Diesel
Platform/Chassis
1968
2017.11-.
103 (140)
4
-
CRAFTER Platform/Chassis (SZ_)
2.0 TDI 4motion
Diesel
Platform/Chassis
1968
2017.03-.
130 (177)
4
-
CRAFTER Platform/Chassis (SZ_)
2.0 TDI RWD
Diesel
Platform/Chassis
1968
2017.08-.
90 (122)
4
-
CRAFTER Platform/Chassis (SZ_)
2.0 TDI RWD
Diesel
Platform/Chassis
1968
2017.07-.
130 (177)
4
-
CRAFTER Platform/Chassis (SZ_)
2.0 TDI RWD
Diesel
Platform/Chassis
1968
2016.11-.
80 (109)
4
-
CRAFTER Platform/Chassis (SZ_)
2.0 TDI RWD
Diesel
Platform/Chassis
1968
2017.11-.
103 (140)
4
-
CRAFTER Van (SY_, SX_)
2.0 TDI
Diesel
Van
1968
2016.09-.
103 (140)
4
-
CRAFTER Van (SY_, SX_)
2.0 TDI
Diesel
Van
1968
2016.09-.
130 (177)
4
-
CRAFTER Van (SY_, SX_)
2.0 TDI
Diesel
Van
1968
2016.10-.
75 (102)
4
-
CRAFTER Van (SY_, SX_)
2.0 TDI 4motion
Diesel
Van
1968
2017.04-.
103 (140)
4
-
CRAFTER Van (SY_, SX_)
2.0 TDI 4motion
Diesel
Van
1968
2017.03-.
130 (177)
4
-
CRAFTER Van (SY_, SX_)
2.0 TDI RWD
Diesel
Van
1968
2017.05-.
80 (109)
4
-
CRAFTER Van (SY_, SX_)
2.0 TDI RWD
Diesel
Van
1968
2017.08-.
90 (122)
4
-
CRAFTER Van (SY_, SX_)
2.0 TDI RWD
Diesel
Van
1968
2017.10-.
103 (140)
4
-
CRAFTER Van (SY_, SX_)
2.0 TDI RWD
Diesel
Van
1968
2017.05-.
130 (177)
4
-
EOS (1F7, 1F8)
2.0 TDI
Diesel
Convertible
1968
2010.11-2015.08
100 (136)
4
-
EOS (1F7, 1F8)
2.0 TDI 16V
Diesel
Convertible
1968
2008.05-2015.08
103 (140)
4
-
GOLF ALLTRACK VII Variant (BA5, BV5)
1.6 TDI 4motion
Diesel
Estate
1598
2014.12-2017.03
81 (110)
4
-
GOLF ALLTRACK VII Variant (BA5, BV5)
2.0 TDI 4motion
Diesel
Estate
1968
2014.12-2020.08
110 (150)
4
-
GOLF ALLTRACK VII Variant (BA5, BV5)
2.0 TDI 4motion
Diesel
Estate
1968
2014.12-2020.08
135 (184)
4
-
GOLF PLUS V (5M1, 521)
2.0 TDI
Diesel
Hatchback
1968
2009.01-2013.12
81 (110)
4
-
GOLF PLUS V (5M1, 521)
2.0 TDI 16V
Diesel
Hatchback
1968
2005.01-2013.12
103 (140)
4
-
GOLF PLUS Van (521)
2.0 TDi
Diesel
Hatchback Van
1968
2009.11-2014.08
103 (140)
4
-
GOLF SPORTSVAN VII (AM1, AN1)
1.6 TDI
Diesel
Hatchback
1598
2016.11-2020.08
85 (115)
4
-
GOLF SPORTSVAN VII (AM1, AN1)
1.6 TDI
Diesel
Hatchback
1598
2014.02-2016.11
81 (110)
4
-
GOLF SPORTSVAN VII (AM1, AN1)
1.6 TDI
Diesel
Hatchback
1598
2014.02-2018.07
66 (90)
4
-
GOLF SPORTSVAN VII (AM1, AN1)
2.0 TDI
Diesel
Hatchback
1968
2014.02-2020.08
110 (150)
4
-
GOLF SPORTSVAN VII (AM1, AN1)
2.0 TDI
Diesel
Hatchback
1968
2014.05-2017.11
81 (110)
4
-
GOLF VAN VI Variant (AJ5)
2.0 TDi
Diesel
Estate Van
1968
2009.07-2014.05
103 (140)
4
-
GOLF VAN VII Variant (BA5)
1.6 TDi BlueMotion
Diesel
Estate Van
1598
2013.05-2017.03
81 (110)
4
-
GOLF VAN VII Variant (BA5)
1.6 TDi BlueMotion
Diesel
Estate Van
1598
2013.05-2017.03
66 (90)
4
-
GOLF VAN VII Variant (BA5)
1.6 TDi BlueMotion
Diesel
Estate Van
1598
2013.05-2017.03
77 (105)
4
-
GOLF VAN VII Variant (BA5)
1.6 TDi BlueMotion 4motion
Diesel
Estate Van
1598
2013.05-2017.03
77 (105)
4
-
GOLF VAN VII Variant (BA5)
2.0 TDi BlueMotion
Diesel
Estate Van
1968
2013.04-2017.03
110 (150)
4
-
GOLF VAN VII Variant (BA5)
2.0 TDi BlueMotion 4motion
Diesel
Estate Van
1968
2013.04-2017.03
110 (150)
4
-
GOLF VI (5K1)
2.0 TDI
Diesel
Hatchback
1968
2008.10-2012.11
100 (136)
4
-
GOLF VI (5K1)
2.0 TDI
Diesel
Hatchback
1968
2009.04-2012.11
125 (170)
4
-
GOLF VI (5K1)
2.0 TDI
Diesel
Hatchback
1968
2008.10-2013.05
103 (140)
4
-
GOLF VI (5K1)
2.0 TDI
Diesel
Hatchback
1968
2008.10-2012.11
81 (110)
4
-
GOLF VI (5K1)
2.0 TDI 4motion
Diesel
Hatchback
1968
2009.05-2012.11
103 (140)
4
-
GOLF VI Convertible (517)
2.0 TDI
Diesel
Convertible
1968
2011.11-2016.05
103 (140)
4
-
GOLF VI Convertible (517)
2.0 TDI
Diesel
Convertible
1968
2013.11-2016.05
81 (110)
4
-
GOLF VI Convertible (517)
2.0 TDI
Diesel
Convertible
1968
2013.11-2016.05
110 (150)
4
-
GOLF VI Van (5K1_)
2.0 TDi
Diesel
Hatchback Van
1968
2010.05-2012.11
125 (170)
4
-
GOLF VI Van (5K1_)
2.0 TDi
Diesel
Hatchback Van
1968
2009.09-2012.11
103 (140)
4
-
GOLF VI Variant (AJ5)
2.0 TDI
Diesel
Estate
1968
2009.07-2013.07
103 (140)
4
-
GOLF VI Variant (AJ5)
2.0 TDI
Diesel
Estate
1968
2010.01-2013.07
81 (110)
4
-
GOLF VII (5G1, BQ1, BE1, BE2)
1.6 TDI
Diesel
Hatchback
1598
2013.01-2017.03
81 (110)
4
-
GOLF VII (5G1, BQ1, BE1, BE2)
1.6 TDI
Diesel
Hatchback
1598
2016.11-2020.08
85 (115)
4
-
GOLF VII (5G1, BQ1, BE1, BE2)
1.6 TDI
Diesel
Hatchback
1598
2012.08-2017.03
77 (105)
4
-
GOLF VII (5G1, BQ1, BE1, BE2)
1.6 TDI
Diesel
Hatchback
1598
2013.04-2018.07
66 (90)
4
-
GOLF VII (5G1, BQ1, BE1, BE2)
1.6 TDI 4motion
Diesel
Hatchback
1598
2012.11-2017.03
77 (105)
4
-
GOLF VII (5G1, BQ1, BE1, BE2)
1.6 TDI 4motion
Diesel
Hatchback
1598
2013.01-2017.03
81 (110)
4
-
GOLF VII (5G1, BQ1, BE1, BE2)
2.0 GTD
Diesel
Hatchback
1968
2013.04-2020.08
135 (184)
4
-
GOLF VII (5G1, BQ1, BE1, BE2)
2.0 GTI
Petrol Engine
Hatchback
1984
2013.04-2020.08
169 (230)
4
-
GOLF VII (5G1, BQ1, BE1, BE2)
2.0 R 360S 4motion
Petrol Engine
Hatchback
1984
2016.09-2017.03
265 (360)
4
-
GOLF VII (5G1, BQ1, BE1, BE2)
2.0 R 4motion
Petrol Engine
Hatchback
1984
2013.11-2017.03
206 (280)
4
-
GOLF VII (5G1, BQ1, BE1, BE2)
2.0 R 4motion
Petrol Engine
Hatchback
1984
2013.11-2020.08
221 (300)
4
-
GOLF VII (5G1, BQ1, BE1, BE2)
2.0 TDI
Diesel
Hatchback
1968
2012.08-2020.08
105 (143)
4
-
GOLF VII (5G1, BQ1, BE1, BE2)
2.0 TDI
Diesel
Hatchback
1968
2012.11-2020.08
81 (110)
4
-
GOLF VII (5G1, BQ1, BE1, BE2)
2.0 TDI
Diesel
Hatchback
1968
2012.08-2020.08
110 (150)
4
-
GOLF VII (5G1, BQ1, BE1, BE2)
2.0 TDI 4motion
Diesel
Hatchback
1968
2012.11-2020.08
110 (150)
4
-
GOLF VII Van (5G1)
1.6 TDi BlueMotion
Diesel
Hatchback Van
1598
2013.11-2017.03
81 (110)
4
-
GOLF VII Van (5G1)
1.6 TDi BlueMotion
Diesel
Hatchback Van
1598
2013.04-2014.11
66 (90)
4
-
GOLF VII Van (5G1)
1.6 TDi BlueMotion
Diesel
Hatchback Van
1598
2012.08-2017.03
77 (105)
4
-
GOLF VII Van (5G1)
2.0 GTD
Diesel
Hatchback Van
1968
2013.04-2017.03
135 (184)
4
-
GOLF VII Van (5G1)
2.0 TDi BlueMotion
Diesel
Hatchback Van
1968
2013.05-2014.05
110 (150)
4
-
GOLF VII Van (5G1)
2.0 TDi BlueMotion 4motion
Diesel
Hatchback Van
1968
2013.05-2014.05
110 (150)
4
-
GOLF VII Variant (BA5, BV5)
1.6 TDI
Diesel
Estate
1598
2013.05-2017.03
81 (110)
4
-
GOLF VII Variant (BA5, BV5)
1.6 TDI
Diesel
Estate
1598
2013.05-2018.07
66 (90)
4
-
GOLF VII Variant (BA5, BV5)
1.6 TDI
Diesel
Estate
1598
2016.11-2020.08
85 (115)
4
-
GOLF VII Variant (BA5, BV5)
1.6 TDI
Diesel
Estate
1598
2013.05-2017.03
77 (105)
4
-
GOLF VII Variant (BA5, BV5)
1.6 TDI 4motion
Diesel
Estate
1598
2013.05-2017.03
77 (105)
4
-
GOLF VII Variant (BA5, BV5)
1.6 TDI 4motion
Diesel
Estate
1598
2013.05-2017.03
81 (110)
4
-
GOLF VII Variant (BA5, BV5)
2.0 GTD
Diesel
Estate
1968
2015.01-2019.07
135 (184)
4
-
GOLF VII Variant (BA5, BV5)
2.0 R 360S 4motion
Petrol Engine
Estate
1984
2016.09-2017.03
265 (360)
4
-
GOLF VII Variant (BA5, BV5)
2.0 R 4motion
Petrol Engine
Estate
1984
2015.03-2017.03
206 (280)
4
-
GOLF VII Variant (BA5, BV5)
2.0 R 4motion
Petrol Engine
Estate
1984
2015.03-2020.08
221 (300)
4
-
GOLF VII Variant (BA5, BV5)
2.0 TDI
Diesel
Estate
1968
2013.04-.
110 (150)
4
-
GOLF VII Variant (BA5, BV5)
2.0 TDI
Diesel
Estate
1968
2013.05-2020.08
81 (110)
4
-
GOLF VII Variant (BA5, BV5)
2.0 TDI 4motion
Diesel
Estate
1968
2013.04-2020.08
110 (150)
4
-
GOLF VIII (CD1)
2.0 TDI
Diesel
Hatchback
1968
2019.08-.
110 (150)
4
-
GOLF VIII Variant (CG5)
2.0 TDI
Diesel
Estate
1968
2020.08-.
110 (150)
4
-
GRAND CALIFORNIA Camper (SCB, SCC)
2.0 TDI
Diesel
Bus
1968
2019.04-.
103 (140)
4
-
GRAND CALIFORNIA Camper (SCB, SCC)
2.0 TDI
Diesel
Bus
1968
2019.04-.
130 (177)
4
-
GRAND CALIFORNIA Camper (SCB, SCC)
2.0 TDI 4motion
Diesel
Bus
1968
2019.04-.
130 (177)
4
-
GRAND CALIFORNIA Camper (SCB, SCC)
2.0 TDI 4motion
Diesel
Bus
1968
2019.04-.
103 (140)
4
-
JETTA IV (162, 163, AV3, AV2)
2.0 TDI
Diesel
Saloon
1968
2011.02-.
103 (140)
4
-
JETTA IV (162, 163, AV3, AV2)
2.0 TDI
Diesel
Saloon
1968
2010.10-.
81 (110)
4
-
JETTA IV (162, 163, AV3, AV2)
2.0 TDI
Diesel
Saloon
1968
2014.07-.
110 (150)
4
-
MULTIVAN V (7HM, 7HN, 7HF, 7EF, 7EM, 7EN)
2.0 TDI
Diesel
Bus
1968
2009.09-2015.08
62 (84)
4
-
MULTIVAN V (7HM, 7HN, 7HF, 7EF, 7EM, 7EN)
2.0 TDI
Diesel
Bus
1968
2009.09-2015.08
75 (102)
4
-
MULTIVAN VI (SGF, SGM, SGN, SHM, SHN)
2.0 TDI
Diesel
Bus
1968
2016.05-2019.08
84 (114)
4
-
MULTIVAN VI (SGF, SGM, SGN, SHM, SHN)
2.0 TDI
Diesel
Bus
1968
2015.04-.
110 (150)
4
-
MULTIVAN VI (SGF, SGM, SGN, SHM, SHN)
2.0 TDI
Diesel
Bus
1968
2015.04-2019.07
62 (84)
4
-
MULTIVAN VI (SGF, SGM, SGN, SHM, SHN)
2.0 TDI
Diesel
Bus
1968
2015.04-2019.12
75 (102)
4
-
MULTIVAN VI (SGF, SGM, SGN, SHM, SHN)
2.0 TDI
Diesel
Bus
1968
2018.11-.
146 (199)
4
-
MULTIVAN VI (SGF, SGM, SGN, SHM, SHN)
2.0 TDI
Diesel
Bus
1968
2015.06-.
150 (204)
4
-
MULTIVAN VI (SGF, SGM, SGN, SHM, SHN)
2.0 TDI 4motion
Diesel
Bus
1968
2015.08-.
110 (150)
4
-
MULTIVAN VI (SGF, SGM, SGN, SHM, SHN)
2.0 TDI 4motion
Diesel
Bus
1968
2018.12-.
146 (199)
4
-
MULTIVAN VI (SGF, SGM, SGN, SHM, SHN)
2.0 TDI 4motion
Diesel
Bus
1968
2015.06-.
150 (204)
4
-
PASSAT ALLTRACK B7 (365)
2.0 TDI
Diesel
Estate
1968
2012.01-2014.12
103 (140)
4
-
PASSAT ALLTRACK B7 (365)
2.0 TDI 4motion
Diesel
Estate
1968
2013.01-2014.12
130 (177)
4
-
PASSAT ALLTRACK B7 (365)
2.0 TDI 4motion
Diesel
Estate
1968
2012.01-2014.12
125 (170)
4
-
PASSAT ALLTRACK B7 (365)
2.0 TDI 4motion
Diesel
Estate
1968
2012.01-2014.12
103 (140)
4
-
PASSAT ALLTRACK B8 Variant (3G5, CB5)
2.0 TDI 4motion
Diesel
Estate
1968
2015.05-.
176 (240)
4
-
PASSAT ALLTRACK B8 Variant (3G5, CB5)
2.0 TDI 4motion
Diesel
Estate
1968
2015.05-2017.11
110 (150)
4
-
PASSAT ALLTRACK B8 Variant (3G5, CB5)
2.0 TDI 4motion
Diesel
Estate
1968
2015.07-.
135 (184)
4
-
PASSAT ALLTRACK B8 Variant (3G5, CB5)
2.0 TDI 4motion
Diesel
Estate
1968
2015.05-.
140 (190)
4
-
PASSAT B7 (362)
2.0 TDI
Diesel
Saloon
1968
2010.08-2014.12
103 (140)
4
-
PASSAT B7 (362)
2.0 TDI
Diesel
Saloon
1968
2012.12-2014.12
130 (177)
4
-
PASSAT B7 (362)
2.0 TDI
Diesel
Saloon
1968
2010.08-2014.12
100 (136)
4
-
PASSAT B7 (362)
2.0 TDI
Diesel
Saloon
1968
2010.08-2014.12
125 (170)
4
-
PASSAT B7 (362)
2.0 TDI 4motion
Diesel
Saloon
1968
2010.08-2013.01
125 (170)
4
-
PASSAT B7 (362)
2.0 TDI 4motion
Diesel
Saloon
1968
2010.08-2014.12
103 (140)
4
-
PASSAT B7 (362)
2.0 TDI 4motion
Diesel
Saloon
1968
2013.01-2014.12
130 (177)
4
-
PASSAT B7 (A32, A33)
2.0 TDI
Diesel
Saloon
1968
2014.06-.
110 (150)
4
-
PASSAT B7 (A32, A33)
2.0 TDI
Diesel
Saloon
1968
2011.04-2015.06
103 (140)
4
-
PASSAT B7 Estate Van (365)
2.0 TDi BlueMotion
Diesel
Estate Van
1968
2010.08-2014.12
125 (170)
4
-
PASSAT B7 Estate Van (365)
2.0 TDi BlueMotion
Diesel
Estate Van
1968
2010.08-2014.12
103 (140)
4
-
PASSAT B7 Variant (365)
2.0 TDI
Diesel
Estate
1968
2012.12-2014.12
130 (177)
4
-
PASSAT B7 Variant (365)
2.0 TDI
Diesel
Estate
1968
2010.08-2014.12
125 (170)
4
-
PASSAT B7 Variant (365)
2.0 TDI
Diesel
Estate
1968
2010.08-2014.12
103 (140)
4
-
PASSAT B7 Variant (365)
2.0 TDI
Diesel
Estate
1968
2010.08-2014.12
100 (136)
4
-
PASSAT B7 Variant (365)
2.0 TDI 4motion
Diesel
Estate
1968
2010.08-2014.12
103 (140)
4
-
PASSAT B7 Variant (365)
2.0 TDI 4motion
Diesel
Estate
1968
2013.01-2014.12
130 (177)
4
-
PASSAT B7 Variant (365)
2.0 TDI 4motion
Diesel
Estate
1968
2010.08-2013.01
125 (170)
4
-
PASSAT B8 (3G2, CB2)
1.6 TDI
Diesel
Saloon
1598
2014.08-.
88 (120)
4
-
PASSAT B8 (3G2, CB2)
2.0 TDI
Diesel
Saloon
1968
2015.07-.
135 (184)
4
-
PASSAT B8 (3G2, CB2)
2.0 TDI
Diesel
Saloon
1968
2014.11-.
140 (190)
4
-
PASSAT B8 (3G2, CB2)
2.0 TDI
Diesel
Saloon
1968
2014.11-.
110 (150)
4
-
PASSAT B8 (3G2, CB2)
2.0 TDI
Diesel
Saloon
1968
2016.01-2017.05
81 (110)
4
-
PASSAT B8 (3G2, CB2)
2.0 TDI 4motion
Diesel
Saloon
1968
2014.08-.
176 (240)
4
-
PASSAT B8 (3G2, CB2)
2.0 TDI 4motion
Diesel
Saloon
1968
2014.08-.
110 (150)
4
-
PASSAT B8 (3G2, CB2)
2.0 TDI 4motion
Diesel
Saloon
1968
2014.11-.
140 (190)
4
-
PASSAT B8 Variant (3G5, CB5)
1.6 TDI
Diesel
Estate
1598
2014.08-.
88 (120)
4
-
PASSAT B8 Variant (3G5, CB5)
2.0 TDI
Diesel
Estate
1968
2014.11-.
140 (190)
4
-
PASSAT B8 Variant (3G5, CB5)
2.0 TDI
Diesel
Estate
1968
2015.07-.
135 (184)
4
-
PASSAT B8 Variant (3G5, CB5)
2.0 TDI
Diesel
Estate
1968
2014.11-.
110 (150)
4
-
PASSAT B8 Variant (3G5, CB5)
2.0 TDI
Diesel
Estate
1968
2016.01-2018.07
81 (110)
4
-
PASSAT B8 Variant (3G5, CB5)
2.0 TDI 4motion
Diesel
Estate
1968
2014.08-.
110 (150)
4
-
PASSAT B8 Variant (3G5, CB5)
2.0 TDI 4motion
Diesel
Estate
1968
2014.08-.
176 (240)
4
-
PASSAT B8 Variant (3G5, CB5)
2.0 TDI 4motion
Diesel
Estate
1968
2014.11-.
140 (190)
4
-
PASSAT CC B6 (357)
2.0 TDI
Diesel
Coupe
1968
2008.06-2012.01
125 (170)
4
-
PASSAT CC B6 (357)
2.0 TDI
Diesel
Coupe
1968
2008.06-2012.01
103 (140)
4
-
PASSAT CC B6 (357)
2.0 TDI
Diesel
Coupe
1968
2008.06-2011.05
100 (136)
4
-
PASSAT CC B6 (357)
2.0 TDI 4motion
Diesel
Coupe
1968
2009.11-2012.01
125 (170)
4
-
PASSAT CC B6 (357)
2.0 TDI 4motion
Diesel
Coupe
1968
2009.08-2012.01
103 (140)
4
-
POLO VI (AW1, BZ1, AE1)
1.6 TDI
Diesel
Hatchback
1598
2017.11-2019.07
59 (80)
4
-
POLO VI (AW1, BZ1, AE1)
1.6 TDI
Diesel
Hatchback
1598
2017.11-2021.02
70 (95)
4
-
SCIROCCO III (137, 138)
2.0 TDI
Diesel
Coupe
1968
2013.01-2017.11
130 (177)
4
-
SCIROCCO III (137, 138)
2.0 TDI
Diesel
Coupe
1968
2014.05-2017.11
135 (184)
4
-
SCIROCCO III (137, 138)
2.0 TDI
Diesel
Coupe
1968
2008.08-2017.11
103 (140)
4
-
SCIROCCO III (137, 138)
2.0 TDI
Diesel
Coupe
1968
2009.05-2017.11
125 (170)
4
-
SCIROCCO III (137, 138)
2.0 TDI
Diesel
Coupe
1968
2013.11-2017.11
110 (150)
4
-
SCIROCCO Van (137)
2.0 TDi
Diesel
Hatchback Van
1968
2009.05-2014.05
125 (170)
4
-
SCIROCCO Van (137)
2.0 TDi
Diesel
Hatchback Van
1968
2008.08-2014.05
103 (140)
4
-
SHARAN (7N1, 7N2)
2.0 TDI
Diesel
MPV
1968
2011.05-2019.07
85 (115)
4
-
SHARAN (7N1, 7N2)
2.0 TDI
Diesel
MPV
1968
2013.01-.
130 (177)
4
-
SHARAN (7N1, 7N2)
2.0 TDI
Diesel
MPV
1968
2015.05-2020.10
110 (150)
4
-
SHARAN (7N1, 7N2)
2.0 TDI
Diesel
MPV
1968
2010.08-.
125 (170)
4
-
SHARAN (7N1, 7N2)
2.0 TDI
Diesel
MPV
1968
2010.05-.
100 (136)
4
-
SHARAN (7N1, 7N2)
2.0 TDI
Diesel
MPV
1968
2010.05-.
103 (140)
4
-
SHARAN (7N1, 7N2)
2.0 TDI
Diesel
MPV
1968
2015.05-.
135 (184)
4
-
SHARAN (7N1, 7N2)
2.0 TDI 4motion
Diesel
MPV
1968
2018.11-.
130 (177)
4
-
SHARAN (7N1, 7N2)
2.0 TDI 4motion
Diesel
MPV
1968
2011.05-2015.11
103 (140)
4
-
SHARAN (7N1, 7N2)
2.0 TDI 4motion
Diesel
MPV
1968
2015.05-.
110 (150)
4
-
SHARAN (7N1, 7N2)
2.0 TDI 4motion
Diesel
MPV
1968
2016.05-.
135 (184)
4
-
SHARAN VAN (7N1, 7N2)
2.0 TDI
Diesel
Box Body/MPV
1968
2010.05-2015.11
103 (140)
4
-
SHARAN VAN (7N1, 7N2)
2.0 TDI
Diesel
Box Body/MPV
1968
2010.08-2013.01
125 (170)
4
-
SHARAN VAN (7N1, 7N2)
2.0 TDI
Diesel
Box Body/MPV
1968
2010.05-2011.05
100 (136)
4
-
T-CROSS (C11)
1.6 TDi
Diesel
SUV
1598
2018.12-.
70 (95)
4
-
T-ROC (A11, D11)
1.6 TDI
Diesel
SUV
1598
2018.03-2021.06
85 (115)
4
-
T-ROC (A11, D11)
2.0 TDI
Diesel
SUV
1968
2018.03-.
110 (150)
4
-
T-ROC (A11, D11)
2.0 TDI 4motion
Diesel
SUV
1968
2017.09-.
110 (150)
4
-
T-ROC (A11, D11)
2.0 TDI 4motion
Diesel
SUV
1968
2019.07-2021.06
140 (190)
4
-
TIGUAN (5N_)
2.0 TDI
Diesel
SUV
1968
2010.05-2018.07
81 (110)
4
-
TIGUAN (5N_)
2.0 TDI
Diesel
SUV
1968
2015.05-2018.07
110 (150)
4
-
TIGUAN (5N_)
2.0 TDI
Diesel
SUV
1968
2008.03-2018.07
103 (140)
4
-
TIGUAN (5N_)
2.0 TDI 4motion
Diesel
SUV
1968
2007.09-2018.07
125 (170)
4
-
TIGUAN (5N_)
2.0 TDI 4motion
Diesel
SUV
1968
2007.11-2018.07
100 (136)
4
-
TIGUAN (5N_)
2.0 TDI 4motion
Diesel
SUV
1968
2015.05-2018.07
135 (184)
4
-
TIGUAN (5N_)
2.0 TDI 4motion
Diesel
SUV
1968
2015.05-2018.07
110 (150)
4
-
TIGUAN (5N_)
2.0 TDI 4motion
Diesel
SUV
1968
2012.11-2018.07
130 (177)
4
-
TIGUAN (5N_)
2.0 TDI 4motion
Diesel
SUV
1968
2007.09-2018.07
103 (140)
4
-
TIGUAN (AD1, AX1)
1.6 TDI
Diesel
SUV
1598
2016.05-2020.06
85 (115)
4
-
TIGUAN (AD1, AX1)
2.0 TDI
Diesel
SUV
1968
2016.01-.
110 (150)
4
-
TIGUAN (AD1, AX1)
2.0 TDI
Diesel
SUV
1968
2016.05-2019.07
85 (115)
4
-
TIGUAN (AD1, AX1)
2.0 TDI
Diesel
SUV
1968
2016.08-2020.07
81 (110)
4
-
TIGUAN (AD1, AX1)
2.0 TDI 4motion
Diesel
SUV
1968
2016.06-2020.07
105 (143)
4
-
TIGUAN (AD1, AX1)
2.0 TDI 4motion
Diesel
SUV
1968
2016.08-2020.07
130 (177)
4
-
TIGUAN (AD1, AX1)
2.0 TDI 4motion
Diesel
SUV
1968
2016.05-2020.07
176 (240)
4
-
TIGUAN (AD1, AX1)
2.0 TDI 4motion
Diesel
SUV
1968
2016.04-2020.07
140 (190)
4
-
TIGUAN (AD1, AX1)
2.0 TDI 4motion
Diesel
SUV
1968
2016.01-2020.07
110 (150)
4
-
TIGUAN ALLSPACE (BW2, BJ2)
2.0 TDI
Diesel
SUV
1968
2017.06-.
110 (150)
4
-
TIGUAN ALLSPACE (BW2, BJ2)
2.0 TDI 4motion
Diesel
SUV
1968
2017.06-2021.07
140 (190)
4
-
TIGUAN ALLSPACE (BW2, BJ2)
2.0 TDI 4motion
Diesel
SUV
1968
2017.06-2020.09
176 (240)
4
-
TIGUAN ALLSPACE (BW2, BJ2)
2.0 TDI 4motion
Diesel
SUV
1968
2017.06-.
110 (150)
4
-
TIGUAN SUV Van (AD1)
TDI BlueMotion
Diesel
SUV Van
1968
2016.01-2020.07
140 (190)
4
-
TIGUAN VAN (5N_)
2.0 TDI (5N1)
Diesel
SUV Van
1968
2010.05-2011.07
81 (110)
4
-
TIGUAN VAN (5N_)
2.0 TDI (5N1, 5N2)
Diesel
SUV Van
1968
2009.11-2018.07
103 (140)
4
-
TIGUAN VAN (5N_)
2.0 TDI 4motion (5N1, 5N2)
Diesel
SUV Van
1968
2010.05-2013.05
125 (170)
4
-
TIGUAN VAN (5N_)
2.0 TDI 4motion (5N1, 5N2)
Diesel
SUV Van
1968
2007.11-2018.07
103 (140)
4
-
TIGUAN VAN (5N_)
2.0 TDI 4motion (5N2)
Diesel
SUV Van
1968
2012.11-2018.07
130 (177)
4
-
TOURAN (1T3)
2.0 TDI
Diesel
MPV
1968
2010.11-2015.05
81 (110)
4
-
TOURAN (1T3)
2.0 TDI
Diesel
MPV
1968
2010.05-2015.05
103 (140)
4
-
TOURAN (5T1)
1.6 TDI
Diesel
MPV
1598
2016.05-.
85 (115)
4
-
TOURAN (5T1)
1.6 TDI
Diesel
MPV
1598
2015.05-2016.05
81 (110)
4
-
TOURAN (5T1)
2.0 TDI
Diesel
MPV
1968
2015.11-2019.07
81 (110)
4
-
TOURAN (5T1)
2.0 TDI
Diesel
MPV
1968
2015.05-.
110 (150)
4
-
TOURAN (5T1)
2.0 TDI
Diesel
MPV
1968
2019.02-.
85 (116)
4
-
TOURAN (5T1)
2.0 TDI
Diesel
MPV
1968
2015.11-2019.07
140 (190)
4
-
TOURAN VAN (1T3)
2.0 TDI
Diesel
Box Body/MPV
1968
2010.05-2015.05
103 (140)
4
-
TOURAN VAN (5T1)
2.0 TDI
Diesel
Box Body/MPV
1968
2020.11-.
110 (150)
4
-
TRANSPORTER V Bus (7HB, 7HJ, 7EB, 7EJ)
2.0 TDI
Diesel
Bus
1968
2009.09-2015.08
75 (102)
4
-
TRANSPORTER V Bus (7HB, 7HJ, 7EB, 7EJ)
2.0 TDI
Diesel
Bus
1968
2009.09-2015.08
62 (84)
4
-
TRANSPORTER V Platform/Chassis (7JD, 7JE, 7JL, 7JY, 7JZ, 7FD
2.0 TDI
Diesel
Platform/Chassis
1968
2009.09-2015.08
62 (84)
4
-
TRANSPORTER V Platform/Chassis (7JD, 7JE, 7JL, 7JY, 7JZ, 7FD
2.0 TDI
Diesel
Platform/Chassis
1968
2009.09-2015.08
75 (102)
4
-
TRANSPORTER V Van (7HA, 7HH, 7EA, 7EH)
2.0 TDI
Diesel
Van
1968
2009.09-2015.08
62 (84)
4
-
TRANSPORTER V Van (7HA, 7HH, 7EA, 7EH)
2.0 TDI
Diesel
Van
1968
2009.09-2015.08
75 (102)
4
-
TRANSPORTER VI / CARAVELLE VI Bus (SGB, SGJ, SHB, SHJ)
2.0 TDI
Diesel
Bus
1968
2015.06-.
150 (204)
4
-
TRANSPORTER VI / CARAVELLE VI Bus (SGB, SGJ, SHB, SHJ)
2.0 TDI
Diesel
Bus
1968
2016.05-2019.08
84 (114)
4
-
TRANSPORTER VI / CARAVELLE VI Bus (SGB, SGJ, SHB, SHJ)
2.0 TDI
Diesel
Bus
1968
2015.04-.
110 (150)
4
-
TRANSPORTER VI / CARAVELLE VI Bus (SGB, SGJ, SHB, SHJ)
2.0 TDI
Diesel
Bus
1968
2015.04-2019.07
62 (84)
4
-
TRANSPORTER VI / CARAVELLE VI Bus (SGB, SGJ, SHB, SHJ)
2.0 TDI
Diesel
Bus
1968
2015.04-2019.12
75 (102)
4
-
TRANSPORTER VI / CARAVELLE VI Bus (SGB, SGJ, SHB, SHJ)
2.0 TDI
Diesel
Bus
1968
2018.11-.
146 (199)
4
-
TRANSPORTER VI / CARAVELLE VI Bus (SGB, SGJ, SHB, SHJ)
2.0 TDI 4motion
Diesel
Bus
1968
2018.08-.
146 (199)
4
-
TRANSPORTER VI / CARAVELLE VI Bus (SGB, SGJ, SHB, SHJ)
2.0 TDI 4motion
Diesel
Bus
1968
2015.08-.
110 (150)
4
-
TRANSPORTER VI / CARAVELLE VI Bus (SGB, SGJ, SHB, SHJ)
2.0 TDI 4motion
Diesel
Bus
1968
2015.06-.
150 (204)
4
-
TRANSPORTER VI Platform/Chassis (SFD, SFE, SFL, SFZ, SJD, SJ
2.0 TDI
Diesel
Platform/Chassis
1968
2016.05-2019.11
84 (114)
4
-
TRANSPORTER VI Platform/Chassis (SFD, SFE, SFL, SFZ, SJD, SJ
2.0 TDI
Diesel
Platform/Chassis
1968
2016.05-2019.11
150 (204)
4
-
TRANSPORTER VI Platform/Chassis (SFD, SFE, SFL, SFZ, SJD, SJ
2.0 TDI
Diesel
Platform/Chassis
1968
2015.04-2019.11
62 (84)
4
-
TRANSPORTER VI Platform/Chassis (SFD, SFE, SFL, SFZ, SJD, SJ
2.0 TDI
Diesel
Platform/Chassis
1968
2019.08-.
146 (199)
4
-
TRANSPORTER VI Platform/Chassis (SFD, SFE, SFL, SFZ, SJD, SJ
2.0 TDI
Diesel
Platform/Chassis
1968
2015.04-2019.11
75 (102)
4
-
TRANSPORTER VI Platform/Chassis (SFD, SFE, SFL, SFZ, SJD, SJ
2.0 TDI
Diesel
Platform/Chassis
1968
2015.08-.
110 (150)
4
-
TRANSPORTER VI Platform/Chassis (SFD, SFE, SFL, SFZ, SJD, SJ
2.0 TDI 4motion
Diesel
Platform/Chassis
1968
2016.05-2019.11
150 (204)
4
-
TRANSPORTER VI Platform/Chassis (SFD, SFE, SFL, SFZ, SJD, SJ
2.0 TDI 4motion
Diesel
Platform/Chassis
1968
2019.08-.
146 (199)
4
-
TRANSPORTER VI Platform/Chassis (SFD, SFE, SFL, SFZ, SJD, SJ
2.0 TDI 4motion
Diesel
Platform/Chassis
1968
2016.05-.
110 (150)
4
-
TRANSPORTER VI Van (SGA, SGH, SHA, SHH)
2.0 TDI
Diesel
Van
1968
2015.04-.
110 (150)
4
-
TRANSPORTER VI Van (SGA, SGH, SHA, SHH)
2.0 TDI
Diesel
Van
1968
2015.04-2019.07
62 (84)
4
-
TRANSPORTER VI Van (SGA, SGH, SHA, SHH)
2.0 TDI
Diesel
Van
1968
2018.08-.
146 (199)
4
-
TRANSPORTER VI Van (SGA, SGH, SHA, SHH)
2.0 TDI
Diesel
Van
1968
2015.04-2019.12
75 (102)
4
-
TRANSPORTER VI Van (SGA, SGH, SHA, SHH)
2.0 TDI
Diesel
Van
1968
2015.06-.
150 (204)
4
-
TRANSPORTER VI Van (SGA, SGH, SHA, SHH)
2.0 TDI
Diesel
Van
1968
2016.05-2019.08
84 (114)
4
-
TRANSPORTER VI Van (SGA, SGH, SHA, SHH)
2.0 TDI 4motion
Diesel
Van
1968
2015.08-.
110 (150)
4
-
TRANSPORTER VI Van (SGA, SGH, SHA, SHH)
2.0 TDI 4motion
Diesel
Van
1968
2015.06-.
150 (204)
4
-
TRANSPORTER VI Van (SGA, SGH, SHA, SHH)
2.0 TDI 4motion
Diesel
Van
1968
2018.08-.
146 (199)
4
-
motor code
fuel
cubic capacity
year
power
cylinders
AUDI...
CAGB
Diesel
1968
.-.
100 (136)
4
CAHB
Diesel
1968
.-.
120 (163)
4
CFFA
Diesel
1968
.-.
100 (136)
4
CGLA
Diesel
1968
.-.
120 (163)
4
CGLC
Diesel
1968
.-.
130 (177)
4
CGLD
Diesel
1968
.-.
120 (163)
4
CGLE
Diesel
1968
.-.
100 (136)
4
CJCA
Diesel
1968
.-.
105 (143)
4
CJCB
Diesel
1968
.-.
100 (136)
4
CJCD
Diesel
1968
.-.
110 (150)
4
CLHA
Diesel
1598
.-.
77 (105)
4
CLJA
Diesel
1968
.-.
103 (140)
4
CLLB
Diesel
1968
.-.
130 (177)
4
CMFA
Diesel
1968
.-.
105 (143)
4
CMFB
Diesel
1968
.-.
110 (150)
4
CNHA
Diesel
1968
.-.
140 (190)
4
CNHC
Diesel
1968
.-.
120 (163)
4
CRBC
Diesel
1968
.-.
110 (150)
4
CRBD
Diesel
1968
.-.
100 (136)
4
CRFA
Diesel
1968
.-.
81 (110)
4
CRFC
Diesel
1968
.-.
105 (143)
4
CRKB
Diesel
1598
.-.
81 (110)
4
CRLB
Diesel
1968
.-.
110 (150)
4
CRLC
Diesel
1968
.-.
100 (136)
4
CRUA
Diesel
1968
.-.
110 (150)
4
CSUA
Diesel
1968
.-.
110 (150)
4
CSUB
Diesel
1968
.-.
100 (136)
4
CSUD
Diesel
1968
.-.
110 (150)
4
CSUE
Diesel
1968
.-.
100 (136)
4
CUNA
Diesel
1968
.-.
135 (184)
4
CUVB
Diesel
1968
.-.
100 (136)
4
CUVC
Diesel
1968
.-.
110 (150)
4
CUVD
Diesel
1968
.-.
88 (120)
4
CUWA
Diesel
1968
.-.
135 (184)
4
CXMA
Diesel
1598
.-.
85 (115)
4
CXXB
Diesel
1598
.-.
81 (110)
4
CYLA
Diesel
1968
.-.
135 (184)
4
CZHA
Diesel
1968
.-.
110 (150)
4
CZJA
Diesel
1968
.-.
140 (190)
4
DBBA
Diesel
1968
.-.
110 (150)
4
DBGA
Diesel
1968
.-.
110 (150)
4
DBKA
Diesel
1598
.-.
81 (110)
4
DCYA
Diesel
1968
.-.
110 (150)
4
DDCA
Diesel
1968
.-.
100 (136)
4
DDCB
Diesel
1968
.-.
110 (150)
4
DDDA
Diesel
1968
.-.
140 (190)
4
DDYA
Diesel
1598
.-.
85 (115)
4
DEJA
Diesel
1968
.-.
110 (150)
4
DEJB
Diesel
1968
.-.
81 (110)
4
DESA
Diesel
1968
.-.
140 (190)
4
DETA
Diesel
1968
.-.
140 (190)
4
DETB
Diesel
1968
.-.
120 (163)
4
DEUA
Diesel
1968
.-.
110 (150)
4
DEUB
Diesel
1968
.-.
100 (136)
4
DEUC
Diesel
1968
.-.
90 (122)
4
DFGA
Diesel
1968
.-.
110 (150)
4
DFHA
Diesel
1968
.-.
140 (190)
4
DFTA
Diesel
1968
.-.
110 (150)
4
DFTB
Diesel
1968
.-.
100 (136)
4
DFTC
Diesel
1968
.-.
88 (120)
4
DFUA
Diesel
1968
.-.
135 (184)
4
DFVA
Diesel
1968
.-.
140 (190)
4
DGCA
Diesel
1968
.-.
135 (184)
4
DGTE
Diesel
1598
.-.
85 (115)
4
DJGA
Diesel
1968
.-.
135 (184)
4
DTTC
Diesel
1968
.-.
110 (150)
4
SEAT...
CKFC
Diesel
1968
.-.
110 (150)
4
CLHA
Diesel
1598
.-.
77 (105)
4
CLHB
Diesel
1598
.-.
66 (90)
4
CRBC
Diesel
1968
.-.
110 (150)
4
CRKB
Diesel
1598
.-.
81 (110)
4
CRLB
Diesel
1968
.-.
110 (150)
4
CRLD
Diesel
1968
.-.
81 (110)
4
CRMB
Diesel
1968
.-.
110 (150)
4
CRVA
Diesel
1968
.-.
81 (110)
4
CRVC
Diesel
1968
.-.
105 (143)
4
CUNA
Diesel
1968
.-.
135 (184)
4
CUPA
Diesel
1968
.-.
135 (184)
4
CUVA
Diesel
1968
.-.
85 (115)
4
CUVC
Diesel
1968
.-.
110 (150)
4
CUWA
Diesel
1968
.-.
135 (184)
4
CXMA
Diesel
1598
.-.
85 (115)
4
CXXA
Diesel
1598
.-.
66 (90)
4
CXXB
Diesel
1598
.-.
81 (110)
4
DBKA
Diesel
1598
.-.
81 (110)
4
DCYA
Diesel
1968
.-.
110 (150)
4
DDYA
Diesel
1598
.-.
85 (115)
4
DDYB
Diesel
1598
.-.
66 (90)
4
DFFA
Diesel
1968
.-.
110 (150)
4
DFGA
Diesel
1968
.-.
110 (150)
4
DFHA
Diesel
1968
.-.
140 (190)
4
DFLA
Diesel
1968
2015.07-.
110 (150)
4
DFLD
Diesel
1968
.-.
85 (115)
4
DFMA
Diesel
1968
2015.07-.
135 (184)
4
DGTA
Diesel
1598
.-.
85 (115)
4
DGTC
Diesel
1598
.-.
59 (80)
4
DGTD
Diesel
1598
.-.
70 (95)
4
DGTE
Diesel
1598
.-.
85 (115)
4
DJGA
Diesel
1968
.-.
135 (184)
4
DLTA
Diesel
1968
.-.
110 (150)
4
DLUB
Diesel
1968
.-.
130 (177)
4
DTTC
Diesel
1968
.-.
110 (150)
4
SKODA...
CAYB
Diesel
1598
.-.
66 (90)
4
CAYC
Diesel
1598
.-.
77 (105)
4
CFHA
Diesel
1968
.-.
81 (110)
4
CFHF
Diesel
1968
.-.
81 (110)
4
CKFB
Diesel
1968
.-.
105 (143)
4
CKFC
Diesel
1968
.-.
110 (150)
4
CLCA
Diesel
1968
.-.
81 (110)
4
CLHA
Diesel
1598
.-.
77 (105)
4
CLHB
Diesel
1598
.-.
66 (90)
4
CLNA
Diesel
1598
.-.
77 (105)
4
CRGA
Diesel
1968
.-.
130 (177)
4
CRKA
Diesel
1598
.-.
66 (90)
4
CRKB
Diesel
1598
.-.
81 (110)
4
CRLB
Diesel
1968
.-.
110 (150)
4
CRMB
Diesel
1968
.-.
110 (150)
4
CRVC
Diesel
1968
.-.
105 (143)
4
CUAA
Diesel
1968
.-.
176 (240)
4
CUNA
Diesel
1968
.-.
135 (184)
4
CUPA
Diesel
1968
.-.
135 (184)
4
CUUA
Diesel
1968
.-.
81 (110)
4
CUUB
Diesel
1968
.-.
110 (150)
4
CXMA
Diesel
1598
.-.
85 (115)
4
CXXA
Diesel
1598
.-.
66 (90)
4
CXXB
Diesel
1598
.-.
81 (110)
4
CYKA
Diesel
1968
.-.
110 (150)
4
DBGC
Diesel
1968
.-.
110 (150)
4
DBKA
Diesel
1598
.-.
81 (110)
4
DCXA
Diesel
1598
.-.
88 (120)
4
DCYA
Diesel
1968
.-.
110 (150)
4
DCZA
Diesel
1598
.-.
88 (120)
4
DDAA
Diesel
1968
.-.
140 (190)
4
DDYA
Diesel
1598
.-.
85 (115)
4
DDYB
Diesel
1598
.-.
66 (90)
4
DFCA
Diesel
1968
.-.
140 (190)
4
DFEA
Diesel
1968
.-.
110 (150)
4
DFFA
Diesel
1968
.-.
110 (150)
4
DFGA
Diesel
1968
.-.
110 (150)
4
DFGC
Diesel
1968
.-.
85 (115)
4
DFHA
Diesel
1968
.-.
140 (190)
4
DFSA
Diesel
1968
.-.
81 (110)
4
DFSB
Diesel
1968
.-.
110 (150)
4
DGTA
Diesel
1598
.-.
85 (115)
4
DGTE
Diesel
1598
.-.
85 (115)
4
DJGA
Diesel
1968
.-.
135 (184)
4
DSRA
Diesel
1968
.-.
110 (150)
4
DSRB
Diesel
1968
.-.
110 (150)
4
DTSA
Diesel
1968
.-.
110 (150)
4
DTSB
Diesel
1968
.-.
110 (150)
4
VW...
CAAA
Diesel
1968
.-.
62 (84)
4
CAAB
Diesel
1968
.-.
75 (102)
4
CFFA
Diesel
1968
.-.
100 (136)
4
CFFB
Diesel
1968
.-.
103 (140)
4
CFFD
Diesel
1968
.-.
81 (110)
4
CFGB
Diesel
1968
.-.
125 (170)
4
CFGC
Diesel
1968
.-.
130 (177)
4
CFHC
Diesel
1968
.-.
103 (140)
4
CFHF
Diesel
1968
.-.
81 (110)
4
CJXB
Petrol Engine
1984
.-.
206 (280)
4
CJXC
Petrol Engine
1984
.-.
221-265 (300-360)
4
CKFC
Diesel
1968
.-.
110 (150)
4
CLCA
Diesel
1968
.-.
81 (110)
4
CLCB
Diesel
1968
.-.
103 (140)
4
CLHA
Diesel
1598
.-.
77 (105)
4
CLHB
Diesel
1598
.-.
66 (90)
4
CLLA
Diesel
1968
.-.
125 (170)
4
CRBB
Diesel
1968
.-.
105 (143)
4
CRBC
Diesel
1968
.-.
110 (150)
4
CRFD
Diesel
1968
.-.
105 (143)
4
CRGA
Diesel
1968
.-.
130 (177)
4
CRGB
Diesel
1968
.-.
130 (177)
4
CRKA
Diesel
1598
.-.
66 (90)
4
CRKB
Diesel
1598
.-.
81 (110)
4
CRLB
Diesel
1968
.-.
110 (150)
4
CRLD
Diesel
1968
.-.
81 (110)
4
CRMB
Diesel
1968
.-.
110 (150)
4
CRUA
Diesel
1968
.-.
110 (150)
4
CRVA
Diesel
1968
.-.
81 (110)
4
CRVC
Diesel
1968
.-.
105 (143)
4
CUAA
Diesel
1968
.-.
176 (240)
4
CUNA
Diesel
1968
.-.
135 (184)
4
CUPA
Diesel
1968
.-.
135 (184)
4
CUUA
Diesel
1968
.-.
81 (110)
4
CUUB
Diesel
1968
.-.
110 (150)
4
CUUD
Diesel
1968
.-.
75 (102)
4
CUUE
Diesel
1968
.-.
90 (122)
4
CUUF
Diesel
1968
.-.
55 (75)
4
CUVA
Diesel
1968
2015.05-.
85 (115)
4
CUVC
Diesel
1968
.-.
110 (150)
4
CUVE
Diesel
1968
2015.05-.
81 (110)
4
CUWA
Diesel
1968
.-.
135 (184)
4
CUXA
Diesel
1968
.-.
135 (184)
4
CVCA
Diesel
1968
.-.
110 (150)
4
CXDB
Petrol Engine
1984
.-.
169 (230)
4
CXEB
Diesel
1968
.-.
150 (204)
4
CXEC
Diesel
1968
.-.
146 (199)
4
CXFA
Diesel
1968
.-.
110 (150)
4
CXGA
Diesel
1968
.-.
62 (84)
4
CXGB
Diesel
1968
.-.
75 (102)
4
CXHA
Diesel
1968
.-.
110 (150)
4
CXHB
Diesel
1968
.-.
84 (114)
4
CXXA
Diesel
1598
.-.
66 (90)
4
CXXB
Diesel
1598
.-.
81 (110)
4
CYKB
Diesel
1968
.-.
81 (110)
4
CYKC
Diesel
1968
.-.
81 (110)
4
DASA
Diesel
1968
.-.
90 (122)
4
DASB
Diesel
1968
.-.
103 (140)
4
DASC
Diesel
1968
.-.
80 (109)
4
DAUA
Diesel
1968
.-.
103 (140)
4
DAUB
Diesel
1968
.-.
75 (102)
4
DAVA
Diesel
1968
.-.
130 (177)
4
DAWA
Diesel
1968
.-.
130 (177)
4
DBGA
Diesel
1968
.-.
110 (150)
4
DBGB
Diesel
1968
.-.
81 (110)
4
DBGC
Diesel
1968
.-.
110 (150)
4
DBKA
Diesel
1598
.-.
81 (110)
4
DCXA
Diesel
1598
.-.
88 (120)
4
DCYA
Diesel
1968
.-.
110 (150)
4
DCYB
Diesel
1968
.-.
81 (110)
4
DCZA
Diesel
1598
.-.
88 (120)
4
DDAA
Diesel
1968
.-.
140 (190)
4
DDYA
Diesel
1598
.-.
85 (115)
4
DDYB
Diesel
1598
.-.
66 (90)
4
DEJA
Diesel
1968
.-.
110 (150)
4
DEJB
Diesel
1968
.-.
81 (110)
4
DELA
Diesel
1968
.-.
110 (150)
4
DFCA
Diesel
1968
.-.
140 (190)
4
DFEA
Diesel
1968
.-.
110 (150)
4
DFEB
Diesel
1968
.-.
81 (110)
4
DFFA
Diesel
1968
.-.
110 (150)
4
DFGA
Diesel
1968
.-.
110 (150)
4
DFGB
Diesel
1968
.-.
81 (110)
4
DFGC
Diesel
1968
.-.
85 (115)
4
DFHA
Diesel
1968
.-.
140 (190)
4
DFLA
Diesel
1968
2015.07-.
110 (150)
4
DFLD
Diesel
1968
2015.07-.
85 (115)
4
DFMA
Diesel
1968
2015.07-.
135 (184)
4
DFSB
Diesel
1968
.-.
110 (150)
4
DFSC
Diesel
1968
.-.
55 (75)
4
DFSD
Diesel
1968
.-.
75 (102)
4
DFSE
Diesel
1968
.-.
90 (122)
4
DFSF
Diesel
1968
.-.
55 (75)
4
DGCA
Diesel
1968
.-.
135 (184)
4
DGDA
Diesel
1598
.-.
85 (115)
4
DGDB
Diesel
1598
.-.
85 (115)
4
DGMA
Diesel
1968
.-.
110 (150)
4
DGTC
Diesel
1598
.-.
59 (80)
4
DGTD
Diesel
1598
.-.
70 (95)
4
DGTE
Diesel
1598
.-.
85 (115)
4
DJGA
Diesel
1968
.-.
135 (184)
4
DKFA
Petrol Engine
1984
.-.
170 (231)
4
DLTA
Diesel
1968
.-.
110 (150)
4
DLTC
Diesel
1968
.-.
85 (115)
4
DLUB
Diesel
1968
.-.
130 (177)
4
DMZA
Diesel
1968
.-.
150 (204)
4
DNAA
Diesel
1968
.-.
110 (150)
4
DSRA
Diesel
1968
.-.
110 (150)
4
DSRB
Diesel
1968
.-.
110 (150)
4
DTSA
Diesel
1968
.-.
110 (150)
4
DTSB
Diesel
1968
.-.
110 (150)
4
customers who bought this product also bought:
Water Pump, engine cooling
OE-No.
GATES:
WP0153
MAHLE:
CP 623 000P
VAG:
04L 121 011
04L 121 011 E
04L 121 011 EX
04L 121 011 H
04L 121 011 HX
04L 121 011 L
04L 121 011 M
04L 121 011 N
04L 121 011 V
04L 121 011 X

TRUCKTEC part number: 07.19.261