Here you can inquire your individual shop login.
Please login to see your individual prices and our avaliability.
Compressor, compressed air system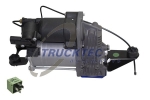 TRUCKTEC part number: 08.30.952
Amount per packaging unit: 1
Date added: 2023-06-06 22:28:08 | Date last modified: 2023-06-06 22:28:08
Please register or login to see prices and availability.
Comparison numbers:
OE-No.
BILSTEIN
10-256503

BMW
37 10 6 793 778
37 20 6 792 855

model
product line
fuel
body
cubic capacity
year
power
cylinders
BMW
5 Touring (E61)
520 d
Diesel
Estate
1995
2005.09-2007.02
110 (150)
4
5 Touring (E61)
520 d
Diesel
Estate
1995
2005.04-2010.05
120 (163)
4
5 Touring (E61)
520 d
Diesel
Estate
1995
2007.09-2010.05
130 (177)
4
5 Touring (E61)
523 i
Petrol Engine
Estate
2497
2004.10-2007.02
130 (177)
6
5 Touring (E61)
523 i
Petrol Engine
Estate
2497
2007.03-2010.01
140 (190)
6
5 Touring (E61)
525 d
Diesel
Estate
2497
2004.03-2007.03
120 (163)
6
5 Touring (E61)
525 d
Diesel
Estate
2497
2004.03-2007.03
130 (177)
6
5 Touring (E61)
525 d
Diesel
Estate
2993
2007.03-2010.05
145 (197)
6
5 Touring (E61)
525 i
Petrol Engine
Estate
2497
2005.03-2010.05
160 (218)
6
5 Touring (E61)
525 i
Petrol Engine
Estate
2494
2004.06-2010.12
141 (192)
6
5 Touring (E61)
525 xi
Petrol Engine
Estate
2996
2007.01-2010.12
160 (218)
6
5 Touring (E61)
530 d
Diesel
Estate
2993
2007.02-2010.05
173 (235)
6
5 Touring (E61)
530 d
Diesel
Estate
2993
2005.02-2007.02
170 (231)
6
5 Touring (E61)
530 d
Diesel
Estate
2993
2004.03-2005.09
160 (218)
6
5 Touring (E61)
530 d
Diesel
Estate
2993
2004.03-2010.05
155 (211)
6
5 Touring (E61)
530 d xDrive
Diesel
Estate
2993
2007.09-2010.05
173 (235)
6
5 Touring (E61)
530 i
Petrol Engine
Estate
2996
2007.01-2010.12
200 (272)
6
5 Touring (E61)
530 i
Petrol Engine
Estate
2996
2004.09-2007.02
190 (258)
6
5 Touring (E61)
530 i xDrive
Petrol Engine
Estate
2996
2008.09-2010.05
200 (272)
6
5 Touring (E61)
530 xd
Diesel
Estate
2993
2007.03-2007.08
173 (235)
6
5 Touring (E61)
530 xd
Diesel
Estate
2993
2005.02-2007.02
170 (231)
6
5 Touring (E61)
530 xi
Petrol Engine
Estate
2996
2005.04-2007.02
190 (258)
6
5 Touring (E61)
530 xi
Petrol Engine
Estate
2996
2007.03-2010.05
200 (272)
6
5 Touring (E61)
535 d
Diesel
Estate
2993
2007.01-2010.12
210 (286)
6
5 Touring (E61)
535 d
Diesel
Estate
2993
2004.09-2010.12
200 (272)
6
5 Touring (E61)
545 i
Petrol Engine
Estate
4398
2004.06-2010.12
245 (333)
8
5 Touring (E61)
550 i
Petrol Engine
Estate
4799
2005.07-2010.12
270 (367)
8