Here you can inquire your individual shop login.
Please login to see your individual prices and our avaliability.
Compressor, compressed air system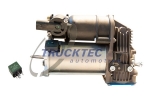 TRUCKTEC part number: 02.30.140
Amount per packaging unit: 1
Date added: 2021-05-12 07:28:08 | Date last modified: 2021-05-12 07:28:08
Please register or login to see prices and availability.
Comparison numbers:
OE-No.
BILSTEIN
10-255612

MERCEDES-BENZ
164 320 0304
164 320 0504
164 320 0904
164 320 1204

| | |
| --- | --- |
| Equipment Variant | OE quality; AMK |
model
product line
fuel
body
cubic capacity
year
power
cylinders
MERCEDES-BENZ
GL-CLASS (X164)
GL 320 CDI / 350 BlueTEC 4-matic (164.824, 164.825)
Diesel
Closed Off-Road Vehicle
2987
2009.12-2012.08
155 (211)
6
GL-CLASS (X164)
GL 320 CDI 4-matic (164.822)
Diesel
Closed Off-Road Vehicle
2987
2006.09-2009.05
165 (224)
6
GL-CLASS (X164)
GL 350 CDI 4-matic (164.822)
Diesel
Closed Off-Road Vehicle
2987
2009.05-2012.08
165 (224)
6
GL-CLASS (X164)
GL 350 CDI 4-matic (164.823)
Diesel
Closed Off-Road Vehicle
2987
2010.10-2012.08
195 (265)
6
GL-CLASS (X164)
GL 420 CDI 4-matic (164.828)
Diesel
Closed Off-Road Vehicle
3996
2006.09-2009.05
225 (306)
8
GL-CLASS (X164)
GL 450 4-matic (164.871)
Petrol Engine
Closed Off-Road Vehicle
4663
2006.09-2012.08
250 (340)
8
GL-CLASS (X164)
GL 450 CDI 4-matic (164.828)
Diesel
Closed Off-Road Vehicle
3996
2009.05-2012.08
225 (306)
8
GL-CLASS (X164)
GL 500 4-matic (164.886)
Petrol Engine
Closed Off-Road Vehicle
5461
2006.09-2012.12
285 (388)
8
M-CLASS (W164)
ML 280 CDI 4-matic (164.120)
Diesel
Closed Off-Road Vehicle
2987
2005.07-2009.07
140 (190)
6
M-CLASS (W164)
ML 300 CDI 4-matic (164.120)
Diesel
Closed Off-Road Vehicle
2987
2009.07-2011.12
140 (190)
6
M-CLASS (W164)
ML 300 CDI 4-matic (164.121)
Diesel
Closed Off-Road Vehicle
2987
2010.02-2011.12
150 (204)
6
M-CLASS (W164)
ML 320 CDI 4-matic (164.122)
Diesel
Closed Off-Road Vehicle
2987
2005.07-2009.07
165 (224)
6
M-CLASS (W164)
ML 350 4-matic (164.186)
Petrol Engine
Closed Off-Road Vehicle
3498
2005.02-2011.12
200 (272)
6
M-CLASS (W164)
ML 350 CDI 4-matic (164.122)
Diesel
Closed Off-Road Vehicle
2987
2009.07-2011.12
165 (224)
6
M-CLASS (W164)
ML 350 CDI 4-matic (164.125)
Diesel
Closed Off-Road Vehicle
2987
2010.02-2011.12
170 (231)
6
M-CLASS (W164)
ML 420 CDI 4-matic (164.128)
Diesel
Closed Off-Road Vehicle
3996
2006.02-2009.09
225 (306)
8
M-CLASS (W164)
ML 450 CDI 4-matic (164.128)
Diesel
Closed Off-Road Vehicle
3996
2009.09-2011.12
225 (306)
8
M-CLASS (W164)
ML 500 4-matic (164.172)
Petrol Engine
Closed Off-Road Vehicle
5461
2007.12-2011.12
285 (388)
8
M-CLASS (W164)
ML 500 4-matic (164.175)
Petrol Engine
Closed Off-Road Vehicle
4966
2005.07-2011.12
225 (306)
8
M-CLASS (W164)
ML 63 AMG 4-matic (164.177)
Petrol Engine
Closed Off-Road Vehicle
6208
2006.01-2011.12
375 (510)
8
customers who bought this product also bought: