Here you can inquire your individual shop login.
Please login to see your individual prices and our avaliability.
Tie Rod Axle Joint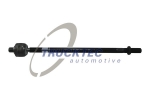 TRUCKTEC part number: 02.37.077
Amount per packaging unit: 1
Date added: 2021-10-27 05:28:04 | Date last modified: 2021-10-27 05:28:04
Please register or login to see prices and availability.
Comparison numbers:
OE-No.
BENDIX
041133B

MERCEDES-BENZ
901 460 0155
901 460 0255
901 460 0455

VAG
2D0 422 803 n.cpl.1

| | |
| --- | --- |
| Fitting Position | Front Axle left and right |
model
product line
fuel
body
cubic capacity
year
power
cylinders
MERCEDES-BENZ
SPRINTER 2-t Box (901, 902)
208 CDI
Diesel
Box
2148
2000.04-2006.05
60 (82)
4
SPRINTER 2-t Box (901, 902)
208 D
Diesel
Box
2299
1995.02-2000.04
58 (79)
4
SPRINTER 2-t Box (901, 902)
208 D
Diesel
Box
2299
1996.10-2000.04
60 (82)
4
SPRINTER 2-t Box (901, 902)
210 D
Diesel
Box
2874
1997.01-2000.04
75 (102)
5
SPRINTER 2-t Box (901, 902)
211 CDI
Diesel
Box
2148
2000.04-2006.05
80 (109)
4
SPRINTER 2-t Box (901, 902)
212 D
Diesel
Box
2874
1995.02-2000.04
90 (122)
5
SPRINTER 2-t Box (901, 902)
213 CDI
Diesel
Box
2148
2000.04-2006.05
95 (129)
4
SPRINTER 2-t Box (901, 902)
214
Petrol Engine
Box
2295
1995.02-2006.05
105 (143)
4
SPRINTER 2-t Box (901, 902)
214 NGT
Petrol Engine
Box
2295
1995.02-2006.05
95 (129)
4
SPRINTER 2-t Box (901, 902)
216 CDI
Diesel
Box
2685
2000.04-2006.05
115 (156)
5
SPRINTER 2-t Bus (901, 902)
208 CDI
Diesel
Bus
2148
2000.04-2006.05
60 (82)
4
SPRINTER 2-t Bus (901, 902)
208 D
Diesel
Bus
2299
1995.02-2000.04
58 (79)
4
SPRINTER 2-t Bus (901, 902)
210 D
Diesel
Bus
2874
1997.03-2000.04
75 (102)
5
SPRINTER 2-t Bus (901, 902)
211 CDI
Diesel
Bus
2148
2000.04-2006.05
80 (109)
4
SPRINTER 2-t Bus (901, 902)
212 D
Diesel
Bus
2874
1995.02-2000.04
90 (122)
5
SPRINTER 2-t Bus (901, 902)
213 CDI
Diesel
Bus
2148
2000.04-2006.05
95 (129)
4
SPRINTER 2-t Bus (901, 902)
214 (902.071, 902.072, 902.671, 902.672)
Petrol Engine
Bus
2295
1995.02-2006.05
105 (143)
4
SPRINTER 2-t Bus (901, 902)
214 NGT
Petrol Engine
Bus
2295
1995.02-2006.05
95 (129)
4
SPRINTER 2-t Bus (901, 902)
216 CDI
Diesel
Bus
2685
2000.04-2006.05
115 (156)
5
SPRINTER 2-t Platform/Chassis (901, 902)
208 CDI
Diesel
Platform/Chassis
2148
2000.04-2006.05
60 (82)
4
SPRINTER 2-t Platform/Chassis (901, 902)
208 D
Diesel
Platform/Chassis
2299
1995.01-2000.04
58 (79)
4
SPRINTER 2-t Platform/Chassis (901, 902)
208 D
Diesel
Platform/Chassis
2299
1996.09-2000.04
60 (82)
4
SPRINTER 2-t Platform/Chassis (901, 902)
210 D
Diesel
Platform/Chassis
2874
1997.01-2000.04
75 (102)
5
SPRINTER 2-t Platform/Chassis (901, 902)
211 CDI
Diesel
Platform/Chassis
2148
2000.04-2006.05
80 (109)
4
SPRINTER 2-t Platform/Chassis (901, 902)
212 D
Diesel
Platform/Chassis
2874
1995.02-2000.04
90 (122)
5
SPRINTER 2-t Platform/Chassis (901, 902)
213 CDI
Diesel
Platform/Chassis
2148
2000.04-2006.05
95 (129)
4
SPRINTER 2-t Platform/Chassis (901, 902)
214 (902.011, 902.012, 902.611, 902.612)
Petrol Engine
Platform/Chassis
2295
1995.02-2006.05
105 (143)
4
SPRINTER 2-t Platform/Chassis (901, 902)
214 NGT
Petrol Engine
Platform/Chassis
2295
1995.02-2006.05
95 (129)
4
SPRINTER 2-t Platform/Chassis (901, 902)
216 CDI
Diesel
Platform/Chassis
2685
2000.04-2006.05
115 (156)
5
SPRINTER 3-t Box (903)
308 CDI
Diesel
Box
2148
2000.04-2006.05
60 (82)
4
SPRINTER 3-t Box (903)
308 D 2.3
Diesel
Box
2299
1995.02-2000.04
58 (79)
4
SPRINTER 3-t Box (903)
308 D 2.3
Diesel
Box
2299
1995.02-2000.04
60 (82)
4
SPRINTER 3-t Box (903)
310 D 2.9
Diesel
Box
2874
1995.02-2000.04
75 (102)
5
SPRINTER 3-t Box (903)
311 CDI
Diesel
Box
2148
2000.04-2006.05
80 (109)
4
SPRINTER 3-t Box (903)
311 CDI 4x4
Diesel
Box
2148
2002.08-2006.05
80 (109)
4
SPRINTER 3-t Box (903)
312 D 2.9
Diesel
Box
2874
1995.02-2000.04
90 (122)
5
SPRINTER 3-t Box (903)
312 D 2.9 4x4
Diesel
Box
2874
1997.05-2002.08
90 (122)
5
SPRINTER 3-t Box (903)
313 CDI
Diesel
Box
2148
2000.04-2006.05
95 (129)
4
SPRINTER 3-t Box (903)
313 CDI 4x4
Diesel
Box
2148
2002.08-2006.05
95 (129)
4
SPRINTER 3-t Box (903)
314
Petrol Engine
Box
2295
1995.02-2006.05
105 (143)
4
SPRINTER 3-t Box (903)
314 4x4
Petrol Engine
Box
2295
2002.08-2006.05
105 (143)
4
SPRINTER 3-t Box (903)
314 NGT (903.661)
Petrol Engine
Box
2295
1995.02-2006.05
95 (129)
4
SPRINTER 3-t Box (903)
316 CDI
Diesel
Box
2685
2000.04-2006.05
115 (156)
5
SPRINTER 3-t Box (903)
316 CDI 4x4
Diesel
Box
2685
2002.08-2006.05
115 (156)
5
SPRINTER 3-t Bus (903)
308 CDI
Diesel
Bus
2148
2000.04-2006.05
60 (82)
4
SPRINTER 3-t Bus (903)
308 D
Diesel
Bus
2299
1995.02-2000.04
58 (79)
4
SPRINTER 3-t Bus (903)
308 D (903.371, 903.372, 903.373)
Diesel
Bus
2299
1997.03-2000.04
60 (82)
4
SPRINTER 3-t Bus (903)
308 E (903.372)
Electric Motor
Bus
0
1996.01-2006.05
40 (54)
0
SPRINTER 3-t Bus (903)
310 D (903.371, 903.372, 903.373)
Diesel
Bus
2874
1997.01-1999.12
75 (102)
5
SPRINTER 3-t Bus (903)
310 D 4x4
Diesel
Bus
2874
1997.05-2002.08
75 (102)
5
SPRINTER 3-t Bus (903)
311 CDI
Diesel
Bus
2148
2000.04-2006.05
80 (109)
4
SPRINTER 3-t Bus (903)
311 CDI 4x4
Diesel
Bus
2148
2002.08-2006.05
80 (109)
4
SPRINTER 3-t Bus (903)
312 D 2.9
Diesel
Bus
2874
1995.02-2000.04
90 (122)
5
SPRINTER 3-t Bus (903)
312 D 2.9 4x4
Diesel
Bus
2874
1997.05-2002.08
90 (122)
5
SPRINTER 3-t Bus (903)
313 CDI
Diesel
Bus
2148
2000.04-2006.05
95 (129)
4
SPRINTER 3-t Bus (903)
313 CDI 4x4
Diesel
Bus
2148
2002.08-2006.05
95 (129)
4
SPRINTER 3-t Bus (903)
314 (903.071, 903.072, 903.073, 903.671, 903.672,...
Petrol Engine
Bus
2295
1995.02-2006.05
105 (143)
4
SPRINTER 3-t Bus (903)
314 4x4
Petrol Engine
Bus
2295
2002.08-2006.05
105 (143)
4
SPRINTER 3-t Bus (903)
314 NGT
Petrol Engine
Bus
2295
1995.02-2006.05
95 (129)
4
SPRINTER 3-t Bus (903)
316 CDI
Diesel
Bus
2685
2000.04-2006.05
115 (156)
5
SPRINTER 3-t Bus (903)
316 CDI 4x4
Diesel
Bus
2685
2002.08-2006.05
115 (156)
5
SPRINTER 3-t Platform/Chassis (903)
308 CDI
Diesel
Platform/Chassis
2148
2000.04-2006.05
60 (82)
4
SPRINTER 3-t Platform/Chassis (903)
308 D 2.3
Diesel
Platform/Chassis
2299
1996.11-2000.04
60 (82)
4
SPRINTER 3-t Platform/Chassis (903)
308 D 2.3
Diesel
Platform/Chassis
2299
1995.02-2000.04
58 (79)
4
SPRINTER 3-t Platform/Chassis (903)
310 D 2.9
Diesel
Platform/Chassis
2874
1997.01-2000.04
75 (102)
5
SPRINTER 3-t Platform/Chassis (903)
311 CDI
Diesel
Platform/Chassis
2148
2000.04-2006.05
80 (109)
4
SPRINTER 3-t Platform/Chassis (903)
311 CDI 4x4
Diesel
Platform/Chassis
2148
2002.08-2006.05
80 (109)
4
SPRINTER 3-t Platform/Chassis (903)
312 D 2.9
Diesel
Platform/Chassis
2874
1995.02-2000.04
90 (122)
5
SPRINTER 3-t Platform/Chassis (903)
312 D 2.9 (903.411, 903.412, 903.413, 903.421, 903.422,...
Diesel
Platform/Chassis
2874
1998.12-2001.09
85 (116)
5
SPRINTER 3-t Platform/Chassis (903)
313 CDI
Diesel
Platform/Chassis
2148
2000.04-2006.05
95 (129)
4
SPRINTER 3-t Platform/Chassis (903)
313 CDI 4x4
Diesel
Platform/Chassis
2148
2002.08-2006.05
95 (129)
4
SPRINTER 3-t Platform/Chassis (903)
314 (903.011, 903.012, 903.013, 903.022, 903.611,...
Petrol Engine
Platform/Chassis
2295
1995.02-2006.05
105 (143)
4
SPRINTER 3-t Platform/Chassis (903)
314 4x4
Petrol Engine
Platform/Chassis
2295
2002.08-2006.05
105 (143)
4
SPRINTER 3-t Platform/Chassis (903)
314 NGT (903.611, 903.612)
Petrol Engine
Platform/Chassis
2295
1995.02-2006.05
95 (129)
4
SPRINTER 3-t Platform/Chassis (903)
316 CDI
Diesel
Platform/Chassis
2685
2000.04-2006.05
115 (156)
5
SPRINTER 3-t Platform/Chassis (903)
316 CDI 4x4
Diesel
Platform/Chassis
2685
2002.08-2006.05
115 (156)
5
SPRINTER 4-t Box (904)
408 CDI
Diesel
Box
2148
2000.04-2006.05
60 (82)
4
SPRINTER 4-t Box (904)
408 D
Diesel
Box
2299
1996.02-2006.05
58 (79)
4
SPRINTER 4-t Box (904)
410 D
Diesel
Box
2874
1996.02-2006.05
75 (102)
5
SPRINTER 4-t Box (904)
410 D 4x4
Diesel
Box
2874
1997.05-2006.05
75 (102)
5
SPRINTER 4-t Box (904)
411 CDI
Diesel
Box
2148
2000.04-2006.05
80 (109)
4
SPRINTER 4-t Box (904)
411 CDI 4x4
Diesel
Box
2148
2000.04-2006.05
80 (109)
4
SPRINTER 4-t Box (904)
412 D
Diesel
Box
2874
1996.02-2006.05
90 (122)
5
SPRINTER 4-t Box (904)
412 D
Diesel
Box
2874
1996.02-2006.05
85 (115)
5
SPRINTER 4-t Box (904)
412 D 4x4
Diesel
Box
2874
1997.05-2006.05
90 (122)
5
SPRINTER 4-t Box (904)
412 D 4x4
Diesel
Box
2874
1997.05-2006.05
85 (115)
5
SPRINTER 4-t Box (904)
413 CDI
Diesel
Box
2148
2000.04-2006.05
95 (129)
4
SPRINTER 4-t Box (904)
413 CDI 4x4
Diesel
Box
2148
2000.04-2006.05
95 (129)
4
SPRINTER 4-t Box (904)
414 (904.062, 904.063, 904.662, 904.663)
Petrol Engine
Box
2295
1996.02-2006.05
105 (143)
4
SPRINTER 4-t Box (904)
414 4x4 (904.062, 904.063, 904.662, 904.663)
Petrol Engine
Box
2295
1997.05-2006.05
105 (143)
4
SPRINTER 4-t Box (904)
416 CDI
Diesel
Box
2685
2000.04-2006.05
115 (156)
5
SPRINTER 4-t Box (904)
416 CDI 4x4
Diesel
Box
2685
2000.04-2006.05
115 (156)
5
SPRINTER 4-t Bus (904)
408 CDI
Diesel
Bus
2148
2000.04-2006.05
60 (82)
4
SPRINTER 4-t Bus (904)
411 CDI
Diesel
Bus
2148
2000.04-2006.05
80 (109)
4
SPRINTER 4-t Bus (904)
413 CDI
Diesel
Bus
2148
2000.04-2006.05
95 (129)
4
SPRINTER 4-t Bus (904)
414
Petrol Engine
Bus
2295
1996.02-2006.05
105 (143)
4
SPRINTER 4-t Bus (904)
416 CDI
Diesel
Bus
2685
2000.04-2006.05
115 (156)
5
SPRINTER 4-t Platform/Chassis (904)
408 CDI
Diesel
Platform/Chassis
2148
2000.04-2006.05
60 (82)
4
SPRINTER 4-t Platform/Chassis (904)
408 D
Diesel
Platform/Chassis
2299
1996.02-2006.05
58 (79)
4
SPRINTER 4-t Platform/Chassis (904)
410 D
Diesel
Platform/Chassis
2874
1996.02-2006.05
75 (102)
5
SPRINTER 4-t Platform/Chassis (904)
410 D 4x4
Diesel
Platform/Chassis
2874
1997.05-2006.05
75 (102)
5
SPRINTER 4-t Platform/Chassis (904)
411 CDI
Diesel
Platform/Chassis
2148
2000.04-2006.05
80 (109)
4
SPRINTER 4-t Platform/Chassis (904)
411 CDI 4x4
Diesel
Platform/Chassis
2148
2000.04-2006.05
80 (109)
4
SPRINTER 4-t Platform/Chassis (904)
412 D
Diesel
Platform/Chassis
2874
1996.02-2006.05
85 (115)
5
SPRINTER 4-t Platform/Chassis (904)
412 D
Diesel
Platform/Chassis
2874
1996.02-2006.05
90 (122)
5
SPRINTER 4-t Platform/Chassis (904)
412 D 4x4
Diesel
Platform/Chassis
2874
1997.05-2006.05
90 (122)
5
SPRINTER 4-t Platform/Chassis (904)
412 D 4x4
Diesel
Platform/Chassis
2874
1997.05-2006.05
85 (115)
5
SPRINTER 4-t Platform/Chassis (904)
413 CDI
Diesel
Platform/Chassis
2148
2000.04-2006.05
95 (129)
4
SPRINTER 4-t Platform/Chassis (904)
413 CDI 4x4
Diesel
Platform/Chassis
2148
2000.04-2006.05
95 (129)
4
SPRINTER 4-t Platform/Chassis (904)
414 (904.012, 904.013, 904.612, 904.613)
Petrol Engine
Platform/Chassis
2295
1995.02-2006.05
105 (143)
4
SPRINTER 4-t Platform/Chassis (904)
414 4x4 (904.012, 904.013, 904.612, 904.613)
Petrol Engine
Platform/Chassis
2295
1997.05-2006.05
105 (143)
4
SPRINTER 4-t Platform/Chassis (904)
416 CDI
Diesel
Platform/Chassis
2685
2000.04-2006.05
115 (156)
5
SPRINTER 4-t Platform/Chassis (904)
416 CDI 4x4
Diesel
Platform/Chassis
2685
2000.04-2006.05
115 (156)
5
SPRINTER CLASSIC 3,5-t Box (909)
311 CDI (909.632, 909.633)
Diesel
Box
2148
2013.09-.
80 (109)
4
SPRINTER CLASSIC 4,6-t Bus (909)
411 CDI (909.843)
Diesel
Bus
2148
2013.09-.
80 (109)
4
VW
LT 28-35 II Bus (2DB, 2DE, 2DK)
2.3
Petrol Engine
Bus
2295
1996.05-2006.07
105 (143)
4
LT 28-35 II Bus (2DB, 2DE, 2DK)
2.5 SDI
Diesel
Bus
2461
1996.07-2006.07
55 (75)
5
LT 28-35 II Bus (2DB, 2DE, 2DK)
2.5 TDI
Diesel
Bus
2461
2001.05-2006.07
70 (95)
5
LT 28-35 II Bus (2DB, 2DE, 2DK)
2.5 TDI
Diesel
Bus
2461
1999.05-2006.07
66 (90)
5
LT 28-35 II Bus (2DB, 2DE, 2DK)
2.5 TDI
Diesel
Bus
2461
1996.05-1999.08
75 (102)
5
LT 28-35 II Bus (2DB, 2DE, 2DK)
2.5 TDI
Diesel
Bus
2461
1999.05-2006.07
80 (109)
5
LT 28-35 II Bus (2DB, 2DE, 2DK)
2.5 TDI
Diesel
Bus
2461
2001.05-2006.07
61 (83)
5
LT 28-35 II Bus (2DB, 2DE, 2DK)
2.8 TDI
Diesel
Bus
2798
1999.01-2002.01
96 (131)
4
LT 28-35 II Bus (2DB, 2DE, 2DK)
2.8 TDI
Diesel
Bus
2798
1997.07-2003.05
92 (125)
4
LT 28-35 II Bus (2DB, 2DE, 2DK)
2.8 TDI
Diesel
Bus
2799
2001.05-2006.06
116 (158)
4
LT 28-46 II Box (2DA, 2DD, 2DH)
2.3
Petrol Engine
Box
2295
1996.05-2006.07
105 (143)
4
LT 28-46 II Box (2DA, 2DD, 2DH)
2.5 SDI
Diesel
Box
2461
1996.09-2006.07
55 (75)
5
LT 28-46 II Box (2DA, 2DD, 2DH)
2.5 TDI
Diesel
Box
2461
1999.05-2006.07
80 (109)
5
LT 28-46 II Box (2DA, 2DD, 2DH)
2.5 TDI
Diesel
Box
2461
2001.05-2006.07
61 (83)
5
LT 28-46 II Box (2DA, 2DD, 2DH)
2.5 TDI
Diesel
Box
2461
1996.05-1999.08
75 (102)
5
LT 28-46 II Box (2DA, 2DD, 2DH)
2.5 TDI
Diesel
Box
2461
2001.05-2006.07
70 (95)
5
LT 28-46 II Box (2DA, 2DD, 2DH)
2.5 TDI
Diesel
Box
2461
1999.05-2006.07
66 (90)
5
LT 28-46 II Box (2DA, 2DD, 2DH)
2.8 TDI
Diesel
Box
2799
1997.07-2002.01
92 (125)
4
LT 28-46 II Box (2DA, 2DD, 2DH)
2.8 TDI
Diesel
Box
2799
1999.01-2006.07
96 (130)
4
LT 28-46 II Box (2DA, 2DD, 2DH)
2.8 TDI
Diesel
Box
2799
2002.04-2006.07
116 (158)
4
LT 28-46 II Platform/Chassis (2DC, 2DF, 2DG, 2DL, 2DM)
2.3
Petrol Engine
Platform/Chassis
2295
1996.06-2006.07
105 (143)
4
LT 28-46 II Platform/Chassis (2DC, 2DF, 2DG, 2DL, 2DM)
2.5 SDI
Diesel
Platform/Chassis
2461
1996.09-2006.07
55 (75)
5
LT 28-46 II Platform/Chassis (2DC, 2DF, 2DG, 2DL, 2DM)
2.5 TDI
Diesel
Platform/Chassis
2461
2001.05-2006.07
70 (95)
5
LT 28-46 II Platform/Chassis (2DC, 2DF, 2DG, 2DL, 2DM)
2.5 TDI
Diesel
Platform/Chassis
2461
1999.05-2006.07
66 (90)
5
LT 28-46 II Platform/Chassis (2DC, 2DF, 2DG, 2DL, 2DM)
2.5 TDI
Diesel
Platform/Chassis
2461
1996.06-1999.08
75 (102)
5
LT 28-46 II Platform/Chassis (2DC, 2DF, 2DG, 2DL, 2DM)
2.5 TDI
Diesel
Platform/Chassis
2461
2001.05-2006.07
61 (83)
5
LT 28-46 II Platform/Chassis (2DC, 2DF, 2DG, 2DL, 2DM)
2.5 TDI
Diesel
Platform/Chassis
2461
1999.05-2006.07
80 (109)
5
LT 28-46 II Platform/Chassis (2DC, 2DF, 2DG, 2DL, 2DM)
2.8 TDI
Diesel
Platform/Chassis
2799
1999.01-2006.07
96 (130)
4
LT 28-46 II Platform/Chassis (2DC, 2DF, 2DG, 2DL, 2DM)
2.8 TDI
Diesel
Platform/Chassis
2799
2002.04-2006.07
116 (158)
4
LT 28-46 II Platform/Chassis (2DC, 2DF, 2DG, 2DL, 2DM)
2.8 TDI
Diesel
Platform/Chassis
2799
1997.07-2002.01
92 (125)
4
customers who bought this product also bought:
Tie Rod Axle Joint
OE-No.
BENDIX:
041133B
MERCEDES-BENZ:
901 460 0155
901 460 0255
901 460 0455
VAG:
2D0 422 803 n.cpl.1

TRUCKTEC part number: 02.37.077
Brake Pad Set, disc brake
OE-No.
ATE:
13.0460-7086.2
13.0463-7086.2
13.0470-7086.2
BA2150
BENDIX:
571877B
BOSCH DIAGNOSTICS:
0986 424 234
HELLA:
8DB 355 007-831
MERCEDES-BENZ:
002 420 4420
002 420 9620
004 420 0220
005 420 4720

TRUCKTEC part number: 02.35.119
Seal Ring
OE-No.
ELRING:
527.815
MERCEDES-BENZ:
009 997 7948
010 997 2048
012 997 5148

TRUCKTEC part number: 02.67.112
Water Pump
OE-No.
KOLBENSCHMIDT:
50005439
MERCEDES-BENZ:
602 200 0020
602 200 0120
602 200 0220
602 200 0420
602 200 0520
603 200 0020
603 201 0110
SKF:
VKPC 88620
SSANGYONG:
6022000220
661 200 30 20
661 200 31 20
VALEO:
506060

TRUCKTEC part number: 02.19.161
Rail, oil pump drive chain
OE-No.
CHRYSLER:
05080121AA
5080121AA
MERCEDES-BENZ:
111 180 0071
VAG:
00A115130

TRUCKTEC part number: 02.18.035
Gasket, cylinder head cover
OE-No.
AUDI:
026 103 483 F
037 103 483 A
037 103 483 C
044 103 351
048 103 351
051 103 265 AV
051 103 265 CV
051 103 483 A
051 103 483 E
BAC 103 351 A
ELRING:
915.653

TRUCKTEC part number: 07.10.018
Fuel filter
OE-No.
BOSCH DIAGNOSTICS:
0 450 905 930
0 986 450 506
KOLBENSCHMIDT:
50013449
MAHLE:
06540454
08451114
MANN-FILTER:
WK 842/13
WK 842/17
MERCEDES-BENZ:
611 090 0852
611 092 0201
611 092 0601

TRUCKTEC part number: 02.38.043
Thermostat, coolant
OE-No.
HELLA:
8MT 354 777-841
MERCEDES-BENZ:
611 200 0215 n.cpl.2 87°C
611 200 0715 n.cpl.2 87°C
611 203 0475 n.cpl.2 87°C
611 203 0575 n.cpl.2 87°C
611 203 1575 n.cpl.2 87°C
611 203 1975 n.cpl.2 87°C
646 200 1215 n.cpl.2 87°C

TRUCKTEC part number: 02.19.239
Tensioner Pulley, timing belt
OE-No.
BOSCH DIAGNOSTICS:
1 987 949 800
CONTINENTAL CTAM:
V55491
GATES:
T43062
HELLA:
9XU 376 820-041
SKF:
VKM 11130
VAG:
038 109 243
038 109 243 D
038 109 243 F
038 109 243 G
038 109 243 H
038 109 243 N

TRUCKTEC part number: 07.12.081
Tensioner, timing chain
OE-No.
INA:
551 0118 10
MERCEDES-BENZ:
111 050 0111
111 050 0311
111 050 0411
VAG:
00A 109 507

TRUCKTEC part number: 02.43.201