Here you can inquire your individual shop login.
Please login to see your individual prices and our avaliability.
Hydraulic Pump, steering system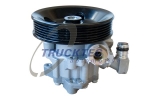 TRUCKTEC part number: 02.37.218
Amount per packaging unit: 1
Date added: 2022-08-14 14:28:09 | Date last modified: 2022-08-14 14:28:09
Please register or login to see prices and availability.
Comparison numbers:
OE-No.
LuK
541 0242 10 cpl.1

MERCEDES-BENZ
005 466 2201 cpl.1

| | |
| --- | --- |
| Trim Level | Metal pulley |
| Operating Mode | Mechanical |
model
product line
fuel
body
cubic capacity
year
power
cylinders
axle
passenger cars - MERCEDES-BENZ
G-CLASS (W463)
G 500 (463.222, 463.236, 463.237, 463.242)
Petrol Engine
Closed Off-Road Vehicle
5461
2008.05-.
285 (388)
8
-
G-CLASS Cabrio (W463)
G 500 (463.202)
Petrol Engine
Open Off-Road Vehicle
5461
2009.12-.
285 (388)
8
-
GL-CLASS (X164)

...

GL 450 4-matic (164.871)
Petrol Engine
Closed Off-Road Vehicle
4663
2006.09-2012.08
250 (340)
8
-
GL-CLASS (X164)

...

GL 500 4-matic (164.886)
Petrol Engine
Closed Off-Road Vehicle
5461
2006.09-2012.12
285 (388)
8
-
M-CLASS (W164)
ML 300 4-matic (164.182)
Petrol Engine
Closed Off-Road Vehicle
2996
2010.03-2011.12
170 (231)
6
-
M-CLASS (W164)

...

ML 350 4-matic (164.186)
Petrol Engine
Closed Off-Road Vehicle
3498
2005.02-2011.12
200 (272)
6
-
M-CLASS (W164)

...

ML 500 4-matic (164.172)
Petrol Engine
Closed Off-Road Vehicle
5461
2007.12-2011.12
285 (388)
8
-
R-CLASS (W251, V251)

...

R 280 (251.054, 251.154)
Petrol Engine
MPV
2996
2007.01-.
170 (231)
6
-
R-CLASS (W251, V251)

...

R 280 4-matic (251.062)
Petrol Engine
MPV
2996
2007.05-.
170 (231)
6
-
R-CLASS (W251, V251)

...

R 300 (251.054, 251.154)
Petrol Engine
MPV
2996
2009.07-.
170 (231)
6
-
R-CLASS (W251, V251)

...

R 350 (251.056, 251.156)
Petrol Engine
MPV
3498
2007.01-.
200 (272)
6
-
R-CLASS (W251, V251)

...

R 350 4-matic (251.065, 251.165)
Petrol Engine
MPV
3498
2006.01-.
200 (272)
6
-
R-CLASS (W251, V251)

...

R 500 4-matic (251.072, 251.172)
Petrol Engine
MPV
5461
2007.01-.
285 (388)
8
-
motor code
fuel
cubic capacity
year
power
cylinders
MERCEDES-BENZ...
M 272.945
Petrol Engine
2996
.-.
170-180 (231-245)
6
M 272.967
Petrol Engine
3498
.-.
200 (272)
6
M 273.923
Petrol Engine
4663
.-.
250 (340)
8
M 273.963
Petrol Engine
5461
.-.
285 (388)
8