Here you can inquire your individual shop login.
Please login to see your individual prices and our avaliability.
Valve, engine block breather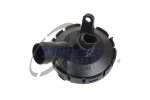 TRUCKTEC part number: 07.10.071
Amount per packaging unit: 1
Date added: 2021-04-11 13:28:16 | Date last modified: 2021-04-11 13:28:16
Please register or login to see prices and availability.
Comparison numbers:
OE-No.
AUDI
06E 103 245 E

VAG
06E 103 245 B
06E 103 245 C
06E 103 245 D

model
product line
fuel
body
cubic capacity
year
power
cylinders
axle
passenger cars - AUDI
A4 (8EC, B7)
3.2 FSI
Petrol Engine
Saloon
3123
2005.01-2008.06
188 (255)
6
-
A4 (8EC, B7)
3.2 FSI quattro
Petrol Engine
Saloon
3123
2005.01-2008.06
188 (255)
6
-
A4 Avant (8ED, B7)
3.2 FSI
Petrol Engine
Estate
3123
2005.01-2008.06
188 (255)
6
-
A4 Avant (8ED, B7)
3.2 FSI quattro
Petrol Engine
Estate
3123
2005.01-2008.06
188 (255)
6
-
A4 Convertible (8H7, B6, 8HE, B7)
3.2 FSI
Petrol Engine
Convertible
3123
2006.01-2009.03
188 (255)
6
-
A4 Convertible (8H7, B6, 8HE, B7)
3.2 FSI quattro
Petrol Engine
Convertible
3123
2006.01-2009.03
188 (255)
6
-
A6 (4F2, C6)
2.4
Petrol Engine
Saloon
2393
2004.05-2008.10
130 (177)
6
-
A6 (4F2, C6)
2.4 quattro
Petrol Engine
Saloon
2393
2005.01-2008.10
130 (177)
6
-
A6 (4F2, C6)
3.2 FSI
Petrol Engine
Saloon
3123
2004.05-2009.05
188 (255)
6
-
A6 (4F2, C6)
3.2 FSI quattro
Petrol Engine
Saloon
3123
2004.05-2008.10
188 (255)
6
-
A6 Allroad (4FH, C6)
3.2 FSI quattro
Petrol Engine
Estate
3123
2006.05-2008.10
188 (255)
6
-
A6 Avant (4F5, C6)
2.4
Petrol Engine
Estate
2393
2005.03-2008.10
130 (177)
6
-
A6 Avant (4F5, C6)
2.4 quattro
Petrol Engine
Estate
2393
2005.03-2008.10
130 (177)
6
-
A6 Avant (4F5, C6)
3.2 FSI
Petrol Engine
Estate
3123
2005.03-2008.10
188 (255)
6
-
A6 Avant (4F5, C6)
3.2 FSI quattro
Petrol Engine
Estate
3123
2005.03-2008.10
188 (255)
6
-
A8 (4E2, 4E8)
3.2 FSI
Petrol Engine
Saloon
3123
2005.06-2010.07
191 (260)
6
-
A8 (4E2, 4E8)
3.2 FSI quattro
Petrol Engine
Saloon
3123
2005.06-2010.07
191 (260)
6
-
motor code
fuel
cubic capacity
year
power
cylinders
AUDI...
AUK
Petrol Engine
3123
.-.
188 (255)
6
BDW
Petrol Engine
2393
.-.
130 (177)
6
BKH
Petrol Engine
3123
.-.
188 (255)
6
BPK
Petrol Engine
3123
.-.
191 (260)
6