Here you can inquire your individual shop login.
Please login to see your individual prices and our avaliability.
Brake Pad Set, disc brake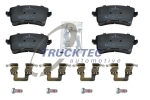 TRUCKTEC part number: 07.35.191
Amount per packaging unit: 1
Date added: 2021-09-20 10:28:15 | Date last modified: 2021-09-20 10:28:15
Please register or login to see prices and availability.
Comparison numbers:
OE-No.
ATE
13.0460-2747.2

BENDIX
573259B

BOSCH
0 986 494 254
0 986 494 637
0 986 TB3 123

BOSCH DIAGNOSTICS
0 986 494 254

HELLA
8DB 355 013-651

VAG
8K0 698 451
8K0 698 451 A
8K0 698 451 B
8K0 698 451 C
8K0 698 451 D

Fitting Position
Rear Axle

Inspection Tag
E11
90R-01184/8281

Wear Warning Contact
excl. wear warning contact

Supplementary Article/Supplementary Info
with accessories

model
product line
fuel
body
cubic capacity
year
power
cylinders
AUDI
A4 (8K2, B8)
1.8 TFSI
Petrol Engine
Saloon
1798
2011.11-2015.12
125 (170)
4
A4 (8K2, B8)
1.8 TFSI
Petrol Engine
Saloon
1798
2008.01-2015.12
88 (120)
4
A4 (8K2, B8)
1.8 TFSI
Petrol Engine
Saloon
1798
2007.11-2012.03
118 (160)
4
A4 (8K2, B8)
1.8 TFSI quattro
Petrol Engine
Saloon
1798
2011.11-2015.12
125 (170)
4
A4 (8K2, B8)
1.8 TFSI quattro
Petrol Engine
Saloon
1798
2008.09-2012.03
118 (160)
4
A4 (8K2, B8)
2.0 TDI
Diesel
Saloon
1968
2007.11-2015.12
100 (136)
4
A4 (8K2, B8)
2.0 TDI
Diesel
Saloon
1968
2008.06-2015.12
88 (120)
4
A4 (8K2, B8)
2.0 TDI
Diesel
Saloon
1968
2008.08-2015.12
120 (163)
4
A4 (8K2, B8)
2.0 TDI
Diesel
Saloon
1968
2007.11-2015.12
105 (143)
4
A4 (8K2, B8)
2.0 TDI
Diesel
Saloon
1968
2013.09-2015.12
140 (190)
4
A4 (8K2, B8)
2.0 TDI
Diesel
Saloon
1968
2008.01-2012.03
125 (170)
4
A4 (8K2, B8)
2.0 TDI
Diesel
Saloon
1968
2013.05-2015.12
110 (150)
4
A4 (8K2, B8)
2.0 TDI
Diesel
Saloon
1968
2011.11-2015.12
130 (177)
4
A4 (8K2, B8)
2.0 TDI quattro
Diesel
Saloon
1968
2013.05-2015.12
110 (150)
4
A4 (8K2, B8)
2.0 TDI quattro
Diesel
Saloon
1968
2011.11-2015.12
130 (177)
4
A4 (8K2, B8)
2.0 TDI quattro
Diesel
Saloon
1968
2013.09-2015.12
140 (190)
4
A4 (8K2, B8)
2.0 TDI quattro
Diesel
Saloon
1968
2008.11-2015.12
105 (143)
4
A4 (8K2, B8)
2.0 TDI quattro
Diesel
Saloon
1968
2008.01-2012.03
125 (170)
4
A4 (8K2, B8)
2.0 TFSI
Petrol Engine
Saloon
1984
2013.05-2015.12
165 (224)
4
A4 (8K2, B8)
2.0 TFSI
Petrol Engine
Saloon
1984
2008.06-2015.12
132 (180)
4
A4 (8K2, B8)
2.0 TFSI
Petrol Engine
Saloon
1984
2008.06-2013.05
155 (211)
4
A4 (8K2, B8)
2.0 TFSI flexible fuel
Petrol Engine
Saloon
1984
2009.11-2015.12
132 (180)
4
A4 (8K2, B8)
2.0 TFSI flexible fuel quattro
Petrol Engine
Saloon
1984
2009.11-2015.12
132 (180)
4
A4 (8K2, B8)
2.0 TFSI quattro
Petrol Engine
Saloon
1984
2008.06-2015.12
155 (211)
4
A4 (8K2, B8)
2.0 TFSI quattro
Petrol Engine
Saloon
1984
2013.05-2015.12
162 (220)
4
A4 (8K2, B8)
2.0 TFSI quattro
Petrol Engine
Saloon
1984
2013.05-2015.12
165 (224)
4
A4 (8K2, B8)
2.7 TDI
Diesel
Saloon
2698
2007.11-2012.03
120 (163)
6
A4 (8K2, B8)
2.7 TDI
Diesel
Saloon
2698
2007.11-2012.03
140 (190)
6
A4 (8K2, B8)
3.0 TDI
Diesel
Saloon
2967
2011.11-2015.12
150 (204)
6
A4 (8K2, B8)
3.0 TDI quattro
Diesel
Saloon
2967
2008.06-2010.05
155 (211)
6
A4 (8K2, B8)
3.0 TDI quattro
Diesel
Saloon
2967
2011.11-2015.12
180 (245)
6
A4 (8K2, B8)
3.0 TDI quattro
Diesel
Saloon
2967
2007.11-2012.03
176 (240)
6
A4 (8K2, B8)
3.0 TFSI quattro
Petrol Engine
Saloon
2995
2012.02-2015.12
200 (272)
6
A4 (8K2, B8)
3.2 FSI
Petrol Engine
Saloon
3197
2008.09-2012.03
195 (265)
6
A4 (8K2, B8)
3.2 FSI quattro
Petrol Engine
Saloon
3197
2007.11-2012.03
195 (265)
6
A4 Allroad (8KH, B8)
2.0 TDI quattro
Diesel
Estate
1968
2009.04-2016.05
120 (163)
4
A4 Allroad (8KH, B8)
2.0 TDI quattro
Diesel
Estate
1968
2009.09-2016.05
105 (143)
4
A4 Allroad (8KH, B8)
2.0 TDI quattro
Diesel
Estate
1968
2011.11-2016.05
130 (177)
4
A4 Allroad (8KH, B8)
2.0 TDI quattro
Diesel
Estate
1968
2013.05-2016.05
110 (150)
4
A4 Allroad (8KH, B8)
2.0 TDI quattro
Diesel
Estate
1968
2013.09-2016.05
140 (190)
4
A4 Allroad (8KH, B8)
2.0 TDI quattro
Diesel
Estate
1968
2009.09-2016.05
100 (136)
4
A4 Allroad (8KH, B8)
2.0 TDI quattro
Diesel
Estate
1968
2009.04-2016.05
125 (170)
4
A4 Allroad (8KH, B8)
2.0 TFSI quattro
Petrol Engine
Estate
1984
2013.05-2016.05
162 (220)
4
A4 Allroad (8KH, B8)
2.0 TFSI quattro
Petrol Engine
Estate
1984
2013.05-2016.05
165 (224)
4
A4 Allroad (8KH, B8)
2.0 TFSI quattro
Petrol Engine
Estate
1984
2009.04-2016.05
155 (211)
4
A4 Allroad (8KH, B8)
3.0 TDI quattro
Diesel
Estate
2967
2009.04-2012.01
176 (240)
6
A4 Allroad (8KH, B8)
3.0 TDI quattro
Diesel
Estate
2967
2012.01-2016.05
180 (245)
6
A4 Avant (8K5, B8)
1.8 TFSI
Petrol Engine
Estate
1798
2011.11-2015.12
125 (170)
4
A4 Avant (8K5, B8)
1.8 TFSI
Petrol Engine
Estate
1798
2008.04-2015.12
88 (120)
4
A4 Avant (8K5, B8)
1.8 TFSI
Petrol Engine
Estate
1798
2007.11-2012.03
118 (160)
4
A4 Avant (8K5, B8)
1.8 TFSI quattro
Petrol Engine
Estate
1798
2011.11-2015.12
125 (170)
4
A4 Avant (8K5, B8)
1.8 TFSI quattro
Petrol Engine
Estate
1798
2008.09-2012.03
118 (160)
4
A4 Avant (8K5, B8)
2.0 TDI
Diesel
Estate
1968
2008.04-2015.12
100 (136)
4
A4 Avant (8K5, B8)
2.0 TDI
Diesel
Estate
1968
2008.08-2015.12
120 (163)
4
A4 Avant (8K5, B8)
2.0 TDI
Diesel
Estate
1968
2008.04-2015.12
105 (143)
4
A4 Avant (8K5, B8)
2.0 TDI
Diesel
Estate
1968
2013.09-2015.12
140 (190)
4
A4 Avant (8K5, B8)
2.0 TDI
Diesel
Estate
1968
2008.06-2015.12
88 (120)
4
A4 Avant (8K5, B8)
2.0 TDI
Diesel
Estate
1968
2013.05-2015.12
110 (150)
4
A4 Avant (8K5, B8)
2.0 TDI
Diesel
Estate
1968
2011.11-2015.12
130 (177)
4
A4 Avant (8K5, B8)
2.0 TDI
Diesel
Estate
1968
2008.04-2012.03
125 (170)
4
A4 Avant (8K5, B8)
2.0 TDI quattro
Diesel
Estate
1968
2013.05-2015.12
110 (150)
4
A4 Avant (8K5, B8)
2.0 TDI quattro
Diesel
Estate
1968
2011.11-2015.12
130 (177)
4
A4 Avant (8K5, B8)
2.0 TDI quattro
Diesel
Estate
1968
2008.08-2012.03
125 (170)
4
A4 Avant (8K5, B8)
2.0 TDI quattro
Diesel
Estate
1968
2008.04-2015.12
105 (143)
4
A4 Avant (8K5, B8)
2.0 TDI quattro
Diesel
Estate
1968
2013.09-2015.12
140 (190)
4
A4 Avant (8K5, B8)
2.0 TFSI
Petrol Engine
Estate
1984
2013.05-2015.12
165 (224)
4
A4 Avant (8K5, B8)
2.0 TFSI
Petrol Engine
Estate
1984
2008.06-2013.05
155 (211)
4
A4 Avant (8K5, B8)
2.0 TFSI
Petrol Engine
Estate
1984
2008.06-2015.12
132 (180)
4
A4 Avant (8K5, B8)
2.0 TFSI flexible fuel
Petrol Engine
Estate
1984
2009.11-2015.12
132 (180)
4
A4 Avant (8K5, B8)
2.0 TFSI flexible fuel quattro
Petrol Engine
Estate
1984
2009.11-2015.12
132 (180)
4
A4 Avant (8K5, B8)
2.0 TFSI quattro
Petrol Engine
Estate
1984
2008.06-2015.12
155 (211)
4
A4 Avant (8K5, B8)
2.0 TFSI quattro
Petrol Engine
Estate
1984
2013.05-2015.12
165 (224)
4
A4 Avant (8K5, B8)
2.7 TDI
Diesel
Estate
2698
2008.06-2012.03
120 (163)
6
A4 Avant (8K5, B8)
2.7 TDI
Diesel
Estate
2698
2008.04-2012.03
140 (190)
6
A4 Avant (8K5, B8)
3.0 TDI
Diesel
Estate
2967
2011.11-2015.12
150 (204)
6
A4 Avant (8K5, B8)
3.0 TDI quattro
Diesel
Estate
2967
2011.11-2015.12
180 (245)
6
A4 Avant (8K5, B8)
3.0 TDI quattro
Diesel
Estate
2967
2008.06-2010.05
155 (211)
6
A4 Avant (8K5, B8)
3.0 TDI quattro
Diesel
Estate
2967
2008.04-2012.03
176 (240)
6
A4 Avant (8K5, B8)
3.0 TFSI quattro
Petrol Engine
Estate
2995
2012.02-2015.12
200 (272)
6
A4 Avant (8K5, B8)
3.2 FSI
Petrol Engine
Estate
3197
2008.09-2012.03
195 (265)
6
A4 Avant (8K5, B8)
3.2 FSI quattro
Petrol Engine
Estate
3197
2008.04-2012.03
195 (265)
6
A5 (8T3)
1.8 TFSI
Petrol Engine
Coupe
1798
2015.05-2017.01
130 (177)
4
A5 (8T3)
1.8 TFSI
Petrol Engine
Coupe
1798
2009.05-2011.09
118 (160)
4
A5 (8T3)
1.8 TFSI
Petrol Engine
Coupe
1798
2007.10-2017.01
125 (170)
4
A5 (8T3)
2.0 TDI
Diesel
Coupe
1968
2008.08-2017.01
120 (163)
4
A5 (8T3)
2.0 TDI
Diesel
Coupe
1968
2013.09-2017.01
140 (190)
4
A5 (8T3)
2.0 TDI
Diesel
Coupe
1968
2008.08-2012.03
125 (170)
4
A5 (8T3)
2.0 TDI
Diesel
Coupe
1968
2011.10-2017.01
130 (177)
4
A5 (8T3)
2.0 TDI quattro
Diesel
Coupe
1968
2011.12-2017.01
130 (177)
4
A5 (8T3)
2.0 TDI quattro
Diesel
Coupe
1968
2008.08-2012.03
125 (170)
4
A5 (8T3)
2.0 TDI quattro
Diesel
Coupe
1968
2013.09-2017.01
140 (190)
4
A5 (8T3)
2.0 TFSI
Petrol Engine
Coupe
1984
2008.11-2012.03
132 (180)
4
A5 (8T3)
2.0 TFSI
Petrol Engine
Coupe
1984
2013.05-2016.05
165 (224)
4
A5 (8T3)
2.0 TFSI
Petrol Engine
Coupe
1984
2015.08-2017.01
169 (230)
4
A5 (8T3)
2.0 TFSI
Petrol Engine
Coupe
1984
2008.06-2013.11
155 (211)
4
A5 (8T3)
2.0 TFSI quattro
Petrol Engine
Coupe
1984
2008.06-2017.01
155 (211)
4
A5 (8T3)
2.0 TFSI quattro
Petrol Engine
Coupe
1984
2015.08-2017.01
169 (230)
4
A5 (8T3)
2.0 TFSI quattro
Petrol Engine
Coupe
1984
2012.03-2017.01
162 (220)
4
A5 (8T3)
2.0 TFSI quattro
Petrol Engine
Coupe
1984
2013.05-2016.05
165 (224)
4
A5 (8T3)
2.7 TDI
Diesel
Coupe
2698
2007.09-2012.03
120 (163)
6
A5 (8T3)
2.7 TDI
Diesel
Coupe
2698
2007.06-2012.03
140 (190)
6
A5 (8T3)
3.0 TDI
Diesel
Coupe
2967
2011.10-2017.01
150 (204)
6
A5 (8T3)
3.0 TDI quattro
Diesel
Coupe
2967
2015.05-2017.01
160 (218)
6
A5 (8T3)
3.0 TDI quattro
Diesel
Coupe
2967
2011.10-2017.01
180 (245)
6
A5 (8T3)
3.0 TDI quattro
Diesel
Coupe
2967
2008.03-2010.05
155 (211)
6
A5 (8T3)
3.0 TDI quattro
Diesel
Coupe
2967
2007.06-2012.03
176 (240)
6
A5 (8T3)
3.0 TFSI quattro
Petrol Engine
Coupe
2995
2011.12-2017.01
200 (272)
6
A5 (8T3)
3.2 FSI
Petrol Engine
Coupe
3197
2007.06-2012.03
195 (265)
6
A5 (8T3)
3.2 FSI quattro
Petrol Engine
Coupe
3197
2007.06-2012.03
195 (265)
6
A5 Convertible (8F7)
1.8 TFSI
Petrol Engine
Convertible
1798
2009.09-2012.03
118 (160)
4
A5 Convertible (8F7)
1.8 TFSI
Petrol Engine
Convertible
1798
2015.05-2017.01
130 (177)
4
A5 Convertible (8F7)
1.8 TFSI
Petrol Engine
Convertible
1798
2011.10-2016.03
125 (170)
4
A5 Convertible (8F7)
2.0 TDI
Diesel
Convertible
1968
2011.10-2015.05
105 (143)
4
A5 Convertible (8F7)
2.0 TDI
Diesel
Convertible
1968
2011.10-2017.01
130 (177)
4
A5 Convertible (8F7)
2.0 TDI
Diesel
Convertible
1968
2013.05-2017.01
110 (150)
4
A5 Convertible (8F7)
2.0 TDI
Diesel
Convertible
1968
2013.09-2017.01
140 (190)
4
A5 Convertible (8F7)
2.0 TDI
Diesel
Convertible
1968
2009.05-2012.03
125 (170)
4
A5 Convertible (8F7)
2.0 TDI
Diesel
Convertible
1968
2009.05-2014.06
120 (163)
4
A5 Convertible (8F7)
2.0 TDI quattro
Diesel
Convertible
1968
2013.09-2017.01
140 (190)
4
A5 Convertible (8F7)
2.0 TDI quattro
Diesel
Convertible
1968
2012.01-2015.05
130 (177)
4
A5 Convertible (8F7)
2.0 TFSI
Petrol Engine
Convertible
1984
2013.05-2016.05
165 (224)
4
A5 Convertible (8F7)
2.0 TFSI
Petrol Engine
Convertible
1984
2009.03-2012.03
132 (180)
4
A5 Convertible (8F7)
2.0 TFSI
Petrol Engine
Convertible
1984
2015.08-2017.01
169 (230)
4
A5 Convertible (8F7)
2.0 TFSI
Petrol Engine
Convertible
1984
2013.05-2014.12
162 (220)
4
A5 Convertible (8F7)
2.0 TFSI
Petrol Engine
Convertible
1984
2009.03-2014.06
155 (211)
4
A5 Convertible (8F7)
2.0 TFSI quattro
Petrol Engine
Convertible
1984
2015.08-2017.01
169 (230)
4
A5 Convertible (8F7)
2.0 TFSI quattro
Petrol Engine
Convertible
1984
2012.03-2017.01
162 (220)
4
A5 Convertible (8F7)
2.0 TFSI quattro
Petrol Engine
Convertible
1984
2009.03-2017.01
155 (211)
4
A5 Convertible (8F7)
2.0 TFSI quattro
Petrol Engine
Convertible
1984
2013.05-2016.05
165 (224)
4
A5 Convertible (8F7)
2.7 TDI
Diesel
Convertible
2698
2009.03-2012.03
140 (190)
6
A5 Convertible (8F7)
2.7 TDI
Diesel
Convertible
2698
2009.05-2012.03
120 (163)
6
A5 Convertible (8F7)
3.0 TDI
Diesel
Convertible
2967
2011.10-2017.01
150 (204)
6
A5 Convertible (8F7)
3.0 TDI quattro
Diesel
Convertible
2967
2011.10-2017.01
180 (245)
6
A5 Convertible (8F7)
3.0 TDI quattro
Diesel
Convertible
2967
2009.03-2012.03
176 (240)
6
A5 Convertible (8F7)
3.0 TDI quattro
Diesel
Convertible
2967
2015.05-2017.01
160 (218)
6
A5 Convertible (8F7)
3.0 TFSI quattro
Petrol Engine
Convertible
2995
2011.11-2017.01
200 (272)
6
A5 Convertible (8F7)
3.2 FSI
Petrol Engine
Convertible
3197
2009.03-2012.03
195 (265)
6
A5 Convertible (8F7)
3.2 FSI quattro
Petrol Engine
Convertible
3197
2009.03-2012.03
195 (265)
6
A5 Sportback (8TA)
1.8 TFSI
Petrol Engine
Hatchback
1798
2015.05-2017.01
130 (177)
4
A5 Sportback (8TA)
1.8 TFSI
Petrol Engine
Hatchback
1798
2011.08-2017.01
125 (170)
4
A5 Sportback (8TA)
1.8 TFSI
Petrol Engine
Hatchback
1798
2009.11-2011.09
118 (160)
4
A5 Sportback (8TA)
1.8 TFSI
Petrol Engine
Hatchback
1798
2014.09-2017.01
106 (144)
4
A5 Sportback (8TA)
2.0 TDI
Diesel
Hatchback
1968
2013.09-2017.01
140 (190)
4
A5 Sportback (8TA)
2.0 TDI
Diesel
Hatchback
1968
2009.09-2017.01
100 (136)
4
A5 Sportback (8TA)
2.0 TDI
Diesel
Hatchback
1968
2013.05-2017.01
110 (150)
4
A5 Sportback (8TA)
2.0 TDI
Diesel
Hatchback
1968
2009.09-2017.01
120 (163)
4
A5 Sportback (8TA)
2.0 TDI
Diesel
Hatchback
1968
2009.09-2012.03
125 (170)
4
A5 Sportback (8TA)
2.0 TDI
Diesel
Hatchback
1968
2009.09-2017.01
105 (143)
4
A5 Sportback (8TA)
2.0 TDI
Diesel
Hatchback
1968
2011.10-2017.01
130 (177)
4
A5 Sportback (8TA)
2.0 TDI quattro
Diesel
Hatchback
1968
2011.12-2017.01
130 (177)
4
A5 Sportback (8TA)
2.0 TDI quattro
Diesel
Hatchback
1968
2013.09-2017.01
140 (190)
4
A5 Sportback (8TA)
2.0 TDI quattro
Diesel
Hatchback
1968
2009.09-2012.03
125 (170)
4
A5 Sportback (8TA)
2.0 TFSI
Petrol Engine
Hatchback
1984
2009.09-2014.06
132 (180)
4
A5 Sportback (8TA)
2.0 TFSI
Petrol Engine
Hatchback
1984
2013.05-2016.05
165 (224)
4
A5 Sportback (8TA)
2.0 TFSI
Petrol Engine
Hatchback
1984
2009.09-2013.11
155 (211)
4
A5 Sportback (8TA)
2.0 TFSI
Petrol Engine
Hatchback
1984
2015.08-2017.01
169 (230)
4
A5 Sportback (8TA)
2.0 TFSI quattro
Petrol Engine
Hatchback
1984
2015.08-2017.01
169 (230)
4
A5 Sportback (8TA)
2.0 TFSI quattro
Petrol Engine
Hatchback
1984
2009.09-2017.01
155 (211)
4
A5 Sportback (8TA)
2.0 TFSI quattro
Petrol Engine
Hatchback
1984
2013.05-2016.05
165 (224)
4
A5 Sportback (8TA)
2.7 TDI
Diesel
Hatchback
2698
2009.09-2012.03
140 (190)
6
A5 Sportback (8TA)
2.7 TDI
Diesel
Hatchback
2698
2009.09-2017.01
120 (163)
6
A5 Sportback (8TA)
3.0 TDI
Diesel
Hatchback
2967
2011.10-2017.01
150 (204)
6
A5 Sportback (8TA)
3.0 TDI quattro
Diesel
Hatchback
2967
2011.10-2017.01
180 (245)
6
A5 Sportback (8TA)
3.0 TDI quattro
Diesel
Hatchback
2967
2015.05-2017.01
160 (218)
6
A5 Sportback (8TA)
3.0 TDI quattro
Diesel
Hatchback
2967
2009.09-2012.03
176 (240)
6
A5 Sportback (8TA)
3.0 TFSI quattro
Petrol Engine
Hatchback
2995
2011.12-2017.01
200 (272)
6
A5 Sportback (8TA)
3.2 FSI quattro
Petrol Engine
Hatchback
3197
2009.09-2012.03
195 (265)
6
Q5 (8RB)
2.0 TDI
Diesel
Closed Off-Road Vehicle
1968
2010.11-.
100 (136)
4
Q5 (8RB)
2.0 TDI
Diesel
Closed Off-Road Vehicle
1968
2010.11-.
105 (143)
4
Q5 (8RB)
2.0 TDI
Diesel
Closed Off-Road Vehicle
1968
2013.05-.
110 (150)
4
Q5 (8RB)
2.0 TDI quattro
Diesel
Closed Off-Road Vehicle
1968
2009.08-.
100 (136)
4
Q5 (8RB)
2.0 TDI quattro
Diesel
Closed Off-Road Vehicle
1968
2013.11-.
140 (190)
4
Q5 (8RB)
2.0 TDI quattro
Diesel
Closed Off-Road Vehicle
1968
2013.05-.
110 (150)
4
Q5 (8RB)
2.0 TDI quattro
Diesel
Closed Off-Road Vehicle
1968
2008.11-.
120 (163)
4
Q5 (8RB)
2.0 TDI quattro
Diesel
Closed Off-Road Vehicle
1968
2008.11-.
125 (170)
4
Q5 (8RB)
2.0 TDI quattro
Diesel
Closed Off-Road Vehicle
1968
2012.06-.
130 (177)
4
Q5 (8RB)
2.0 TDI quattro
Diesel
Closed Off-Road Vehicle
1968
2009.08-.
105 (143)
4
Q5 (8RB)
2.0 TFSI hybrid quattro
Hybrid
Closed Off-Road Vehicle
1984
2011.06-.
155 (211)
4
Q5 (8RB)
2.0 TFSI quattro
Petrol Engine
Closed Off-Road Vehicle
1984
2008.11-.
155 (211)
4
Q5 (8RB)
2.0 TFSI quattro
Petrol Engine
Closed Off-Road Vehicle
1984
2009.08-.
132 (180)
4
Q5 (8RB)
2.0 TFSI quattro
Petrol Engine
Closed Off-Road Vehicle
1984
2015.08-.
169 (230)
4
Q5 (8RB)
2.0 TFSI quattro
Petrol Engine
Closed Off-Road Vehicle
1984
2013.05-.
162 (220)
4
Q5 (8RB)
2.0 TFSI quattro
Petrol Engine
Closed Off-Road Vehicle
1984
2012.06-.
165 (224)
4
Q5 (8RB)
3.0 TDI quattro
Diesel
Closed Off-Road Vehicle
2967
2013.11-.
190 (258)
6
Q5 (8RB)
3.0 TDI quattro
Diesel
Closed Off-Road Vehicle
2967
2012.06-.
180 (245)
6
Q5 (8RB)
3.0 TDI quattro
Diesel
Closed Off-Road Vehicle
2967
2008.11-.
155 (211)
6
Q5 (8RB)
3.0 TDI quattro
Diesel
Closed Off-Road Vehicle
2967
2008.11-.
176 (240)
6
Q5 (8RB)
3.0 TDI quattro
Diesel
Closed Off-Road Vehicle
2967
2012.06-.
184 (250)
6
Q5 (8RB)
3.0 TFSI quattro
Petrol Engine
Closed Off-Road Vehicle
2995
2012.06-.
200 (272)
6
Q5 (8RB)
3.2 FSI quattro
Petrol Engine
Closed Off-Road Vehicle
3197
2008.11-.
199 (270)
6
customers who bought this product also bought:
Belt Tensioner, v-ribbed belt
OE-No.
GATES:
T38375
INA:
534 0185 10
SKF:
VKM 31034
VAG:
028 903 315 M

TRUCKTEC part number: 07.19.132

TRUCKTEC part number:
Resistor, interior blower
OE-No.
CHRYSLER:
05103766AA
MERCEDES-BENZ:
001 821 1360
VAG:
2D0 959 263
VALEO:
515076

TRUCKTEC part number: 02.59.113
Gasket, cylinder head
OE-No.
ELRING:
914.873
VAG:
028 103 383 AK
028 103 383 BK

TRUCKTEC part number: 07.10.004
Resistor, interior blower
OE-No.
CHRYSLER:
05133432AA
MERCEDES-BENZ:
001 821 6760
VAG:
2D0 959 263 A

TRUCKTEC part number: 02.59.114
Shaft Seal, crankshaft
OE-No.
ELRING:
342.093
FORD:
1 005 303
95VW6701AA
MERCEDES-BENZ:
000 015 0245
000 015 0246
PEUGEOT:
38821480
51440
5144000
9350171480
959085112
97510800
VAG:
026 103 051 A
032 104 023 L
052 103 051
052 103 051 A
056 103 051 D
068 103 051 A
068 103 051 G
068 103 051 P
068 103 171 F
068 103 171 FS
068 103 171 G
068 103 171 GS
068 198 171
068 198 171 S
VOLVO:
1 257 049-5
3501761
35017615

TRUCKTEC part number: 07.10.008
Brake Pad Set, disc brake
OE-No.
ATE:
13.0460-2747.2
BENDIX:
573259B
BOSCH:
0 986 494 254
0 986 494 637
0 986 TB3 123
BOSCH DIAGNOSTICS:
0 986 494 254
HELLA:
8DB 355 013-651
VAG:
8K0 698 451
8K0 698 451 A
8K0 698 451 B
8K0 698 451 C
8K0 698 451 D

TRUCKTEC part number: 07.35.191
Gasket, cylinder head cover
OE-No.
ELRING:
619.771
FORD:
1 005 262
95VW6584BA
VAG:
028 103 483 C
028 103 483 G

TRUCKTEC part number: 07.10.017
Joint, propshaft
OE-No.
FIAT:
4552008
FORD:
1798134
INA:
532 0132 10
JAGUAR:
GUJ116
LAND ROVER:
43023
RTC 3458
RTC 4587
LÖBRO:
18110
U110
MERCEDES-BENZ:
27 x 75 mm
U110
RENAULT:
5000243236

TRUCKTEC part number: 02.34.041
Oil Filter
OE-No.
BOSCH DIAGNOSTICS:
1 457 429 619
CUMMINS:
LF16176
FORD:
1100696
1137371
XM21 6744 AA
KOLBENSCHMIDT:
50013488
MAHLE:
09605627
OX 143D
OX 143D ECO
MANN-FILTER:
HU 726/2 x
HU726/1X
VAG:
038 115 466
074 115 562
VALEO:
586502

TRUCKTEC part number: 07.18.024