Here you can inquire your individual shop login.
Please login to see your individual prices and our avaliability.
Repair Kit, brake caliper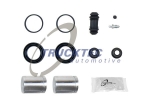 TRUCKTEC part number: 02.35.395
Amount per packaging unit: 1
Date added: 2021-08-05 14:28:10 | Date last modified: 2021-08-05 14:28:10
Please register or login to see prices and availability.
Comparison numbers:
OE-No.
BOSCH
0 204 102 913 n.cpl.1
0 986 474 231 n.cpl.1

MERCEDES-BENZ
001 420 7083 n.cpl.1
002 420 5883 n.cpl.1
904 420 02 01 n.cpl.1

| | |
| --- | --- |
| Fitting Position | Front Axle |
model
product line
fuel
body
cubic capacity
year
power
cylinders
MERCEDES-BENZ
SPRINTER 2-t Box (901, 902)
208 CDI
Diesel
Box
2148
2000.04-2006.05
60 (82)
4
SPRINTER 2-t Box (901, 902)
208 D
Diesel
Box
2299
1995.02-2000.04
58 (79)
4
SPRINTER 2-t Box (901, 902)
208 D
Diesel
Box
2299
1996.10-2000.04
60 (82)
4
SPRINTER 2-t Box (901, 902)
210 D
Diesel
Box
2874
1997.01-2000.04
75 (102)
5
SPRINTER 2-t Box (901, 902)
211 CDI
Diesel
Box
2148
2000.04-2006.05
80 (109)
4
SPRINTER 2-t Box (901, 902)
212 D
Diesel
Box
2874
1995.02-2000.04
90 (122)
5
SPRINTER 2-t Box (901, 902)
213 CDI
Diesel
Box
2148
2000.04-2006.05
95 (129)
4
SPRINTER 2-t Box (901, 902)
214
Petrol Engine
Box
2295
1995.02-2006.05
105 (143)
4
SPRINTER 2-t Box (901, 902)
214 NGT
Petrol Engine
Box
2295
1995.02-2006.05
95 (129)
4
SPRINTER 2-t Box (901, 902)
216 CDI
Diesel
Box
2685
2000.04-2006.05
115 (156)
5
SPRINTER 2-t Bus (901, 902)
208 CDI
Diesel
Bus
2148
2000.04-2006.05
60 (82)
4
SPRINTER 2-t Bus (901, 902)
208 D
Diesel
Bus
2299
1995.02-2000.04
58 (79)
4
SPRINTER 2-t Bus (901, 902)
210 D
Diesel
Bus
2874
1997.03-2000.04
75 (102)
5
SPRINTER 2-t Bus (901, 902)
211 CDI
Diesel
Bus
2148
2000.04-2006.05
80 (109)
4
SPRINTER 2-t Bus (901, 902)
212 D
Diesel
Bus
2874
1995.02-2000.04
90 (122)
5
SPRINTER 2-t Bus (901, 902)
213 CDI
Diesel
Bus
2148
2000.04-2006.05
95 (129)
4
SPRINTER 2-t Bus (901, 902)
214 (902.071, 902.072, 902.671, 902.672)
Petrol Engine
Bus
2295
1995.02-2006.05
105 (143)
4
SPRINTER 2-t Bus (901, 902)
214 NGT
Petrol Engine
Bus
2295
1995.02-2006.05
95 (129)
4
SPRINTER 2-t Bus (901, 902)
216 CDI
Diesel
Bus
2685
2000.04-2006.05
115 (156)
5
SPRINTER 2-t Platform/Chassis (901, 902)
208 CDI
Diesel
Platform/Chassis
2148
2000.04-2006.05
60 (82)
4
SPRINTER 2-t Platform/Chassis (901, 902)
208 D
Diesel
Platform/Chassis
2299
1995.01-2000.04
58 (79)
4
SPRINTER 2-t Platform/Chassis (901, 902)
208 D
Diesel
Platform/Chassis
2299
1996.09-2000.04
60 (82)
4
SPRINTER 2-t Platform/Chassis (901, 902)
210 D
Diesel
Platform/Chassis
2874
1997.01-2000.04
75 (102)
5
SPRINTER 2-t Platform/Chassis (901, 902)
211 CDI
Diesel
Platform/Chassis
2148
2000.04-2006.05
80 (109)
4
SPRINTER 2-t Platform/Chassis (901, 902)
212 D
Diesel
Platform/Chassis
2874
1995.02-2000.04
90 (122)
5
SPRINTER 2-t Platform/Chassis (901, 902)
213 CDI
Diesel
Platform/Chassis
2148
2000.04-2006.05
95 (129)
4
SPRINTER 2-t Platform/Chassis (901, 902)
214 (902.011, 902.012, 902.611, 902.612)
Petrol Engine
Platform/Chassis
2295
1995.02-2006.05
105 (143)
4
SPRINTER 2-t Platform/Chassis (901, 902)
214 NGT
Petrol Engine
Platform/Chassis
2295
1995.02-2006.05
95 (129)
4
SPRINTER 2-t Platform/Chassis (901, 902)
216 CDI
Diesel
Platform/Chassis
2685
2000.04-2006.05
115 (156)
5
SPRINTER 3-t Box (903)
308 CDI
Diesel
Box
2148
2000.04-2006.05
60 (82)
4
SPRINTER 3-t Box (903)
308 D 2.3
Diesel
Box
2299
1995.02-2000.04
60 (82)
4
SPRINTER 3-t Box (903)
308 D 2.3
Diesel
Box
2299
1995.02-2000.04
58 (79)
4
SPRINTER 3-t Box (903)
310 D 2.9
Diesel
Box
2874
1995.02-2000.04
75 (102)
5
SPRINTER 3-t Box (903)
311 CDI
Diesel
Box
2148
2000.04-2006.05
80 (109)
4
SPRINTER 3-t Box (903)
311 CDI 4x4
Diesel
Box
2148
2002.08-2006.05
80 (109)
4
SPRINTER 3-t Box (903)
312 D 2.9
Diesel
Box
2874
1995.02-2000.04
90 (122)
5
SPRINTER 3-t Box (903)
312 D 2.9 4x4
Diesel
Box
2874
1997.05-2002.08
90 (122)
5
SPRINTER 3-t Box (903)
313 CDI
Diesel
Box
2148
2000.04-2006.05
95 (129)
4
SPRINTER 3-t Box (903)
313 CDI 4x4
Diesel
Box
2148
2002.08-2006.05
95 (129)
4
SPRINTER 3-t Box (903)
314
Petrol Engine
Box
2295
1995.02-2006.05
105 (143)
4
SPRINTER 3-t Box (903)
314 4x4
Petrol Engine
Box
2295
2002.08-2006.05
105 (143)
4
SPRINTER 3-t Box (903)
314 NGT (903.661)
Petrol Engine
Box
2295
1995.02-2006.05
95 (129)
4
SPRINTER 3-t Box (903)
316 CDI
Diesel
Box
2685
2000.04-2006.05
115 (156)
5
SPRINTER 3-t Box (903)
316 CDI 4x4
Diesel
Box
2685
2002.08-2006.05
115 (156)
5
SPRINTER 3-t Bus (903)
308 CDI
Diesel
Bus
2148
2000.04-2006.05
60 (82)
4
SPRINTER 3-t Bus (903)
308 D
Diesel
Bus
2299
1995.02-2000.04
58 (79)
4
SPRINTER 3-t Bus (903)
308 D (903.371, 903.372, 903.373)
Diesel
Bus
2299
1997.03-2000.04
60 (82)
4
SPRINTER 3-t Bus (903)
310 D (903.371, 903.372, 903.373)
Diesel
Bus
2874
1997.01-1999.12
75 (102)
5
SPRINTER 3-t Bus (903)
310 D 4x4
Diesel
Bus
2874
1997.05-2002.08
75 (102)
5
SPRINTER 3-t Bus (903)
311 CDI
Diesel
Bus
2148
2000.04-2006.05
80 (109)
4
SPRINTER 3-t Bus (903)
311 CDI 4x4
Diesel
Bus
2148
2002.08-2006.05
80 (109)
4
SPRINTER 3-t Bus (903)
312 D 2.9
Diesel
Bus
2874
1995.02-2000.04
90 (122)
5
SPRINTER 3-t Bus (903)
312 D 2.9 4x4
Diesel
Bus
2874
1997.05-2002.08
90 (122)
5
SPRINTER 3-t Bus (903)
313 CDI
Diesel
Bus
2148
2000.04-2006.05
95 (129)
4
SPRINTER 3-t Bus (903)
313 CDI 4x4
Diesel
Bus
2148
2002.08-2006.05
95 (129)
4
SPRINTER 3-t Bus (903)
314 (903.071, 903.072, 903.073, 903.671, 903.672,...
Petrol Engine
Bus
2295
1995.02-2006.05
105 (143)
4
SPRINTER 3-t Bus (903)
314 4x4
Petrol Engine
Bus
2295
2002.08-2006.05
105 (143)
4
SPRINTER 3-t Bus (903)
314 NGT
Petrol Engine
Bus
2295
1995.02-2006.05
95 (129)
4
SPRINTER 3-t Bus (903)
316 CDI
Diesel
Bus
2685
2000.04-2006.05
115 (156)
5
SPRINTER 3-t Bus (903)
316 CDI 4x4
Diesel
Bus
2685
2002.08-2006.05
115 (156)
5
SPRINTER 3-t Platform/Chassis (903)
308 CDI
Diesel
Platform/Chassis
2148
2000.04-2006.05
60 (82)
4
SPRINTER 3-t Platform/Chassis (903)
308 D 2.3
Diesel
Platform/Chassis
2299
1995.02-2000.04
58 (79)
4
SPRINTER 3-t Platform/Chassis (903)
308 D 2.3
Diesel
Platform/Chassis
2299
1996.11-2000.04
60 (82)
4
SPRINTER 3-t Platform/Chassis (903)
310 D 2.9
Diesel
Platform/Chassis
2874
1997.01-2000.04
75 (102)
5
SPRINTER 3-t Platform/Chassis (903)
311 CDI
Diesel
Platform/Chassis
2148
2000.04-2006.05
80 (109)
4
SPRINTER 3-t Platform/Chassis (903)
311 CDI 4x4
Diesel
Platform/Chassis
2148
2002.08-2006.05
80 (109)
4
SPRINTER 3-t Platform/Chassis (903)
312 D 2.9
Diesel
Platform/Chassis
2874
1995.02-2000.04
90 (122)
5
SPRINTER 3-t Platform/Chassis (903)
312 D 2.9 (903.411, 903.412, 903.413, 903.421, 903.422,...
Diesel
Platform/Chassis
2874
1998.12-2001.09
85 (116)
5
SPRINTER 3-t Platform/Chassis (903)
313 CDI
Diesel
Platform/Chassis
2148
2000.04-2006.05
95 (129)
4
SPRINTER 3-t Platform/Chassis (903)
313 CDI 4x4
Diesel
Platform/Chassis
2148
2002.08-2006.05
95 (129)
4
SPRINTER 3-t Platform/Chassis (903)
314 (903.011, 903.012, 903.013, 903.022, 903.611,...
Petrol Engine
Platform/Chassis
2295
1995.02-2006.05
105 (143)
4
SPRINTER 3-t Platform/Chassis (903)
314 4x4
Petrol Engine
Platform/Chassis
2295
2002.08-2006.05
105 (143)
4
SPRINTER 3-t Platform/Chassis (903)
314 NGT (903.611, 903.612)
Petrol Engine
Platform/Chassis
2295
1995.02-2006.05
95 (129)
4
SPRINTER 3-t Platform/Chassis (903)
316 CDI
Diesel
Platform/Chassis
2685
2000.04-2006.05
115 (156)
5
SPRINTER 3-t Platform/Chassis (903)
316 CDI 4x4
Diesel
Platform/Chassis
2685
2002.08-2006.05
115 (156)
5
SPRINTER 4-t Box (904)
408 CDI
Diesel
Box
2148
2000.04-2006.05
60 (82)
4
SPRINTER 4-t Box (904)
408 D
Diesel
Box
2299
1996.02-2006.05
58 (79)
4
SPRINTER 4-t Box (904)
410 D
Diesel
Box
2874
1996.02-2006.05
75 (102)
5
SPRINTER 4-t Box (904)
410 D 4x4
Diesel
Box
2874
1997.05-2006.05
75 (102)
5
SPRINTER 4-t Box (904)
411 CDI
Diesel
Box
2148
2000.04-2006.05
80 (109)
4
SPRINTER 4-t Box (904)
411 CDI 4x4
Diesel
Box
2148
2000.04-2006.05
80 (109)
4
SPRINTER 4-t Box (904)
412 D
Diesel
Box
2874
1996.02-2006.05
90 (122)
5
SPRINTER 4-t Box (904)
412 D
Diesel
Box
2874
1996.02-2006.05
85 (115)
5
SPRINTER 4-t Box (904)
412 D 4x4
Diesel
Box
2874
1997.05-2006.05
90 (122)
5
SPRINTER 4-t Box (904)
412 D 4x4
Diesel
Box
2874
1997.05-2006.05
85 (115)
5
SPRINTER 4-t Box (904)
413 CDI
Diesel
Box
2148
2000.04-2006.05
95 (129)
4
SPRINTER 4-t Box (904)
413 CDI 4x4
Diesel
Box
2148
2000.04-2006.05
95 (129)
4
SPRINTER 4-t Box (904)
414 (904.062, 904.063, 904.662, 904.663)
Petrol Engine
Box
2295
1996.02-2006.05
105 (143)
4
SPRINTER 4-t Box (904)
414 4x4 (904.062, 904.063, 904.662, 904.663)
Petrol Engine
Box
2295
1997.05-2006.05
105 (143)
4
SPRINTER 4-t Box (904)
416 CDI
Diesel
Box
2685
2000.04-2006.05
115 (156)
5
SPRINTER 4-t Box (904)
416 CDI 4x4
Diesel
Box
2685
2000.04-2006.05
115 (156)
5
SPRINTER 4-t Bus (904)
408 CDI
Diesel
Bus
2148
2000.04-2006.05
60 (82)
4
SPRINTER 4-t Bus (904)
411 CDI
Diesel
Bus
2148
2000.04-2006.05
80 (109)
4
SPRINTER 4-t Bus (904)
413 CDI
Diesel
Bus
2148
2000.04-2006.05
95 (129)
4
SPRINTER 4-t Bus (904)
414
Petrol Engine
Bus
2295
1996.02-2006.05
105 (143)
4
SPRINTER 4-t Bus (904)
416 CDI
Diesel
Bus
2685
2000.04-2006.05
115 (156)
5
SPRINTER 4-t Platform/Chassis (904)
408 CDI
Diesel
Platform/Chassis
2148
2000.04-2006.05
60 (82)
4
SPRINTER 4-t Platform/Chassis (904)
408 D
Diesel
Platform/Chassis
2299
1996.02-2006.05
58 (79)
4
SPRINTER 4-t Platform/Chassis (904)
410 D
Diesel
Platform/Chassis
2874
1996.02-2006.05
75 (102)
5
SPRINTER 4-t Platform/Chassis (904)
410 D 4x4
Diesel
Platform/Chassis
2874
1997.05-2006.05
75 (102)
5
SPRINTER 4-t Platform/Chassis (904)
411 CDI
Diesel
Platform/Chassis
2148
2000.04-2006.05
80 (109)
4
SPRINTER 4-t Platform/Chassis (904)
411 CDI 4x4
Diesel
Platform/Chassis
2148
2000.04-2006.05
80 (109)
4
SPRINTER 4-t Platform/Chassis (904)
412 D
Diesel
Platform/Chassis
2874
1996.02-2006.05
85 (115)
5
SPRINTER 4-t Platform/Chassis (904)
412 D
Diesel
Platform/Chassis
2874
1996.02-2006.05
90 (122)
5
SPRINTER 4-t Platform/Chassis (904)
412 D 4x4
Diesel
Platform/Chassis
2874
1997.05-2006.05
85 (115)
5
SPRINTER 4-t Platform/Chassis (904)
412 D 4x4
Diesel
Platform/Chassis
2874
1997.05-2006.05
90 (122)
5
SPRINTER 4-t Platform/Chassis (904)
413 CDI
Diesel
Platform/Chassis
2148
2000.04-2006.05
95 (129)
4
SPRINTER 4-t Platform/Chassis (904)
413 CDI 4x4
Diesel
Platform/Chassis
2148
2000.04-2006.05
95 (129)
4
SPRINTER 4-t Platform/Chassis (904)
414 (904.012, 904.013, 904.612, 904.613)
Petrol Engine
Platform/Chassis
2295
1995.02-2006.05
105 (143)
4
SPRINTER 4-t Platform/Chassis (904)
414 4x4 (904.012, 904.013, 904.612, 904.613)
Petrol Engine
Platform/Chassis
2295
1997.05-2006.05
105 (143)
4
SPRINTER 4-t Platform/Chassis (904)
416 CDI
Diesel
Platform/Chassis
2685
2000.04-2006.05
115 (156)
5
SPRINTER 4-t Platform/Chassis (904)
416 CDI 4x4
Diesel
Platform/Chassis
2685
2000.04-2006.05
115 (156)
5
SPRINTER CLASSIC 3,5-t Box (909)
311 CDI (909.632, 909.633)
Diesel
Box
2148
2013.09-.
80 (109)
4
SPRINTER CLASSIC 4,6-t Bus (909)
411 CDI (909.843)
Diesel
Bus
2148
2013.09-.
80 (109)
4