Here you can inquire your individual shop login.
Please login to see your individual prices and our avaliability.
Gasket Set, cylinder head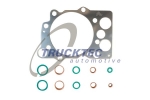 TRUCKTEC part number: 03.10.002
Amount per packaging unit: 1
Date added: 2023-06-06 21:28:05 | Date last modified: 2023-06-06 21:28:05
Please register or login to see prices and availability.
Comparison numbers:
OE-No.
ELRING
917.109

VOLVO
270772
270949 cpl.1
275554

model
product line
fuel
body
cubic capacity
year
power
tonnage / cylinders
axle
commercial vehicles - VOLVO
B12
B12
Diesel
Bus
11980
1992.01-.
291-298 (396-405)
1800
1
B12
B12
Diesel
Bus
11980
1992.01-.
262 (356)
1800
1
B12
B12
Diesel
Bus Chassis
11980
1991.01-2006.12
298 (405)
2400
3
B12
B12
Diesel
Bus Chassis
11980
1991.01-2006.12
262 (356)
2400
3
B12
B12
Diesel
Bus Chassis
11980
1991.01-2006.12
291 (396)
2400
3
F12
F 12/360
Diesel
Dump Truck
11980
1990.12-1994.12
262 (356)
1800
1
F12
F 12/360
Diesel
Dump Truck
11980
1987.01-1995.12
262 (356)
2400
3
F12
F 12/360
Diesel
Dump Truck
11980
1991.01-1994.12
262 (356)
2600
4
F12
F 12/360
Diesel
Dump Truck
11980
1987.01-1995.12
262 (356)
3400
8
F12
F 12/360
Diesel
Dump Truck
11980
1988.01-1990.12
262 (356)
1700
1
F12
F 12/360
Diesel
Platform/Chassis
11980
1988.01-1990.12
262 (356)
2400
4
F12
F 12/360
Diesel
Platform/Chassis
11980
1987.01-1995.12
262 (356)
3400
8
F12
F 12/360
Diesel
Platform/Chassis
11980
1990.12-1994.12
262 (356)
2500
3
F12
F 12/360
Diesel
Platform/Chassis
11980
1990.12-1994.12
262 (356)
2500
4
F12
F 12/360
Diesel
Platform/Chassis
11980
1988.01-1990.12
262 (356)
1700
1
F12
F 12/360
Diesel
Platform/Chassis
11980
1988.01-1990.12
262 (356)
2400
3
F12
F 12/360
Diesel
Platform/Chassis
11980
1990.12-1994.12
262 (356)
1800
1
F12
F 12/360
Diesel
Truck Tractor
11980
1988.01-1990.12
262 (356)
1700
1
F12
F 12/360
Diesel
Truck Tractor
11980
1988.01-1990.12
262 (356)
2400
3
F12
F 12/360
Diesel
Truck Tractor
11980
1990.12-1994.12
262 (356)
1800
1
F12
F 12/360
Diesel
Truck Tractor
11980
1988.01-1990.12
262 (356)
2400
4
F12
F 12/360
Diesel
Truck Tractor
11980
1990.12-1994.12
262 (356)
2500
3
F12
F 12/360
Diesel
Truck Tractor
11980
1990.10-1994.12
262 (356)
2500
4
F12
F 12/380
Diesel
Dump Truck
11980
1987.01-1995.12
284 (386)
1800
1
F12
F 12/380
Diesel
Dump Truck
11980
1987.01-1995.12
284 (386)
2600
4
F12
F 12/380
Diesel
Dump Truck
11980
1987.01-1995.12
284 (386)
2400
3
F12
F 12/380
Diesel
Dump Truck
11980
1987.01-1995.12
284 (386)
3400
8
F12
F 12/380
Diesel
Platform/Chassis
11980
1987.01-1995.12
284 (386)
2400
3
F12
F 12/380
Diesel
Platform/Chassis
11980
1987.01-1995.12
284 (386)
2600
4
F12
F 12/380
Diesel
Platform/Chassis
11980
1987.01-1995.12
284 (386)
3400
8
F12
F 12/380
Diesel
Platform/Chassis
11980
1987.01-1995.12
284 (386)
1800
1
F12
F 12/380
Diesel
Truck Tractor
11980
1987.01-1995.12
284 (386)
2400
3
F12
F 12/380
Diesel
Truck Tractor
11980
1987.01-1995.12
284 (386)
2600
4
F12
F 12/380
Diesel
Truck Tractor
11980
1987.01-1995.12
284 (386)
1800
1
F12
F 12/390
Diesel
Dump Truck
11980
1987.01-1995.12
287 (390)
2600
4
F12
F 12/390
Diesel
Dump Truck
11980
1987.01-1995.12
287 (390)
2400
3
F12
F 12/390
Diesel
Dump Truck
11980
1987.01-1995.12
287 (390)
3400
8
F12
F 12/390
Diesel
Dump Truck
11980
1987.01-1995.12
287 (390)
1800
1
F12
F 12/390
Diesel
Platform/Chassis
11980
1987.01-1995.12
287 (390)
2400
3
F12
F 12/390
Diesel
Platform/Chassis
11980
1987.01-1995.12
287 (390)
2600
4
F12
F 12/390
Diesel
Platform/Chassis
11980
1987.01-1995.12
287 (390)
3400
8
F12
F 12/390
Diesel
Platform/Chassis
11980
1987.01-1995.12
287 (390)
1800
1
F12
F 12/390
Diesel
Truck Tractor
11980
1987.01-1995.12
287 (390)
2400
3
F12
F 12/390
Diesel
Truck Tractor
11980
1987.01-1995.12
287 (390)
2600
4
F12
F 12/390
Diesel
Truck Tractor
11980
1987.01-1995.12
287 (390)
1800
1
F12
F 12/400
Diesel
Dump Truck
11980
1987.01-1995.12
291 (396)
1800
1
F12
F 12/400
Diesel
Dump Truck
11980
1987.01-1995.12
291 (396)
2400
3
F12
F 12/400
Diesel
Dump Truck
11980
1987.01-1995.12
291 (396)
3400
8
F12
F 12/400
Diesel
Dump Truck
11980
1987.01-1995.12
291 (396)
2600
4
F12
F 12/400
Diesel
Platform/Chassis
11980
1987.01-1995.12
291 (396)
3400
8
F12
F 12/400
Diesel
Platform/Chassis
11980
1988.01-1990.12
291 (396)
1700
1
F12
F 12/400
Diesel
Platform/Chassis
11980
1990.12-1994.12
291 (396)
1800
1
F12
F 12/400
Diesel
Platform/Chassis
11980
1988.01-1990.12
291 (396)
2400
3
F12
F 12/400
Diesel
Platform/Chassis
11980
1988.01-1990.12
291 (396)
2400
4
F12
F 12/400
Diesel
Truck Tractor
11980
1988.01-1990.12
291 (396)
1700
1
F12
F 12/400
Diesel
Truck Tractor
11980
1990.12-1994.12
291 (396)
2500
3
F12
F 12/400
Diesel
Truck Tractor
11980
1988.01-1990.12
291 (396)
2400
4
F12
F 12/400,F 12/410
Diesel
Platform/Chassis
11980
1990.12-1994.12
291-298 (396-405)
2500
3
F12
F 12/400,F 12/410
Diesel
Platform/Chassis
11980
1990.12-1994.12
291-298 (396-405)
2500
4
F12
F 12/400,F 12/410
Diesel
Truck Tractor
11980
1990.12-1994.12
291-298 (396-405)
1800
1
F12
F 12/400,F 12/410
Diesel
Truck Tractor
11980
1988.01-1994.12
291-298 (396-405)
2400
3
F12
F 12/400,F 12/410
Diesel
Truck Tractor
11980
1990.12-1994.12
291-298 (396-405)
2500
4
F12
F 12/410
Diesel
Dump Truck
11980
1987.01-1995.12
298 (405)
1800
1
F12
F 12/410
Diesel
Dump Truck
11980
1987.01-1995.12
298 (405)
2400
3
F12
F 12/410
Diesel
Dump Truck
11980
1987.01-1995.12
298 (405)
3400
8
F12
F 12/410
Diesel
Dump Truck
11980
1987.01-1995.12
298 (405)
2600
4
F12
F 12/410
Diesel
Platform/Chassis
11980
1987.01-1995.12
298 (405)
1800
1
F12
F 12/410
Diesel
Platform/Chassis
11980
1987.01-1995.12
298 (405)
3400
8
NL
NL 12/360
Diesel
Dump Truck
11980
1992.01-1995.12
262 (356)
1800
1
NL
NL 12/360
Diesel
Dump Truck
11980
1992.01-1995.12
262 (356)
2400
3
NL
NL 12/360
Diesel
Dump Truck
11980
1992.01-1995.12
262 (356)
2600
4
NL
NL 12/360
Diesel
Platform/Chassis
11980
1992.01-1995.12
262 (356)
2400
3
NL
NL 12/360
Diesel
Truck Tractor
11980
1992.01-1995.12
262 (356)
2400
3
NL
NL 12/400
Diesel
Dump Truck
11980
1989.01-1995.12
291 (396)
2400
3
NL
NL 12/400
Diesel
Dump Truck
11980
1989.01-1995.12
291 (396)
2600
4
NL
NL 12/400
Diesel
Dump Truck
11980
1989.01-1995.12
291 (396)
1800
1
NL
NL 12/400
Diesel
Platform/Chassis
11980
1989.01-1995.12
291 (396)
1800
1
NL
NL 12/400
Diesel
Platform/Chassis
11980
1989.01-1995.12
291 (396)
2400
3
NL
NL 12/400
Diesel
Platform/Chassis
11980
1989.01-1995.12
291 (396)
2600
4
NL
NL 12/400
Diesel
Truck Tractor
11980
1989.01-1995.12
291 (396)
1800
1
NL
NL 12/400
Diesel
Truck Tractor
11980
1989.01-1995.12
291 (396)
2400
3
NL
NL 12/400
Diesel
Truck Tractor
11980
1989.01-1995.12
291 (396)
2600
4
motor code
fuel
cubic capacity
year
power
cylinders
VOLVO...
TD 122 F
Diesel
11980
1987.08-1994.12
257-262 (350-356)
6
TD 122 FA
Diesel
11980
.-.
272 (370)
6
TD 122 FH
Diesel
11980
1990.01-1994.12
262 (356)
6
TD 122 FK
Diesel
11980
.-.
287-291 (390-396)
6
TD 122 FL
Diesel
11980
1989.10-1994.12
291 (396)
6
TD 122 FR
Diesel
11980
.-.
262-291 (356-396)
6
TD 122 FS
Diesel
11980
1987.11-1994.12
287-291 (395-396)
6
TD 123 E
Diesel
11980
1992.01-1994.12
262-265 (356-360)
6
TD 123 ES
Diesel
11980
1992.01-1994.12
298 (405)
6