Here you can inquire your individual shop login.
Please login to see your individual prices and our avaliability.
Joint Kit, drive shaft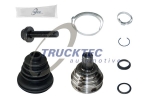 TRUCKTEC part number: 07.31.245
Amount per packaging unit: 1
Date added: 2019-04-18 04:38:08 | Date last modified: 2019-04-18 04:38:08
Please register or login to see prices and availability.
Comparison numbers:
OE-No.
LÖBRO
304327

SKF
VKJA 3026

VAG
1J0 407 311 G
1K0 407 311 G
1K0 407 311 H
1K0 407 311 L
1K0 497 311 H
1K0 498 099
1K0 498 099 A
1K0 498 099 AV
1K0 498 099 AX
1K0 498 099 C
1K0 498 099 E
1K0 498 099 EV
1K0 498 099 EX
1K0 498 099 G
1K0 498 099 X

Fitting Position
Front Axle
Wheel Side

model
product line
fuel
body
cubic capacity
year
power
cylinders
AUDI
A3 (8L1)
1.8 T quattro
Petrol Engine
Hatchback
1781
1996.12-2003.05
110 (150)
4
A3 (8L1)
1.8 T quattro
Petrol Engine
Hatchback
1781
1998.10-2003.05
132 (180)
4
A3 (8L1)
1.9 TDI quattro
Diesel
Hatchback
1896
2000.08-2003.05
96 (130)
4
A3 (8L1)
S3 quattro
Petrol Engine
Hatchback
1781
1999.03-2002.04
154 (210)
4
A3 (8L1)
S3 quattro
Petrol Engine
Hatchback
1781
2001.10-2003.05
165 (224)
4
A3 (8P1)
1.4 TFSI
Petrol Engine
Hatchback
1390
2007.09-2012.08
92 (125)
4
A3 (8P1)
1.6
Petrol Engine
Hatchback
1595
2003.05-2012.08
75 (102)
4
A3 (8P1)
1.6 E-Power
Petrol Engine
Hatchback
1595
2011.01-2012.08
75 (102)
4
A3 (8P1)
1.6 FSI
Petrol Engine
Hatchback
1598
2003.08-2007.09
85 (115)
4
A3 (8P1)
1.6 TDI
Diesel
Hatchback
1598
2009.05-2012.08
66 (90)
4
A3 (8P1)
1.6 TDI
Diesel
Hatchback
1598
2009.05-2012.08
77 (105)
4
A3 (8P1)
1.9 TDI
Diesel
Hatchback
1896
2003.05-2010.05
77 (105)
4
A3 (8P1)
2.0 FSI
Petrol Engine
Hatchback
1984
2003.05-2008.06
110 (150)
4
A3 (8P1)
2.0 TDI 16V quattro
Diesel
Hatchback
1968
2004.08-2012.08
103 (140)
4
A3 (8P1)
2.0 TDI quattro
Diesel
Hatchback
1968
2006.01-2008.06
103 (140)
4
A3 (8P1)
2.0 TDI quattro
Diesel
Hatchback
1968
2003.05-2008.06
100 (136)
4
A3 (8P1)
2.0 TDI quattro
Diesel
Hatchback
1968
2006.03-2012.08
125 (170)
4
A3 (8P1)
2.0 TFSI quattro
Petrol Engine
Hatchback
1984
2004.09-2012.08
147 (200)
4
A3 (8P1)
3.2 V6 quattro
Petrol Engine
Hatchback
3189
2003.07-2009.05
184 (250)
6
A3 (8P1)
S3 quattro
Petrol Engine
Hatchback
1984
2007.02-2012.08
188 (256)
4
A3 (8P1)
S3 quattro
Petrol Engine
Hatchback
1984
2006.11-2012.08
195 (265)
4
A3 Convertible (8P7)
1.2 TFSI
Petrol Engine
Convertible
1197
2010.03-2013.05
77 (105)
4
A3 Convertible (8P7)
1.6
Petrol Engine
Convertible
1595
2008.09-2010.05
75 (102)
4
A3 Convertible (8P7)
1.6 TDI
Diesel
Convertible
1598
2009.05-2013.05
77 (105)
4
A3 Convertible (8P7)
1.9 TDI
Diesel
Convertible
1896
2008.04-2009.10
77 (105)
4
A3 Sportback (8PA)
1.4 TFSI
Petrol Engine
Hatchback
1390
2007.09-2013.03
92 (125)
4
A3 Sportback (8PA)
1.6
Petrol Engine
Hatchback
1595
2004.09-2013.03
75 (102)
4
A3 Sportback (8PA)
1.6 E-Power
Petrol Engine
Hatchback
1595
2011.01-2013.03
75 (102)
4
A3 Sportback (8PA)
1.6 FSI
Petrol Engine
Hatchback
1598
2004.09-2007.09
85 (115)
4
A3 Sportback (8PA)
1.6 TDI
Diesel
Hatchback
1598
2009.05-2013.03
66 (90)
4
A3 Sportback (8PA)
1.6 TDI
Diesel
Hatchback
1598
2009.05-2013.03
77 (105)
4
A3 Sportback (8PA)
1.9 TDI
Diesel
Hatchback
1896
2004.09-2010.05
77 (105)
4
A3 Sportback (8PA)
2.0 FSI
Petrol Engine
Hatchback
1984
2004.09-2008.06
110 (150)
4
A3 Sportback (8PA)
2.0 TDI 16V quattro
Diesel
Hatchback
1968
2005.11-2013.03
103 (140)
4
A3 Sportback (8PA)
2.0 TDI quattro
Diesel
Hatchback
1968
2006.03-2013.03
125 (170)
4
A3 Sportback (8PA)
2.0 TDI quattro
Diesel
Hatchback
1968
2006.01-2008.06
103 (140)
4
A3 Sportback (8PA)
2.0 TFSI quattro
Petrol Engine
Hatchback
1984
2004.09-2013.03
147 (200)
4
A3 Sportback (8PA)
3.2 V6 quattro
Petrol Engine
Hatchback
3189
2004.09-2009.05
184 (250)
6
A3 Sportback (8PA)
RS3 quattro
Petrol Engine
Hatchback
2480
2011.01-2012.12
250 (340)
5
RENAULT
SCÉNIC II (JM0/1_)
1.9 dCi (JM14)
Diesel
MPV
1870
2005.05-.
96 (131)
4
SEAT
ALTEA (5P1)
1.2 TSI
Petrol Engine
MPV
1197
2010.04-.
77 (105)
4
ALTEA (5P1)
1.4 TSI
Petrol Engine
MPV
1390
2007.11-.
92 (125)
4
ALTEA (5P1)
1.6
Petrol Engine
MPV
1595
2004.03-.
75 (102)
4
ALTEA (5P1)
1.6 LPG
Petrol Engine
MPV
1595
2009.09-.
75 (102)
4
ALTEA (5P1)
1.6 TDI
Diesel
MPV
1598
2010.11-.
66 (90)
4
ALTEA (5P1)
1.6 TDI
Diesel
MPV
1598
2009.10-.
77 (105)
4
ALTEA (5P1)
1.9 TDI
Diesel
MPV
1896
2009.08-.
66 (90)
4
ALTEA (5P1)
1.9 TDI
Diesel
MPV
1896
2004.04-.
77 (105)
4
ALTEA (5P1)
2.0 FSI
Petrol Engine
MPV
1984
2004.05-2009.03
110 (150)
4
ALTEA XL (5P5, 5P8)
1.2 TSI
Petrol Engine
MPV
1197
2010.04-.
77 (105)
4
ALTEA XL (5P5, 5P8)
1.4 TSI
Petrol Engine
MPV
1390
2007.11-.
92 (125)
4
ALTEA XL (5P5, 5P8)
1.6
Petrol Engine
MPV
1595
2006.10-.
75 (102)
4
ALTEA XL (5P5, 5P8)
1.6 LPG
Petrol Engine
MPV
1595
2009.09-.
75 (102)
4
ALTEA XL (5P5, 5P8)
1.6 Multifuel
Petrol Engine
MPV
1595
2006.10-.
75 (102)
4
ALTEA XL (5P5, 5P8)
1.6 TDI
Diesel
MPV
1598
2009.10-.
77 (105)
4
ALTEA XL (5P5, 5P8)
1.6 TDI
Diesel
MPV
1598
2010.11-.
66 (90)
4
ALTEA XL (5P5, 5P8)
1.9 TDI
Diesel
MPV
1896
2009.08-.
66 (90)
4
ALTEA XL (5P5, 5P8)
1.9 TDI
Diesel
MPV
1896
2006.10-.
77 (105)
4
ALTEA XL (5P5, 5P8)
2.0 FSI
Petrol Engine
MPV
1984
2006.10-2009.03
110 (150)
4
LEON (1P1)
1.2 TSI
Petrol Engine
Hatchback
1197
2010.02-2012.12
77 (105)
4
LEON (1P1)
1.4 16V
Petrol Engine
Hatchback
1390
2006.06-2012.12
63 (86)
4
LEON (1P1)
1.4 TSI
Petrol Engine
Hatchback
1390
2007.11-2012.12
92 (125)
4
LEON (1P1)
1.6
Petrol Engine
Hatchback
1595
2005.07-2012.12
75 (102)
4
LEON (1P1)
1.6 LPG
Petrol Engine
Hatchback
1595
2009.12-2012.12
75 (102)
4
LEON (1P1)
1.6 MultiFuel
Petrol Engine
Hatchback
1595
2010.11-2012.12
75 (102)
4
LEON (1P1)
1.6 TDI
Diesel
Hatchback
1598
2010.11-2012.12
66 (90)
4
LEON (1P1)
1.6 TDI
Diesel
Hatchback
1598
2010.02-2012.12
77 (105)
4
LEON (1P1)
1.9 TDI
Diesel
Hatchback
1896
2005.07-2010.12
77 (105)
4
LEON (1P1)
1.9 TDI
Diesel
Hatchback
1896
2007.06-2010.12
66 (90)
4
LEON (1P1)
2.0 FSI
Petrol Engine
Hatchback
1984
2005.07-2010.05
110 (150)
4
LEON (5F1)
1.2 TSI
Petrol Engine
Hatchback
1197
2012.12-.
63 (86)
4
LEON (5F1)
1.2 TSI
Petrol Engine
Hatchback
1197
2013.01-.
77 (105)
4
LEON (5F1)
1.6 TDI
Diesel
Hatchback
1598
2012.11-.
66 (90)
4
LEON SC (5F5)
1.2 TSI
Petrol Engine
Coupe
1197
2013.02-.
77 (105)
4
LEON SC (5F5)
1.2 TSI
Petrol Engine
Coupe
1197
2013.01-.
63 (86)
4
LEON SC (5F5)
1.6 TDI
Diesel
Coupe
1598
2013.02-.
66 (90)
4
LEON ST (5F8)
1.2 TSI
Petrol Engine
Estate
1197
2013.11-.
63 (86)
4
LEON ST (5F8)
1.2 TSI
Petrol Engine
Estate
1197
2013.08-.
77 (105)
4
LEON ST (5F8)
1.6 TDI
Diesel
Estate
1598
2013.11-.
66 (90)
4
TOLEDO III (5P2)
1.6
Petrol Engine
MPV
1595
2004.10-2009.05
75 (102)
4
TOLEDO III (5P2)
1.8 TFSI
Petrol Engine
MPV
1798
2007.01-2009.05
118 (160)
4
TOLEDO III (5P2)
1.9 TDI
Diesel
MPV
1896
2004.10-2009.05
77 (105)
4
TOLEDO III (5P2)
2.0 FSI
Petrol Engine
MPV
1984
2004.10-2009.05
110 (150)
4
SKODA
OCTAVIA II Combi (1Z5)
1.2 TSI
Petrol Engine
Estate
1197
2010.02-2013.04
77 (105)
4
OCTAVIA II Combi (1Z5)
1.4 TSI
Petrol Engine
Estate
1390
2008.11-2013.06
90 (122)
4
OCTAVIA II Combi (1Z5)
1.6
Petrol Engine
Estate
1595
2004.09-2013.06
75 (102)
4
OCTAVIA II Combi (1Z5)
1.6 FSI
Petrol Engine
Estate
1598
2004.02-2008.10
85 (115)
4
OCTAVIA II Combi (1Z5)
1.6 LPG
Petrol Engine
Estate
1595
2009.08-2012.11
75 (102)
4
OCTAVIA II Combi (1Z5)
1.6 MultiFuel
Petrol Engine
Estate
1595
2008.01-2013.06
75 (102)
4
OCTAVIA II Combi (1Z5)
1.6 TDI
Diesel
Estate
1598
2009.06-2013.04
77 (105)
4
OCTAVIA II Combi (1Z5)
1.9 TDI
Diesel
Estate
1896
2004.09-2010.12
77 (105)
4
OCTAVIA II Combi (1Z5)
1.9 TDI 4x4
Diesel
Estate
1896
2004.11-2010.12
77 (105)
4
OCTAVIA II Combi (1Z5)
2.0 FSI
Petrol Engine
Estate
1984
2004.11-2008.10
110 (150)
4
OCTAVIA II Combi (1Z5)
2.0 FSI 4x4
Petrol Engine
Estate
1984
2004.11-2008.10
110 (150)
4
OCTAVIA II Combi (1Z5)
2.0 TDI 4x4
Diesel
Estate
1968
2006.07-2010.05
103 (140)
4
OCTAVIA II Combi (1Z5)
2.0 TDI RS
Diesel
Estate
1968
2006.04-2013.02
125 (170)
4
OCTAVIA III (5E3)
1.2 TSI
Petrol Engine
Hatchback
1197
2012.11-.
77 (105)
4
OCTAVIA III (5E3)
1.2 TSI
Petrol Engine
Hatchback
1197
2012.11-.
63 (86)
4
OCTAVIA III (5E3)
1.6 TDI
Diesel
Hatchback
1598
2012.11-.
77 (105)
4
OCTAVIA III Combi (5E5)
1.2 TSI
Petrol Engine
Estate
1197
2012.11-.
77 (105)
4
OCTAVIAII (1Z3)
1.2 TSI
Petrol Engine
Hatchback
1197
2010.02-2013.06
77 (105)
4
OCTAVIAII (1Z3)
1.4 TSI
Petrol Engine
Hatchback
1390
2008.11-2013.06
90 (122)
4
OCTAVIAII (1Z3)
1.6
Petrol Engine
Hatchback
1595
2004.06-2013.06
75 (102)
4
OCTAVIAII (1Z3)
1.6 FSI
Petrol Engine
Hatchback
1598
2004.02-2008.10
85 (115)
4
OCTAVIAII (1Z3)
1.6 LPG
Petrol Engine
Hatchback
1595
2009.08-2012.11
75 (102)
4
OCTAVIAII (1Z3)
1.6 TDI
Diesel
Hatchback
1598
2009.06-2013.04
77 (105)
4
OCTAVIAII (1Z3)
1.9 TDI
Diesel
Hatchback
1896
2004.06-2010.12
77 (105)
4
OCTAVIAII (1Z3)
2.0 FSI
Petrol Engine
Hatchback
1984
2004.11-2008.10
110 (150)
4
OCTAVIAII (1Z3)
2.0 TDI RS
Diesel
Hatchback
1968
2006.04-2013.02
125 (170)
4
SUPERB II (3T4)
1.4 TSI
Petrol Engine
Hatchback
1390
2008.07-2015.05
92 (125)
4
SUPERB II (3T4)
1.9 TDI
Diesel
Hatchback
1896
2008.03-2010.11
77 (105)
4
SUPERB II Estate (3T5)
1.4 TSI
Petrol Engine
Estate
1390
2009.10-2015.05
92 (125)
4
YETI (5L)
1.2 TSI
Petrol Engine
Closed Off-Road Vehicle
1197
2009.09-.
77 (105)
4
YETI (5L)
1.4 TSI
Petrol Engine
Closed Off-Road Vehicle
1390
2010.06-.
90 (122)
4
YETI (5L)
1.6 TDI
Diesel
Closed Off-Road Vehicle
1598
2010.11-.
77 (105)
4
VAUXHALL
INSIGNIA Mk I (A) (G09)
2.8 V6 Turbo 4x4
Petrol Engine
Hatchback
2792
2008.07-2017.05
191 (260)
6
VW
BEETLE (5C1, 5C2)
1.2 TSI
Petrol Engine
Hatchback
1197
2011.07-.
77 (105)
4
BEETLE (5C1, 5C2)
1.4 TSI
Petrol Engine
Hatchback
1390
2011.10-.
118 (160)
4
BEETLE (5C1, 5C2)
1.6 TDI
Diesel
Hatchback
1598
2011.10-.
77 (105)
4
BEETLE (5C1, 5C2)
2.0 TSI
Petrol Engine
Hatchback
1984
2011.04-.
147 (200)
4
BEETLE (5C1, 5C2)
2.5
Petrol Engine
Hatchback
2480
2011.04-.
125 (170)
5
BEETLE Convertible (5C7, 5C8)
1.2 TSI
Petrol Engine
Convertible
1197
2011.12-.
77 (105)
4
BEETLE Convertible (5C7, 5C8)
1.4 TSI
Petrol Engine
Convertible
1390
2011.12-.
118 (160)
4
BEETLE Convertible (5C7, 5C8)
1.6 TDI
Diesel
Convertible
1598
2011.12-.
77 (105)
4
BEETLE Convertible (5C7, 5C8)
2.0 TSI
Petrol Engine
Convertible
1984
2011.12-.
147 (200)
4
CADDY III Box (2KA, 2KH, 2CA, 2CH)
1.4
Petrol Engine
Box
1390
2004.03-2006.05
55 (75)
4
CADDY III Box (2KA, 2KH, 2CA, 2CH)
1.4
Petrol Engine
Box
1390
2006.05-2010.08
59 (80)
4
CADDY III Box (2KA, 2KH, 2CA, 2CH)
1.6
Petrol Engine
Box
1595
2004.04-2015.05
75 (102)
4
CADDY III Box (2KA, 2KH, 2CA, 2CH)
2.0 EcoFuel
Petrol Engine
Box
1984
2006.04-2015.05
80 (109)
4
CADDY III Box (2KA, 2KH, 2CA, 2CH)
2.0 SDI
Diesel
Box
1968
2004.03-2010.08
51 (70)
4
CADDY III Box (2KA, 2KH, 2CA, 2CH)
2.0 TDI
Diesel
Box
1968
2007.09-2010.08
103 (140)
4
CADDY III Variant (2KB, 2KJ, 2CB, 2CJ)
1.4
Petrol Engine
Estate
1390
2004.03-2006.05
55 (75)
4
CADDY III Variant (2KB, 2KJ, 2CB, 2CJ)
1.4
Petrol Engine
Estate
1390
2006.05-2010.08
59 (80)
4
CADDY III Variant (2KB, 2KJ, 2CB, 2CJ)
1.6
Petrol Engine
Estate
1595
2004.04-2015.05
75 (102)
4
CADDY III Variant (2KB, 2KJ, 2CB, 2CJ)
2.0 EcoFuel
Petrol Engine
Estate
1984
2006.04-2015.05
80 (109)
4
CADDY III Variant (2KB, 2KJ, 2CB, 2CJ)
2.0 SDI
Diesel
Estate
1968
2004.03-2010.08
51 (70)
4
CADDY III Variant (2KB, 2KJ, 2CB, 2CJ)
2.0 TDI
Diesel
Estate
1968
2007.09-2010.08
103 (140)
4
CC (358)
1.4 TSI
Petrol Engine
Coupe
1390
2011.11-2016.12
118 (160)
4
EOS (1F7, 1F8)
1.4 TSI
Petrol Engine
Convertible
1390
2007.11-2015.08
90 (122)
4
EOS (1F7, 1F8)
1.4 TSI
Petrol Engine
Convertible
1390
2008.05-2015.08
118 (160)
4
EOS (1F7, 1F8)
1.6 FSI
Petrol Engine
Convertible
1598
2006.06-2008.05
85 (115)
4
EOS (1F7, 1F8)
2.0 FSI
Petrol Engine
Convertible
1984
2006.03-2008.05
110 (150)
4
GOLF PLUS (5M1, 521)
1.2 TSI
Petrol Engine
Hatchback
1197
2010.05-2013.12
63 (86)
4
GOLF PLUS (5M1, 521)
1.2 TSI
Petrol Engine
Hatchback
1197
2009.11-2013.12
77 (105)
4
GOLF PLUS (5M1, 521)
1.4 TSI
Petrol Engine
Hatchback
1390
2008.06-2013.12
118 (160)
4
GOLF PLUS (5M1, 521)
1.4 TSI
Petrol Engine
Hatchback
1390
2007.06-2013.12
90 (122)
4
GOLF PLUS (5M1, 521)
1.4 TSI
Petrol Engine
Hatchback
1390
2006.05-2008.06
103 (140)
4
GOLF PLUS (5M1, 521)
1.6
Petrol Engine
Hatchback
1595
2005.05-2013.12
75 (102)
4
GOLF PLUS (5M1, 521)
1.6 BiFuel
Petrol Engine
Hatchback
1595
2009.05-2013.12
75 (102)
4
GOLF PLUS (5M1, 521)
1.6 FSI
Petrol Engine
Hatchback
1598
2005.01-2008.05
85 (115)
4
GOLF PLUS (5M1, 521)
1.6 MultiFuel
Petrol Engine
Hatchback
1595
2007.11-2013.12
75 (102)
4
GOLF PLUS (5M1, 521)
1.6 TDI
Diesel
Hatchback
1598
2009.03-2013.12
77 (105)
4
GOLF PLUS (5M1, 521)
1.6 TDI
Diesel
Hatchback
1598
2009.02-2013.12
66 (90)
4
GOLF PLUS (5M1, 521)
1.9 TDI
Diesel
Hatchback
1896
2005.05-2008.12
66 (90)
4
GOLF PLUS (5M1, 521)
1.9 TDI
Diesel
Hatchback
1896
2005.01-2009.01
77 (105)
4
GOLF PLUS (5M1, 521)
2.0 FSI
Petrol Engine
Hatchback
1984
2005.05-2008.06
110 (150)
4
GOLF PLUS (5M1, 521)
2.0 TDI
Diesel
Hatchback
1968
2009.01-2013.12
81 (110)
4
GOLF V (1K1)
1.4 TSI
Petrol Engine
Hatchback
1390
2007.05-2008.11
90 (122)
4
GOLF V (1K1)
1.4 TSI
Petrol Engine
Hatchback
1390
2006.05-2008.11
103 (140)
4
GOLF V (1K1)
1.6
Petrol Engine
Hatchback
1595
2004.01-2008.11
75 (102)
4
GOLF V (1K1)
1.6 FSI
Petrol Engine
Hatchback
1598
2003.10-2008.07
85 (115)
4
GOLF V (1K1)
1.6 MultiFuel
Petrol Engine
Hatchback
1595
2007.10-2008.11
75 (102)
4
GOLF V (1K1)
1.9 TDI
Diesel
Hatchback
1896
2003.10-2008.11
77 (105)
4
GOLF V (1K1)
1.9 TDI
Diesel
Hatchback
1896
2004.05-2008.11
66 (90)
4
GOLF V (1K1)
1.9 TDI 4motion
Diesel
Hatchback
1896
2004.08-2008.11
77 (105)
4
GOLF V (1K1)
2.0 FSI
Petrol Engine
Hatchback
1984
2004.01-2008.11
110 (150)
4
GOLF V (1K1)
2.0 FSI 4motion
Petrol Engine
Hatchback
1984
2004.08-2008.11
110 (150)
4
GOLF V (1K1)
2.0 SDI
Diesel
Hatchback
1968
2004.01-2008.11
55 (75)
4
GOLF V (1K1)
2.0 TDI
Diesel
Hatchback
1968
2004.12-2008.11
103 (140)
4
GOLF V (1K1)
2.0 TDI 16V
Diesel
Hatchback
1968
2003.10-2008.11
103 (140)
4
GOLF V (1K1)
2.0 TDI 16V 4motion
Diesel
Hatchback
1968
2004.08-2008.11
103 (140)
4
GOLF V (1K1)
2.0 TDI 4motion
Diesel
Hatchback
1968
2004.08-2008.11
103 (140)
4
GOLF V (1K1)
3.2
Petrol Engine
Hatchback
3189
2005.09-2008.11
184 (250)
6
GOLF V (1K1)
3.2 R32 4motion
Petrol Engine
Hatchback
3189
2005.11-2008.11
184 (250)
6
GOLF V Variant (1K5)
1.4 TSI
Petrol Engine
Estate
1390
2007.06-2009.07
90 (122)
4
GOLF V Variant (1K5)
1.4 TSI
Petrol Engine
Estate
1390
2007.06-2009.07
103 (140)
4
GOLF V Variant (1K5)
1.4 TSI
Petrol Engine
Estate
1390
2008.07-2009.07
118 (160)
4
GOLF V Variant (1K5)
1.6
Petrol Engine
Estate
1595
2007.06-2009.07
75 (102)
4
GOLF V Variant (1K5)
1.6 MultiFuel
Petrol Engine
Estate
1595
2007.11-2009.07
75 (102)
4
GOLF V Variant (1K5)
1.9 TDI
Diesel
Estate
1896
2007.06-2009.07
77 (105)
4
GOLF V Variant (1K5)
1.9 TDI 4motion
Diesel
Estate
1896
2008.01-2009.07
77 (105)
4
GOLF VI (5K1)
1.2 TSI
Petrol Engine
Hatchback
1197
2010.05-2012.11
63 (86)
4
GOLF VI (5K1)
1.2 TSI
Petrol Engine
Hatchback
1197
2008.11-2012.11
77 (105)
4
GOLF VI (5K1)
1.4 TSI
Petrol Engine
Hatchback
1390
2008.10-2012.11
90 (122)
4
GOLF VI (5K1)
1.4 TSI
Petrol Engine
Hatchback
1390
2008.10-2012.11
118 (160)
4
GOLF VI (5K1)
1.6
Petrol Engine
Hatchback
1595
2008.10-2012.11
75 (102)
4
GOLF VI (5K1)
1.6 BiFuel
Petrol Engine
Hatchback
1595
2009.03-2012.11
75 (102)
4
GOLF VI (5K1)
1.6 MultiFuel
Petrol Engine
Hatchback
1595
2008.10-2012.11
75 (102)
4
GOLF VI (5K1)
1.6 TDI
Diesel
Hatchback
1598
2009.02-2012.11
77 (105)
4
GOLF VI (5K1)
1.6 TDI
Diesel
Hatchback
1598
2009.02-2012.11
66 (90)
4
GOLF VI (5K1)
2.0 TDI
Diesel
Hatchback
1968
2008.10-2012.11
81 (110)
4
GOLF VI Convertible (517)
1.2 TSI
Petrol Engine
Convertible
1197
2011.03-.
77 (105)
4
GOLF VI Convertible (517)
1.2 TSI 16V
Petrol Engine
Convertible
1197
2013.11-.
77 (105)
4
GOLF VI Convertible (517)
1.4 TSI
Petrol Engine
Convertible
1390
2011.03-.
118 (160)
4
GOLF VI Convertible (517)
1.4 TSI
Petrol Engine
Convertible
1390
2011.11-.
90 (122)
4
GOLF VI Convertible (517)
1.6 TDI
Diesel
Convertible
1598
2011.03-.
77 (105)
4
GOLF VI Variant (AJ5)
1.2 TSI
Petrol Engine
Estate
1197
2009.07-2013.07
77 (105)
4
GOLF VI Variant (AJ5)
1.4 TSI
Petrol Engine
Estate
1390
2009.07-2013.07
118 (160)
4
GOLF VI Variant (AJ5)
1.4 TSI
Petrol Engine
Estate
1390
2009.07-2013.07
90 (122)
4
GOLF VI Variant (AJ5)
1.6
Petrol Engine
Estate
1595
2009.07-2013.07
75 (102)
4
GOLF VI Variant (AJ5)
1.6 MultiFuel
Petrol Engine
Estate
1595
2010.07-2013.07
75 (102)
4
GOLF VI Variant (AJ5)
1.6 TDI
Diesel
Estate
1598
2009.12-2013.07
66 (90)
4
GOLF VI Variant (AJ5)
1.6 TDI
Diesel
Estate
1598
2009.07-2013.07
77 (105)
4
GOLF VI Variant (AJ5)
2.0 TDI
Diesel
Estate
1968
2010.01-2013.07
81 (110)
4
GOLF VII (5G1, BQ1, BE1, BE2)
1.2 TSI
Petrol Engine
Hatchback
1197
2012.11-.
77 (105)
4
GOLF VII (5G1, BQ1, BE1, BE2)
1.2 TSI
Petrol Engine
Hatchback
1197
2012.08-.
63 (86)
4
GOLF VII (5G1, BQ1, BE1, BE2)
1.6 TDI
Diesel
Hatchback
1598
2013.04-.
66 (90)
4
GOLF VII Variant (BA5, BV5)
1.2 TSI
Petrol Engine
Estate
1197
2013.05-.
77 (105)
4
GOLF VII Variant (BA5, BV5)
1.2 TSI
Petrol Engine
Estate
1197
2013.05-.
63 (86)
4
GOLF VII Variant (BA5, BV5)
1.6 TDI
Diesel
Estate
1598
2013.05-.
66 (90)
4
JETTA III (1K2)
1.4 TSI
Petrol Engine
Saloon
1390
2006.07-2010.10
103 (140)
4
JETTA III (1K2)
1.4 TSI
Petrol Engine
Saloon
1390
2008.07-2010.10
118 (160)
4
JETTA III (1K2)
1.4 TSI
Petrol Engine
Saloon
1390
2007.05-2010.10
90 (122)
4
JETTA III (1K2)
1.6
Petrol Engine
Saloon
1595
2005.10-2010.10
75 (102)
4
JETTA III (1K2)
1.6 FSI
Petrol Engine
Saloon
1598
2005.09-2010.10
85 (115)
4
JETTA III (1K2)
1.6 MultiFuel
Petrol Engine
Saloon
1595
2008.01-2010.10
75 (102)
4
JETTA III (1K2)
1.6 TDI
Diesel
Saloon
1598
2009.12-2010.10
66 (90)
4
JETTA III (1K2)
1.6 TDI
Diesel
Saloon
1598
2009.06-2010.10
77 (105)
4
JETTA III (1K2)
1.9 TDI
Diesel
Saloon
1896
2005.08-2010.10
77 (105)
4
JETTA III (1K2)
2.0 FSI
Petrol Engine
Saloon
1984
2005.08-2010.10
110 (150)
4
JETTA III (1K2)
2.0 TDI
Diesel
Saloon
1968
2006.10-2010.10
125 (170)
4
JETTA III (1K2)
2.0 TDI
Diesel
Saloon
1968
2005.10-2010.10
103 (140)
4
JETTA III (1K2)
2.0 TDI 16V
Diesel
Saloon
1968
2005.08-2010.10
103 (140)
4
JETTA III (1K2)
2.5
Petrol Engine
Saloon
2480
2006.01-2010.10
110 (150)
5
JETTA IV (162, 163)
1.2 TSI
Petrol Engine
Saloon
1197
2010.10-.
77 (105)
4
JETTA IV (162, 163)
1.4 TSI
Petrol Engine
Saloon
1390
2011.04-.
118 (160)
4
JETTA IV (162, 163)
1.4 TSI
Petrol Engine
Saloon
1390
2011.05-.
90 (122)
4
JETTA IV (162, 163)
1.6
Petrol Engine
Saloon
1598
2011.12-.
77 (105)
4
JETTA IV (162, 163)
1.6 TDI
Diesel
Saloon
1598
2010.04-2014.07
77 (105)
4
JETTA IV (162, 163)
2.0 TDI
Diesel
Saloon
1968
2010.10-.
81 (110)
4
PASSAT (362)
1.4 TSI
Petrol Engine
Saloon
1390
2012.11-2014.12
118 (160)
4
PASSAT (362)
1.4 TSI EcoFuel
Petrol Engine
Saloon
1390
2010.08-2014.12
110 (150)
4
PASSAT (362)
1.4 TSI MultiFuel
Petrol Engine
Saloon
1390
2010.11-2014.12
118 (160)
4
PASSAT (3B3)
1.6
Petrol Engine
Saloon
1595
2000.11-2005.05
75 (102)
4
PASSAT (3C2)
1.4 TSI
Petrol Engine
Saloon
1390
2007.05-2010.07
90 (122)
4
PASSAT (3C2)
1.4 TSI EcoFuel
Petrol Engine
Saloon
1390
2009.01-2010.07
110 (150)
4
PASSAT (3C2)
1.6
Petrol Engine
Saloon
1595
2005.05-2010.07
75 (102)
4
PASSAT (3C2)
1.6 FSI
Petrol Engine
Saloon
1598
2005.03-2008.06
85 (115)
4
PASSAT (3C2)
1.9 TDI
Diesel
Saloon
1896
2005.03-2008.11
77 (105)
4
PASSAT (3C2)
2.0 FSI
Petrol Engine
Saloon
1984
2005.03-2010.07
110 (150)
4
PASSAT (3C2)
2.0 FSI 4motion
Petrol Engine
Saloon
1984
2005.09-2010.07
110 (150)
4
PASSAT (3C2)
2.0 TDI 16V 4motion
Diesel
Saloon
1968
2005.03-2010.08
103 (140)
4
PASSAT (3C2)
2.0 TDI 4motion
Diesel
Saloon
1968
2005.03-2009.05
103 (140)
4
PASSAT (3C2)
3.2 FSI 4motion
Petrol Engine
Saloon
3168
2005.11-2010.07
184 (250)
6
PASSAT CC (357)
1.4 TSI MultiFuel
Petrol Engine
Coupe
1390
2011.01-2012.01
118 (160)
4
PASSAT Variant (365)
1.4 TSI
Petrol Engine
Estate
1390
2012.11-2014.12
118 (160)
4
PASSAT Variant (365)
1.4 TSI EcoFuel
Petrol Engine
Estate
1390
2010.08-2014.12
110 (150)
4
PASSAT Variant (365)
1.4 TSI MultiFuel
Petrol Engine
Estate
1390
2010.11-2014.12
118 (160)
4
PASSAT Variant (3C5)
1.4 TSI
Petrol Engine
Estate
1390
2007.05-2010.11
90 (122)
4
PASSAT Variant (3C5)
1.4 TSI EcoFuel
Petrol Engine
Estate
1390
2009.01-2010.11
110 (150)
4
PASSAT Variant (3C5)
1.6
Petrol Engine
Estate
1595
2005.08-2010.11
75 (102)
4
PASSAT Variant (3C5)
1.6 FSI
Petrol Engine
Estate
1598
2005.08-2008.06
85 (115)
4
PASSAT Variant (3C5)
1.9 TDI
Diesel
Estate
1896
2005.08-2008.11
77 (105)
4
PASSAT Variant (3C5)
2.0 FSI
Petrol Engine
Estate
1984
2005.08-2010.11
110 (150)
4
PASSAT Variant (3C5)
2.0 FSI 4motion
Petrol Engine
Estate
1984
2005.09-2010.11
110 (150)
4
PASSAT Variant (3C5)
2.0 TDI 16V 4motion
Diesel
Estate
1968
2005.08-2010.11
103 (140)
4
PASSAT Variant (3C5)
2.0 TDI 4motion
Diesel
Estate
1968
2005.08-2009.05
103 (140)
4
PASSAT Variant (3C5)
3.2 FSI 4motion
Petrol Engine
Estate
3168
2005.11-2010.11
184 (250)
6
SCIROCCO (137, 138)
1.4 TSI
Petrol Engine
Coupe
1390
2008.05-.
118 (160)
4
SCIROCCO (137, 138)
1.4 TSI
Petrol Engine
Coupe
1390
2008.08-.
90 (122)
4
TIGUAN (5N_)
2.0 TDI 4motion
Diesel
Closed Off-Road Vehicle
1968
2007.09-.
125 (170)
4
TIGUAN (5N_)
2.0 TDI 4motion
Diesel
Closed Off-Road Vehicle
1968
2007.09-.
103 (140)
4
TOURAN (1T1, 1T2)
1.4 TSI
Petrol Engine
MPV
1390
2006.02-2010.05
103 (140)
4
TOURAN (1T1, 1T2)
1.4 TSI EcoFuel
Petrol Engine
MPV
1390
2009.05-2010.05
110 (150)
4
TOURAN (1T1, 1T2)
1.6
Petrol Engine
MPV
1595
2003.07-2010.05
75 (102)
4
TOURAN (1T1, 1T2)
1.6 FSI
Petrol Engine
MPV
1598
2003.02-2007.01
85 (115)
4
TOURAN (1T1, 1T2)
1.9 TDI
Diesel
MPV
1896
2003.02-2004.05
74 (100)
4
TOURAN (1T1, 1T2)
1.9 TDI
Diesel
MPV
1896
2003.08-2010.05
77 (105)
4
TOURAN (1T1, 1T2)
1.9 TDI
Diesel
MPV
1896
2004.11-2010.05
66 (90)
4
TOURAN (1T1, 1T2)
2.0 EcoFuel
Petrol Engine
MPV
1984
2006.02-2009.05
80 (109)
4
TOURAN (1T1, 1T2)
2.0 FSI
Petrol Engine
MPV
1984
2003.10-2007.01
110 (150)
4
TOURAN (1T3)
1.2 TSI
Petrol Engine
MPV
1197
2010.05-2015.05
77 (105)
4
TOURAN (1T3)
1.4 TSI
Petrol Engine
MPV
1390
2010.05-2015.05
103 (140)
4
TOURAN (1T3)
1.4 TSI EcoFuel
Petrol Engine
MPV
1390
2010.05-2015.05
110 (150)
4
TOURAN (1T3)
2.0 TDI
Diesel
MPV
1968
2010.11-2015.05
81 (110)
4