Here you can inquire your individual shop login.
Please login to see your individual prices and our avaliability.
Air Dryer Cartridge, compressed-air system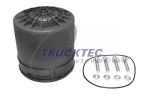 TRUCKTEC part number: 03.36.001
Amount per packaging unit: 1
Date added: 2020-01-28 04:37:24 | Date last modified: 2020-01-28 04:37:24
Please register or login to see prices and availability.
Comparison numbers:
OE-No.
FIAT
42535061

HALDEX
93522

KOLBENSCHMIDT
50014047
T350W

MAHLE
AL 27

MAN
81.52102.6146

MERCEDES-BENZ
000 429 4695

RENAULT
50 01 826 800

SCANIA
1381813
1393551

VOLVO
20424148
20546795
20773824
3097369

model
product line
fuel
body
cubic capacity
year
power
tonnage / cylinders
axle
commercial vehicles - IVECO
City Class
491.22, 491.27, 591.22, 591.27
Diesel
Bus
7790
1997.01-.
200 (272)
1800
1
commercial vehicles - MAN
LION S CITY
A 21
Diesel
Bus
6871
1996.06-.
184 (250)
1800
1
LION S CITY
A 23
Diesel
Bus
11967
1996.08-.
191 (260)
2800
3
NG
NG 262
Diesel
Bus
9973
1997.06-1998.07
191 (260)
2800
3
NG
NG 262, NG 263
Diesel
Bus
11967
1998.07-.
191 (260)
2800
3
NG
NG 262, NG 272
Diesel
Bus
6871
1992.08-1998.07
191-198 (260-269)
2800
3
NG
NG 312
Diesel
Bus
9973
1995.09-1998.07
228 (310)
2800
3
NG
NG 312, NG 313
Diesel
Bus
11967
1998.07-.
228 (310)
2800
3
NL
NL 202, NL 222, NL 223
Diesel
Bus
6871
1992.08-.
157-162 (214-220)
1800
1
NL
NL 202, NL 262, NL 263
Diesel
Bus
6871
1991.04-.
184 (250)
1800
1
NL
NL 243
Petrol Engine
Bus
11967
2007.05-2014.12
180 (245)
1800
1
NL
NL 262
Diesel
Bus
9973
1997.06-.
191 (260)
1800
1
NL
NL 262, NL 263
Diesel
Bus
11967
1998.07-.
191 (260)
1800
1
NL
NL 273
Diesel
Bus
10518
2006.01-2009.10
199 (271)
1800
1
NL
NL 283
Diesel
Bus
10518
2012.08-.
206 (280)
1800
1
NL
NL 312
Diesel
Bus
9973
1995.11-1998.07
228 (310)
1800
1
NL
NL 313
Diesel
Bus
10518
2006.01-2009.10
228 (310)
1800
1
NL
NL 313
Petrol Engine
Bus
12816
2007.05-2014.12
228 (310)
1800
1
NL
NL 313
Diesel
Bus
11967
1998.07-.
228 (310)
1800
1
NL
NL 323
Diesel
Bus
10518
2007.05-.
235 (320)
1800
1
commercial vehicles - RENAULT TRUCKS
G
G 340ti.19/T,G 330.19/T
Diesel
Truck Tractor
9839
1990.02-1991.08
240-249 (326-339)
1900
1
G
G 340ti.19/T,G 330.19/T,G 330.17/T
Diesel
Truck Tractor
9839
1990.01-1991.08
240-249 (326-339)
1600
1
Magnum
AE 380.18
Diesel
Platform / Chassis
12024
1990.09-1992.06
279 (380)
1800
1
Magnum
AE 380.18T
Diesel
Truck Tractor
12024
1990.09-1992.06
279 (380)
1800
1
Magnum
AE 380.26
Diesel
Platform / Chassis
12024
1990.09-1992.06
279 (380)
2600
3
Magnum
AE 380.26T
Diesel
Truck Tractor
12024
1990.09-1992.06
279 (380)
2600
4
Magnum
AE 380.26T
Diesel
Truck Tractor
12024
1990.09-1992.06
279 (380)
2600
3
Magnum
AE 385ti.18
Diesel
Platform / Chassis
12024
1992.02-1996.10
283 (385)
1800
1
Magnum
AE 385ti.18T
Diesel
Truck Tractor
12024
1992.02-1996.10
283 (385)
1800
1
Magnum
AE 385ti.19
Diesel
Platform / Chassis
12024
1992.02-1996.10
283 (385)
1900
1
Magnum
AE 385ti.19T
Diesel
Truck Tractor
12024
1992.02-1996.10
283 (385)
1900
1
Magnum
AE 385ti.24
Diesel
Platform / Chassis
12024
1992.02-1996.10
283 (385)
2400
3
Magnum
AE 385ti.26
Diesel
Platform / Chassis
12024
1992.02-1996.10
283 (385)
2600
3
Magnum
AE 390.18
Diesel
Platform / Chassis
12000
1996.09-.
287 (390)
1800
1
Magnum
AE 390.18T
Diesel
Truck Tractor
12000
1996.09-.
287 (390)
1800
1
Magnum
AE 390.19
Diesel
Platform / Chassis
12000
1996.09-.
287 (390)
1900
1
Magnum
AE 390.19T
Diesel
Truck Tractor
12000
1996.09-.
287 (390)
1900
1
Magnum
AE 390.26
Diesel
Platform / Chassis
12000
1996.09-.
287 (390)
2600
3
Magnum
AE 420ti.18
Diesel
Platform / Chassis
12024
1992.10-1996.12
305 (415)
1800
1
Magnum
AE 420ti.18T
Diesel
Truck Tractor
12024
1992.10-1996.12
305 (415)
1800
1
Magnum
AE 420ti.19
Diesel
Platform / Chassis
12024
1992.10-1996.12
305 (415)
1900
1
Magnum
AE 420ti.19T
Diesel
Truck Tractor
12024
1992.10-1996.12
305 (415)
1900
1
Magnum
AE 420ti.22T
Diesel
Truck Tractor
12024
1992.10-1996.10
305 (415)
2200
4
Magnum
AE 420ti.24
Diesel
Platform / Chassis
12024
1992.10-1996.12
305 (415)
2400
3
Magnum
AE 420ti.24T
Diesel
Truck Tractor
12024
1992.10-1996.12
305 (415)
2400
3
Magnum
AE 420ti.26
Diesel
Platform / Chassis
12024
1992.10-1996.12
305 (415)
2600
3
Magnum
AE 420ti.26T
Diesel
Truck Tractor
12024
1992.10-1996.12
305 (415)
2600
4
Magnum
AE 430.18
Diesel
Platform / Chassis
12000
1996.09-.
316 (430)
1800
1
Magnum
AE 430.18T
Diesel
Truck Tractor
12000
1996.09-.
316 (430)
1800
1
Magnum
AE 430.19
Diesel
Platform / Chassis
12000
1996.09-.
316 (430)
1900
1
Magnum
AE 430.19T
Diesel
Truck Tractor
12000
1996.09-.
316 (430)
1900
1
Magnum
AE 430.26
Diesel
Platform / Chassis
12000
1996.09-.
316 (430)
2600
3
Magnum
AE 430.26T
Diesel
Truck Tractor
12000
1997.01-.
316 (430)
2600
4
Magnum
AE 430.26T
Diesel
Truck Tractor
12000
1998.01-.
316 (430)
2600
3
Magnum
AE 470.18
Diesel
Platform / Chassis
12000
1996.11-.
346 (471)
1800
1
Magnum
AE 470.18T
Diesel
Truck Tractor
12000
1996.11-.
346 (471)
1800
1
Magnum
AE 470.19
Diesel
Platform / Chassis
12000
1996.11-.
346 (471)
1900
1
Magnum
AE 470.19T
Diesel
Truck Tractor
12000
1996.11-.
346 (471)
1900
1
Magnum
AE 470.26
Diesel
Platform / Chassis
12000
1997.01-.
346 (471)
2600
3
Magnum
AE 470.26T
Diesel
Truck Tractor
12000
1998.01-.
346 (471)
2600
4
Magnum
AE 500.18
Diesel
Platform / Chassis
16510
1990.09-.
368 (500)
1800
1
Magnum
AE 500.18T
Diesel
Truck Tractor
16510
1990.09-.
368 (500)
1800
1
Magnum
AE 500.26
Diesel
Platform / Chassis
16510
1990.09-.
368 (500)
2600
3
Magnum
AE 500.26T
Diesel
Truck Tractor
16510
1990.09-.
368 (500)
2600
4
Magnum
AE 520.18
Diesel
Platform / Chassis
16510
1992.10-1996.05
390 (530)
1800
1
Magnum
AE 520.18T
Diesel
Truck Tractor
16510
1992.10-1996.05
390 (530)
1800
1
Magnum
AE 520.19
Diesel
Platform / Chassis
16510
1992.10-1996.05
390 (530)
1900
1
Magnum
AE 520.19T
Diesel
Truck Tractor
16510
1992.10-1996.05
390 (530)
1900
1
Magnum
AE 520.22T
Diesel
Truck Tractor
16510
1992.10-1996.05
390 (530)
2200
4
Magnum
AE 520.24
Diesel
Platform / Chassis
16510
1992.10-1996.05
390 (530)
2400
3
Magnum
AE 520.24T
Diesel
Truck Tractor
16510
1992.10-1996.05
390 (530)
2400
3
Magnum
AE 520.26
Diesel
Platform / Chassis
16510
1992.10-.
390 (530)
2600
3
Magnum
AE 520.26T
Diesel
Truck Tractor
16510
1992.10-1996.05
390 (530)
2600
4
Magnum
AE 560.18
Diesel
Platform / Chassis
16400
1996.04-.
412 (560)
1800
1
Magnum
AE 560.18T
Diesel
Truck Tractor
16400
1996.04-.
412 (560)
1800
1
Magnum
AE 560.19
Diesel
Platform / Chassis
16400
1996.04-.
412 (560)
1900
1
Magnum
AE 560.19T
Diesel
Truck Tractor
16400
1996.04-.
412 (560)
1900
1
Magnum
AE 560.26
Diesel
Platform / Chassis
16400
1996.04-.
412 (560)
2600
3
Magnum
AE 560.26T
Diesel
Truck Tractor
16400
1997.01-.
412 (560)
2600
4
Magnum
AE 560.26T
Diesel
Truck Tractor
16400
1998.01-.
412 (560)
2600
3
Manager
G 270.18,G 270.17
Diesel
Dump Truck
9839
1992.11-1996.10
195 (265)
1800
1
Manager
G 280.16
Diesel
Platform / Chassis
9839
1991.09-1993.03
202 (275)
1650
1
Manager
G 280.16,G 270.16
Diesel
Platform / Chassis
9839
1991.09-1996.10
195-202 (265-275)
1600
1
Manager
G 280.17,G 270.18
Diesel
Platform / Chassis
9839
1991.09-1996.10
195-202 (265-275)
1750
1
Manager
G 280.18,G 270.18,G 270.17
Diesel
Platform / Chassis
9839
1991.09-1996.10
195-202 (265-275)
1800
1
Manager
G 280.19
Diesel
Platform / Chassis
9839
1991.09-1993.03
202 (275)
1850
1
Manager
G 280.19,G 270.19
Diesel
Platform / Chassis
9839
1991.09-1996.10
195-202 (265-275)
1900
1
Manager
G 280.24
Diesel
Platform / Chassis
9839
1991.09-1993.03
202 (275)
2400
7
Manager
G 280.26,G 270.26
Diesel
Platform / Chassis
9839
1991.09-1996.10
195-202 (265-275)
2600
7
Manager
G 300.16
Diesel
Platform / Chassis
9839
1991.09-1996.10
222 (302)
1650
1
Manager
G 300.16
Diesel
Platform / Chassis
9839
1991.09-1996.10
222 (302)
1600
1
Manager
G 300.17
Diesel
Platform / Chassis
9839
1991.09-1996.10
222 (302)
1750
1
Manager
G 300.17/T
Diesel
Truck Tractor
9839
1992.09-1996.10
222 (302)
1750
1
Manager
G 300.18
Diesel
Dump Truck
9839
1992.09-1996.10
222 (302)
1800
1
Manager
G 300.18
Diesel
Platform / Chassis
9839
1992.09-1996.10
222 (302)
1800
1
Manager
G 300.19
Diesel
Platform / Chassis
9839
1991.09-1993.03
222 (302)
1850
1
Manager
G 300.19
Diesel
Platform / Chassis
9839
1991.09-1996.10
222 (302)
1900
1
Manager
G 300.19/T
Diesel
Truck Tractor
9839
1991.09-1996.10
222 (302)
1900
1
Manager
G 300.19/T
Diesel
Truck Tractor
9839
1991.09-1996.10
222 (302)
1600
1
Manager
G 300.24
Diesel
Platform / Chassis
9839
1991.09-1996.10
222 (302)
2400
7
Manager
G 300.26 CIT
Diesel
Platform / Chassis
9839
1991.09-1996.10
222 (302)
2600
7
Manager
G 330.19
Diesel
Platform / Chassis
9839
1991.09-1993.03
240 (326)
1850
1
Manager
G 330.24
Diesel
Platform / Chassis
9839
1991.09-1993.03
240 (326)
2400
3
Manager
G 340ti.16,G 330.16
Diesel
Platform / Chassis
9839
1991.09-1996.10
240-249 (326-339)
1600
1
Manager
G 340ti.16,G 330.16
Diesel
Platform / Chassis
9839
1991.09-1996.10
240-249 (326-339)
1650
1
Manager
G 340ti.17,G 330.19
Diesel
Platform / Chassis
9839
1991.09-1996.10
240-249 (326-339)
1750
1
Manager
G 340ti.17/T,G 330.17/T
Diesel
Truck Tractor
9839
1991.09-1996.10
240-249 (326-339)
1750
1
Manager
G 340ti.18,G 330.18
Diesel
Platform / Chassis
9839
1991.09-1996.10
240-249 (326-339)
1800
1
Manager
G 340ti.18/T
Diesel
Truck Tractor
9839
1992.02-1996.10
249 (339)
1800
1
Manager
G 340ti.19,G 330.19
Diesel
Platform / Chassis
9839
1991.09-1996.10
240-249 (326-339)
1900
1
Manager
G 340ti.19/T,G 330.19/T
Diesel
Truck Tractor
9839
1991.09-1996.10
240-249 (326-339)
1900
1
Manager
G 340ti.19/T,G 330.19/T,G 330.17/T
Diesel
Truck Tractor
9839
1991.09-1996.10
240-249 (326-339)
1600
1
Manager
G 340ti.26,G 330.26
Diesel
Platform / Chassis
9839
1991.10-1996.10
240-249 (326-339)
2600
3
Maxter
G 260.19
Diesel
Platform / Chassis
9800
1996.02-1997.06
188 (256)
1900
1
Maxter
G 270.19
Diesel
Dump Truck
9839
1993.01-1996.10
195 (265)
1900
1
Maxter
G 270.19
Diesel
Platform / Chassis
9839
1993.01-1996.10
195 (265)
1900
1
Maxter
G 300.18
Diesel
Dump Truck
9839
1992.10-1996.10
222 (302)
1800
1
Maxter
G 300.18
Diesel
Platform / Chassis
9839
1992.10-1996.10
222 (302)
1800
1
Maxter
G 300.19
Diesel
Platform / Chassis
9800
1996.02-1997.06
219 (298)
1900
1
Maxter
G 300.19
Diesel
Platform / Chassis
9839
1992.10-1996.10
222 (302)
1900
1
Maxter
G 300.26
Diesel
Concrete Mixer
9839
1992.10-1996.10
222 (302)
2600
4
Maxter
G 300.26
Diesel
Concrete Mixer
9839
1992.10-1996.10
222 (302)
2600
8
Maxter
G 300.26
Diesel
Dump Truck
9839
1992.10-1996.10
222 (302)
2600
4
Maxter
G 300.26
Diesel
Platform / Chassis
9839
1992.10-1996.10
222 (302)
2600
3
Maxter
G 300.26
Diesel
Platform / Chassis
9800
1996.02-1997.06
219 (298)
2600
4
Maxter
G 300.26
Diesel
Platform / Chassis
9839
1992.10-1996.10
222 (302)
2600
4
Maxter
G 340ti.18/T
Diesel
Truck Tractor
9839
1992.10-1997.06
249 (339)
1800
2
Maxter
G 340ti.19
Diesel
Platform / Chassis
9839
1992.10-1997.06
249 (339)
1900
1
Maxter
G 340ti.19
Diesel
Platform / Chassis
9839
1992.10-1997.06
249 (339)
1900
2
Maxter
G 340ti.19/T
Diesel
Truck Tractor
9839
1992.10-1997.06
249 (339)
1900
2
Maxter
G 340ti.19/T
Diesel
Truck Tractor
9839
1992.10-1997.06
249 (339)
1900
1
Maxter
G 340ti.25/A,G 340ti.25/B
Diesel
Dump Truck
9839
1992.10-1997.06
249 (339)
2500
4
Maxter
G 340ti.25/A,G 340ti.25/B
Diesel
Platform / Chassis
9839
1992.10-1997.06
249 (339)
2500
4
Maxter
G 340ti.26
Diesel
Concrete Mixer
9839
1992.10-1997.06
249 (339)
2600
4
Maxter
G 340ti.26,G 340ti.26/B
Diesel
Dump Truck
9839
1992.10-1997.06
249 (339)
2600
4
Maxter
G 340ti.26/B
Diesel
Platform / Chassis
9839
1992.10-1997.06
249 (339)
2600
4
Maxter
G 340ti.26/C
Diesel
Dump Truck
9839
1992.10-1997.06
249 (339)
2600
5
Maxter
G 340ti.26/C
Diesel
Platform / Chassis
9839
1992.10-1997.06
249 (339)
2600
5
Maxter
G 340ti.32,G 340ti.32/B
Diesel
Dump Truck
9839
1992.10-1997.06
249 (339)
3200
8
Maxter
G 340ti.32/A,G 340ti.32/B,G 340ti.32/C
Diesel
Concrete Mixer
9839
1992.10-1997.06
249 (339)
3200
8
Maxter
G 340ti.32/A,G 340ti.32/B,G 340ti.32/C
Diesel
Platform / Chassis
9839
1992.10-1997.06
249 (339)
3200
8
Maxter
G 340ti.34
Diesel
Dump Truck
9839
1992.10-1997.06
249 (339)
3400
4
Maxter
G 340ti.34
Diesel
Platform / Chassis
9839
1992.10-1997.06
249 (339)
3400
5
Maxter
G 340ti.34
Diesel
Platform / Chassis
9839
1992.10-1997.06
249 (339)
3400
4
Maxter
G 340ti.40
Diesel
Dump Truck
9839
1992.10-1997.06
249 (339)
4000
8
Maxter
G 340ti.40
Diesel
Platform / Chassis
9839
1992.10-1997.06
249 (339)
4000
8
Premium
Distribution 210.16
Diesel
Platform / Chassis
6177
1996.04-.
154 (209)
1600
1
Premium
Distribution 210.18D, 220.18
Diesel
Platform / Chassis
6177
1996.04-.
154-158 (209-215)
1800
1
Premium
Distribution 250.16
Diesel
Platform / Chassis
6177
1996.04-.
184 (250)
1600
1
Premium
Distribution 250.18D
Diesel
Platform / Chassis
6180
1996.04-.
184 (250)
1800
1
Premium
Distribution 250.19
Diesel
Platform / Chassis
6177
1996.04-.
184 (250)
1900
1
Premium
Distribution 260.16
Diesel
Platform / Chassis
9839
1996.04-.
188 (256)
1600
1
Premium
Distribution 260.18
Diesel
Platform / Chassis
9839
1996.04-.
188 (256)
1800
1
Premium
Distribution 260.19
Diesel
Platform / Chassis
9839
1996.04-.
188 (256)
1900
1
Premium
Distribution 270.18
Diesel
Platform / Chassis
6177
2000.08-.
195 (265)
1800
1
Premium
Distribution 300.16D
Diesel
Platform / Chassis
9839
1996.04-.
219 (298)
1600
1
Premium
Distribution 300.16T
Diesel
Truck Tractor
9839
1996.04-.
219 (298)
1600
1
Premium
Distribution 300.18D
Diesel
Platform / Chassis
9839
1996.04-.
219 (298)
1800
1
Premium
Distribution 300.18D/T
Diesel
Truck Tractor
9839
1996.04-.
219 (298)
1800
1
Premium
Distribution 300.19
Diesel
Platform / Chassis
9839
1996.04-.
219 (298)
1900
1
Premium
Distribution 300.19D/T
Diesel
Truck Tractor
9839
1996.04-.
219 (298)
1900
1
Premium
Distribution 320.18
Diesel
Truck Tractor
11100
2000.08-.
230 (313)
1800
1
Premium
Distribution 320.18 D
Diesel
Platform / Chassis
11100
2000.08-.
230 (313)
1800
1
Premium
Distribution 340.18D
Diesel
Platform / Chassis
9839
1996.04-.
249 (339)
1800
1
Premium
Distribution 340.18D/T
Diesel
Truck Tractor
9839
1996.04-.
249 (339)
1800
1
Premium
Distribution 340.19D
Diesel
Platform / Chassis
9839
1996.04-.
249 (339)
1900
1
Premium
Distribution 340.19D/T
Diesel
Truck Tractor
9839
1996.04-.
249 (339)
1900
1
Premium
Distribution 370.18
Diesel
Truck Tractor
11100
2000.08-.
266 (362)
1800
1
Premium
Distribution 370.18D
Diesel
Platform / Chassis
11100
2000.08-.
266 (362)
1800
1
Premium
Distribution 400.18D
Diesel
Platform / Chassis
11100
2000.01-.
288 (392)
1800
1
Premium
Distribution 400.18D/T
Diesel
Truck Tractor
11100
2000.01-.
288 (392)
1800
1
Premium
Distribution 420.18
Diesel
Truck Tractor
11100
2000.08-.
303 (412)
1800
1
Premium
Distribution 420.18D
Diesel
Platform / Chassis
11100
2000.08-.
303 (412)
1800
1
Premium
Route 300.16
Diesel
Platform / Chassis
9839
1996.09-.
219 (298)
1600
1
Premium
Route 300.18
Diesel
Platform / Chassis
9839
1996.09-.
219 (298)
1800
1
Premium
Route 300.18T
Diesel
Truck Tractor
9839
1996.09-.
219 (298)
1800
1
Premium
Route 300.19
Diesel
Platform / Chassis
9839
1996.09-.
219 (298)
1900
1
Premium
Route 300.19T
Diesel
Truck Tractor
9839
1996.09-.
219 (298)
1900
1
Premium
Route 320.18
Diesel
Platform / Chassis
11100
2000.08-.
230 (313)
1800
1
Premium
Route 320.18
Diesel
Truck Tractor
11100
2000.08-.
230 (313)
1800
1
Premium
Route 340.18
Diesel
Platform / Chassis
9839
1996.04-.
249 (339)
1800
1
Premium
Route 340.18T
Diesel
Truck Tractor
9839
1996.04-.
249 (339)
1800
1
Premium
Route 340.19
Diesel
Platform / Chassis
9839
1996.04-.
249 (339)
1900
1
Premium
Route 340.19T
Diesel
Truck Tractor
9839
1996.04-.
249 (339)
1900
1
Premium
Route 370.18
Diesel
Platform / Chassis
11100
2000.08-.
266 (362)
1800
1
Premium
Route 370.18
Diesel
Truck Tractor
11100
2000.08-.
266 (362)
1800
1
Premium
Route 385.18,400.18
Diesel
Platform / Chassis
11100
1996.04-.
280-288 (381-392)
1800
1
Premium
Route 385.18T,400.18T
Diesel
Truck Tractor
11100
1996.04-.
280-288 (381-392)
1800
1
Premium
Route 385.19,400.19
Diesel
Platform / Chassis
11100
1996.04-.
280-288 (381-392)
1900
1
Premium
Route 385.19T,400.19T
Diesel
Truck Tractor
11100
1996.04-.
280-288 (381-392)
1900
1
Premium
Route 385.24,400.24
Diesel
Platform / Chassis
11100
1996.04-.
280-288 (381-392)
2400
3
Premium
Route 385.24T,400.24T
Diesel
Truck Tractor
11100
1996.09-.
280-288 (381-392)
2400
3
Premium
Route 385.26
Diesel
Platform / Chassis
11100
1996.04-.
280 (381)
2600
7
Premium
Route 385.26,400.26
Diesel
Platform / Chassis
11100
1996.04-.
280-288 (381-392)
2600
3
Premium
Route 420.18
Diesel
Platform / Chassis
11100
2000.08-.
303 (412)
1800
1
Premium
Route 420.18T
Diesel
Truck Tractor
11100
2000.08-.
303 (412)
1800
1
Premium
Route 420.24
Diesel
Platform / Chassis
11100
2000.08-.
303 (412)
2400
3
Premium
Route 420.24
Diesel
Truck Tractor
11100
2000.08-.
303 (412)
2400
3
Premium
Route 420.25
Diesel
Truck Tractor
11100
2000.08-.
303 (412)
2500
3
Premium
Route 420.26
Diesel
Platform / Chassis
11100
2000.08-.
303 (412)
2600
3
Premium 2
Distribution 240.18 D
Diesel
Platform / Chassis
7200
2006.05-.
177 (241)
1800
1
Premium 2
Distribution 270.19
Diesel
Platform / Chassis
7200
2006.10-.
194 (264)
1800
1
Premium 2
Distribution 280.18 D
Diesel
Platform / Chassis
7200
2005.10-.
206 (280)
1800
1
Premium 2
Distribution 310.18
Diesel
Platform / Chassis
7200
2006.10-.
224 (310)
1800
1
Premium 2
Distribution 320.18
Diesel
Truck Tractor
7200
2006.05-.
235 (320)
1800
1
Premium 2
Distribution 320.18 D
Diesel
Platform / Chassis
7200
2005.10-.
235 (320)
1800
1
Premium 2
Distribution 340.18
Diesel
Platform / Chassis
7200
2006.10-.
247 (340)
1800
1
Premium 2
Distribution 340.19
Diesel
Truck Tractor
7200
2006.10-.
247 (340)
1800
1
Premium 2
Distribution 370.18 D
Diesel
Platform / Chassis
10800
2005.10-.
272 (370)
1800
1
Premium 2
Distribution 370.18 D
Diesel
Truck Tractor
10800
2005.10-.
272 (370)
1800
1
Premium 2
Distribution 380.18
Diesel
Platform / Chassis
10800
2006.10-.
280 (381)
1800
1
Premium 2
Distribution 380.19
Diesel
Truck Tractor
10800
2006.10-.
280 (381)
1800
1
Premium 2
Distribution 410.18 D
Diesel
Platform / Chassis
10800
2005.10-.
302 (410)
1800
1
Premium 2
Distribution 410.18 D
Diesel
Truck Tractor
10800
2005.10-.
302 (410)
1800
1
Premium 2
Distribution 430.18
Diesel
Platform / Chassis
10800
2006.10-.
316 (430)
1800
1
Premium 2
Distribution 430.19
Diesel
Truck Tractor
10800
2006.10-.
316 (430)
1800
1
Premium 2
Distribution 450.18 D
Diesel
Platform / Chassis
10800
2005.10-.
331 (450)
1800
1
Premium 2
Distribution 460.19
Diesel
Platform / Chassis
10800
2006.10-.
339 (460)
1800
1
Premium 2
Distribution 460.19
Diesel
Truck Tractor
10800
2006.10-.
339 (460)
1800
1
Premium 2
Route 330.18 T
Diesel
Truck Tractor
10800
2005.10-.
243 (330)
1800
1
Premium 2
Route 380.18
Diesel
Platform / Chassis
10800
2006.10-.
280 (381)
1800
1
Premium 2
Route 380.19
Diesel
Truck Tractor
10800
2006.10-.
280 (381)
1800
1
Premium 2
Route 380.26
Diesel
Platform / Chassis
10800
2006.10-.
280 (381)
2600
3
Premium 2
Route 410.18
Diesel
Truck Tractor
10800
2005.10-.
302 (410)
1800
1
Premium 2
Route 410.18 D
Diesel
Platform / Chassis
10800
2005.10-.
302 (410)
1800
1
Premium 2
Route 410.24
Diesel
Platform / Chassis
10800
2005.10-.
302 (411)
2400
3
Premium 2
Route 410.25
Diesel
Platform / Chassis
10800
2005.10-.
302 (411)
2500
3
Premium 2
Route 410.26
Diesel
Platform / Chassis
10800
2005.10-.
302 (411)
2600
3
Premium 2
Route 430.18
Diesel
Platform / Chassis
10800
2006.10-.
316 (430)
1800
1
Premium 2
Route 430.19
Diesel
Truck Tractor
10800
2006.10-.
316 (430)
1800
1
Premium 2
Route 430.26
Diesel
Platform / Chassis
10800
2006.10-.
316 (430)
2600
3
Premium 2
Route 450.18
Diesel
Truck Tractor
10800
2005.10-.
331 (450)
1800
1
Premium 2
Route 450.18 D
Diesel
Platform / Chassis
10800
2005.10-.
331 (450)
1800
1
Premium 2
Route 450.24
Diesel
Platform / Chassis
10800
2005.10-.
331 (450)
2450
3
Premium 2
Route 450.25
Diesel
Platform / Chassis
10800
2005.10-.
331 (450)
2500
3
Premium 2
Route 450.26
Diesel
Platform / Chassis
10800
2005.10-.
331 (450)
2600
3
Premium 2
Route 460.18
Diesel
Platform / Chassis
10800
2006.10-.
339 (460)
1800
1
Premium 2
Route 460.18
Diesel
Truck Tractor
10800
2006.10-.
339 (460)
1800
1
Premium 2
Route 460.26
Diesel
Platform / Chassis
10800
2006.10-.
339 (460)
2600
3
commercial vehicles - SCANIA
3 - series
113 E/320
Diesel
Dump Truck
11020
1991.11-1996.12
235-239 (320-325)
2600
4
3 - series
113 E/320
Diesel
Dump Truck
11020
1991.11-1996.12
235-239 (320-325)
3200
8
3 - series
113 E/320
Diesel
Platform / Chassis
11020
1991.11-1996.12
235-239 (320-325)
3200
8
3 - series
113 E/320
Diesel
Platform / Chassis
11020
1991.11-1996.12
235-239 (320-325)
2600
4
3 - series
113 E/360
Diesel
Dump Truck
11020
1990.01-1996.12
265-267 (360-363)
3200
8
3 - series
113 E/360
Diesel
Dump Truck
11020
1990.01-1996.12
265-267 (360-363)
2600
4
3 - series
113 E/360
Diesel
Truck Tractor
11020
1990.01-1996.12
265-267 (360-363)
2600
4
3 - series
113 E/380
Diesel
Dump Truck
11020
1991.01-1996.12
280 (381)
2600
4
3 - series
113 E/380
Diesel
Dump Truck
11020
1991.01-1996.12
280 (381)
3200
8
3 - series
113 E/380
Diesel
Truck Tractor
11020
1991.01-1996.12
280 (381)
2600
4
3 - series
113 H/310
Diesel
Dump Truck
11020
1988.05-1989.12
228-229 (310-311)
2400
4
3 - series
113 H/310
Diesel
Dump Truck
11020
1988.05-1989.12
228-229 (310-311)
1700
2
3 - series
113 H/310
Diesel
Dump Truck
11020
1988.05-1989.12
228-229 (310-311)
2400
5
3 - series
113 H/310
Diesel
Dump Truck
11020
1990.01-1991.12
228-229 (310-311)
2500
4
3 - series
113 H/310
Diesel
Dump Truck
11020
1990.01-1991.12
228-229 (310-311)
1800
2
3 - series
113 H/310
Diesel
Dump Truck
11020
1990.01-1991.12
228-229 (310-311)
2500
5
3 - series
113 H/320
Diesel
Concrete Mixer
11020
1990.01-1996.12
235-239 (320-325)
2500
4
3 - series
113 H/320
Diesel
Concrete Mixer
11020
1990.01-1996.12
235-239 (320-325)
3200
8
3 - series
113 H/320
Diesel
Dump Truck
11020
1990.01-1996.12
235-239 (320-325)
2600
5
3 - series
113 H/320
Diesel
Dump Truck
11020
1990.01-1996.12
235-239 (320-325)
3200
8
3 - series
113 H/320
Diesel
Dump Truck
11020
1990.01-1996.12
235-239 (320-325)
1800
2
3 - series
113 H/320
Diesel
Dump Truck
11020
1988.05-1989.12
239 (325)
1700
1
3 - series
113 H/320
Diesel
Dump Truck
11020
1990.01-1996.12
235-239 (320-325)
2500
4
3 - series
113 H/320
Diesel
Platform / Chassis
11020
1988.05-1989.12
239 (325)
2400
4
3 - series
113 H/320
Diesel
Platform / Chassis
11020
1990.01-1996.12
235-239 (320-325)
3200
8
3 - series
113 H/320
Diesel
Platform / Chassis
11020
1990.01-1996.12
235-239 (320-325)
1800
1
3 - series
113 H/320
Diesel
Platform / Chassis
11020
1990.01-1996.12
235-239 (320-325)
2500
3
3 - series
113 H/320
Diesel
Platform / Chassis
11020
1988.05-1989.12
239 (325)
1700
1
3 - series
113 H/320
Diesel
Platform / Chassis
11020
1990.01-1996.12
235-239 (320-325)
2600
4
3 - series
113 H/320
Diesel
Platform / Chassis
11020
1988.05-1989.12
239 (325)
2400
3
3 - series
113 H/320
Diesel
Platform / Chassis
11020
1990.01-1996.12
235-239 (320-325)
3200
14
3 - series
113 H/320
Diesel
Truck Tractor
11020
1988.05-1989.12
239 (325)
1700
1
3 - series
113 H/320
Diesel
Truck Tractor
11020
1990.01-1996.12
235-239 (320-325)
1800
1
3 - series
113 H/320
Diesel
Truck Tractor
11020
1988.05-1989.12
239 (325)
2400
3
3 - series
113 H/320
Diesel
Truck Tractor
11020
1990.01-1996.12
235-239 (320-325)
2500
3
3 - series
113 H/320
Diesel
Truck Tractor
11020
1988.05-1989.12
239 (325)
2400
4
3 - series
113 H/320
Diesel
Truck Tractor
11020
1990.01-1996.12
235-239 (320-325)
2600
4
3 - series
113 H/360
Diesel
Concrete Mixer
11020
1990.01-1996.12
265-267 (360-363)
2500
4
3 - series
113 H/360
Diesel
Concrete Mixer
11020
1990.01-1996.12
265-267 (360-363)
3200
8
3 - series
113 H/360
Diesel
Dump Truck
11020
1990.01-1996.12
265-267 (360-363)
2500
4
3 - series
113 H/360
Diesel
Dump Truck
11020
1989.01-1989.12
267 (363)
2400
4
3 - series
113 H/360
Diesel
Dump Truck
11020
1990.01-1996.12
265-267 (360-363)
2600
5
3 - series
113 H/360
Diesel
Dump Truck
11020
1989.01-1989.12
267 (363)
2400
5
3 - series
113 H/360
Diesel
Dump Truck
11020
1990.01-1996.12
265-267 (360-363)
3200
8
3 - series
113 H/360
Diesel
Dump Truck
11020
1990.01-1996.12
265-267 (360-363)
1800
2
3 - series
113 H/360
Diesel
Platform / Chassis
11020
1988.05-1989.12
267 (363)
1700
1
3 - series
113 H/360
Diesel
Platform / Chassis
11020
1990.01-1996.12
265-267 (360-363)
2600
4
3 - series
113 H/360
Diesel
Platform / Chassis
11020
1988.05-1989.12
267 (363)
2400
3
3 - series
113 H/360
Diesel
Platform / Chassis
11020
1990.01-1996.12
265-267 (360-363)
3200
14
3 - series
113 H/360
Diesel
Platform / Chassis
11020
1988.05-1989.12
267 (363)
2400
4
3 - series
113 H/360
Diesel
Platform / Chassis
11020
1990.01-1996.12
265-267 (360-363)
3200
8
3 - series
113 H/360
Diesel
Platform / Chassis
11020
1990.01-1996.12
265-267 (360-363)
1800
1
3 - series
113 H/360
Diesel
Platform / Chassis
11020
1990.01-1996.12
265-267 (360-363)
2500
3
3 - series
113 H/360
Diesel
Truck Tractor
11020
1990.01-1996.12
265-267 (360-363)
1800
1
3 - series
113 H/360
Diesel
Truck Tractor
11020
1988.05-1989.12
267 (363)
1700
1
3 - series
113 H/360
Diesel
Truck Tractor
11020
1990.01-1996.12
265-267 (360-363)
2500
3
3 - series
113 H/360
Diesel
Truck Tractor
11020
1988.05-1989.12
267 (363)
2400
3
3 - series
113 H/360
Diesel
Truck Tractor
11020
1990.01-1996.12
265-267 (360-363)
2600
4
3 - series
113 H/360
Diesel
Truck Tractor
11020
1988.05-1989.12
267 (363)
2400
4
3 - series
113 H/380
Diesel
Concrete Mixer
11020
1991.01-1996.12
280 (381)
3200
8
3 - series
113 H/380
Diesel
Dump Truck
11020
1991.01-1996.12
280 (381)
2500
4
3 - series
113 H/380
Diesel
Dump Truck
11020
1991.01-1996.12
280 (381)
3200
8
3 - series
113 H/380
Diesel
Platform / Chassis
11020
1991.01-1996.12
280 (381)
2600
4
3 - series
113 H/380
Diesel
Platform / Chassis
11020
1991.01-1996.12
280 (381)
1800
1
3 - series
113 H/380
Diesel
Platform / Chassis
11020
1991.01-1996.12
280 (381)
2500
3
3 - series
113 H/380
Diesel
Truck Tractor
11020
1991.01-1996.12
280 (381)
2600
4
3 - series
113 H/380
Diesel
Truck Tractor
11020
1991.01-1996.12
280 (381)
1800
1
3 - series
113 H/380
Diesel
Truck Tractor
11020
1991.01-1996.12
280 (381)
2500
3
3 - series
113 M/320
Diesel
Concrete Mixer
11020
1990.01-1996.12
235-239 (320-325)
3200
8
3 - series
113 M/320
Diesel
Platform / Chassis
11020
1990.01-1996.12
235-239 (320-325)
1800
1
3 - series
113 M/320
Diesel
Platform / Chassis
11020
1988.05-1989.12
239 (325)
2400
3
3 - series
113 M/320
Diesel
Platform / Chassis
11020
1990.01-1996.12
235-239 (320-325)
2500
3
3 - series
113 M/320
Diesel
Platform / Chassis
11020
1988.05-1989.12
239 (325)
1700
1
3 - series
113 M/320
Diesel
Truck Tractor
11020
1990.01-1996.12
235-239 (320-325)
2600
4
3 - series
113 M/320
Diesel
Truck Tractor
11020
1988.05-1989.12
239 (325)
1700
1
3 - series
113 M/320
Diesel
Truck Tractor
11020
1988.05-1989.12
239 (325)
2400
3
3 - series
113 M/320
Diesel
Truck Tractor
11020
1990.01-1996.12
235-239 (320-325)
1800
1
3 - series
113 M/320
Diesel
Truck Tractor
11020
1990.01-1996.12
235-239 (320-325)
2500
3
3 - series
113 M/360
Diesel
Concrete Mixer
11020
1990.01-1996.12
265-267 (360-363)
3200
8
3 - series
113 M/360
Diesel
Platform / Chassis
11020
1988.05-1989.12
267 (363)
2400
3
3 - series
113 M/360
Diesel
Platform / Chassis
11020
1990.01-1996.12
265-267 (360-363)
1800
1
3 - series
113 M/360
Diesel
Platform / Chassis
11020
1990.01-1996.12
265-267 (360-363)
2500
3
3 - series
113 M/360
Diesel
Platform / Chassis
11020
1988.05-1989.12
267 (363)
1700
1
3 - series
113 M/360
Diesel
Truck Tractor
11020
1988.05-1989.12
267 (363)
1700
1
3 - series
113 M/360
Diesel
Truck Tractor
11020
1988.05-1989.12
267 (363)
2400
3
3 - series
113 M/360
Diesel
Truck Tractor
11020
1990.01-1996.12
265-267 (360-363)
2500
3
3 - series
113 M/360
Diesel
Truck Tractor
11020
1990.01-1996.12
265-267 (360-363)
1800
1
3 - series
113 M/380
Diesel
Platform / Chassis
11020
1991.01-1996.12
280 (381)
1800
1
3 - series
113 M/380
Diesel
Platform / Chassis
11020
1991.01-1996.12
280 (381)
2500
3
3 - series
113 M/380
Diesel
Truck Tractor
11020
1991.01-1996.12
280 (381)
1800
1
3 - series
113 M/380
Diesel
Truck Tractor
11020
1991.01-1996.12
280 (381)
2500
3
3 - series
113 M/400
Diesel
Platform / Chassis
11020
1993.01-1996.12
295 (401)
1800
1
3 - series
113 M/400
Diesel
Platform / Chassis
11020
1992.01-1996.12
295 (401)
2500
3
3 - series
113 M/400
Diesel
Truck Tractor
11020
1992.01-1996.12
295 (401)
1800
1
3 - series
143 E/420
Diesel
Dump Truck
14190
1991.01-1996.12
309 (420)
2600
4
3 - series
143 E/420
Diesel
Dump Truck
14190
1991.01-1996.12
309 (420)
3200
8
3 - series
143 E/420
Diesel
Platform / Chassis
14190
1991.01-1996.12
309 (420)
2600
4
3 - series
143 E/420
Diesel
Truck Tractor
14190
1991.01-1996.12
309 (420)
2600
4
3 - series
143 E/450
Diesel
Dump Truck
14190
1988.01-1996.12
331-333 (450-453)
2600
4
3 - series
143 E/450
Diesel
Dump Truck
14190
1988.01-1996.12
331-333 (450-453)
3200
8
3 - series
143 E/450
Diesel
Platform / Chassis
14190
1988.01-1996.12
331-333 (450-453)
2600
4
3 - series
143 E/450
Diesel
Truck Tractor
14190
1988.01-1996.12
331-333 (450-453)
2600
4
3 - series
143 E/500
Diesel
Dump Truck
14190
1991.01-1996.12
368 (500)
2600
8
3 - series
143 E/500
Diesel
Dump Truck
14190
1991.01-1996.12
368 (500)
2600
4
3 - series
143 E/500
Diesel
Platform / Chassis
14190
1991.01-1996.12
368 (500)
2600
4
3 - series
143 E/500
Diesel
Truck Tractor
14190
1991.01-1996.12
368 (500)
2600
4
3 - series
143 H/400
Diesel
Platform / Chassis
14190
1988.05-1989.12
297 (404)
1700
1
3 - series
143 H/400
Diesel
Platform / Chassis
14190
1988.01-1996.12
297 (404)
1800
1
3 - series
143 H/400
Diesel
Platform / Chassis
14190
1988.05-1989.12
297 (404)
2400
3
3 - series
143 H/400
Diesel
Platform / Chassis
14190
1990.01-1991.12
297 (404)
2500
3
3 - series
143 H/400
Diesel
Platform / Chassis
14190
1988.05-1989.12
297 (404)
2400
4
3 - series
143 H/400
Diesel
Platform / Chassis
14190
1988.01-1996.12
297 (404)
2500
4
3 - series
143 H/400
Diesel
Truck Tractor
14190
1988.01-1996.12
297 (404)
1800
1
3 - series
143 H/400
Diesel
Truck Tractor
14190
1988.05-1989.12
297 (404)
2400
3
3 - series
143 H/400
Diesel
Truck Tractor
14190
1988.05-1989.12
297 (404)
2400
4
3 - series
143 H/400
Diesel
Truck Tractor
14190
1990.01-1991.12
297 (404)
2500
3
3 - series
143 H/400
Diesel
Truck Tractor
14190
1988.01-1996.12
297 (404)
2500
4
3 - series
143 H/400
Diesel
Truck Tractor
14190
1988.05-1989.12
297 (404)
1700
1
3 - series
143 H/420
Diesel
Dump Truck
14190
1991.01-1993.12
309 (420)
2500
4
3 - series
143 H/420
Diesel
Platform / Chassis
14190
1991.01-1996.12
309 (420)
2600
4
3 - series
143 H/420
Diesel
Platform / Chassis
14190
1991.01-1996.12
309 (420)
1800
1
3 - series
143 H/420
Diesel
Platform / Chassis
14190
1991.01-1996.12
309 (420)
2500
3
3 - series
143 H/420
Diesel
Truck Tractor
14190
1991.01-1996.12
309 (420)
2500
3
3 - series
143 H/420
Diesel
Truck Tractor
14190
1991.01-1996.12
309 (420)
2600
4
3 - series
143 H/420
Diesel
Truck Tractor
14190
1991.01-1996.12
309 (420)
1800
1
3 - series
143 H/450
Diesel
Platform / Chassis
14190
1988.01-1996.12
331-333 (450-453)
2600
4
3 - series
143 H/450
Diesel
Platform / Chassis
14190
1988.05-1989.12
331 (450)
1700
1
3 - series
143 H/450
Diesel
Platform / Chassis
14190
1990.01-1996.12
331-333 (450-453)
1800
1
3 - series
143 H/450
Diesel
Platform / Chassis
14190
1988.05-1989.12
331 (450)
2400
3
3 - series
143 H/450
Diesel
Platform / Chassis
14190
1990.01-1996.12
331-333 (450-453)
2500
3
3 - series
143 H/450
Diesel
Platform / Chassis
14190
1988.05-1989.12
331 (450)
2400
4
3 - series
143 H/450
Diesel
Truck Tractor
14190
1988.05-1989.12
331 (450)
1700
1
3 - series
143 H/450
Diesel
Truck Tractor
14190
1990.01-1996.12
331-333 (450-453)
1800
1
3 - series
143 H/450
Diesel
Truck Tractor
14190
1988.05-1989.12
331 (450)
2400
3
3 - series
143 H/450
Diesel
Truck Tractor
14190
1990.01-1996.12
331-333 (450-453)
2500
3
3 - series
143 H/450
Diesel
Truck Tractor
14190
1988.05-1989.12
331 (450)
2400
4
3 - series
143 H/450
Diesel
Truck Tractor
14190
1990.01-1996.12
331-333 (450-453)
2600
4
3 - series
143 H/470
Diesel
Platform / Chassis
14190
1988.03-1989.12
346 (471)
2400
3
3 - series
143 H/470
Diesel
Platform / Chassis
14190
1988.01-1996.12
346 (471)
2500
4
3 - series
143 H/470
Diesel
Platform / Chassis
14190
1988.03-1989.12
346 (471)
2400
4
3 - series
143 H/470
Diesel
Platform / Chassis
14190
1990.01-1991.05
346 (471)
1800
1
3 - series
143 H/470
Diesel
Platform / Chassis
14190
1988.03-1989.12
346 (471)
1700
1
3 - series
143 H/470
Diesel
Platform / Chassis
14190
1990.01-1991.05
346 (471)
2500
3
3 - series
143 H/470
Diesel
Truck Tractor
14190
1988.01-1996.12
346 (471)
1800
1
3 - series
143 H/470
Diesel
Truck Tractor
14190
1988.03-1989.12
346 (471)
1700
1
3 - series
143 H/470
Diesel
Truck Tractor
14190
1988.01-1996.12
346 (471)
2500
4
3 - series
143 H/470
Diesel
Truck Tractor
14190
1988.03-1989.12
346 (471)
2400
4
3 - series
143 H/500
Diesel
Platform / Chassis
14190
1991.01-1996.12
368 (500)
2600
4
3 - series
143 H/500
Diesel
Platform / Chassis
14190
1991.01-1996.12
368 (500)
1800
1
3 - series
143 H/500
Diesel
Platform / Chassis
14190
1991.01-1996.12
368 (500)
2500
3
3 - series
143 H/500
Diesel
Truck Tractor
14190
1991.01-1996.12
368 (500)
1800
1
3 - series
143 H/500
Diesel
Truck Tractor
14190
1991.01-1996.12
368 (500)
2500
3
3 - series
143 H/500
Diesel
Truck Tractor
14190
1991.01-1996.12
368 (500)
2600
4
3 - series
143 M/420
Diesel
Platform / Chassis
14190
1991.01-1996.12
309 (420)
2500
3
3 - series
143 M/420
Diesel
Platform / Chassis
14190
1991.01-1996.12
309 (420)
1800
1
3 - series
143 M/420
Diesel
Truck Tractor
14190
1991.01-1996.12
309 (420)
1800
1
3 - series
143 M/420
Diesel
Truck Tractor
14190
1991.01-1996.12
309 (420)
2500
3
3 - series
143 M/450
Diesel
Platform / Chassis
14190
1990.01-1996.12
331-333 (450-453)
1800
1
3 - series
143 M/450
Diesel
Platform / Chassis
14190
1990.01-1996.12
331-333 (450-453)
2500
3
3 - series
143 M/450
Diesel
Platform / Chassis
14190
1988.05-1989.12
331 (450)
1700
1
3 - series
143 M/450
Diesel
Platform / Chassis
14190
1988.05-1989.12
331 (450)
2400
3
3 - series
143 M/450
Diesel
Truck Tractor
14190
1988.05-1989.12
331 (450)
2400
3
3 - series
143 M/450
Diesel
Truck Tractor
14190
1990.01-1996.12
331-333 (450-453)
1800
1
3 - series
143 M/450
Diesel
Truck Tractor
14190
1990.01-1996.12
331-333 (450-453)
2500
3
3 - series
143 M/450
Diesel
Truck Tractor
14190
1988.05-1989.12
331 (450)
1700
1
3 - series
143 M/470
Diesel
Platform / Chassis
14190
1988.03-1989.12
346 (471)
1700
1
3 - series
143 M/470
Diesel
Platform / Chassis
14190
1988.03-1989.12
346 (471)
2400
3
3 - series
143 M/470
Diesel
Platform / Chassis
14190
1988.01-1996.12
346 (471)
1800
1
3 - series
143 M/470
Diesel
Platform / Chassis
14190
1990.01-1991.05
346 (471)
2500
3
3 - series
143 M/470
Diesel
Truck Tractor
14190
1988.01-1996.12
346 (471)
1800
1
3 - series
143 M/470
Diesel
Truck Tractor
14190
1990.01-1991.05
346 (471)
2500
3
3 - series
143 M/470
Diesel
Truck Tractor
14190
1988.03-1989.12
346 (471)
1700
1
3 - series
143 M/470
Diesel
Truck Tractor
14190
1988.03-1989.12
346 (471)
2400
3
3 - series
143 M/500
Diesel
Platform / Chassis
14190
1991.01-1996.12
368 (500)
1800
1
3 - series
143 M/500
Diesel
Platform / Chassis
14190
1991.01-1996.12
368 (500)
2500
3
3 - series
143 M/500
Diesel
Truck Tractor
14190
1991.01-1996.12
368 (500)
2500
3
3 - series
143 M/500
Diesel
Truck Tractor
14190
1991.01-1996.12
368 (500)
1800
1
3 - series
93 H/220
Diesel
Platform / Chassis
8475
1991.12-1996.12
162 (220)
1800
1
3 - series
93 H/250
Diesel
Concrete Mixer
8475
1990.01-1996.12
185 (252)
2600
4
3 - series
93 H/250
Diesel
Dump Truck
8475
1990.01-1996.12
185 (252)
1800
2
3 - series
93 H/250
Diesel
Dump Truck
8475
1990.01-1996.12
185 (252)
2600
4
3 - series
93 H/250
Diesel
Dump Truck
8475
1988.03-1989.12
185 (252)
1700
2
3 - series
93 H/250
Diesel
Dump Truck
8475
1989.01-1989.12
185 (252)
2400
4
3 - series
93 H/250
Diesel
Platform / Chassis
8475
1990.01-1996.12
185 (252)
2600
4
3 - series
93 H/250
Diesel
Platform / Chassis
8475
1990.01-1996.12
185 (252)
1800
1
3 - series
93 H/280
Diesel
Concrete Mixer
8475
1991.12-1996.12
207-208 (282-283)
2600
4
3 - series
93 H/280
Diesel
Dump Truck
8475
1991.12-1996.12
207-208 (282-283)
2600
4
3 - series
93 H/280
Diesel
Dump Truck
8475
1991.12-1996.12
207-208 (282-283)
1800
4
3 - series
93 H/280
Diesel
Platform / Chassis
8475
1991.12-1996.12
207-208 (282-283)
2600
4
3 - series
93 H/280
Diesel
Platform / Chassis
8475
1991.12-1996.12
207-208 (282-283)
1800
1
3 - series
93 M/210
Diesel
Platform / Chassis
8475
1988.03-1991.12
155 (211)
1700
1
3 - series
93 M/220
Diesel
Platform / Chassis
8475
1991.12-1996.12
162 (220)
1800
1
3 - series
93 M/220
Diesel
Platform / Chassis
8475
1991.12-1996.12
162 (220)
2500
3
3 - series
93 M/220
Diesel
Truck Tractor
8475
1991.12-1996.12
162 (220)
1800
1
3 - series
93 M/230
Diesel
Platform / Chassis
8475
1988.03-1989.12
167 (227)
1700
1
3 - series
93 M/230
Diesel
Platform / Chassis
8475
1988.03-1989.12
167 (227)
2400
3
3 - series
93 M/230
Diesel
Platform / Chassis
8475
1990.01-1991.12
167 (227)
1800
1
3 - series
93 M/230
Diesel
Platform / Chassis
8475
1990.01-1991.12
167 (227)
2500
3
3 - series
93 M/230
Diesel
Truck Tractor
8475
1990.01-1991.12
167 (227)
1800
1
3 - series
93 M/230
Diesel
Truck Tractor
8475
1988.03-1989.12
167 (227)
1700
1
3 - series
93 M/250
Diesel
Concrete Mixer
8475
1990.10-1996.12
185 (252)
2600
4
3 - series
93 M/250
Diesel
Dump Truck
8475
1990.01-1996.12
185 (252)
1800
2
3 - series
93 M/250
Diesel
Dump Truck
8475
1990.01-1996.12
185 (252)
2600
4
3 - series
93 M/250
Diesel
Platform / Chassis
8475
1990.01-1996.12
185 (252)
2600
4
3 - series
93 M/250
Diesel
Platform / Chassis
8475
1988.03-1989.12
185 (252)
1700
1
3 - series
93 M/250
Diesel
Platform / Chassis
8475
1990.01-1996.12
185 (252)
1800
1
3 - series
93 M/250
Diesel
Platform / Chassis
8475
1988.03-1989.12
185 (252)
2400
3
3 - series
93 M/250
Diesel
Platform / Chassis
8475
1990.01-1996.12
185 (252)
2500
3
3 - series
93 M/250
Diesel
Truck Tractor
8475
1990.01-1996.12
185 (252)
1800
1
3 - series
93 M/250
Diesel
Truck Tractor
8475
1988.03-1989.12
185 (252)
1700
1
3 - series
93 M/280
Diesel
Concrete Mixer
8475
1990.01-1996.12
207-208 (282-283)
2600
4
3 - series
93 M/280
Diesel
Dump Truck
8475
1990.01-1996.12
207-208 (282-283)
2600
4
3 - series
93 M/280
Diesel
Platform / Chassis
8475
1988.03-1989.12
207 (282)
2400
3
3 - series
93 M/280
Diesel
Platform / Chassis
8475
1990.01-1996.12
207-208 (282-283)
1800
1
3 - series
93 M/280
Diesel
Platform / Chassis
8475
1990.01-1996.12
207-208 (282-283)
2600
4
3 - series
93 M/280
Diesel
Platform / Chassis
8475
1990.01-1996.12
207-208 (282-283)
2500
3
3 - series
93 M/280
Diesel
Platform / Chassis
8475
1988.03-1989.12
207 (282)
1700
1
3 - series
93 M/280
Diesel
Truck Tractor
8475
1988.03-1989.12
207 (282)
1700
1
3 - series
93 M/280
Diesel
Truck Tractor
8475
1990.01-1996.12
207-208 (282-283)
1800
1
3 - series
T 113 E/320
Diesel
Dump Truck
11020
1990.01-1996.12
235-239 (320-325)
2600
4
3 - series
T 113 E/320
Diesel
Platform / Chassis
11020
1990.01-1996.12
235-239 (320-325)
2600
4
3 - series
T 113 E/360
Diesel
Dump Truck
11020
1990.01-1996.12
266-267 (362-363)
2600
4
3 - series
T 113 E/360
Diesel
Truck Tractor
11020
1990.01-1996.12
266-267 (362-363)
2600
4
3 - series
T 113 H/320
Diesel
Dump Truck
11020
1990.01-1996.12
235-239 (320-325)
2600
4
3 - series
T 113 H/320
Diesel
Platform / Chassis
11020
1990.01-1996.12
235-239 (320-325)
1800
1
3 - series
T 113 H/320
Diesel
Platform / Chassis
11020
1990.01-1996.12
235-239 (320-325)
2500
3
3 - series
T 113 H/320
Diesel
Platform / Chassis
11020
1990.01-1996.12
235-239 (320-325)
2600
4
3 - series
T 113 H/320
Diesel
Truck Tractor
11020
1990.01-1996.12
235-239 (320-325)
2500
3
3 - series
T 113 H/320
Diesel
Truck Tractor
11020
1990.01-1996.12
235-239 (320-325)
2600
4
3 - series
T 113 H/320
Diesel
Truck Tractor
11020
1990.01-1996.12
235-239 (320-325)
1800
1
3 - series
T 113 H/360
Diesel
Dump Truck
11020
1990.01-1996.12
266-267 (362-363)
2600
4
3 - series
T 113 H/360
Diesel
Platform / Chassis
11020
1990.01-1996.12
266-267 (362-363)
2600
4
3 - series
T 113 H/360
Diesel
Truck Tractor
11020
1990.01-1996.12
266-267 (362-363)
1800
1
3 - series
T 113 H/360
Diesel
Truck Tractor
11020
1990.01-1996.12
266-267 (362-363)
2500
3
3 - series
T 113 H/360
Diesel
Truck Tractor
11020
1990.01-1996.12
266-267 (362-363)
2600
4
3 - series
T 143 E/420
Diesel
Truck Tractor
14190
1991.01-1996.12
309 (420)
2600
4
3 - series
T 143 E/450
Diesel
Truck Tractor
14190
1988.01-1996.12
331-333 (450-453)
2600
4
3 - series
T 143 E/500
Diesel
Truck Tractor
14190
1991.01-1996.12
368 (500)
2600
4
3 - series
T 143 H/420
Diesel
Platform / Chassis
14190
1991.01-1996.12
309 (420)
1800
1
3 - series
T 143 H/420
Diesel
Platform / Chassis
14190
1991.01-1996.12
309 (420)
2500
3
3 - series
T 143 H/420
Diesel
Truck Tractor
14190
1991.01-1996.12
309 (420)
2500
3
3 - series
T 143 H/420
Diesel
Truck Tractor
14190
1991.01-1996.12
309 (420)
1800
1
3 - series
T 143 H/450
Diesel
Truck Tractor
14190
1990.01-1996.12
331-333 (450-453)
1800
1
3 - series
T 143 H/450
Diesel
Truck Tractor
14190
1990.01-1996.12
331-333 (450-453)
2500
3
3 - series
T 143 H/500
Diesel
Truck Tractor
14190
1991.01-1996.12
368 (500)
1800
1
3 - series
T 143 H/500
Diesel
Truck Tractor
14190
1991.01-1996.12
368 (500)
2500
3
3 - series
T 93 H/250
Diesel
Dump Truck
8475
1990.01-1996.12
185 (252)
2600
4
3 - series
T 93 H/250
Diesel
Platform / Chassis
8475
1990.01-1996.12
185 (252)
1800
1
3 - series
T 93 H/250
Diesel
Platform / Chassis
8475
1990.01-1996.12
185 (252)
2600
4
3 - series
T 93 H/280
Diesel
Dump Truck
8475
1991.12-1996.12
207-208 (282-283)
2600
4
3 - series
T 93 H/280
Diesel
Platform / Chassis
8475
1991.12-1996.12
207-208 (282-283)
2600
4
3 - series
T 93 H/280
Diesel
Platform / Chassis
8475
1991.12-1996.12
207-208 (282-283)
1800
1
3 - series bus
K 113
Diesel
Bus
11020
1990.11-.
228 (310)
1800
1
3 - series bus
K 113 CLB
Diesel
Bus
11020
1991.01-1997.12
305 (415)
1800
1
3 - series bus
K 113 CLB
Diesel
Bus
11020
1990.07-1996.12
280 (381)
1800
1
3 - series bus
K 93 CL
Diesel
Bus
8475
1991.01-1996.12
208 (283)
1800
1
3 - series bus
L 113 CLB
Diesel
Bus
11020
1990.01-1996.12
228 (310)
1800
1
4 - series
114 C/340
Diesel
Concrete Mixer
10600
1996.05-.
250 (340)
2600
4
4 - series
114 C/340
Diesel
Concrete Mixer
10600
1996.05-.
250 (340)
3200
6
4 - series
114 C/340
Diesel
Concrete Mixer
11000
1996.05-.
250 (340)
3200
6
4 - series
114 C/340
Diesel
Dump Truck
10600
1998.03-.
250 (340)
2600
4
4 - series
114 C/340
Diesel
Dump Truck
11000
1996.05-.
250 (340)
2600
4
4 - series
114 C/340
Diesel
Dump Truck
10600
1998.03-.
250 (340)
2600
5
4 - series
114 C/340
Diesel
Dump Truck
11000
1996.05-.
250 (340)
2600
5
4 - series
114 C/340
Diesel
Dump Truck
10600
1998.03-.
250 (340)
3200
8
4 - series
114 C/340
Diesel
Dump Truck
10600
1998.03-.
250 (340)
1800
1
4 - series
114 C/340
Diesel
Dump Truck
11000
1996.05-.
250 (340)
1800
1
4 - series
114 C/340
Diesel
Dump Truck
10600
1996.05-.
250 (340)
3200
6
4 - series
114 C/340
Diesel
Dump Truck
11000
1996.05-.
250 (340)
3200
6
4 - series
114 C/340
Diesel
Dump Truck
10600
1998.03-.
250 (340)
1800
2
4 - series
114 C/340
Diesel
Dump Truck
11000
1996.05-.
250 (340)
1800
2
4 - series
114 C/340
Diesel
Platform / Chassis
11000
1996.05-.
250 (340)
3200
6
4 - series
114 C/340
Diesel
Platform / Chassis
10600
1996.05-.
250 (340)
1800
2
4 - series
114 C/340
Diesel
Platform / Chassis
10600
1998.03-.
250 (340)
1800
1
4 - series
114 C/340
Diesel
Platform / Chassis
11000
1996.05-.
250 (340)
2600
4
4 - series
114 C/340
Diesel
Platform / Chassis
10600
1998.03-.
250 (340)
2600
4
4 - series
114 C/340
Diesel
Platform / Chassis
11000
1996.05-.
250 (340)
1800
1
4 - series
114 C/340
Diesel
Platform / Chassis
10600
1996.05-.
250 (340)
3200
6
4 - series
114 C/340
Diesel
Platform / Chassis
10600
1996.05-.
250 (340)
2600
5
4 - series
114 C/340
Diesel
Truck Tractor
10600
1996.05-.
250 (340)
1800
2
4 - series
114 C/340
Diesel
Truck Tractor
11000
1996.05-.
250 (340)
1800
1
4 - series
114 C/340
Diesel
Truck Tractor
10600
1998.03-.
250 (340)
1800
1
4 - series
114 C/340
Diesel
Truck Tractor
10600
1998.03-.
250 (340)
2600
4
4 - series
114 C/380
Diesel
Concrete Mixer
10600
1998.03-.
279-280 (379-381)
2600
4
4 - series
114 C/380
Diesel
Concrete Mixer
10600
1998.03-.
279-280 (379-381)
3200
6
4 - series
114 C/380
Diesel
Dump Truck
10600
1998.03-.
280 (381)
2600
5
4 - series
114 C/380
Diesel
Dump Truck
10600
1998.03-.
279-280 (380-381)
3200
6
4 - series
114 C/380
Diesel
Dump Truck
10600
1998.03-.
280 (381)
3200
8
4 - series
114 C/380
Diesel
Dump Truck
10600
1998.03-.
280 (381)
1060
1
4 - series
114 C/380
Diesel
Dump Truck
10600
1998.03-.
280 (381)
1060
2
4 - series
114 C/380
Diesel
Dump Truck
10600
1998.03-.
280 (381)
1060
4
4 - series
114 C/380
Diesel
Platform / Chassis
10600
1998.03-.
280 (381)
1800
1
4 - series
114 C/380
Diesel
Platform / Chassis
10600
1998.03-.
280 (381)
2600
4
4 - series
114 C/380
Diesel
Platform / Chassis
10600
1998.03-.
279-280 (379-381)
1800
2
4 - series
114 C/380
Diesel
Platform / Chassis
10600
1998.03-.
280 (380)
3200
6
4 - series
114 C/380
Diesel
Platform / Chassis
10600
1998.03-.
279-280 (379-381)
2600
5
4 - series
114 C/380
Diesel
Truck Tractor
10600
1998.03-.
280 (381)
1800
1
4 - series
114 C/380
Diesel
Truck Tractor
10600
1998.03-.
279-280 (379-381)
1800
2
4 - series
114 C/380
Diesel
Truck Tractor
10600
1998.03-.
280 (381)
2600
4
4 - series
114 G/340
Diesel
Platform / Chassis
10600
1998.03-.
250 (340)
3200
14
4 - series
114 G/340
Diesel
Platform / Chassis
10600
1998.03-.
250 (340)
1800
1
4 - series
114 G/340
Diesel
Platform / Chassis
11000
1996.05-.
250 (340)
3200
6
4 - series
114 G/340
Diesel
Platform / Chassis
11000
1996.05-.
250 (340)
3200
14
4 - series
114 G/340
Diesel
Platform / Chassis
11000
1996.05-.
250 (340)
2600
7
4 - series
114 G/340
Diesel
Platform / Chassis
10600
1996.05-.
250 (340)
2600
7
4 - series
114 G/340
Diesel
Platform / Chassis
10600
1998.03-.
250 (340)
2600
3
4 - series
114 G/340
Diesel
Platform / Chassis
11000
1996.05-.
250 (340)
3200
8
4 - series
114 G/340
Diesel
Platform / Chassis
10600
1996.05-.
250 (340)
3200
13
4 - series
114 G/340
Diesel
Platform / Chassis
11000
1996.05-.
250 (340)
2600
3
4 - series
114 G/340
Diesel
Platform / Chassis
10600
1998.03-.
250 (340)
2600
4
4 - series
114 G/340
Diesel
Platform / Chassis
10600
1996.05-.
250 (340)
3200
6
4 - series
114 G/340
Diesel
Platform / Chassis
11000
1996.05-.
250 (340)
3200
15
4 - series
114 G/340
Diesel
Platform / Chassis
10600
1998.03-.
250 (340)
3200
8
4 - series
114 G/340
Diesel
Platform / Chassis
11000
1996.05-.
250 (340)
1800
1
4 - series
114 G/340
Diesel
Platform / Chassis
10600
1996.05-.
250 (340)
2600
3
4 - series
114 G/340
Diesel
Platform / Chassis
11000
1996.05-.
250 (340)
3200
13
4 - series
114 G/340
Diesel
Platform / Chassis
10600
1996.05-.
250 (340)
3200
15
4 - series
114 G/340
Diesel
Platform / Chassis
11000
1996.05-.
250 (340)
2600
4
4 - series
114 G/340
Diesel
Truck Tractor
10600
1998.03-.
250 (340)
2600
3
4 - series
114 G/340
Diesel
Truck Tractor
11000
1996.05-.
250 (340)
1800
1
4 - series
114 G/340
Diesel
Truck Tractor
10600
1998.03-.
250 (340)
2600
4
4 - series
114 G/340
Diesel
Truck Tractor
11000
1996.05-.
250 (340)
2600
3
4 - series
114 G/340
Diesel
Truck Tractor
11000
1996.05-.
250 (340)
2600
4
4 - series
114 G/340
Diesel
Truck Tractor
10600
1998.03-.
250 (340)
1800
1
4 - series
114 G/380
Diesel
Platform / Chassis
10600
1998.03-.
279-280 (379-381)
2600
3
4 - series
114 G/380
Diesel
Platform / Chassis
10600
1998.03-.
280 (381)
2600
3
4 - series
114 G/380
Diesel
Platform / Chassis
10600
1998.03-.
279-280 (379-381)
3200
15
4 - series
114 G/380
Diesel
Platform / Chassis
10600
1998.03-.
280 (381)
2600
4
4 - series
114 G/380
Diesel
Platform / Chassis
10600
1998.03-.
279-280 (380-381)
2600
7
4 - series
114 G/380
Diesel
Platform / Chassis
10600
1998.03-.
280 (381)
3200
14
4 - series
114 G/380
Diesel
Platform / Chassis
10600
1998.03-.
279-280 (379-381)
3200
13
4 - series
114 G/380
Diesel
Platform / Chassis
10600
1998.03-.
280 (381)
3200
8
4 - series
114 G/380
Diesel
Platform / Chassis
10600
1998.03-.
279-280 (379-381)
3200
6
4 - series
114 G/380
Diesel
Platform / Chassis
10600
1998.03-.
280 (381)
1800
1
4 - series
114 G/380
Diesel
Truck Tractor
10600
1998.03-.
280 (381)
2600
3
4 - series
114 G/380
Diesel
Truck Tractor
10600
1998.03-.
280 (381)
2600
4
4 - series
114 G/380
Diesel
Truck Tractor
10600
1998.03-.
280 (381)
1800
1
4 - series
114 L/340
Diesel
Platform / Chassis
11000
1996.05-.
250 (340)
1800
1
4 - series
114 L/340
Diesel
Platform / Chassis
11000
1996.05-.
250 (340)
2600
7
4 - series
114 L/340
Diesel
Platform / Chassis
11000
1996.05-.
250 (340)
2650
3
4 - series
114 L/340
Diesel
Platform / Chassis
10600
1998.03-.
250 (340)
1800
1
4 - series
114 L/340
Diesel
Platform / Chassis
10600
1998.03-.
250 (340)
2600
3
4 - series
114 L/340
Diesel
Platform / Chassis
10600
1996.05-.
250 (340)
2600
7
4 - series
114 L/340
Diesel
Platform / Chassis
10600
1996.05-.
250 (340)
2650
3
4 - series
114 L/340
Diesel
Truck Tractor
10600
1998.03-.
250 (340)
2600
4
4 - series
114 L/340
Diesel
Truck Tractor
11000
1996.05-.
250 (340)
2600
3
4 - series
114 L/340
Diesel
Truck Tractor
11000
1996.05-.
250 (340)
2600
3
4 - series
114 L/340
Diesel
Truck Tractor
11000
1996.05-.
250 (340)
2600
4
4 - series
114 L/340
Diesel
Truck Tractor
10600
1996.05-.
250 (340)
2600
3
4 - series
114 L/340
Diesel
Truck Tractor
11000
1996.05-.
250 (340)
1800
1
4 - series
114 L/340
Diesel
Truck Tractor
10600
1998.03-.
250 (340)
1800
1
4 - series
114 L/340
Diesel
Truck Tractor
11000
1996.05-.
250 (340)
2600
7
4 - series
114 L/340
Diesel
Truck Tractor
10600
1998.03-.
250 (340)
2600
7
4 - series
114 L/380
Diesel
Platform / Chassis
10600
1998.03-.
280 (381)
1800
1
4 - series
114 L/380
Diesel
Platform / Chassis
10600
1998.03-.
280 (381)
2600
3
4 - series
114 L/380
Diesel
Platform / Chassis
10600
1998.03-.
279-280 (379-381)
2600
7
4 - series
114 L/380
Diesel
Platform / Chassis
10600
1998.03-.
279-280 (379-381)
2650
3
4 - series
114 L/380
Diesel
Truck Tractor
10600
1998.03-.
280 (381)
2600
4
4 - series
114 L/380
Diesel
Truck Tractor
10600
1998.03-.
279-280 (380-381)
2600
3
4 - series
114 L/380
Diesel
Truck Tractor
10600
1998.03-.
280 (381)
1800
1
4 - series
114 L/380
Diesel
Truck Tractor
10600
1998.03-.
280 (381)
2600
7
4 - series
124 /G420
Diesel
Truck Tractor
11700
1996.05-.
309 (420)
1800
1
4 - series
124 C/400
Diesel
Dump Truck
11700
1996.09-.
294 (400)
1800
1
4 - series
124 C/400
Diesel
Dump Truck
11700
1996.09-.
294 (400)
1800
2
4 - series
124 C/400
Diesel
Dump Truck
11700
1996.09-.
294 (400)
2600
4
4 - series
124 C/400
Diesel
Dump Truck
11700
1996.09-.
294 (400)
2600
5
4 - series
124 C/400
Diesel
Dump Truck
11700
1996.09-.
294 (400)
3200
8
4 - series
124 C/400
Diesel
Platform / Chassis
11700
1996.09-.
294 (400)
1800
1
4 - series
124 C/400
Diesel
Platform / Chassis
11700
1996.09-.
294 (400)
1800
2
4 - series
124 C/400
Diesel
Platform / Chassis
11700
1996.09-.
294 (400)
2600
4
4 - series
124 C/400
Diesel
Truck Tractor
11700
1996.09-.
294 (400)
1800
1
4 - series
124 C/400
Diesel
Truck Tractor
11700
1996.09-.
294 (400)
2600
4
4 - series
124 C/420
Diesel
Dump Truck
11700
1996.05-.
309 (420)
3200
6
4 - series
124 C/420
Diesel
Platform / Chassis
11700
1996.05-.
309 (420)
3200
6
4 - series
124 C/420
Diesel
Platform / Chassis
11700
1996.05-.
309 (420)
2600
5
4 - series
124 C/420
Diesel
Platform / Chassis
11700
1996.05-.
309 (420)
1900
1
4 - series
124 C/420
Diesel
Platform / Chassis
11700
1996.05-.
309 (420)
2600
4
4 - series
124 C/420
Diesel
Platform / Chassis
11700
1996.05-.
309 (420)
1800
2
4 - series
124 C/420
Diesel
Truck Tractor
11700
1996.05-.
309 (420)
1800
2
4 - series
124 C/420
Diesel
Truck Tractor
11700
1996.05-.
309 (420)
2600
4
4 - series
124 C/420
Diesel
Truck Tractor
11700
1996.05-.
309 (420)
1800
1
4 - series
124 G/400
Diesel
Platform / Chassis
11700
1996.05-.
294 (400)
3200
8
4 - series
124 G/400
Diesel
Platform / Chassis
11700
1996.05-.
294 (400)
1800
1
4 - series
124 G/400
Diesel
Platform / Chassis
11700
1996.05-.
294 (400)
2600
3
4 - series
124 G/400
Diesel
Platform / Chassis
11700
1996.05-.
294 (400)
2600
4
4 - series
124 G/400
Diesel
Platform / Chassis
11700
1996.05-.
294 (400)
3200
14
4 - series
124 G/400
Diesel
Truck Tractor
11700
1996.05-.
294 (400)
1800
1
4 - series
124 G/400
Diesel
Truck Tractor
11700
1996.05-.
294 (400)
2600
3
4 - series
124 G/400
Diesel
Truck Tractor
11700
1996.05-.
294 (400)
2600
4
4 - series
124 G/420
Diesel
Platform / Chassis
11700
1996.05-.
309 (420)
2600
3
4 - series
124 G/420
Diesel
Platform / Chassis
11700
1996.05-.
309 (420)
1800
1
4 - series
124 G/420
Diesel
Platform / Chassis
11700
1996.05-.
309 (420)
3200
15
4 - series
124 G/420
Diesel
Platform / Chassis
11700
1996.05-.
309 (420)
2600
4
4 - series
124 G/420
Diesel
Platform / Chassis
11700
1996.05-.
309 (420)
2600
7
4 - series
124 G/420
Diesel
Platform / Chassis
11700
1996.05-.
309 (420)
3200
13
4 - series
124 G/420
Diesel
Platform / Chassis
11700
1996.05-.
309 (420)
3200
6
4 - series
124 G/420
Diesel
Truck Tractor
11700
1996.05-.
309 (420)
2600
4
4 - series
124 L/400
Diesel
Platform / Chassis
11700
1996.09-.
294 (400)
2600
3
4 - series
124 L/400
Diesel
Platform / Chassis
11700
1996.09-.
294 (400)
2600
4
4 - series
124 L/400
Diesel
Platform / Chassis
11700
1996.09-.
294 (400)
1800
1
4 - series
124 L/400
Diesel
Truck Tractor
11700
1996.09-.
294 (400)
1800
1
4 - series
124 L/400
Diesel
Truck Tractor
11700
1996.09-.
294 (400)
2600
3
4 - series
124 L/400
Diesel
Truck Tractor
11700
1996.09-.
294 (400)
2600
4
4 - series
124 L/420
Diesel
Platform / Chassis
11700
1996.05-.
309 (420)
2600
7
4 - series
124 L/420
Diesel
Platform / Chassis
11700
1997.09-.
309 (420)
2600
3
4 - series
124 L/420
Diesel
Platform / Chassis
11700
1997.09-.
309 (420)
2600
4
4 - series
124 L/420
Diesel
Platform / Chassis
11700
1996.05-.
309 (420)
2600
3
4 - series
124 L/420
Diesel
Platform / Chassis
11700
1997.09-.
309 (420)
1800
1
4 - series
124 L/420
Diesel
Truck Tractor
11700
1997.09-.
309 (420)
1800
1
4 - series
124 L/420
Diesel
Truck Tractor
11700
1996.05-.
308-309 (419-420)
2380
7
4 - series
124 L/420
Diesel
Truck Tractor
11716
1997.09-.
308-309 (420-420)
2600
3
4 - series
124 L/420
Diesel
Truck Tractor
11700
1996.05-.
309 (420)
2600
3
4 - series
124 L/420
Diesel
Truck Tractor
11700
1997.09-.
309 (420)
2600
4
4 - series
164 C/480
Diesel
Dump Truck
15600
2000.05-.
353 (480)
1800
1
4 - series
164 C/480
Diesel
Dump Truck
15600
2000.05-.
353 (480)
1800
2
4 - series
164 C/480
Diesel
Dump Truck
15600
2000.05-.
353 (480)
2600
4
4 - series
164 C/480
Diesel
Dump Truck
15600
2000.05-.
353 (480)
2600
5
4 - series
164 C/480
Diesel
Dump Truck
15600
2000.05-.
353 (480)
3200
8
4 - series
164 C/480
Diesel
Platform / Chassis
15600
2000.05-.
353 (480)
1800
2
4 - series
164 C/480
Diesel
Platform / Chassis
15600
2000.05-.
353 (480)
2600
4
4 - series
164 C/480
Diesel
Platform / Chassis
15600
2000.05-.
353 (480)
1800
1
4 - series
164 C/480
Diesel
Truck Tractor
15600
2000.05-.
353 (480)
1800
1
4 - series
164 C/480
Diesel
Truck Tractor
15600
2000.05-.
353 (480)
1800
2
4 - series
164 C/480
Diesel
Truck Tractor
15600
2000.05-.
353 (480)
2600
4
4 - series
164 C/580
Diesel
Platform / Chassis
15600
2000.05-.
426 (580)
1800
1
4 - series
164 C/580
Diesel
Platform / Chassis
15600
2000.05-.
426 (580)
2600
5
4 - series
164 C/580
Diesel
Truck Tractor
15600
2000.05-.
426 (580)
1800
1
4 - series
164 C/580
Diesel
Truck Tractor
15600
2000.05-.
426 (580)
2600
4
4 - series
164 G/480
Diesel
Platform / Chassis
15600
2000.01-.
353 (480)
2600
4
4 - series
164 G/480
Diesel
Platform / Chassis
15600
2000.05-.
353 (480)
1800
1
4 - series
164 G/480
Diesel
Platform / Chassis
15600
2000.05-.
353 (480)
2600
3
4 - series
164 G/480
Diesel
Truck Tractor
15600
2000.05-.
353 (480)
1800
1
4 - series
164 G/480
Diesel
Truck Tractor
15600
2000.01-.
353 (480)
2600
4
4 - series
164 G/580
Diesel
Platform / Chassis
15600
2000.01-.
426-427 (579-581)
2600
4
4 - series
164 G/580
Diesel
Platform / Chassis
15600
2000.05-.
426 (580)
1800
1
4 - series
164 G/580
Diesel
Platform / Chassis
15600
2000.05-.
426 (580)
2600
3
4 - series
164 G/580
Diesel
Truck Tractor
15600
2000.05-.
426 (580)
2600
4
4 - series
164 G/580
Diesel
Truck Tractor
15600
2000.05-.
426 (580)
1800
1
4 - series
164 G/580
Diesel
Truck Tractor
15600
2000.05-.
426 (580)
2600
3
4 - series
164 L/480
Diesel
Platform / Chassis
15600
2000.05-.
353 (480)
1800
1
4 - series
164 L/480
Diesel
Platform / Chassis
15600
2000.05-.
353 (480)
2600
3
4 - series
164 L/480
Diesel
Platform / Chassis
15600
2000.05-.
353 (480)
2600
4
4 - series
164 L/480
Diesel
Truck Tractor
15600
2000.05-.
353 (480)
2600
3
4 - series
164 L/480
Diesel
Truck Tractor
15600
2000.05-.
353 (480)
2600
4
4 - series
164 L/480
Diesel
Truck Tractor
15600
2000.01-.
353 (480)
2380
7
4 - series
164 L/480
Diesel
Truck Tractor
15600
2000.01-.
353 (480)
2600
3
4 - series
164 L/480
Diesel
Truck Tractor
15600
2000.05-.
353 (480)
2600
7
4 - series
164 L/480
Diesel
Truck Tractor
15600
2000.05-.
353 (480)
1800
1
4 - series
164 L/580
Diesel
Platform / Chassis
15600
2000.05-.
426 (580)
1800
1
4 - series
164 L/580
Diesel
Platform / Chassis
15600
2000.05-.
426 (580)
2600
3
4 - series
164 L/580
Diesel
Platform / Chassis
15600
2000.05-.
426 (580)
2600
4
4 - series
164 L/580
Diesel
Truck Tractor
15600
2000.05-.
426 (580)
2600
3
4 - series
164 L/580
Diesel
Truck Tractor
15600
2000.05-.
426 (580)
2600
4
4 - series
164 L/580
Diesel
Truck Tractor
15600
2000.01-.
426-427 (579-581)
2380
7
4 - series
164 L/580
Diesel
Truck Tractor
15600
2000.01-.
426-427 (579-581)
2600
3
4 - series
164 L/580
Diesel
Truck Tractor
15600
2000.05-.
426 (580)
2600
7
4 - series
164 L/580
Diesel
Truck Tractor
15600
2000.05-.
426 (580)
1800
1
4 - series
94 /G260
Diesel
Platform / Chassis
9000
1996.08-.
191 (260)
2600
7
4 - series
94 C/260
Diesel
Dump Truck
9000
1996.12-.
191 (260)
1800
2
4 - series
94 C/260
Diesel
Dump Truck
9000
1996.12-.
191 (260)
2600
4
4 - series
94 C/260
Diesel
Dump Truck
9000
1996.12-.
191 (260)
2600
5
4 - series
94 C/260
Diesel
Dump Truck
9000
1996.12-.
191 (260)
3200
8
4 - series
94 C/260
Diesel
Dump Truck
9000
1996.12-.
191 (260)
1800
1
4 - series
94 C/260
Diesel
Platform / Chassis
9000
1996.12-.
191 (260)
1800
1
4 - series
94 C/260
Diesel
Platform / Chassis
9000
1996.12-.
191 (260)
2600
4
4 - series
94 D/230
Diesel
Dump Truck
9000
1999.04-.
169 (230)
1800
1
4 - series
94 D/230
Diesel
Platform / Chassis
9000
1999.08-.
169 (230)
1800
1
4 - series
94 D/230
Diesel
Platform / Chassis
9000
1999.08-.
169 (230)
2500
3
4 - series
94 D/230
Diesel
Platform / Chassis
9000
1999.04-.
169 (230)
2600
3
4 - series
94 D/230
Diesel
Truck Tractor
9000
1999.08-.
169 (230)
1800
1
4 - series
94 D/260
Diesel
Dump Truck
9000
1996.08-.
191 (260)
1800
1
4 - series
94 D/260
Diesel
Platform / Chassis
9000
1996.08-.
191 (260)
2600
3
4 - series
94 D/260
Diesel
Platform / Chassis
9000
1996.08-.
191 (260)
2500
3
4 - series
94 D/260
Diesel
Platform / Chassis
9000
1996.08-.
191 (260)
2600
7
4 - series
94 D/260
Diesel
Platform / Chassis
9000
1996.08-.
191 (260)
1800
1
4 - series
94 D/260
Diesel
Truck Tractor
9000
1996.08-.
191 (260)
1800
1
4 - series
94 D/260
Diesel
Truck Tractor
9000
1996.08-.
191 (260)
1900
1
4 - series
94 D/300
Diesel
Dump Truck
9000
1996.08-.
220-221 (300-301)
1800
1
4 - series
94 D/300
Diesel
Platform / Chassis
9000
1996.08-.
220-221 (300-301)
2600
3
4 - series
94 D/300
Diesel
Platform / Chassis
9000
1996.08-.
220-221 (299-301)
1800
1
4 - series
94 D/300
Diesel
Platform / Chassis
9000
1996.08-.
220-221 (300-301)
2600
7
4 - series
94 D/300
Diesel
Truck Tractor
9000
1996.08-.
220-221 (300-301)
1800
1
4 - series
94 G/260
Diesel
Platform / Chassis
9000
1998.01-.
191 (260)
2500
3
4 - series
94 G/260
Diesel
Platform / Chassis
9000
1996.08-.
191 (260)
2600
3
4 - series
94 G/260
Diesel
Platform / Chassis
9000
1996.08-.
191 (260)
1800
1
4 - series
94 G/260
Diesel
Truck Tractor
9000
1996.08-.
191 (260)
1800
1
4 - series
T 114 C/340
Diesel
Dump Truck
11000
1998.03-.
250 (340)
2600
4
4 - series
T 114 C/340
Diesel
Dump Truck
10600
1998.03-.
250 (340)
2600
4
4 - series
T 114 C/340
Diesel
Platform / Chassis
11000
1996.05-.
250 (340)
2600
4
4 - series
T 114 C/340
Diesel
Platform / Chassis
10600
1998.03-.
250 (340)
2600
4
4 - series
T 114 C/340
Diesel
Platform / Chassis
10600
1998.03-.
250 (340)
1800
1
4 - series
T 114 C/340
Diesel
Truck Tractor
11000
1996.05-.
250 (340)
1900
1
4 - series
T 114 C/340
Diesel
Truck Tractor
10600
1996.05-.
250 (340)
1900
1
4 - series
T 114 C/340
Diesel
Truck Tractor
11000
1996.05-.
250 (340)
2600
3
4 - series
T 114 C/340
Diesel
Truck Tractor
10600
1998.03-.
250 (340)
1800
1
4 - series
T 114 C/340
Diesel
Truck Tractor
10600
1996.05-.
250 (340)
2600
3
4 - series
T 114 C/340
Diesel
Truck Tractor
10600
1996.05-.
250 (340)
2600
4
4 - series
T 114 C/380
Diesel
Dump Truck
10600
1998.03-.
280 (380)
2600
4
4 - series
T 114 C/380
Diesel
Platform / Chassis
10600
1998.03-.
280 (380)
2600
4
4 - series
T 114 C/380
Diesel
Platform / Chassis
10600
1998.03-.
280 (380)
1800
1
4 - series
T 114 C/380
Diesel
Truck Tractor
10600
1998.03-.
280 (380)
2600
4
4 - series
T 114 C/380
Diesel
Truck Tractor
10600
1998.03-.
279-280 (380-381)
1900
1
4 - series
T 114 C/380
Diesel
Truck Tractor
10600
1998.03-.
280 (380)
1800
1
4 - series
T 114 G/340
Diesel
Platform / Chassis
11000
1996.05-.
250 (340)
2600
4
4 - series
T 114 G/340
Diesel
Platform / Chassis
10600
1998.03-.
250 (340)
2600
3
4 - series
T 114 G/340
Diesel
Platform / Chassis
10600
1998.03-.
250 (340)
1800
1
4 - series
T 114 G/340
Diesel
Platform / Chassis
10600
1998.03-.
250 (340)
2600
4
4 - series
T 114 G/340
Diesel
Platform / Chassis
11000
1996.05-.
250 (340)
1800
1
4 - series
T 114 G/340
Diesel
Truck Tractor
10600
1996.05-.
250 (340)
1900
1
4 - series
T 114 G/340
Diesel
Truck Tractor
10600
1998.03-.
250 (340)
2600
3
4 - series
T 114 G/340
Diesel
Truck Tractor
11000
1996.05-.
250 (340)
2600
3
4 - series
T 114 G/340
Diesel
Truck Tractor
11000
1996.05-.
250 (340)
2600
4
4 - series
T 114 G/340
Diesel
Truck Tractor
11000
1996.05-.
250 (340)
1900
1
4 - series
T 114 G/340
Diesel
Truck Tractor
10600
1998.03-.
250 (340)
1800
1
4 - series
T 114 G/380
Diesel
Platform / Chassis
10600
1998.03-.
280 (380)
2600
4
4 - series
T 114 G/380
Diesel
Platform / Chassis
10600
1998.03-.
280 (380)
2600
3
4 - series
T 114 G/380
Diesel
Platform / Chassis
10600
1998.03-.
280 (380)
1800
1
4 - series
T 114 G/380
Diesel
Truck Tractor
10600
1998.03-.
279-280 (379-381)
1900
1
4 - series
T 114 G/380
Diesel
Truck Tractor
10600
1998.03-.
280 (380)
2600
3
4 - series
T 114 G/380
Diesel
Truck Tractor
10600
1998.03-.
280 (380)
2600
4
4 - series
T 114 G/380
Diesel
Truck Tractor
10600
1998.03-.
280 (380)
1800
1
4 - series
T 114 L/340
Diesel
Truck Tractor
10600
1998.03-.
250 (340)
1800
1
4 - series
T 114 L/340
Diesel
Truck Tractor
10600
1996.05-.
250 (340)
1900
1
4 - series
T 114 L/340
Diesel
Truck Tractor
11000
1996.05-.
250 (340)
1900
1
4 - series
T 114 L/340
Diesel
Truck Tractor
11000
1996.05-.
250 (340)
1800
1
4 - series
T 114 L/340
Diesel
Truck Tractor
10600
1998.03-.
250 (340)
2600
3
4 - series
T 114 L/380
Diesel
Truck Tractor
10600
1998.03-.
280 (380)
2600
3
4 - series
T 114 L/380
Diesel
Truck Tractor
10600
1998.03-.
280 (380)
1800
1
4 - series
T 114 L/380
Diesel
Truck Tractor
10600
1998.03-.
280 (380)
2600
4
4 - series
T 114 L/380
Diesel
Truck Tractor
10600
1998.03-.
279-280 (380-381)
1900
1
4 - series
T 124 C/400
Diesel
Dump Truck
11700
1996.05-.
294 (400)
2600
4
4 - series
T 124 C/400
Diesel
Platform / Chassis
11700
1996.05-.
294 (400)
2600
4
4 - series
T 124 C/400
Diesel
Platform / Chassis
11700
1996.05-.
294 (400)
1800
1
4 - series
T 124 C/400
Diesel
Truck Tractor
11700
1996.05-.
294 (400)
2600
4
4 - series
T 124 C/400
Diesel
Truck Tractor
11700
1996.05-.
294 (400)
1800
1
4 - series
T 124 C/420
Diesel
Dump Truck
11700
1996.05-.
309 (420)
2600
4
4 - series
T 124 C/420
Diesel
Platform / Chassis
11700
1996.05-.
309 (420)
2600
4
4 - series
T 124 C/420
Diesel
Platform / Chassis
11700
1996.05-.
309 (420)
1800
1
4 - series
T 124 C/420
Diesel
Truck Tractor
11700
1997.09-.
309 (420)
2600
4
4 - series
T 124 C/420
Diesel
Truck Tractor
11700
1996.05-.
309 (420)
1900
1
4 - series
T 124 C/420
Diesel
Truck Tractor
11700
1996.05-.
309 (420)
1800
1
4 - series
T 124 G/400
Diesel
Platform / Chassis
11700
1997.03-.
294 (400)
2600
4
4 - series
T 124 G/400
Diesel
Platform / Chassis
11700
1997.03-.
294 (400)
1800
1
4 - series
T 124 G/400
Diesel
Platform / Chassis
11700
1997.03-.
294 (400)
2600
3
4 - series
T 124 G/400
Diesel
Truck Tractor
11700
1997.03-.
294 (400)
1800
1
4 - series
T 124 G/400
Diesel
Truck Tractor
11700
1997.03-.
294 (400)
2600
3
4 - series
T 124 G/400
Diesel
Truck Tractor
11700
1997.03-.
294 (400)
2600
4
4 - series
T 124 G/420
Diesel
Platform / Chassis
11700
1996.05-.
309 (420)
2600
4
4 - series
T 124 G/420
Diesel
Platform / Chassis
11700
1997.09-.
309 (420)
1800
1
4 - series
T 124 G/420
Diesel
Truck Tractor
11700
1997.09-.
309 (420)
2600
4
4 - series
T 124 G/420
Diesel
Truck Tractor
11700
1997.09-.
309 (420)
1800
1
4 - series
T 124 G/420
Diesel
Truck Tractor
11700
1996.05-.
309 (420)
1900
1
4 - series
T 124 G/420
Diesel
Truck Tractor
11700
1997.09-.
309 (420)
2600
3
4 - series
T 124 L/400
Diesel
Truck Tractor
11700
1996.05-.
294 (400)
2600
3
4 - series
T 124 L/400
Diesel
Truck Tractor
11700
1997.02-.
294 (400)
1800
1
4 - series
T 124 L/400
Diesel
Truck Tractor
11700
1996.05-.
294 (400)
2600
4
4 - series
T 124 L/420
Diesel
Truck Tractor
11700
1997.09-.
309 (420)
2600
4
4 - series
T 124 L/420
Diesel
Truck Tractor
11700
1997.09-.
309 (420)
2600
3
4 - series
T 124 L/420
Diesel
Truck Tractor
11700
1996.05-.
309 (420)
1800
1
4 - series
T 124 L/420
Diesel
Truck Tractor
11700
1996.05-.
309 (420)
1900
1
4 - series
T 94 C/260
Diesel
Dump Truck
9000
1996.12-.
191 (260)
2600
4
4 - series
T 94 C/260
Diesel
Platform / Chassis
9000
1996.12-.
191 (260)
2600
4
4 - series
T 94 C/260
Diesel
Platform / Chassis
9000
1996.12-.
191 (260)
1800
1
4 - series
T 94 G/230
Diesel
Platform / Chassis
9000
1999.04-.
169 (230)
2600
3
4 - series
T 94 G/230
Diesel
Platform / Chassis
9000
1999.04-.
169 (230)
1800
1
4 - series
T 94 G/230
Diesel
Truck Tractor
9000
1999.04-.
169 (230)
1800
1
4 - series
T 94 G/260
Diesel
Platform / Chassis
9000
1996.12-.
191 (260)
2600
3
4 - series
T 94 G/260
Diesel
Platform / Chassis
9000
1996.12-.
191 (260)
2600
4
4 - series
T 94 G/260
Diesel
Truck Tractor
9000
1996.12-.
191 (260)
1800
1
commercial vehicles - VOLVO
7700
7700
Diesel
Bus
9364
2006.06-.
228 (310)
1890
1
7700
7700
Diesel
Bus
9364
2006.06-.
228 (310)
2800
3
7700
7700
Diesel
Bus
9364
2006.06-.
265 (360)
1890
1
7700
7700
Diesel
Bus
9364
2006.06-.
265 (360)
2800
3
7700
7700
Diesel
Bus
9364
2006.06-.
191 (260)
1890
1
7700
7700
Diesel
Bus
9364
2006.06-.
191 (260)
2800
3
8500
8500
Diesel
Bus
12100
1999.01-.
280 (380)
1800
7
8500
8500
Diesel
Bus
12100
1999.01-.
250 (340)
1800
1
8500
8500
Diesel
Bus
12100
1999.01-.
280 (380)
1800
1
8500
8500
Diesel
Bus
9364
1999.01-.
265 (360)
1800
3
8500
8500
Diesel
Bus
12100
1999.01-.
280 (380)
1800
3
8500
8500
Diesel
Bus
12100
1999.01-.
250 (340)
1800
7
8700
8700
Diesel
Bus
12100
1999.01-.
250 (340)
2600
3
8700
8700
Diesel
Bus
12100
1999.01-.
250 (340)
1800
1
8700
8700
Diesel
Bus
12100
1999.01-.
280 (380)
1800
1
8700
8700
Diesel
Bus
12100
1999.01-.
250 (340)
2600
7
8700
8700
Diesel
Bus
12100
1999.01-.
280 (380)
2600
7
9700
9700
Diesel
Bus
12100
2007.10-.
338 (460)
1900
1
9700
9700
Diesel
Bus
12100
2001.10-.
309 (420)
2650
7
9700
9700
Diesel
Bus
12100
2001.04-.
250 (340)
1900
1
9700
9700
Diesel
Bus
12100
2007.10-.
338 (460)
2650
7
9700
9700
Diesel
Bus
12100
2001.04-.
280 (380)
1900
1
9700
9700
Diesel
Bus
12100
2001.04-.
309 (420)
1900
1
9700
9700
Diesel
Bus
12100
2001.10-.
250 (340)
2650
7
9700
9700
Diesel
Bus
12100
2001.10-.
280 (380)
2650
7
9900
9900
Diesel
Bus
12100
2001.10-.
309 (420)
1800
1
9900
9900
Diesel
Bus
12100
2007.10-.
338 (460)
1900
1
9900
9900
Diesel
Bus
12100
2001.10-.
309 (420)
2650
3
9900
9900
Diesel
Bus
12100
2007.10-.
338 (460)
2650
7
B 10
B10
Diesel
Bus
9600
1985.01-2003.12
228 (310)
2600
7
B 10
B10
Diesel
Bus
9600
1985.01-2003.12
203 (276)
1650
1
B 10
B10
Diesel
Bus
9600
1985.01-2003.12
201 (273)
2600
7
B 10
B10
Diesel
Bus
9600
1988.01-2003.12
250 (340)
1800
1
B 10
B10
Diesel
Bus
9600
1988.01-2003.12
250 (340)
2600
7
B 10
B10
Diesel
Bus
9600
1996.01-2003.12
210 (286)
2600
13
B 10
B10
Diesel
Bus
9600
1996.01-2003.12
180 (245)
2600
13
B 10
B10
Diesel
Bus
9600
1978.01-2003.12
235 (320)
2600
7
B 10
B10
Diesel
Bus
9600
1988.01-2003.12
210 (286)
1800
1
B 10
B10
Diesel
Bus
9600
1985.01-2003.12
228 (310)
1800
1
B 10
B10
Diesel
Bus
9600
1996.01-2003.12
228 (310)
2600
13
B 10
B10
Diesel
Bus
9600
1985.01-2003.12
165 (224)
2600
7
B 10
B10
Diesel
Bus
9600
1978.01-2003.12
262 (356)
2600
7
B 10
B10
Diesel
Bus
9600
1985.01-2003.12
180 (245)
2600
3
B 10
B10
Diesel
Bus
9600
1985.01-2003.12
165 (224)
2600
3
B 10
B10
Diesel
Bus
9600
1988.01-2003.12
210 (286)
2600
7
B 10
B10
Diesel
Bus
9600
1985.01-2003.12
180 (245)
2600
7
B 10
B10
Diesel
Bus
9600
1985.01-2003.12
228 (310)
2600
3
B 10
B10
Diesel
Bus
9600
1978.01-2003.12
262 (356)
2600
3
B 10
B10
Diesel
Bus
9600
1978.01-2003.12
133 (181)
1650
1
B 10
B10
Diesel
Bus
9600
1985.01-2003.12
201 (273)
2600
3
B 10
B10
Diesel
Bus
9600
1988.01-2003.12
250 (340)
2600
3
B 10
B10
Diesel
Bus
9600
1978.01-2003.12
235 (320)
2600
3
B 10
B10
Diesel
Bus
9600
1996.01-2003.12
165 (224)
2600
13
B 10
B10
Diesel
Bus
9600
1996.01-2003.12
201 (273)
2600
13
B 10
B10
Diesel
Bus
9600
1994.01-.
178 (242)
1650
1
B 10
B10
Diesel
Bus
9600
1988.01-2003.12
210 (286)
2600
3
B 10
B10
Diesel
Bus
9600
1978.01-2003.12
262 (356)
1800
1
B 10
B10
Diesel
Bus
9600
1985.01-2003.12
165 (224)
1800
1
B 10
B10
Diesel
Bus
9600
1978.01-2003.12
235 (320)
1800
1
B 12
B 12
Diesel
Bus
12100
2006.02-.
338 (460)
2600
3
B 12
B 12
Diesel
Bus
12100
2006.02-.
309 (420)
1900
1
B 12
B 12
Diesel
Bus
12100
2006.02-.
338 (460)
1900
1
B 12
B 12
Diesel
Bus
12100
2006.02-.
250 (340)
2600
3
B 12
B 12
Diesel
Bus
12100
1992.01-.
309 (420)
2350
1
B 12
B 12
Diesel
Bus
12100
2006.02-.
280 (380)
2600
3
B 12
B 12
Diesel
Bus
12100
2006.02-.
250 (340)
1900
1
B 12
B 12
Diesel
Bus
11980
1992.01-.
291-298 (396-405)
1800
1
B 12
B 12
Diesel
Bus
12100
2006.02-.
309 (420)
2600
3
B 12
B 12
Diesel
Bus
12100
2006.02-.
280 (380)
1900
1
B 12
B 12
Diesel
Bus
11980
1992.01-.
262 (356)
1800
1
B 6
B6R, B6LE
Diesel
Bus
5480
1991.11-.
132 (180)
1800
1
B 6
B6R, B6LE
Diesel
Bus
5480
1991.11-.
154 (210)
1800
1
B 7
B 7
Diesel
Bus
7100
1998.01-.
213 (290)
1800
1
B 9
B 9
Diesel
Bus
9364
2005.09-.
228 (310)
2600
3
B 9
B 9
Petrol Engine
Bus
9364
2005.09-.
191 (260)
1800
1
B 9
B 9
Diesel
Bus
9364
2005.09-.
265 (360)
2600
3
B 9
B 9
Petrol Engine
Bus
9364
2005.09-.
223 (300)
1800
1
B 9
B 9
Diesel
Bus
9364
2005.09-.
191 (260)
2600
3
B 9
B 9
Diesel
Bus
9364
2005.09-.
191 (260)
1800
1
B 9
B 9
Petrol Engine
Bus
9364
2005.09-.
191 (260)
2600
3
B 9
B 9
Diesel
Bus
9364
2005.09-.
228 (310)
1800
1
B 9
B 9
Petrol Engine
Bus
9364
2005.09-.
223 (300)
2600
3
B 9
B 9
Diesel
Bus
9364
2005.09-.
265 (360)
1800
1
FH 12
FH 12/340
Diesel
Dump Truck
12100
1993.08-.
250 (340)
2600
4
FH 12
FH 12/340
Diesel
Platform / Chassis
12100
1993.08-.
250 (340)
1800
1
FH 12
FH 12/340
Diesel
Platform / Chassis
12100
1993.08-.
250 (340)
2600
3
FH 12
FH 12/340
Diesel
Platform / Chassis
12100
1993.08-.
250 (340)
2600
4
FH 12
FH 12/340
Diesel
Platform / Chassis
12100
1993.08-.
250 (340)
3200
14
FH 12
FH 12/340
Diesel
Platform / Chassis
12100
1993.08-.
250 (340)
3200
8
FH 12
FH 12/340
Diesel
Truck Tractor
12100
1993.08-.
250 (340)
1800
1
FH 12
FH 12/340
Diesel
Truck Tractor
12100
1995.01-.
250 (340)
2500
3
FH 12
FH 12/340
Diesel
Truck Tractor
12100
1993.08-.
250 (340)
2600
3
FH 12
FH 12/340
Diesel
Truck Tractor
12100
1993.08-.
250 (340)
2600
4
FH 12
FH 12/380
Diesel
Dump Truck
12100
1993.08-.
279 (379)
2600
4
FH 12
FH 12/380
Diesel
Platform / Chassis
12100
1993.08-.
279 (379)
2600
3
FH 12
FH 12/380
Diesel
Platform / Chassis
12100
1993.08-.
279 (379)
2600
4
FH 12
FH 12/380
Diesel
Platform / Chassis
12100
1993.08-.
279 (379)
3200
14
FH 12
FH 12/380
Diesel
Platform / Chassis
12100
1993.08-.
279 (379)
3200
8
FH 12
FH 12/380
Diesel
Platform / Chassis
12100
1993.08-.
279 (379)
1800
1
FH 12
FH 12/380
Diesel
Truck Tractor
12100
1993.08-.
279-280 (379-381)
1800
1
FH 12
FH 12/380
Diesel
Truck Tractor
12100
1995.01-.
279 (379)
2500
3
FH 12
FH 12/380
Diesel
Truck Tractor
12100
1993.08-.
279 (379)
2600
3
FH 12
FH 12/380
Diesel
Truck Tractor
12100
1993.08-.
279 (379)
2600
4
FH 12
FH 12/420
Diesel
Dump Truck
12100
1993.08-.
309 (420)
2600
4
FH 12
FH 12/420
Diesel
Platform / Chassis
12100
1993.08-.
309 (420)
2600
4
FH 12
FH 12/420
Diesel
Platform / Chassis
12100
1993.08-.
309 (420)
3200
14
FH 12
FH 12/420
Diesel
Platform / Chassis
12100
1993.08-.
309 (420)
3200
8
FH 12
FH 12/420
Diesel
Platform / Chassis
12100
1993.08-.
309 (420)
1800
1
FH 12
FH 12/420
Diesel
Platform / Chassis
12100
1993.08-.
309 (420)
2600
3
FH 12
FH 12/420
Diesel
Truck Tractor
12100
1995.01-.
309 (420)
2500
3
FH 12
FH 12/420
Diesel
Truck Tractor
12100
1993.08-.
309 (420)
2600
3
FH 12
FH 12/420
Diesel
Truck Tractor
12100
1993.08-.
309 (420)
2600
4
FH 12
FH 12/420
Diesel
Truck Tractor
12100
1993.08-.
309 (420)
1800
1
FH 12
FH 12/460
Diesel
Platform / Chassis
12100
1998.08-.
338 (460)
2600
4
FH 12
FH 12/460
Diesel
Platform / Chassis
12100
1998.08-.
338 (460)
3200
14
FH 12
FH 12/460
Diesel
Platform / Chassis
12100
1998.08-.
338 (460)
1800
1
FH 12
FH 12/460
Diesel
Platform / Chassis
12100
1998.08-.
338 (460)
3200
8
FH 12
FH 12/460
Diesel
Platform / Chassis
12100
1998.08-.
338 (460)
2600
3
FH 12
FH 12/460
Diesel
Truck Tractor
12100
1998.08-.
338 (460)
1800
1
FH 12
FH 12/460
Diesel
Truck Tractor
12100
1998.08-.
338 (460)
2600
3
FH 12
FH 12/460
Diesel
Truck Tractor
12100
1998.08-.
338 (460)
2600
4
FH 12
FH 12/460
Diesel
Truck Tractor
12100
1998.08-.
338 (460)
2500
3
FH 12
FH 12/500
Diesel
Platform / Chassis
12100
2001.09-.
368 (500)
1800
3
FH 12
FH 12/500
Diesel
Platform / Chassis
12100
2001.09-.
368 (500)
1800
1
FH 12
FH 12/500
Diesel
Truck Tractor
12100
2001.09-.
368 (500)
1800
3
FH 12
FH 12/500
Diesel
Truck Tractor
12100
2001.09-.
368 (500)
1800
1
FH 16
FH 16/470
Diesel
Platform / Chassis
16120
1993.08-1999.12
346 (470)
1800
1
FH 16
FH 16/470
Diesel
Platform / Chassis
16120
1993.08-1999.12
346 (470)
2600
3
FH 16
FH 16/470
Diesel
Platform / Chassis
16120
1993.08-1999.12
346 (470)
2600
4
FH 16
FH 16/470
Diesel
Truck Tractor
16120
1993.08-1999.12
346 (470)
1800
1
FH 16
FH 16/470
Diesel
Truck Tractor
16120
1993.08-1999.12
346 (470)
2500
4
FH 16
FH 16/520
Diesel
Platform / Chassis
16120
1995.01-.
382 (520)
2500
3
FH 16
FH 16/520
Diesel
Platform / Chassis
16120
1993.08-2002.12
382 (520)
1800
1
FH 16
FH 16/520
Diesel
Platform / Chassis
16120
1993.08-2002.12
382 (520)
2600
3
FH 16
FH 16/520
Diesel
Platform / Chassis
16120
1993.08-2002.12
382 (520)
2600
4
FH 16
FH 16/520
Diesel
Truck Tractor
16120
1993.08-2002.12
382 (520)
2600
3
FH 16
FH 16/520
Diesel
Truck Tractor
16120
1993.08-2002.12
382 (520)
2600
4
FH 16
FH 16/520
Diesel
Truck Tractor
16120
1993.08-2002.12
382 (520)
1800
1
FL
FL 180-10
Diesel
Platform / Chassis
5480
2000.03-.
132 (180)
1000
1
FL
FL 180-11
Diesel
Platform / Chassis
5480
2000.03-.
132 (180)
1100
1
FL
FL 180-12
Diesel
Platform / Chassis
5480
2000.03-.
132 (180)
1200
1
FL
FL 180-13
Diesel
Platform / Chassis
5480
2000.03-.
132 (180)
1300
1
FL
FL 180-14
Diesel
Platform / Chassis
5480
2000.03-.
132 (180)
1400
1
FL
FL 180-15
Diesel
Platform / Chassis
5480
2000.03-.
132 (180)
1500
1
FL
FL 180-16
Diesel
Platform / Chassis
5480
2000.03-.
132 (180)
1600
1
FL
FL 180-17
Diesel
Platform / Chassis
5480
2000.03-.
132 (180)
1700
1
FL
FL 180-18
Diesel
Platform / Chassis
5480
2000.03-.
132 (180)
1800
1
FL
FL 180-7,5
Diesel
Platform / Chassis
5480
2000.03-.
132 (180)
750
1
FL
FL 180-8
Diesel
Platform / Chassis
5480
2000.03-.
132 (180)
800
1
FL
FL 180-9
Diesel
Platform / Chassis
5480
2000.03-.
132 (180)
900
1
FL
FL 220-10
Diesel
Platform / Chassis
5480
2000.03-.
162 (220)
1000
1
FL
FL 220-11
Diesel
Platform / Chassis
5480
2000.03-.
162 (220)
1100
1
FL
FL 220-12
Diesel
Platform / Chassis
5480
2000.03-.
162 (220)
1200
1
FL
FL 220-13
Diesel
Platform / Chassis
5480
2000.03-.
162 (220)
1300
1
FL
FL 220-14
Diesel
Platform / Chassis
5480
2000.03-.
162 (220)
1400
1
FL
FL 220-15
Diesel
Platform / Chassis
5480
2000.03-.
162 (220)
1500
1
FL
FL 220-16
Diesel
Platform / Chassis
5480
2000.03-.
162 (220)
1600
1
FL
FL 220-17
Diesel
Platform / Chassis
5480
2000.03-.
162 (220)
1700
1
FL
FL 220-18
Diesel
Platform / Chassis
5480
2000.03-.
162 (220)
1800
1
FL
FL 220-7,5
Diesel
Platform / Chassis
5480
2000.03-.
162 (220)
750
1
FL
FL 220-8
Diesel
Platform / Chassis
5480
2000.03-.
162 (220)
800
1
FL
FL 220-9
Diesel
Platform / Chassis
5480
2000.03-.
162 (220)
900
1
FL
FL 250-10
Diesel
Platform / Chassis
5480
2000.03-.
184 (250)
1000
1
FL
FL 250-11
Diesel
Platform / Chassis
5480
2000.03-.
184 (250)
1100
1
FL
FL 250-12
Diesel
Platform / Chassis
5480
2000.03-.
184 (250)
1200
1
FL
FL 250-13
Diesel
Platform / Chassis
5480
2000.03-.
184 (250)
1300
1
FL
FL 250-14
Diesel
Platform / Chassis
5480
2000.03-.
184 (250)
1400
1
FL
FL 250-15
Diesel
Platform / Chassis
5480
2000.03-.
184 (250)
1500
1
FL
FL 250-16
Diesel
Platform / Chassis
5480
2000.03-.
184 (250)
1600
1
FL
FL 250-17
Diesel
Platform / Chassis
5480
2000.03-.
184 (250)
1700
1
FL
FL 250-18
Diesel
Platform / Chassis
5480
2000.03-.
184 (250)
1800
1
FL
FL 250-7,5
Diesel
Platform / Chassis
5480
2000.03-.
184 (250)
750
1
FL
FL 250-8
Diesel
Platform / Chassis
5480
2000.03-.
184 (250)
800
1
FL
FL 250-9
Diesel
Platform / Chassis
5480
2000.03-.
184 (250)
900
1
FL 10
FL 10/280
Diesel
Dump Truck
9600
1985.09-1990.12
202-209 (275-284)
1700
1
FL 10
FL 10/280
Diesel
Platform / Chassis
9600
1985.09-1990.12
202-209 (275-284)
1700
1
FL 10
FL 10/280
Diesel
Platform / Chassis
9600
1985.09-1990.12
202-209 (275-284)
2400
3
FL 10
FL 10/280
Diesel
Truck Tractor
9600
1985.09-1990.12
202-209 (275-284)
1700
1
FL 10
FL 10/320
Diesel
Dump Truck
9600
1995.12-1998.09
235 (320)
1800
1
FL 10
FL 10/320
Diesel
Platform / Chassis
9600
1995.12-1998.09
235 (320)
1800
1
FL 10
FL 10/320
Diesel
Platform / Chassis
9600
1995.12-1998.09
235 (320)
3200
14
FL 10
FL 10/320
Diesel
Platform / Chassis
9600
1995.12-1998.09
235 (320)
2500
3
FL 10
FL 10/320
Diesel
Platform / Chassis
9600
1995.12-1998.09
235 (320)
2600
4
FL 10
FL 10/320
Diesel
Platform / Chassis
9600
1995.12-1998.09
235 (320)
2600
3
FL 10
FL 10/320
Diesel
Truck Tractor
9600
1995.12-1998.09
235 (320)
1800
1
FL 10
FL 10/320
Diesel
Truck Tractor
9600
1995.12-1998.09
235 (320)
2600
3
FL 10
FL 10/320
Diesel
Truck Tractor
9600
1995.12-1998.09
235 (320)
2600
4
FL 10
FL 10/360
Diesel
Dump Truck
9600
1995.12-1998.09
265 (360)
1800
1
FL 10
FL 10/360
Diesel
Platform / Chassis
9600
1995.12-1998.09
265 (360)
2600
3
FL 10
FL 10/360
Diesel
Platform / Chassis
9600
1995.12-1998.09
265 (360)
1800
1
FL 10
FL 10/360
Diesel
Platform / Chassis
9600
1995.12-1998.09
265 (360)
3200
14
FL 10
FL 10/360
Diesel
Platform / Chassis
9600
1995.12-1998.09
265 (360)
2500
3
FL 10
FL 10/360
Diesel
Platform / Chassis
9600
1995.12-1998.09
265 (360)
2600
4
FL 10
FL 10/360
Diesel
Truck Tractor
9600
1995.12-1998.09
265 (360)
1800
1
FL 10
FL 10/360
Diesel
Truck Tractor
9600
1995.12-1998.09
265 (360)
2600
3
FL 10
FL 10/360
Diesel
Truck Tractor
9600
1995.12-1998.09
265 (360)
2600
4
FL 10
FL 10H/320
Diesel
Dump Truck
9600
1995.12-1998.09
235 (320)
2600
4
FL 10
FL 10H/320
Diesel
Dump Truck
9600
1995.12-1998.09
235 (320)
3200
8
FL 10
FL 10H/320
Diesel
Dump Truck
9600
1995.12-1998.09
235 (320)
2600
5
FL 10
FL 10H/320
Diesel
Dump Truck
9600
1995.12-1998.09
235 (320)
1800
2
FL 10
FL 10H/360
Diesel
Dump Truck
9600
1995.12-1998.09
265 (360)
2600
5
FL 10
FL 10H/360
Diesel
Dump Truck
9600
1995.12-1998.09
265 (360)
1800
2
FL 10
FL 10H/360
Diesel
Dump Truck
9600
1995.12-1998.09
265 (360)
2600
4
FL 10
FL 10H/360
Diesel
Dump Truck
9600
1995.12-1998.09
265 (360)
3200
8
FL 12
FL 12/380
Diesel
Platform / Chassis
12100
1995.09-1998.09
279 (379)